29 Festive (And Totally Fun!) Virtual Holiday Party Ideas for Teams in 2023 
September 13, 2021
The holidays are around the corner! They usually sneak up on you and you're thinking, where did the time go and how did I not plan anything? You want to show your team that you appreciate them and thank them for the wonderful year you all have had together! We know it can be hard to come up with virtual holiday party ideas that the whole team will enjoy. The party needs to be fun, interactive, and suitable for everyone.
We wanted to help you out so we put together a list. Here are our favorite, festive, and totally fun virtual holiday party ideas for teams in 2023. Bookmark this page for when you're ready!
Improve Your Bartending Skills With A Merry Mixologist
Our virtual happy hour, led by an award-winning bartender and culinary host, is a perfect way to get your team excited by crafting their own cocktails! Our virtual mixology class focuses on flavor balance and mixology skills, all while paired with instructions, tips, and stories along the way. Upgrade to ingredient delivery for an all-inclusive experience.
What's Included:
1 Hour Live Event
Award-Winning Mixologist
Avital Emcee Host
1 Cocktail Kit (makes 2 cocktails), including:
High-Quality Spirit
Housemade Syrups
Housemade Bitters
Fresh Citrus
Deluxe Garnish
Cost: Starting at $110 Per Person
Sip On Some Eggnog While Painting Like Picasso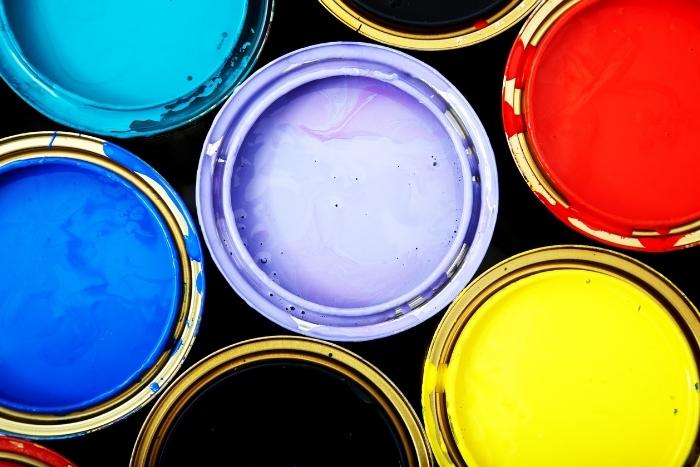 Think of it like a double whammy: A fun holiday team-building event + a potential gift for a loved one! Get your team together for a Paint & Sip party where a certified instructor will lead you through a large painting party. You can choose from over 30 paintings, so you have a unique painting that you love. It's BYOB so don't forget to grab some eggnog (spiced..if you wish!) and get ready to bring your inner Picasso out!
What's Included:
12 x 16 Canvas
3-piece Brush Set
6-piece Acrylic Paint Set
Apron
Paint Palette
Cost: $39 Per Person
Amp Up The Competition With Holiday Hijinks
Virtual Holiday Hijinks is the perfect way to get in the holiday spirit all while improving the communication and collaboration with your team. Over the course of up to 2 hours, teams of 4-8, you'll be solving a variety of holiday-themed challenges. As you complete the challenges, you'll earn points that you help you climb up the leaderboard. May the odds be ever in your favour!
What's Included:
Virtual Event Host
80 Virtual Holiday Hijinks Challenges
Pre-event Event Coordination
Dedicated Event Manager
Free Media Package
Cost: $995 minimum investment, $11-$49/person
Get The Family Involved In A Cookie Decorating Class
We know the holidays are a time to ditch the diet and enjoy all the holiday desserts. That's why you should encourage your team to participate in a Cooking Decorating Class with Jacqueline Terrel, winner of the Food Network's Christmas Cookie Challenge. I can guarantee you your family, spouse or friend would love to get in on the fun, so it'll also be a great way to introduce your loved ones to the team.
What's Included:
Cost: Starting at $25 Per Person
Build The Gingerbread Person Of Your Dreams…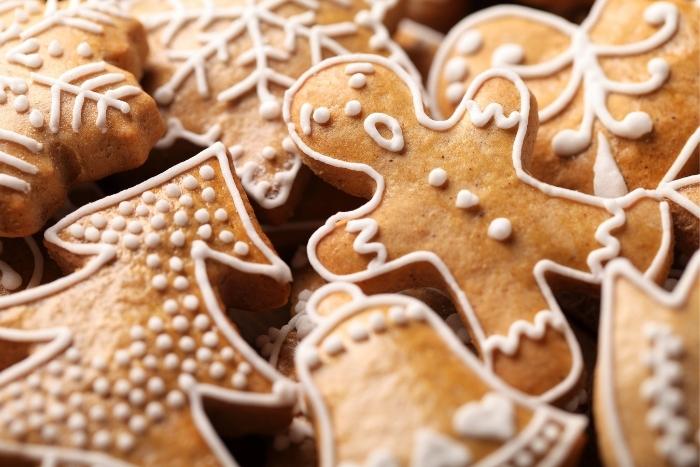 …while competing against your team! Gather your team members around the globe for some fun with Gingerbread Wars! Before the event even starts, you'll be mailed holiday kits with everything you need to participate. On the day of the event, you'll be put through multiple challenges over a course of 90-minutes. During one of the games, Gingerbread Self-Portraits, you'll create a mini version of yourself – I'd advise you to really have some fun with this part! At the end, you'll get to eat all the ginger-y goodness at the end all while sitting in the comfort of your jammies. I'd say that's a pretty great win!
What's Included:
90 Minute Event
Holiday Kit
Cost: Available Upon Inquiry
Dance The Night Away With Live Music!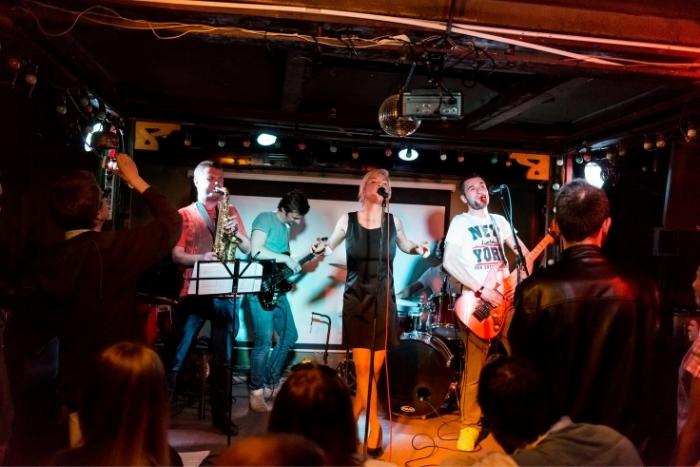 Who else misses the days of going to see some live music and dancing the night away? Well, those days don't have to be gone! Acute Inflections provides virtual live music for a range of corporate events! The fun part is they'll grant song request, engage with viewers and they'll also curate a perfect set of music (and select attire) that best complements the theme of the party! You want a holiday themed party? Maybe go with an ugly holiday sweater or dress to the nines in beautiful gowns.
What's Included:
A live-streamed performance of up to two hours in length without a break
Customized music and attire to complement the event's theme
Cost: $500-1,000 Per Event
Have One Last Laugh Before The Holidays
They say laughter is the best medicine so boost that immune system right before you tire out with your busy holiday schedule. At Remote Team Wellness, you and your team will participate in an hour of wellness with a yoga session and comedy performance. Close out the year with some laughter and good times!
What's Included:
30-minute Laughing Yoga Session
30-minute Express Comedy Performance
Cost: Available Upon Inquiry
Build A Wreath For Your Front Door
I love wreaths! They just make your home look so cozy and inviting in the wintertime. This is definitely one of my favorite virtual holiday party ideas. Imagine this, instead of buying a beautiful wreath to hang on your front door for the holidays, you make one yourself? Well, that's exactly what you can do with Floraloom Studio. You start off by picking your kit style, customize it to fit your group, and boom! You have an expert Floraloom designer to take you through the creative process.
What's Included:
Shipped kit with tools and materials
Virtual kit with tutorial, tips and other perks
Customized experience coaching for host to lead group
Cost: $110 Per Kit + $200 Virtual Creative Session
Participate In A Virtual Version Of The Yankee Swap
Enjoy a fun little gift exchange where you really don't know what you're going to get! The way it works is everyone "brings" a gift (i.e. link a product online and add a photo). Each person will begin with one wrapped gift. As the game goes on, you can either unwrap your gift or steal for someone else's. It's always best to set a price limit so gifts are comparable.
What's Included:
Robust gift distribution options to protect employee privacy,
Ability for a game admin to manage other players' gifts
"Dummy Player" functionality so that participants don't need to login in order to play
End-of-game report for easier gift distribution when the time comes
Cost: $49 Per Person
Host A Virtual Holiday Scavenger Hunt
This game is a fun way to share items you have around your home! Here's how it works. Have one person running the game that will list off each item you need to find. If you need some ideas, check out this list by Simple Simon & Company. Each player will have 60-90 seconds to find the item and show it off! The person who comes back the fastest gets the point. Tally them up at the end and you have yourself a winner, all while learning more about your colleagues!
What's Included:
Any and all items around your house!
Cost: Free (unless you want to buy the winner a prize! Hint, hint, nudge, nudge)
Craft Your Own Clay Ornament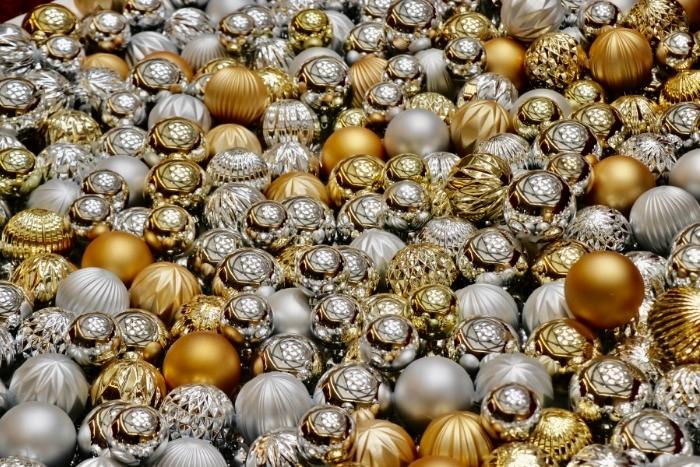 Make memories and craft a souvenir to remember the moment. Take this Clay Ornament Making Workshop and learn how to craft your own fun ornaments out of dry clay and paint. There's nothing like crafting a souvenir together to bond your team!
What's Included:
Air Dry Clay
Ornament Hooks
Paint
Brushes
Clay Tools
Cost: $85 Per Person
Get Out Of Your Comfort Zone With An Improv/stand-up Class
I know the thought of being up on a stage might be quite scary, but improv is incredible for your communication and resolution skills. You're forced to come up with a sentence, comment, or comeback on the spot. And not to mention, it's hilarious! With Laughter on Call, their "Happier" Hour is a 45-minute event where participants are led in a unique combination of Improv games and stand-up prompts. Get ready for hilarity to ensue!
WHAT'S INCLUDED: 45-Minute event and Two trained LOC comedians per 20 people.

COST: $750 for 20ppl, $20 per additional person.
Wear Your Ugliest Holiday Sweater
Yes, it's been done before – almost every year perhaps. But there's a reason it comes around annually…because it's fun! So, of course I had to throw it onto my list of virtual holiday party ideas. Throw on your ugliest holiday sweater and come prepared with one of your favourite holiday memories or traditions. You'll learn about your colleagues AND look silly in the process!
WHAT'S INCLUDED: Memories to last a lifetime!
COST: FREE (unless you want to buy the winner a prize! Hint, hint, nudge, nudge).
Taste Different Waters From Around The World With A Winter Waterland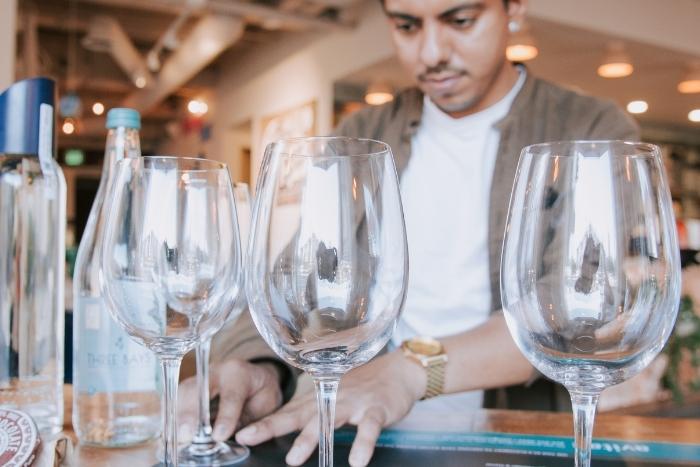 Join a Certified Water Sommelier and an Avital Emcee Host for a guided water tasting. Waters are delivered to guests' doors in premium glass bottles from around the world. Discover how different water can taste by sampling the world's most premium H2Os. Food pairings included, plus guests can compare their tap water to these natural spring waters for a fun experiment.
What's Included:
1-Hour Guided Tasting
Avital Emcee Host
Certified Water Sommelier
5 Premium Waters in 750 ML Glass Bottles
1 Water Test Strip
2 Delicious Food Pairings
Cost: $100 Per Person
B-I-N-G-O
Who doesn't love bingo? Seriously! It's one of the best games out there (and people get oddly competitive about it. Well, actually, that's me – I'm 'people'). Gather everyone round for an 'ole-fashioned game of bingo. Players can choose to play on-screen or print their cards.
What's Included: Randomized bingo cards, A bingo caller, Automated winner verification, Easy methods to invite players to your game.
Cost: Free to run a game for up to 30 players, and prices start at $10 for more players.
Name That Tune – Holiday Songs
Sing or hum your heart out with Name That Tune! Here's how you play. Go around the "room" and each player has to hum or sing a holiday song while the other players race to identify the song title. Humming is hard enough but if they want to sing the song, ask your player to turn their mic onto mute so you can only read their lips. Add a little competition by breaking up the group into teams and see how fun it gets! Here are a few song suggestions to add to your list.
What's Included: Memories to last a lifetime!
Cost: Free (unless you want to buy the winner a prize! Hint, hint, nudge, nudge).
Participate In A Game Show Extravaganza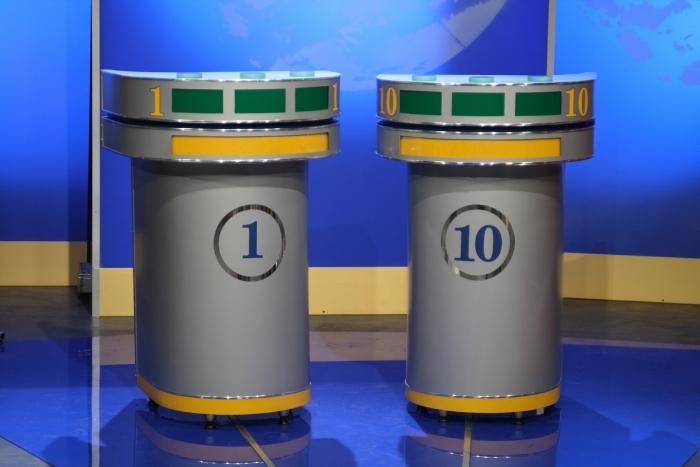 Why choose one game when you can choose many? With the Virtual Game Show Extravaganza, you're getting Family Feud, Random Trivia, and quick, little Minute to Win It games. The best part is that these games can be customized to include questions about your company, industry, and even individual participants. You'll work in Breakout Rooms on Zoom to come up with the answer before revealing it to the host. You'll get bonus points for using items you have lying around the house (stacking as many rolls of toilet paper as high as possible, etc).
What's Included: 60-90 minute game & a host.
Cost: Available upon inquiry.
Improv Your Way Through Holiday Movies
Host a Holiday Movie dubbing party and get everyone laughing! It's a fun twist on a classic improv game. I mean, we've all seen Who's Line Is It Anyway? Right? So here are the rules: you play clips from your favorite holiday movie on mute while a group dubs over what they think the characters are saying! If you've seen the movie before, have some fun with it! If not, even better. That's when you can really get creative!
What's Included: Endless laughter!
Cost: Free!
Pose For The Camera
Even though we can't gather in person, you can still have some photo fun with a virtual photo booth! You can use a virtual tool to create a fun experience for your team, using overlays, stickers, and backgrounds. If you're looking to up the fun, try adding a theme like an ugly sweater party or dress up as your favorite holiday character. Any Friends fans out there want to be a Holiday Armadillo?
What's Included:
Add your own logo and hashtag
Online Gallery with social sharing
Printing features and more
Cost: $29 + 150 credits/month.
Send Holiday Cards Of Your Art
Design holiday cards with your team! I'm sure you have lots of people to send these cards to so why not draw them up yourself? Use this drawing kit to get those creative juices flowing! You can pick a drawing online and try to recreate it as a team or you can go rogue and draw something up that you've created. If you're not the pen and paper type, try an online tool like Canva.
What's Included:
Prina 76 Pack Drawing Set Sketching Kit
Pro Art Sketch Supplies with 3-Color Sketchbook
Include Tutorial
Colored, Graphite, Charcoal, Watercolor & Metallic Pencil
Cost: $30.99 Per Kit
Show Off Your City
The holidays are a beautiful time in every city or town. Each one has their own unique way that they celebrate the holiday. So, whether you're living up north, where you get piles of snow, or you're surrounded by palm trees in the middle of December, take pictures and show your home off! Take pictures of your favorite holiday decorations around your town and have a slide show gloating about where you live. It'll be a nice little "vacation" for those that can't travel right now.
What's Included: Fun insight into your co-workers home city!
Cost: Free
Head To Las Vegas!
Bring your best poker face to a Virtual Casino Night. Whether you're playing Blackjack, Three-Card Poker or Texas Hold 'Em, it's an exciting way to celebrate the end of the year! Here's a rundown of how it'll go: Upon joining the table, each player will have their chips and digital name presented on the table. Our professional Croupier will then explain the proceedings of the evening and rules of the game(s). Players then have the allocated time to accumulate as many chips as possible in the hope of winning at the end of the event.
What's Included:
Optional consultation with an Event Manager to plan your bespoke event
Premium Zoom account to host your meeting to organize breakout rooms up to 1000 participants
Virtual leaderboard to deliver a prize-giving ceremony
Logo displayed centrally on the tables, a personal message, or even create a fully personalised table top cloth in your company mural.
Each Zoom breakout room includes a friendly host who looks after their own breakout room and teaches all of their guests the rules and provides handy gambling tips and tricks!
Cost: $26+ Per Person
Bring Them In On Your Family Traditions
Since the holidays are a time to share in the love, why not share a lovely family tradition. And I know we all have that one tradition that we love during the holidays! Maybe you say your rose and thorn of the year or maybe you go around and tell your favorite childhood memory. Whatever it is, I'm sure your team would love to share in it (and learn a little about each of you in the process).
WHAT'S INCLUDED: A story of family traditions.
COST: Free
Give Back To The Less Fortunate
Given the current state of the world, you may not be able to volunteer like you normally would for the holidays. A virtual auction is an excellent way to give back and make a contribution as a team. Find local shops in your city or town and have them each donate one item. The team can then auction to buy the item, while the company donates the proceeds to a charity of your choosing.
What's Included: Prizes from vendors of your choice.
Cost: As much as each person would like to donate!
Never Have I Ever…
This classic party game is a great icebreaker! It's always fun to see who's done what and learn the things you have in common with fellow co-workers. So, whether you're sipping on hot chocolate or a nice Baileys on the rocks, play this fun game – with a holiday twist. If you're not sure what to ask, here's a list of suitable holiday questions!
What's Included: Lots of laughs!
Cost: Free
Invite Carolers Into Your Home
'Tis the season to be jolly. Fa la la la… The holidays are a time for carols and cheer and since you can't bring carolers into the office, bring them into your home…virtually! Check out The Yuletide Carolers, who sing every holiday song possible, like The Dreydl Song, Happy Holidays, I'll Be Home For Christmas, and more!
What's Included: Your choice of duration, song choice and online platform!
Cost: Differs per date, time, and length of performance.
Solve A Murder Mystery
Before you say that a Murder Mystery doesn't sound like one of your usual virtual holiday party ideas, hear me out. It's a holiday-themed murder mystery, so you'll be working with your team to solve this festive whodunnit. Actors will guide you through the murder mystery as you collaborate to crack the case.
What's Included:
A two-hour event
Hosted by a professional actor
Cost: Available upon inquiry.
Make Decorations For The Home With Origami
Although quite a niche event, Origami is a great virtual holiday party idea for your team! It's fun, creative, and has a multitude of benefits. With this virtual origami class, you can also choose to bring your own supplies or have them delivered right to your door. You'll experience live demos led by an expert, learn origami basics and folding techniques.
What's Included:
A brief introduction to the history and background of origami in Japan
2-3 origami designs
Q&A and discussion in between designs
Cost: $20 per class + $35 per person for the Fall Kit (nature-inspired designs).
Take The Savory Route With Edible Architecture: Charcuterie Chalets
Take a turn from the typical gingerbread house and host your team for a charcuterie chalet experience with kits delivered. With this activity they'll be able to make cheesy creations that will bring the holiday spirit into the homes. All ingredients, tools, and blueprints provided for an incredible, creative self-guided experience! Plus, it's delicious to disassemble when anyone want a quick snack which makes this one of our favorite virtual holiday party ideas!
What's Included:
How-To Building Guide
Tools: 1 Base Cake Board, 2 Piping Bags
Chardonnay Cheese Spread
White Zinfandel Cheese Spread
Charcuterie
Rustic Flatbread
Wasa Crackers
Triangle Crispbreads
Grated Parmesan
Pretzels
Dehydrated Oranges
Cost: $115 Per Person
Final Thoughts on Virtual Holiday Party Ideas for Teams
The holidays are a time to bring your team together to celebrate the year you've had and the many goals you've achieved. We hope these virtual holiday party ideas will inspire you to throw a fun festive party of your own!