Experience Water in a Whole New Way
Join a Certified Water Sommelier and an Avital Emcee Host for a guided virtual water tasting (think wine tasting but with water!) Waters Tasting Kits are delivered in 5 premium glass bottles from around the world with food pairings included. Discover how different water can taste by sampling the world's most premium H2Os.
8+ Guests
From $100 Per Person
1 Hour
Water Kits Delivered
Taste 5 Premium Waters with Food Pairings
Private Experience
"It was AMAZING!"
My team recently did a water tasting with Avital. It was AMAZING! We tasted different waters from all over the world. We learned so much about what makes water taste great. We will never think about water the same way again.
Adrienne
Genentech, 12 Guests, Virtual Water Tasting
What's Included
Our virtual water tasting is an all-inclusive experience with kits delivered, plus a 1-hour live event hosted by an expert Avital Emcee Host and Certified Water Sommelier.
Water Kit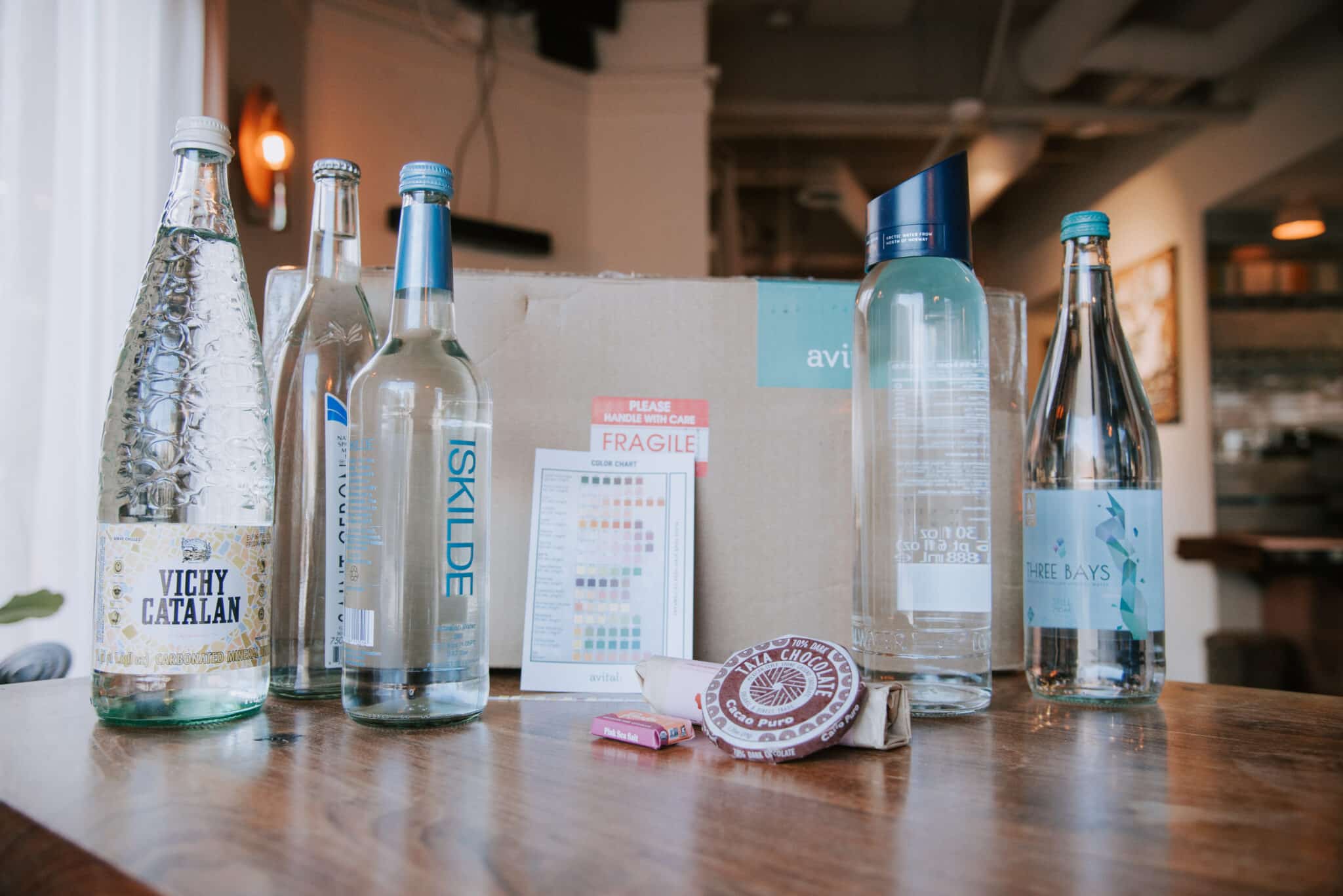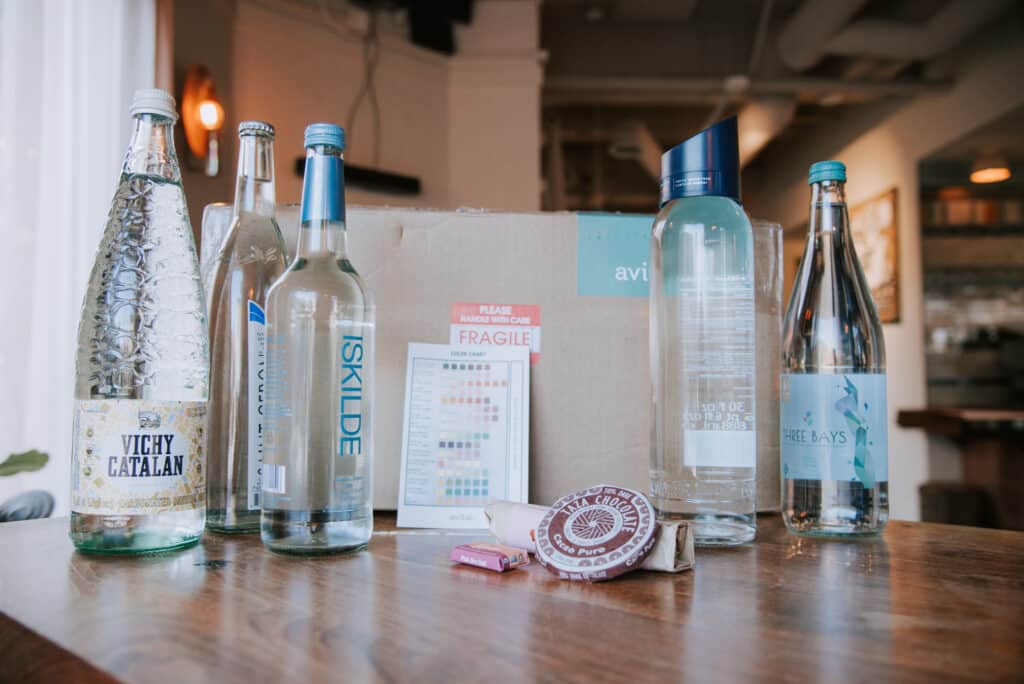 5 Premium Waters in 750ml Glass Bottles, including 3 Still Waters and 2 Sparkling Waters
2 Food Pairings, including Dark Chocolate and Charcuterie
1 Water Test Strip
1-Hour Live Event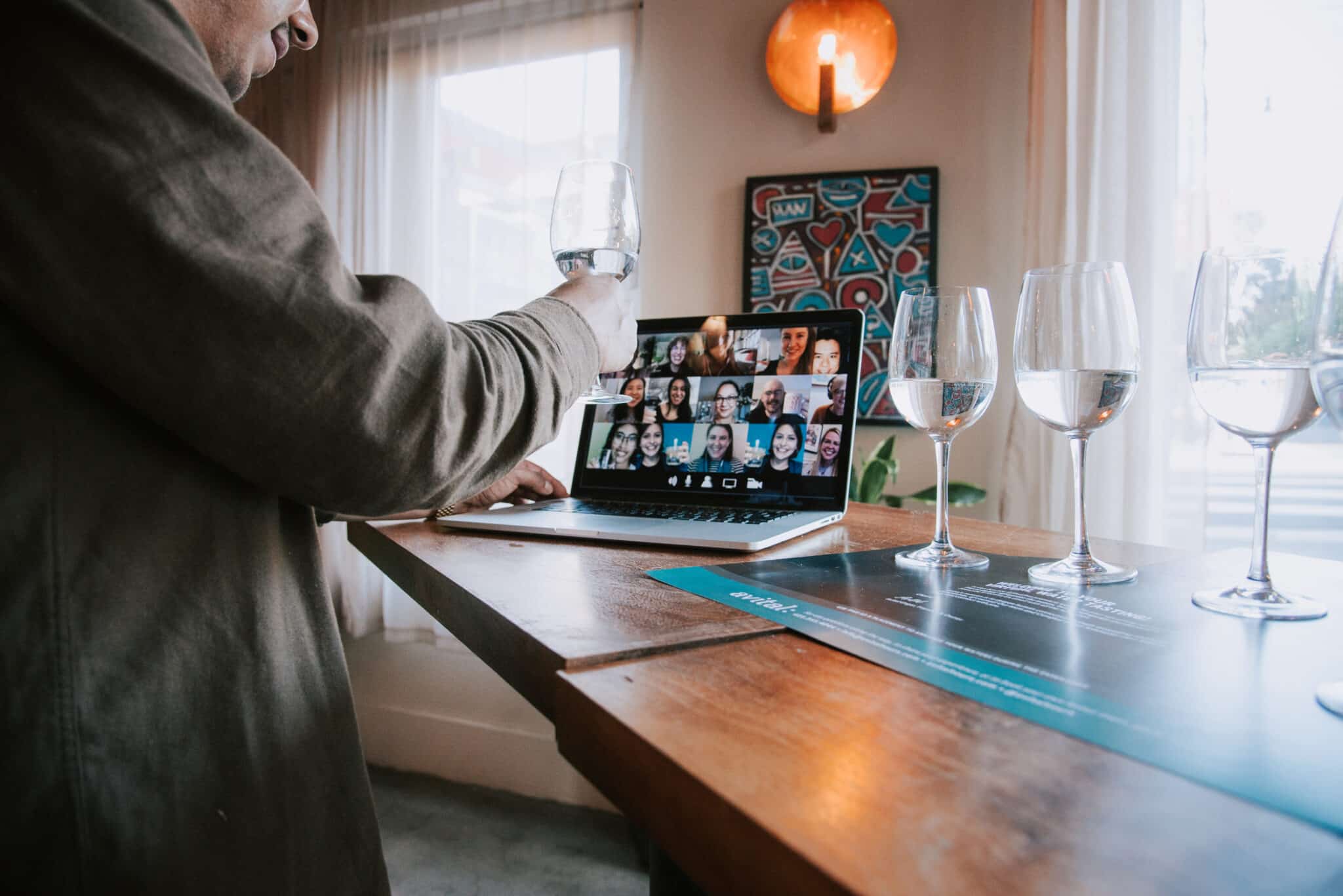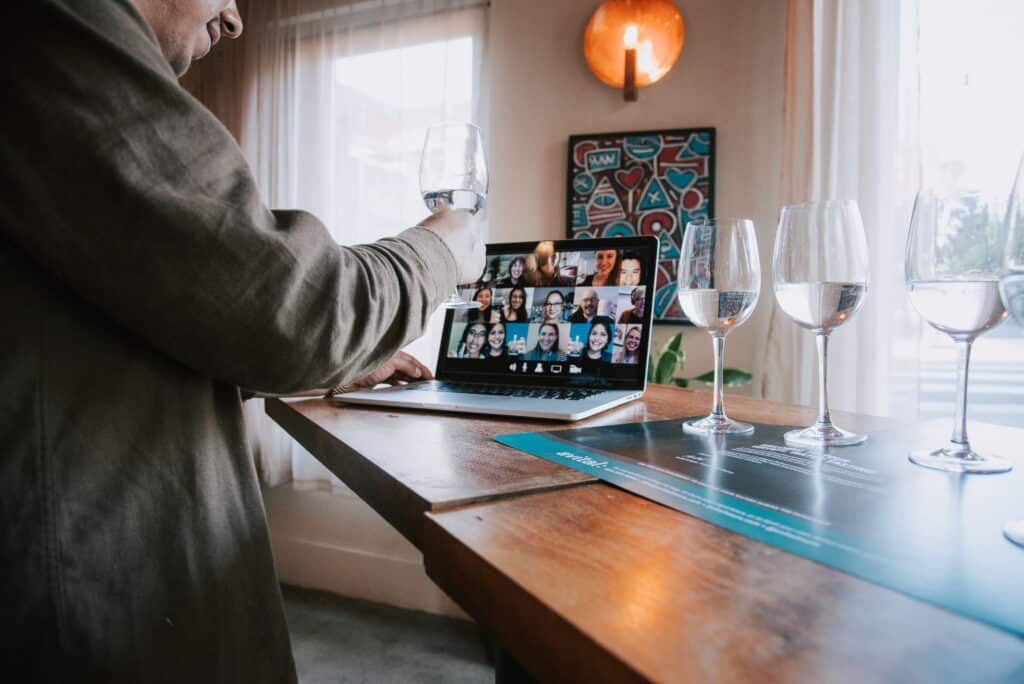 Certified Water Sommelier
Avital Emcee Host
Guided Water Tasting with Food Pairings
Hands-On Tap Water Experiment
Sommelier Q&A
Run of Show
1:

Guests Get Settled
Guests log on and are welcomed by Avital Emcee Host and slide branded with your company's logo and a reminder list of what to prepare.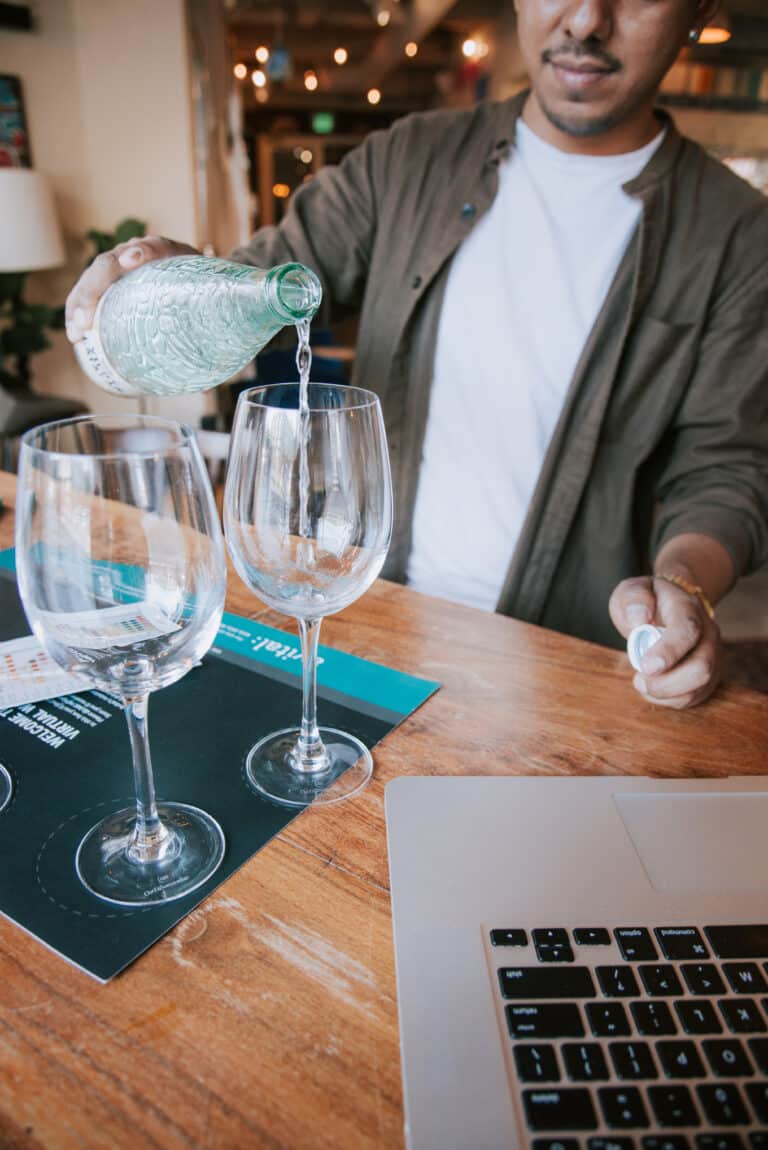 2:

Introductions (10 mins)
The experience begins! Your Avital Emcee Host will welcome guests and provide an overview of what's to come. They will also introduce your Certified Water Sommelier!
3:

Set Up Waters (5 mins)
Host passes off to the Sommelier for setup, tools, and how to open bottles.
4:

Water Tasting Technique (5 mins)
Learn the proper way to taste water and debunk the myth the water doesn't have taste!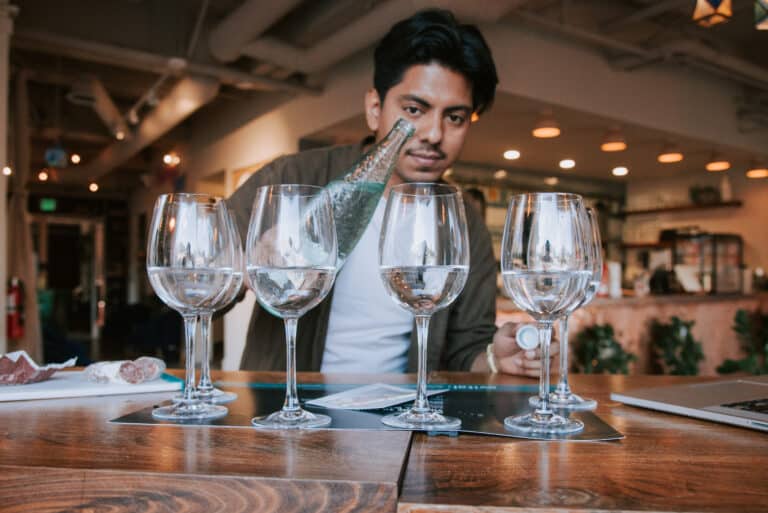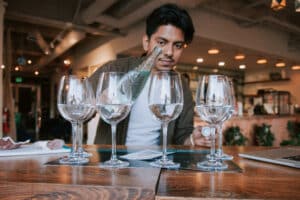 5:

Guided Water Tasting (25 mins)
Your Sommelier will lead you through the 5 waters based on TDS levels. Guests ask questions, engage, and interact throughout.
6:

Sample Food Pairings (5-10 mins)
Break open the delicious snacks (delivered in your kit!) and discover how the pairings impact the waters' flavor.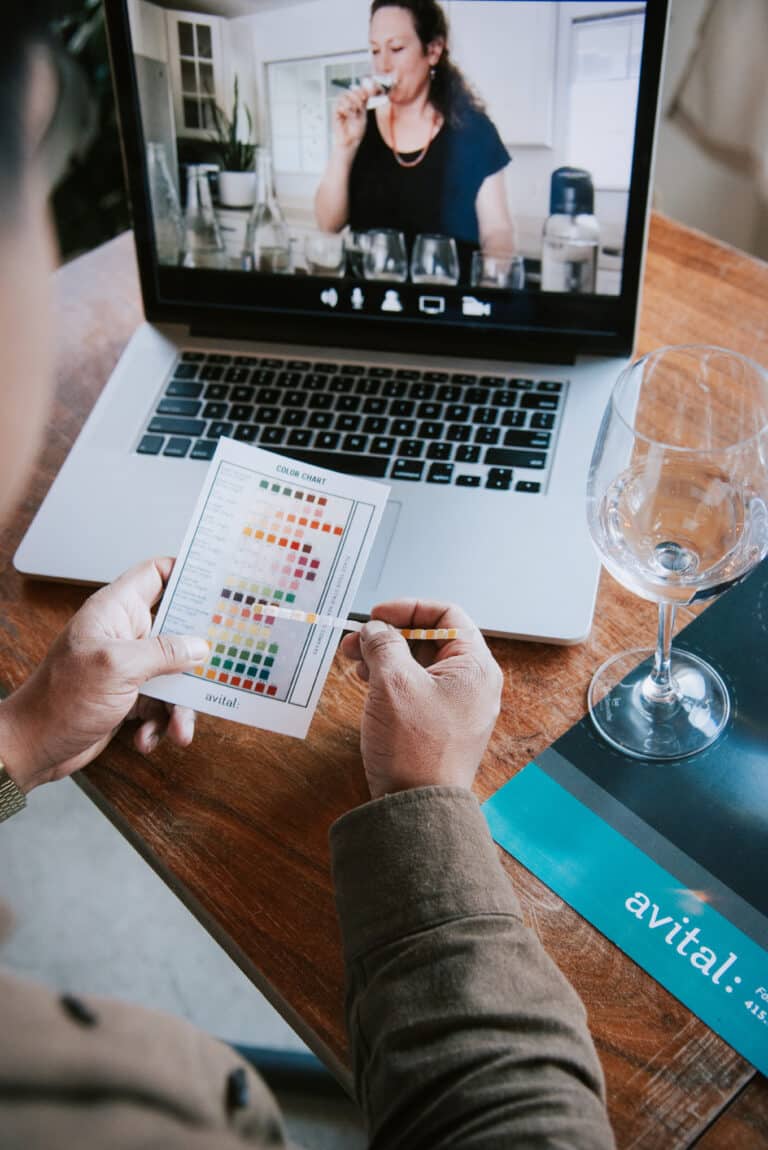 7:

Test your Tap Water (5-10 mins)
Your Sommelier will lead guests through a fun and informative tap water experiment. See where your water fits in the lineup!
8:

Sommelier Q&A and Wrap Up (5-10 mins)
Chat about the group's reaction to the water, plus any final questions for your Sommelier.
The Essentials
Lead Time
10 business day lead time for water tasting kit delivery. 7 business day lead time for RUSH delivery.
Global Shipping
Shipping deadlines are an additional 5 business days longer. No rush shipping options for destinations outside of the U.S.
Platform
Water Tastings are hosted on Zoom or the video conference of your choice. We can host on your Webex, Google Meet, Microsoft Teams, Amazon Chime and more!
Run Time
60 minutes
Availability
7 days a week with start times 9am ET to 9pm PT.
Minimums
8 ticket minimum for groups with water kit delivery.
Group Size
We can accommodate any group size! For large group options, view our Bespoke Experiences page.
Dietary Restrictions
In addition to being totally unique and memorable, our Virtual Water Tasting is great for all dietary restrictions making it one of the most inclusive (and healthy) virtual experiences you can do. Everyone drinks water so everyone can participate in this classy, unique event.
Why Book a Virtual Water Tasting with Avital?
Inclusive & Healthy Experience: Inclusive for all dietary restrictions and preferences making it a great fit for all groups. Plus a healthy alternative to cocktails or happy hours!
Unique & Memorable: Combat digital burnout with this novel experience that will delight and surprise.
Global Shipping: Connect your team, clients, or groups across the globe with kits delivered worldwide.
Easy Payment: We've been working with corporate groups since 2011 so we know the ins and outs of split payments, POs, and more.
Experienced Team: A full support team to ensure turnkey booking to a seamless experience that'll make you look like a rockstar.
Expertly Hosted: Each virtual water tasting includes a Certified Water Sommelier, plus a vetted and trained Avital Emcee Host to facilitate the experience so you can sit back and enjoy!
What Is Virtual Water Tasting?
Virtual water tasting is a unique sensory experience that allows participants to engage in the tasting of water from different sources around the world. Guests can explore the taste, smell, and even the mouthfeel of water from various locations, ranging from pristine natural springs to urban tap water and exotic watersheds. Guests can even sample food pairings during the tasting to see how the flavors of the food and water interact. This experience not only raises awareness about the diverse qualities of water but also highlights the global importance of water conservation and responsible usage.
FAQ
It may sound unusual, but all of our Water Sommeliers are certified by the Fine Water Academy. They are true experts in the culinary world of water and will be sure to change your perspective on h2o!
Water Tasting boxes contain 5 full-size beautiful glass bottles (wine-bottle size) of luxury waters, two pairings (charcuterie and chocolate,) and a water testing trip (for testing the mineral content of your home water).
Addresses must be submitted at least 10 business days in advance to ensure pre-event delivery of your ingredients. Or add rush shipping to reduce to 7 business days in advance (+$20 per delivery).
No problem! We have international shipping available for Water Tasting boxes. Please inform us ahead of time so we can plan accordingly, as some countries require additional lead time or additional shipping costs.
Yes! We send tracking information/numbers as soon as we receive them from our shipping carriers. Please contact [email protected] with any questions or concerns you may have about tracking for your event, and our team will be happy to help!
That's okay! Book your event with a deposit for your minimum attendance estimate. Final count due 10 business days prior to event (with your mailing addresses.)
Yes! Standard run time is 45-60 minutes, with flexibility for up to 10 minutes of your own content. If you need additional time, you can add hosted emcee time at $25 per 15 minutes. Alternatively, you may host on your own platform account (we join for 1 hour before/after your content, no extra staff time charges.)
Our Water experience is carefully curated to be a cohesive, energetic experience for your guests and works best when you stick to our well-rehearsed timing. We do our best to accommodate requests for condensed experiences, but want to set your expectations and encourage you to let us do what we do best, in 45-60 minutes.
Yes! You are welcome to host on your own account/platform instead of our Avital Zoom if you wish. Our staff is fluent on Google Meet, Zoom, WebEx, and Teams, and must be granted access to Screen Share, Chat, and Mute capabilities. For all other platforms, please inquire about capability and recommendations. Platforms with two-way/group video capabilities are best for this interactive experience.
All event packages include 15 minutes extra prior to your event start time for any sound checks or tech checks you may need with our Emcee. 
Nothing fancy! You'll just need six glasses & a bottle opener.