Experience Flavor in a Whole New Way
Experience flavor like never before during this unique virtual team building experience. Explore the magic of miracle berries and you push flavor boundaries with incredible activities and experiments, led by an Avital Flavor Expert. A high-energy, punchy group event with Tasting Kits delivered.
8+ Guests
From $70 Per Person
45 Minutes
Flavor Kits Delivered
Experiment with Flavor
Private Experience
"My team has a high bar for these virtual events, and you overachieved."
That was really fun. You were GREAT to work with. My team has a high bar for these virtual events, and you overachieved. It was very fun and interactive.
Dan G.
Manager at Google, 8 Guests, Virtual Tongue Twister Tasting
What's Included
Our Tongue Twister Tasting is an all-inclusive experience with kits delivered, plus a 45-minute live event hosted by an expert Avital Emcee Host.
Flavor Kit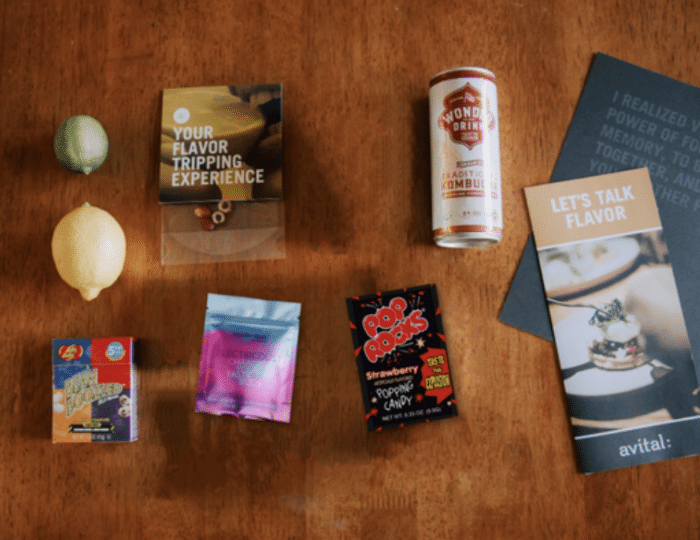 Miracle Berries
Fresh Lemon and Lime
Everyflavor Jellybeans
Kombucha
Buzz Button Electric Dust
PopRocks
Avital Welcome Insert
45-Minute Live Event
Avital Emcee Host
Flavor Tripping with Miracle Berries
Beanboozled Jelly Bean Game
Tongue Sensation Experiment
A Totally New Flavor Perspective!
Run of Show
1:

Guests Get Settled
Guests log on and are welcomed by Avital Emcee Host and slide branded with your company's logo and a reminder list of what to prepare.
2:

Introductions (5 mins)
The experience begins! Your Avital Emcee Host will welcome guests and provide an overview of what's to come.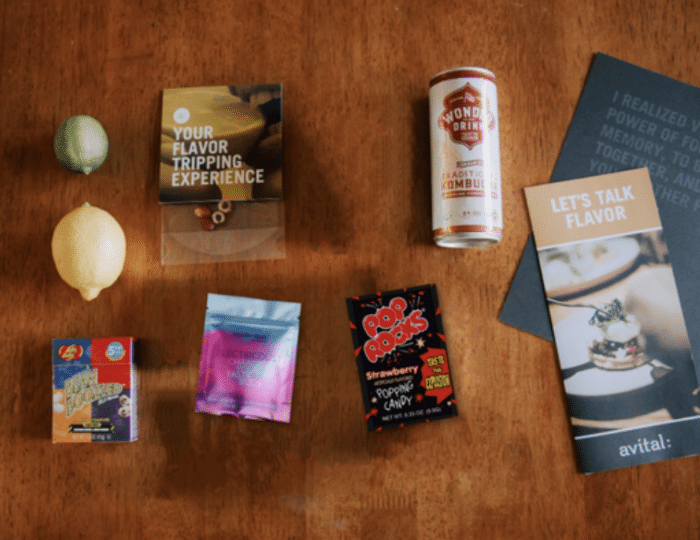 3:

Explore Taste through Texture (10 mins)
Enjoy a fun textural experience on your tongue — learn about the tingling sensation of sichuan buzz buttons and the popping sensation of poprocks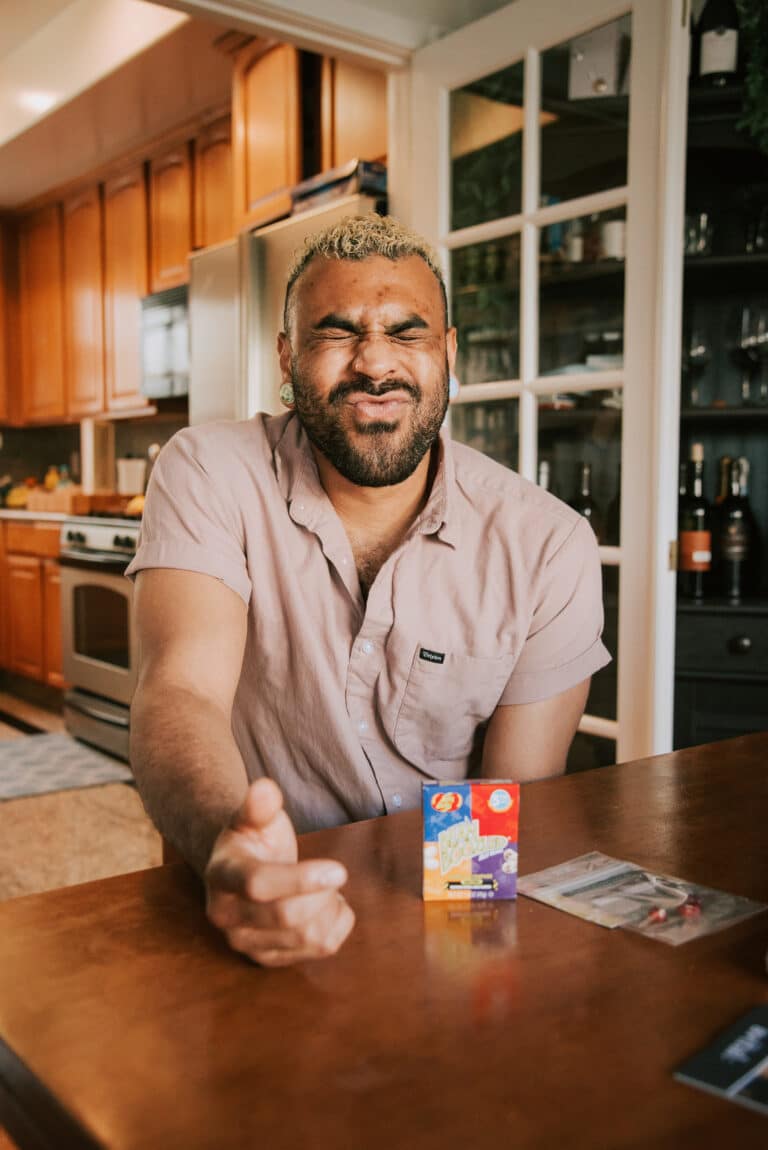 4:

Explore Taste through Sight (10 mins)
Play with flavor perception and perfect your poker face through tricking your eyes with an every flavor jellybean game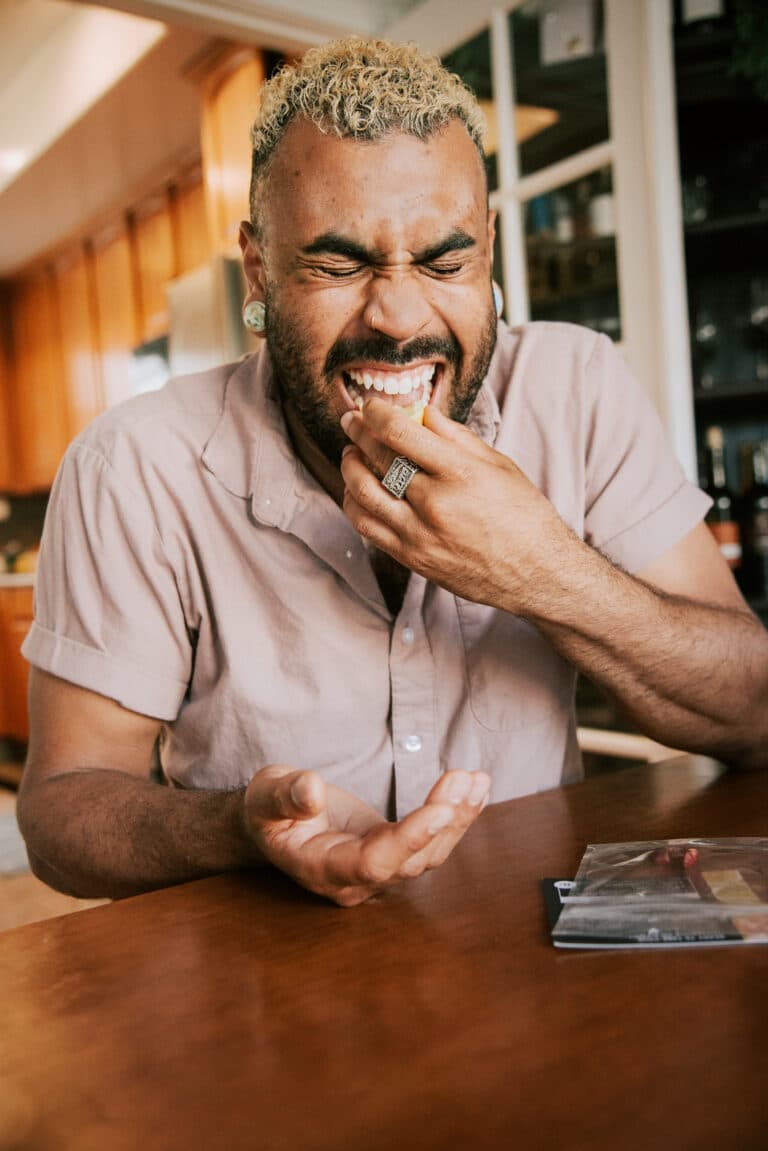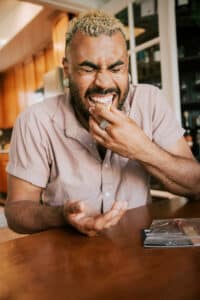 5:

Guided Flavor Tripping Experience (10 mins)
Trick your tastebuds by turning sour to sweet on this flavor tripping journey. 
6:

Wrap Up (5-10 mins)
Share Flavor Experience Impressions with the other participants
The Essentials
Lead Time
10 business day lead time for flavor kit delivery. 7 business day lead time for RUSH delivery.
Canada Shipping
Additional $20 shipping per Canadian guest. No rush shipping for International Destinations.
Platform
Tongue Twister Tastings are hosted on Zoom or the video conference of your choice. We can host on your Webex, Google Meet, Microsoft Teams, Amazon Chime and more!
Run Time
45 minutes
Availability
7 days a week with start times 9am ET to 9pm PT.
Minimums
8 ticket minimum for groups with flavor kit delivery.
Group Size
We can accommodate any group size! For large group options, view our Bespoke Experiences page.
Dietary Restrictions
In addition to being totally unique and memorable, our Virtual Tongue Twister Tasting is great for all dietary restrictions making it one of the most inclusive virtual experiences you can do. Most everyone can eat fruit (and candy!) so everyone can participate in this classy, unique event.
Why Book a Virtual Tongue Twister Tasting with Avital?
Inclusive Experience: Inclusive for all dietary restrictions and preferences making it a great fit for all groups. A quirky alternative to cocktails or happy hours!
Unique & Memorable: Combat digital burnout with this novel experience that will delight and surprise.
Global Shipping: Connect your team, clients, or groups in the US and Canada with kits delivered in North America.
Easy Payment: We've been working with corporate groups since 2011 so we know the ins and outs of split payments, POs, and more.
Experienced Team: A full support team to ensure turnkey booking to a seamless experience that'll make you look like a rockstar.
Expertly Hosted: Each virtual tongue twister tasting includes a vetted and trained Avital Emcee Host to facilitate the experience so you can sit back and enjoy!
What Is a Tongue Twister Tasting?
Tongue Twister Tasting is a unique virtual team building experience all about temporarily altering your tastebuds to experience flavor in a whole new way! We use a miracle berry native to West Africa to coat the tongue, causing previously sour foods, like lemon and kombucha, to taste deliciously sweet. This is called Flavor Tripping! We also host additional flavor experiments focused on the other senses like sight and texture so your tongue is twisted at the end!
FAQ
Miracle berries are a safe and natural freeze-dried berry (scientifically known as synsepalum dulcificum) that makes sour food taste sweet. The magic lasts for about 20-40 minutes. (Also, kids love them – so invite your kids to your event, or save them a few berries for later!).
Tongue Twister Tasting kits include all the ingredients needed for the experience. They contain Miracle Berries, Fresh Lemon and Lime, Everyflavor Jellybeans, Kombucha, Buzz Button Electric Dust, and PopRocks.
Addresses must be submitted at least 10 business days in advance to ensure pre-event delivery of your ingredients.
Yes! We send tracking information/numbers as soon as we receive them from our shipping carriers. Please contact [email protected] with any questions or concerns you may have about tracking for your event, and our team will be happy to help!
That's okay! Book your event with a deposit for your minimum attendance estimate. Final count due 10 business days prior to event (with your mailing addresses.)
Yes! You are welcome to host on your own Zoom if you wish. Our staff is also fluent in Google Meet, WebEx, and Microsoft Teams, and must be granted access o screen share, chat and mute capabilities.
Nothing fancy! You'll just need a knife and cutting board.