41 Cool & Unique Virtual Team Building Activities
February 15, 2021
While many of us are still working remotely into 2022, we've all felt our fair share of Zoom fatigue and virtual burnout. But building relationships and maintaining morale is as important as ever. Keep your team engaged with our list of 31 cool & unique virtual team building activities — we promise there's a team building activity for every kind of team on this list! We've got you covered.
This post includes:
FOOD & BEVERAGE TEAM BUILDING ACTIVITIES

TEAM BUILDING GAMES & CHALLENGES

ART & ENTERTAINMENT TEAM BUILDING ACTIVITIES

TEAM BUILDING ACTIVITIES TO GET TO KNOW EACH OTHER BETTER
FOOD & BEVERAGE TEAM BUILDING ACTIVITIES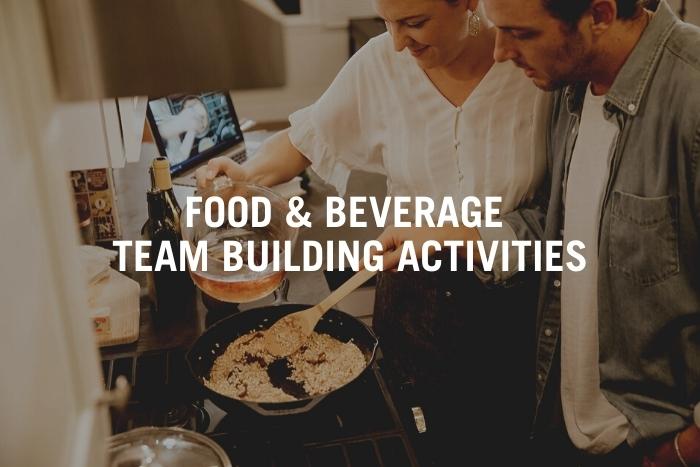 Try a virtual cheese tasting
Nothing makes bonding easier than a delicious snack. Virtual cheese tasting classes are a unique way to engage your team and support local businesses and farms.
Add some beer for a virtual beer & cheese pairing
Cheese on its own is great, but learning how to pair it with beer is even better. Check out these virtual events for a different kind of team building experience.
Hire a personal mixologist for your team (60 minutes)
What could be cooler than getting access to an award-winning mixologist for your team? While virtual happy hours have been done by most teams these days, hiring a professional amplifies the experience. An expert bartender + ingredients delivered to guests is a winning combination. Plus, mocktails are available as well, so everyone can be involved.
Cook dinner together with a private chef (90 minutes)
A private cooking class is super interactive and leads to a tasty result. This is great for experienced home cooks and beginners because there's no pressure — we're all at home anyway! In addition to cooking a dish to serve 4, you'll also learn professional chef skills and hear amazing industry stories.
Do a tea and coffee tasting
Let's be real, coffee and tea are a huge part of working life. So why not learn about the nuances of each of these beloved beverages? It's a unique team building activity that will leave your group feeling a bit more knowledgeable (and energized!)
Make your own gin
Send your team "make your own" gin kits and experiment together. Each person can customize their gin to their own taste. Whether you like your gin more floral or citrusy, the choice is yours!
Try a water tasting for something extra unique
Water tasting is the new wine tasting! Taste waters from around the world with a certified water sommelier and learn things you never knew about something you likely drink every day. If your goal is to find unique virtual team building activities, we guarantee you've not done virtual water tasting before.
Go on a virtual pub crawl
Yes, going on a pub crawl is still possible! Utilize breakout rooms to help create a different pub in each room and have teams go on a progressive experience. Provide a specific snack and drink for each room, a voila! Pub crawl at home. You can mix up the people in each room to make sure everyone gets a chance to spend time with each other.
Light a virtual campfire
Bring the camping experience to your team with tiny campfire. Each member of your team creates a literal tiny campfire, and a camp counselor leads the event with stories and games. Plus enjoy a taste, tiny 'smore! Great for the summer!
Take your tastebuds on a wild ride with flavor tripping (30 minutes)
Flavor tripping is as cool as it sounds — push boundaries of flavor with the help of miracle berries, turning anything sour into deliciously sweet. This 30-minute experience is high-energy and engaging. Perfect for breaking up long meetings and webinars. It's a unique virtual team building experience you have to taste to believe.
TEAM BUILDING GAMES & CHALLENGES
Host an indie game night
If you've got gamers in your group, host an indie game night to try out up-and-coming games. There are plenty of options on platforms like Steam to make streaming easy, or have everyone play it and then critique together. Snacks and drinks not optional!
Try a virtual scavenger hunt
There are many ways to do a virtual scavenger hunt, but to keep it interactive, ask your team to find items in their house under a time limit. This not only helps with conversation but gets your team moving.
Challenge your art skills with Pictionary
A game night classic, virtual Pictionary is a fun and silly way to spend some time with your team. All you need are some good prompts and maybe a cocktail or two to get the creative juices flowing.
Solve an ancient murder mystery
Head to ancient Egypt for a murder mystery case that only your team can solve! It combines a traditional murder mystery game with fun escape room challenges. And it might inspire the dreams of travel in the future.
Run a monthly virtual photo challenge
Challenge your team's creativity by asking them to create photos based on exciting prompts and then vote for your favorites. Add a prize for an extra incentive.
Take on an exercise challenge
Book a private trainer or health expert to talk through staying fit at home, and then start a team challenge. This could be as simple as going for a walk, doing 30 minutes of yoga, or getting sweaty with a HIIT workout. You can even tie in a charitable element to it, similar to running/walking for a cause.
Start a customized, monthly bingo night
Online bingo doesn't sound like a unique virtual team building activity, but once you customize it to your team or a certain theme, it can be a lot of fun! Try using activities that people might have done before on the board as a way to start conversations.
Escape a virtual room
Take the fun of a classic escape room with all the same challenges and competitiveness, but on Zoom! Hiring professionals to walk you through the escape rooms will make the event feel more exciting.
Unleash competitive spirits and build friendships with an office Olympics
Online Office Games help your team get closer as they create new team slogans, participate in fun trivia, and much more. You'll collaborate in new ways as you challenge yourselves.
Test your knowledge with a quirky history game
You might think you learned about ancient Greece, but this hilarious trivia game promises you don't know as much as you think. Your host is Socrates, and instead of asking you questions about the meaning of life, this Socrates asks questions like, "was cheesecake invented in ancient Greece?" Your team will have lots of fun.
Perfect your silent acting skills with a game of charades
There is something about a game of charades that brings out lots of laughter – and a competitive spirit. With this game of charades, split your team into 2 groups and have each team try to get as many points as possible! You can pick a theme, like only movies or tv shows or songs.
ART & ENTERTAINMENT TEAM BUILDING ACTIVITIES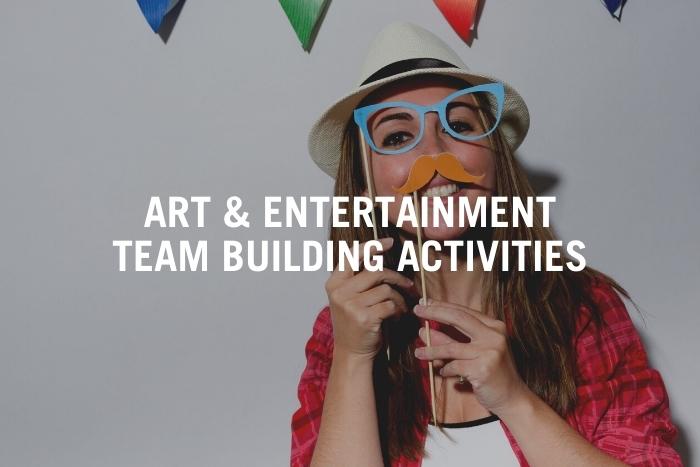 Start a movie club
With "watch party" being part of many streaming platforms, a movie club is easy to maintain. Simply choose a movie, send out the link, and watch. No icebreakers needed for this virtual team building activity. If a movie is too long, you could watch a funny series together, like The Office or Parks and Rec.
Have a virtual dance party
If you and your team miss happy hours in-person, pumping up the music is a way to re-live a good night out. And it's a good way to get moving after sitting down. Start a collaborative playlist and have everyone show off their moves to their favorite songs.
Treat your team to a storytelling workshop
Encourage your team to become better public speakers by improving their storytelling skills. Led by experts, this will help improve confidence and communication skills amongst your team. And it's a skill that extends beyond the office.
Plan a private performance
Hire a musician or band to treat your team to an intimate experience. Private events like this allow the team to have time with the performers that they wouldn't have had before, so it's truly unique!
Guess the song
Speaking of music, guess the song music trivia is another fun way to engage your group. Have them finish the lyric, guess the song name based on pictures, or speed up the song and have them guess it as super fast speed.
Or write one as your office theme song
Raise your hand if you watch The Office? There's at least a few of you. You know how iconic that intro song is, so why not write one for your own office? The team at Songdivision will help you create your own anthem with an interactive song-writing session led by world class musicians. You don't want to miss this!
Choose a class to take together
If you want to make sure your team is really engaged in any team building activities you plan, have them vote on a virtual class you'd like to do together. Coursehorse offers plenty of unique virtual team building activities, and by voting you can take out the guesswork of what your team will actually be interested in.
Start a book club
You can choose a book related to your job or not, and then set aside some time to talk about it together. To make it a little more interesting, have each team host the book club as if it were in person — they can create a theme, send out virtual backgrounds and send out snack lists.
Do some team building for charity
Virtual philanthropic events bring the team together for a good cause. Check out this site to help you pick a cause to raise funds for. If you want to up the luxury, make it a virtual gala event!
Party with some plants
A virtual plant party is a great team building activity for some quiet, zen bonding time. Each kit includes everything you need for mini succulent terrarium, just the perfect size for a desk! Your team can choose different design themes like beach, fairy garden, and even dinosaurs.
Head to South Africa for a live safari expedition
No need to book any flights for this virtual team building activity. Join host Deidre for a live tour of a wildlife sanctuary in which you and your colleagues will learn about giraffes, zebras, springbuck, and other animals on the farm. Ever imagine you'd see zebras from your desk? We didn't think so.
Explore creativity from within with a drawing class
Drawn From Within promises to teach your colleagues how to explore their own creativity, rather than technical drawing. You'll get a chance to learn from an expert instructor as you renew your curiosity and creative principles together.
Tell everyone an absurd story
The more absurd the better – I promise! The idea of this game is to grab the closest item to you and tell a story about it. This is to help get everyones creative juices going and have some fun in the process. You can either tell a funny or describe it as a famous artifact. Your choice – but get creative!
TEAM BUILDING ACTIVITIES TO GET TO KNOW EACH OTHER BETTER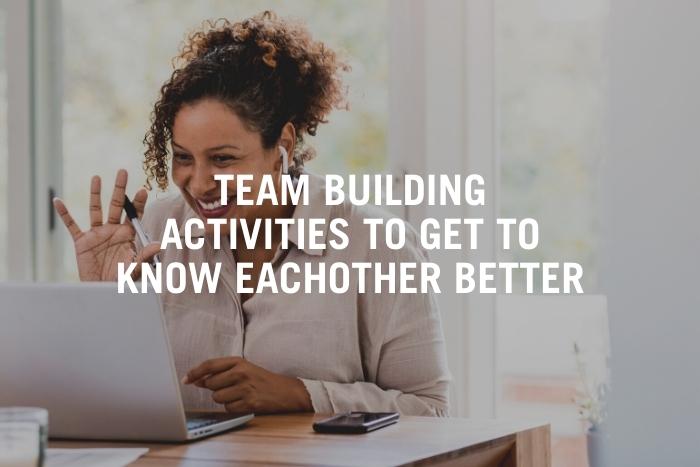 Put together a talent show
Why not? We've all been stuck mostly at home, so put together a quarantine talent show that asks your coworkers to show off any skills they've learned during this time. If they've become a master bread maker, built an awesome island on Animal Crossing, or really honed their nail art skills, have them show it off!
Use the Donut app to assign random conversation partners
Donut helps pair your team with each other so they can schedule some "water cooler time." And it gives them an excuse to take a break from the daily grind. The app easily integrates into Slack, and makes it easier to bring people together.
Do a personality test together
Personality tests are a powerful tool to get to know yourself and each other. There are lots of popular personality tests — Myers Brigg is just the beginning! Personality tests can also help your team learn more about their working styles, which can help lead to more productivity and empathy.
Put together a bucket list
Whether you're starting a new year or a new quarter, it's always good to reassess & reset goals. And while those words don't exactly ring "unique virtual team building activities," working with a bucket list coach does! Work with a bucket list coach to put together a holistic plan for both inside and outside the workplace that will leave your team with more motivation and purpose.
Host a monthly informational
But make it cool & unique by having each team member present about something they are interested in! Whether it's fashion, anime, or wood-turning, each member of your team has something they are passionate about that they can teach the group. The presentations will be more engaging and personal than your standard work meeting.
Show off your pets
Everyone loves seeing pictures of dogs and cats – even more so, everyone loves sharing photos of their dogs and cats. So, gather round the Zoom Room or create a private Slack channel to share your love of your pet. You may even get a new walking buddy out of it!
Invite everyone into your home
It's time to be the main character and show off your home like you're the celebrity in MTV Cribs! Don't be shy, I know you've opened the door to your house at least once like this and uttered those famous words "Hi, I'm ______. Welcome to my crib." It's always interesting seeing inside other people's homes. In the process, you can share your favorite memories or even brag about a cool feature.
Engaging with your team virtually isn't always easy. With zoom fatigue and virtual burnout, the last thing many people want to do is spend even more time staring at a screen. But with the right unique virtual team building activities at your fingertips, engaging, interactive group fun is only a click away.