A Spooktacular Virtual Experience with Tasty Treats & Perspective-Shifting Tricks
First, you'll craft an incredible, seasonal cocktail alongside an Award-Winning Mixologist. Next, with drinks in hand, your Avital Emcee Host will lead guests through a flavor experience like never before, using the magic of miracle berries and mysterious jellybeans to trick your tastebuds.
8+ Guests
From $175 Per Person
1 Hour
Private Experience
Cocktail Kits & Flavor Kits Delivered
"My team has a high bar for these virtual events, and you overachieved."
That was really fun. You were GREAT to work with. My team has a high bar for these virtual events, and you overachieved. It was very fun and interactive.
Dan G.
Manager at Google, 8 Guests, Tongue Twister Tasting
What's Included
Our Tricks & Treats is an all-inclusive experience with kits delivered, plus a 1-hour live event hosted by an expert Avital Emcee Host and Award-Winning Mixologist.
For groups looking for a shorter or lower cost Halloween experience, opt for just the Tricks or just the Treats kit.
Tricks Kit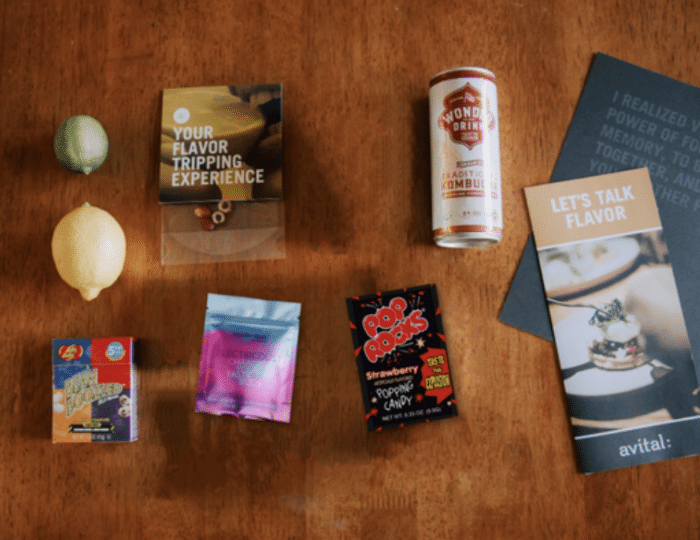 Miracle Berries
Fresh Lemon and Lime
BeanBoozled Jellybeans
Kombucha
Buzz Button Electric Dust
PopRocks
Classic Halloween Candy
Treats Kit
High-Quality Spirit
Housemade Syrups & Bitters
Fresh Citrus
Deluxe Garnish
Recipe Card
1-Hour Live Event
Avital Emcee Host
Award-Winning Mixologist
Run of Show
1:

Guests Get Settled
Guests log on and are welcomed by Avital Emcee Host. There will be a slide branded with your company's logo and a reminder list of what to prepare.
2:

Introductions
The experience begins! Your Avital Emcee Host will welcome guests and provide an overview of what's to come. 
3:

Craft Your Cocktail "Treat"
Your Award-Winning Mixologist will lead guests through the hands-on cocktail recipe. 
4:

Sip & Chat
Sip your tasty treat as Avital Host facilitates the conversation.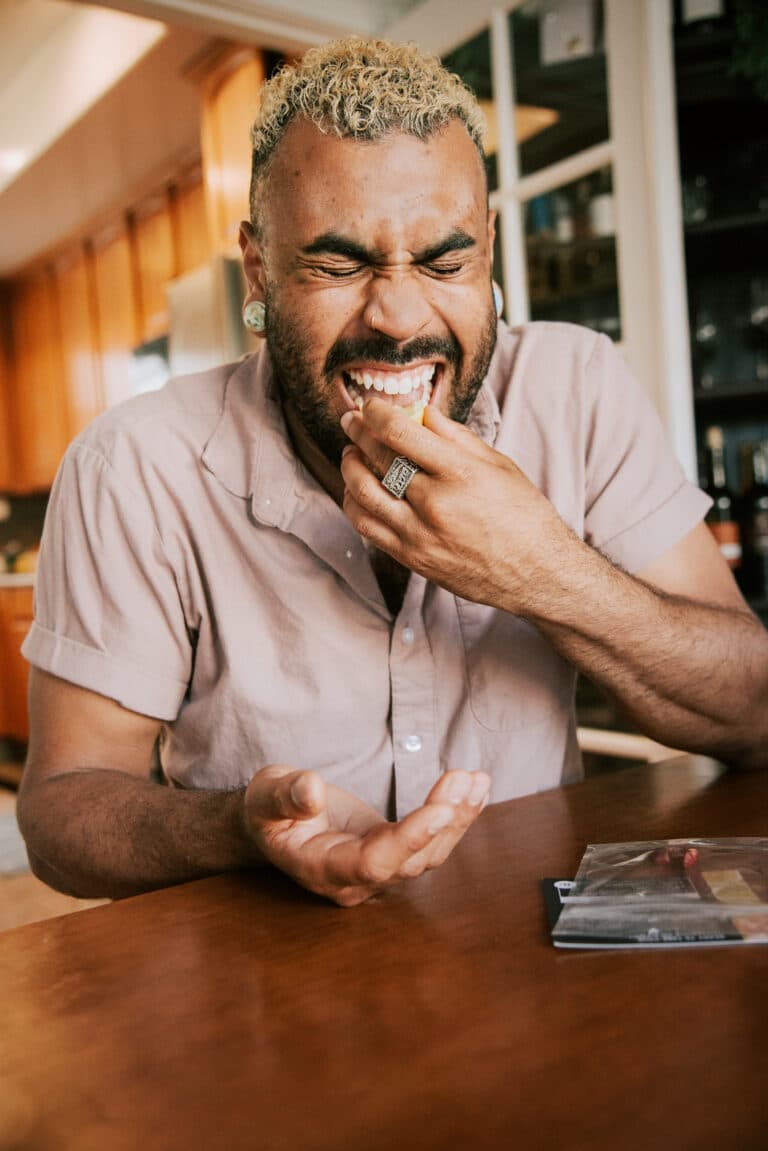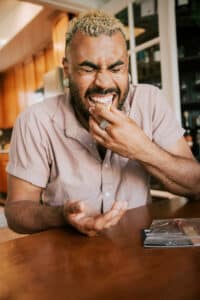 5:

"Trick" Tastebuds with Guided Flavor Tripping 
Trick your tastebuds by turning sour to sweet on this flavor tripping journey. 
6:

Wrap Up
As you nibble on the sour candies and chat, your Avital Host will wrap up the experience. 
The Essentials
Lead Time
10 business day lead time for flavor kit delivery. 7 business day lead time for RUSH delivery. 
Platform
Tricks & Treats experiences are hosted on Zoom or the video conference of your choice. We can host on your Webex, Google Meet, Microsoft Teams, Amazon Chime, and more!
Group Size
We can accommodate any group size! For large group options, view our Custom Experiences page.
Run Time
1 hour
Availability
7 days a week with start times 9am ET to 9pm PT.
Minimums
8 ticket minimum for groups with kit delivery. 
"Made me want to use Avital for every event."
All I can say is you were amazing and made me want to use Avital for every event. I always feel like I have to run everything and in this case….just sat back and enjoyed the ride. What a talent you have. Already wrote people saying we need to book this event for other groups. Thank you for making our day.
Kathleen O.
ABP at Google, 59 Guests, Tongue Twister Tasting
Dietary Restrictions
In addition to being totally unique and memorable, our Virtual Tricks & Treats experiences is flexible for dietary restrictions. Most everyone can eat fruit (and candy!) so everyone can participate in this classy, unique event. And for guests that don't drink alcohol can instead craft a zero-proof mocktail.
Why Book a Virtual Tricks & Treats Halloween Experience with Avital?
Inclusive Experience: Inclusive for all dietary restrictions and preferences making it a great fit for all groups.
Unique & Memorable: Surprise your team with a unique experience to celebrate the Halloween season!
Global Shipping: Connect your team, clients, or groups in the US and Canada with kits delivered in North America.
Easy Payment: We've been working with corporate groups since 2011 so we know the ins and outs of split payments, POs, and more.
Professional & Reliable: A full support team to ensure turnkey booking to a seamless experience that'll make you look like a rockstar.
Expertly Hosted: Each Tricks & Treats experience includes a vetted and trained Avital Emcee Host to facilitate the experience so you can sit back and enjoy!
Virtual Event FAQs
Book first, addresses later! : ) Addresses must be submitted at least 2 weeks prior to your event date to ensure pre-event delivery of your ingredients. Please book your event as soon as you know your date/time, don't wait for all your RSVPs – your date might sell out!
That's okay! Book your event with a deposit for your best estimate. When you submit your final guest list (2 weeks prior to event) you can make the necessary adjustments (max + or – 20% of your original guest count, refunded or charged accordingly)
Yes! You are welcome to host on your own account/platform instead of our Avital: Zoom if you wish. Our staff is fluent on Google Meet, Zoom, WebEx, and Teams, and must be granted access to Screen Share, Chat, Spotlight, and Mute capabilities. For all other platforms, please inquire about capability and recommendations. Platforms with two-way/group video capabilities are best for this interactive experience.
We have options! Ask your Avital event coordinator which package would be best for you based on your destination countries. Not all experiences ship everywhere, and shipping rates and timelines vary widely. Ask your coordinator right away for the best options.
Yes! We send tracking information/numbers as soon as we receive them from the shipping carrier. Please contact [email protected] with any questions or concerns you may have about tracking for your event, and our team will be happy to help! Our team also tracks your shipments for you and will alert you of any carrier delays and work with you on solutions.
Yes! Standard run time if flexible for up to 10 minutes of your own content. If you need additional time, you can add hosted Emcee time at $25 per 15 minutes, or have us join your platform link before/after your longer presentation (no additional event time or charge, we attend only for our standard run time.)
Our experiences are carefully curated to be cohesive, energetic experiences for your guests and work best when you stick to our well-rehearsed timing. We do our best to accommodate requests for condensed experiences, but want to set your expectations and encourage you to let us do what we do best!
All event packages include 15 minutes extra prior to your event start time for sound checks or tech checks you may need with our Emcee. This is the most accurate time to check true conditions. If you require a longer rehearsal call on another day, ask your coordinator about our Conference-Level package options which come with a rehearsal.
Choose one of our alcohol-free experiences, or one of our "mocktail friendly" cocktail options so everyone in your group has a great beverage to suit their needs. Ask your curator for suggested options from our seasonal menu.
No problem! We'll send you a prep sheet in advance that notes common substitute tools. A jar with lid is a great substitute shaker, measuring spoons will sub for a jigger, etc.
Yes. Some states legally prohibit the mailing of alcohol. We do our best via a network of partnerships to legally cover as many states as possible compared to other mixology options out there, but there are still a few stickler states.