Virtual Happy Hour with Ingredients Delivered, Designed for Engagement
Our virtual happy hour with cocktail kit experience with cocktail kits delivered to guests is a live, 1-hour event. Led by an Award-Winning Mixologist and facilitated by an Avital Emcee Host, guests get hands-on to make two incredible, seasonal cocktails. Our team takes care of all the details, providing a seamless experience for your team building or private group event.
8+ Guests
From $110 Per Person
1 Hour
Make 2 Cocktails
Private Experience
Cocktail Kits Delivered
Explore our Seasonal Cocktail Kits
Our cocktail menu changes seasonally to bring you the freshest flavors for your group virtual happy hour.
"Such a fun, unique experience for our team builder! In this age of virtual working, we are thankful you gave us a fresh concept."
Randy C.
Chief of Staff, 9 Guests, Virtual Mixologist
What's Included
Our virtual happy hour is an all-inclusive experience with seasonal cocktail kits delivered, plus a 1-hour live event hosted by an Expertly-Trained Avital Emcee Host and Award-Winning Bartender.
Cocktail Kit
Each kit includes ingredients to make 2 cocktails. Kit inclusions vary by cocktail, but typically include:
High-Quality Spirit
Housemade Syrups & Bitters
Fresh Citrus
Deluxe Garnish
Recipe Card
1-Hour Live Event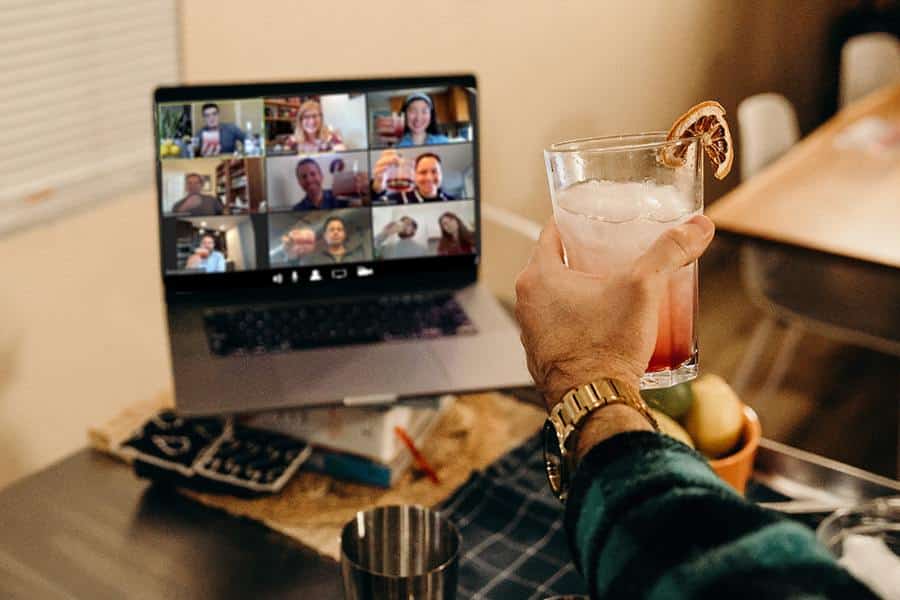 An expertly guided experience where guests get hands-on with the experts, including:

Award-Winning Mixologist
Expertly Trained Avital Emcee Host
Hands-On Cocktail Crafting (Make 2 Rounds)
Mixologist Q&A
Run of Show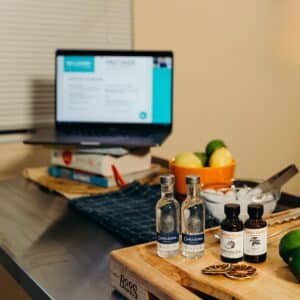 1:

Guests Get Settled
Guests log on and are welcomed by Avital Emcee Host and slide branded with your company's logo and a reminder list of what to prepare.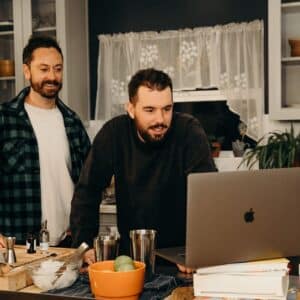 2:

Introductions (10 mins)
The experience begins! Your Avital Emcee Host will welcome guests and provide an overview of what's to come. They will also introduce your Award-Winning Mixologist! Option for guest host opening remarks.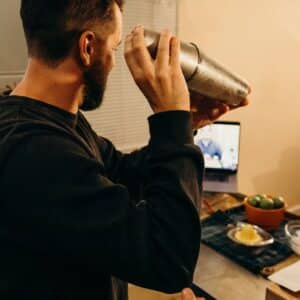 3:

Craft Featured Cocktail (15 mins)
The highlight of the experience! You'll craft your first cocktail and take the first sip. Your mixologist will walk you through every step, including what tools you'll need, the recipe, and techniques. Take your first sip with a 'cheers' group photo! Option for guest host to offer a toast to the group.
4:

Sips & Conversation (10-15 mins)
Ask questions and engage with colleagues or clients  as you sip and enjoy your cocktail. Avital Emcee Host facilitates interaction or learn about flavor balance and different style cocktails. Option for client presentation.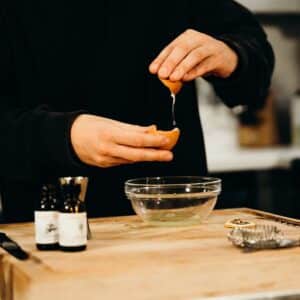 5:

Craft Second Cocktail Variation (15 mins)
Next you'll build a variation of the cocktail and discover a new mixology technique.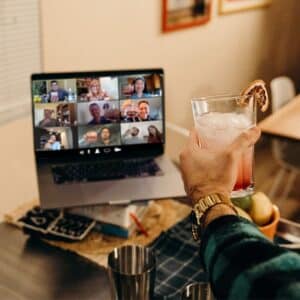 6:

Cocktail Talk with Mixologist Q&A (15 mins)
As you sip your second cocktail you'll have more time to engage with your mixologist and connect with others in the group.
The Essentials
Alcohol
Alcohol is included in all cocktail kits unless otherwise noted. However, all cocktails can be made non-alcoholic and we'll substitute the spirit for seltzer water.
Lead Time
10 business day lead time for cocktail kit delivery. 7 business day lead time for RUSH delivery.
USA Shipping
Shipping is available to the contiguous United States. We cannot ship alcohol to AL, AR, ID, MI, NC, OH, TN, UT, and VA. Cocktail kits shipped to these states will include seltzer.
Canada and UK Shipping
Canada and UK groups can choose a coordinating cocktail to pair with the USA Seasonal equivalent. Shipping Deadlines are +5 business days longer than standard ground. No rush shipping. BYO is available for other global destinations.
Run Time
60 minutes
Availability
7 days a week with start times 9am ET to 9pm PT.
Platform
Virtual happy hours are hosted on Zoom or the video conference of your choice. We can host on your Webex, Google Meet, Microsoft Teams, Amazon Chime and more!
Minimums
8 ticket minimum for groups with cocktail kit delivery.
Group Size
We can accommodate any group size! For large group options, see our Virtual Conference Happy Hour.
"Efficiently organized. Superbly executed. Avital makes the online experience feel very human."
Mark O.
CFO at Cica Inc., 9 Guests, Virtual Mixologist
Upgrades & Add-ons
Add 2nd Cocktail Kit
+$60 Per Person (+Shipping)
Choose 2 cocktail kits to make 2 featured cocktails during the experience. Guests will have extra ingredients to use post-event too!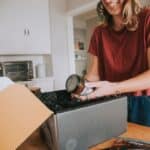 Add Classic Snack Box
+$50 Per Person (+Shipping)
Choose from fresh Mexican botanas or tasty charcuterie nibbles.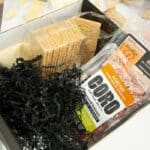 Add Deluxe Charcuterie Box
+$110 Per Person (+Shipping)
A collection of rich hors d'oeuvre.
Dietary Restrictions
Our Virtual Mixologist experience always has a Zero-Proof option for groups that don't drink alcohol. We also have several cocktail kits that are specifically designed to taste delicious either with or without alcohol by substituting seltzer water in place of the spirit. We'll ask for your group preference during your booking process to ensure each guest is taken care of.
Why Avital for Your Next Virtual Happy Hour?
International Shipping: Including the UK and Canada to connect groups even from afar. Guests from all over the world can also join BYO-style.
Easy Payment: We've been working with corporate groups since 2011 so we know the ins and outs of split payments, POs, and more.
Experienced Team: A full support team to ensure turnkey booking to a seamless experience that'll make you look like a rockstar.
Expertly Hosted: Each happy hour includes an award-winning bartender, plus an expertly-trained Avital Emcee Host to facilitate the experience so you can sit back and enjoy!
Interactive Events: Guests get hands-on during this cocktail experience, learning expert tips along the way. Spectators become participants.
What Is a Virtual Happy Hour with Cocktail Kit?
A virtual happy hour is an online virtual event for groups and teams where they make and drink different cocktails. These events are typically held on video platforms like Zoom or Google Meet and connect people from all over the world. Guests learn cool mixology techniques from an expert bartender, plus discover unique cocktail recipes and flavors. Virtual happy hours are a great way to connect remote or hybrid teams for virtual team building, or even for virtual client entertainment.
FAQ
Ingredients delivery upgrades include all the consumable items required to make your cocktail (enough for 2!) such as specialty syrups or bitters, whole fresh citrus fruit, garnish, and YES the alcohol, too! *Except where restricted by law.
No problem! We'll send you a prep sheet in advance that notes common substitute tools. A jar with lid is a great substitute shaker, measuring spoons will sub for a jigger, etc. You can also upgrade to include a professional Boston style cocktail shaker with your order.
Addresses must be submitted at least 10 business days in advance to ensure pre-event delivery of your ingredients. Or add rush shipping to reduce to 7 business days in advance (+$20 per delivery).
We provide international shipping to the UK and Canada! Depending on the region, address deadlines, cocktail options, and rates will vary. And guests from other parts of the world can join BYO-style.
Choose one of our "Mocktail Friendly" cocktail options for an inclusive experience. You mixologist will note any recipe variations required, and all materials for a delicious mocktail version are included in every delivery. Mark "non-alcoholic" on the guest list for anyone who would also like the alcohol removed from their box.
Yes! We send tracking information/numbers as soon as we receive them from our shipping carriers. Please contact [email protected] with any questions or concerns you may have about tracking for your event, and our team will be happy to help!
That's okay! Book your event with a deposit for your minimum attendance estimate. Final count due 10 business days prior to event (with your mailing addresses.) Continue to add "BYO" guests at any time.
Yes! Standard run time is 45-60 minutes, with flexibility for up to 10 minutes of your own content. If you need additional time, you can add hosted emcee time at $25 per 15 minutes. Alternatively, you may host on your own platform account (we join for 1 hour before/after your content, no extra staff time charges.)
Our Mixology experience is carefully curated to be a cohesive, energetic experience for your guests and works best when you stick to our well-rehearsed timing. We do our best to accommodate requests for condensed experiences, but want to set your expectations and encourage you to let us do what we do best, in 45-60 minutes.
Yes! You are welcome to host on your own account/platform instead of our Avital Zoom if you wish. Our staff is fluent on Google Meet, Zoom, WebEx, and Teams, and must be granted access to Screen Share, Chat, and Mute capabilities. For all other platforms, please inquire about capability and recommendations. Platforms with two-way/group video capabilities are best for this interactive experience.
All event packages include 15 minutes extra prior to your event start time for any sound checks or tech checks you may need with our Emcee. Our Virtual Conference Happy Hour packages also include a separate rehearsal run-through.