17 Most Amazing Virtual Happy Hour Cocktail Kits in 2023
May 12, 2021
With the rise of the virtual happy hour came the virtual happy hour cocktail kit! And we're not complaining— virtual happy hour cocktail kits make for an easier party set up, especially when delivered to each guest's door. Plus, there's a cocktail kit for every palette to satisfy whiskey drinkers and gin lovers alike.
We've put together a list of the 17 most amazing virtual happy cocktail kits that offer everything from a standard cocktail kit, pre-made bottled cocktails, or a custom experience with a professional mixologist.
1. Try the Old Fashioned Cocktail Kit from W&P
A sleek, compact design fits enough ingredients for two Old Fashioned cocktails, made right at your desk. This Old Fashioned kit is great for those low on space and a perfect transition from work to happy hour. The only thing not included is the "hard stuff" as W&P puts it, which isn't necessarily a bad thing as guests can choose their favorite brand of whiskey. W&P also has a great selection of other virtual happy hour cocktail kits, so be sure to check them out as well!
What's Included: This kit includes the tools to craft two classic Old Fashioned cocktails at your desk: small-batch aromatic bitters, cane sugar, a desk-size bar spoon and muddler, a recipe card and a linen coaster.
Cost: Starting at $19.20
2. Choose from a variety of Bubble Tap cocktails
The Bubble Tap got its start bringing bubbly on draft in a cute pink trailer to parties. A great idea, if you ask us (and Lance Bass who is partner in the business!). And their cocktail kits are just as cute! Virtual mixology sessions will really elevate the look of your event, whether you're planning a virtual bachelorette party or virtual conference. Choose your cocktail from a variety of delicious options, and you're set for a great time.
What's Included: Each cocktail kit comes in a custom, Bubble Tap-branded "This Box Is Ready…..To Paartaay" box and includes a Bubble Tap-branded coaster. Additionally, our two and three cocktail kits include a Bubble Tap-branded cocktail shaker and a bar jigger.
Cost: Starting at $49 + $28 shipping.
3. Explore the world of California wines
If you're looking for something simpler than virtual happy hour cocktail kits, meet the virtual tasting kit. You'll get all the fun of a virtual happy hour without the mess of cocktail making! Monochrome is a winemaker out of California that focuses exclusively on white wines. We like this kit because it challenges the notion that red wine is superior or that white wine is one dimensional. With Monochrome's virtual tasting kit, you're sure to change your mind.
What's Included: The Virtual Tasting Kit contains tasting-sized (2 oz) samples of five Monochrome wines, each of which has scored 90+ points from the critics. It also contains notes about the wines and a personal virtual tasting with Monochrome's winemaker, Dave McGee
Cost: $25

4. Enjoy an Avital: Mixology Medley to learn new skills
Cocktails can generally be broken into two families: shaken and stirred. With an Avital: Virtual Mixologist Experience, you get a virtual happy hour cocktail kit that teaches you both style of cocktails. This class is focused on building your skills, giving you the tools you need to learn to make tasty shaken and stirred drinks, all while also focused on FUN – of course! Hosted by an award-winning mixologist, you'll get tricks of the trade, as well as stories from their time behind the bar. You might even feel qualified enough to become a bartender yourself…or at least be in charge of the margaritas at your next shindig.
What's Included: Our Virtual Mixologist Experience includes a personal culinary curator, an award-winning mixologist, an Avital Emcee Host, a 60-minute guided experience, and two cocktail kits. Each cocktail kit comes with a high-quality spirit, house made syrups & bitters, fresh citrus, a deluxe garnish, like brûléed lemon wheels and a recipe card of the drink you just made.
Cost: $150 per person
5. Go nonalcoholic with Curious Cocktail Club
As far as virtual happy hour cocktail kits go, we like this one for the uniqueness. Curious Cocktail Club ships a monthly variety pack of deliciously crafted nonalcoholic elixirs. This subscription service is an easy way to set up a monthly hang, and include drinkers and non-drinkers. All bottles are booze free and made with organic ingredients. Bonus: since it's booze-free, you don't have to worry about the restrictions around sending spirits to different states.
What's Included: Each month, you'll receive a variety pack with their favorite flavors of booze-free craft cocktails. Every Curious Elixir is 100% booze-free, handcrafted with organic ingredients and no refined sugar.
Cost: Starting at $29 + $9 shipping (per month)
6. Sip on some bottled cocktails
Straightaway bottles have some "astonishing cocktails" as they put it, and it's true! What's more astonishing than being able to pour a well-made Negroni or a Paper Plane straight from the bottle? Well, get ready for Straightaway's virtual happy hour where you'll sip on ready-made cocktails and learn about the history of drink-making. It's as easy as— you guessed it— opening a bottle.
What's Included: Each kit includes a sampler set of their 6 (50ml) ready-made cocktails.
Cost: Starting at $36.
7. Taste a selection of beers with a beer flight
This is a great option if you've tried many virtual happy hour cocktail kits and want to keep it simple. There are many nuances to beer and a Virtual Beer Tasting will help you answer all your questions. Learn about the look, mouthfeel, smell, and more as you explore the flavor profiles of lagers, ales and IPAs.
What's Included: In the Standard Tasting kit, you get 4 different cans of beer, handpicked by their experts.
Cost: $75 per person + $300 instructor fee.

8. Try an Avital Virtual Happy Hour led by a seasoned mixologist
Let an expert take the lead with all the event planning needed to make a great experience for you and your group. This is a shorter event hosted by Avital Tours that teaches you how to create one cocktail instead of two. This might be best for a shorter event or one where you don't want to go too hard on the cocktails in one sitting! Plus, you get to choose which drink you all make. From strawberry lemongrass margarita to a smoked peach old fashioned, there is a delectable and interesting array of cocktails to choose from. All of your ingredients are shipped straight to you including a deluxe garnish and recipe card. Click here to learn more about this amazing virtual event.
What's Included:
Our Virtual Mixologist Experience includes a personal culinary curator, an award-winning mixologist, an Avital Emcee Host, a 60-minute guided experience, and a cocktail kit. Each cocktail kit comes with a high-quality spirit, house made syrups & bitters, fresh citrus, a deluxe garnish, and a recipe card of the drink you just made.
Cost: $100 per person
9. Experience a virtual tasting then make a gourmet cocktail
The Banhez Mezcal Oculus VR Experience is one like no other. It combines virtual reality, education, swag, cocktails, and travel – all delivered to your door. With this experience, an Oculus virtual reality headset is sent to you so you can take a virtual tour of the award winning Banhez Mezcal operation in Oaxaca, Mexico. After an immersive tasting and tour of the distillery, make your gourmet cocktail and enjoy. When your experience is done you send back your Oculus with the shipping label provided – easy peasy! Click here to order your kit.
What's Included: 1 Oculus Virtual Reality Headset and Controllers, 1 Para Todo Bien Mini Kit, 1 Banhez Ensemble 750 ml bottle, 1 Orange, 1 Tbsp Worm Salt, 1 Jicara, 1 Banhez T-Shirt (L), 1 Banhez Informational Booklet, 1 Oculus Return Instructions and Shipping Label

Cost: $139 per person
10. Another way to go N/A with a Seedlip starter kit and recipe book
While not completely all inclusive this kit will pay dividends. Seedlip is a nondrinking alcohol company that creates complex and delicious alternatives to hard alcohol for cocktail making and sipping. This kit includes the three varietals of their non alcoholic spirits in a super cute printed gift box. Also included is a hard cover copy of Seedlip: The Cocktail Book. From the site, "Inside the book's pages you'll find over 100 recipes created by Seedlip & some of the world's best bartenders. Each recipe is beautifully illustrated w/ iconic Seedlip photography by Rob Lawson." Click here to order.
What's Included: One of each 200ml-sized bottles of Seedlip Spirits in a printed gift box and a copy of Seedlip's first cocktail book, Seedlip: The Cocktail Book, published by Penguin Random House.
Cost: $550
11. Create your own gin with this kit
Making gin is surprisingly easy with a little guidance and a few supplies. Do Your Gin is a delivered make your own gin kit that encourages you to get creative. You'll get the standard juniper berries, but you'll also get thinks like cardamom, lavender, hibiscus, and more to make your gin completely unique and your own. Click here to order your own gin making kit to do a virtual happy hour at home!
What's Included: 12 exotic botanicals and all equipment needed to for you to start making your own gin (liquor not included)
Cost: $59.90
12. Super easy sangria infusion bags
Sangria is a favorite for a reason. It's fruity, bold, complex, and most importantly… contains wine. Who doesn't love that?! And who doesn't love a no frills gift that makes a delicious beverage come to life in with almost no effort? Okay okay okay we'll tell you what we're thinking. The InBooz cocktail packets contain dehydrated fruits, veggies, and spices that make your cocktail pour over with flavor while taking no effort on your part. For their sangria package, pour two bottles of wine over the sangria infusion packet and let it sit on the counter or in your fridge in a pitcher. To serve, pour in a glass, add a little bubbly water or sparkling wine, and garnish with some apple and orange slices. YUM! Click here to order.
What's Included: Infusion pouches and instructions
Cost: $18
13. A Mocktail Kit and Virtual Happy Hour
This kit comes with a virtual expert mixologist to show you how to make your drinks and learn about the art of cocktail and mocktail making. So, it's way more than just a kit, it's an experience! This is a great option if you want to try a kit with a group or team and you don't have the time or geographic bearings to be able to meet up together in person. Your online host will welcome you before your veteran bartender tells you about the art of mixology. After that, you'll make your drinks with them guiding the way. Try this Butterfly Pea mocktail kit with an expert mixologist to guide your way today!
WHAT'S INCLUDED: High-Quality Spirit, Housemade Syrups & Bitters, Fresh Citrus, Deluxe Garnish, Recipe Card, Award winning mixologist and Q&A session
COST: Inquire for pricing
14. Bloody Good Mary Kit with Deluxe Fixings
Bloody Mary Bloody Mary! One of thew few famous savory cocktails are coming to you in this amazing kit with deluxe fixings. Along with your classic bloody ingredients you'll also get a spiced rim salt, snack stick garnish, and more. Learn more about this Bloody Mary kit here.
WHAT'S INCLUDED: Campbell's Tomato Juice, Demitri's Bloody Mary Seasoning, Master of Mixes Lemon Juice, Demitri's Rimshot Spiced Rim Salt, Slim Jim Smoked Snack Stick, Cholula Hot Sauce Portion Packet, Pepper Grinder, Dardimans California Dehydrated Lemon Slices
COST: $48.50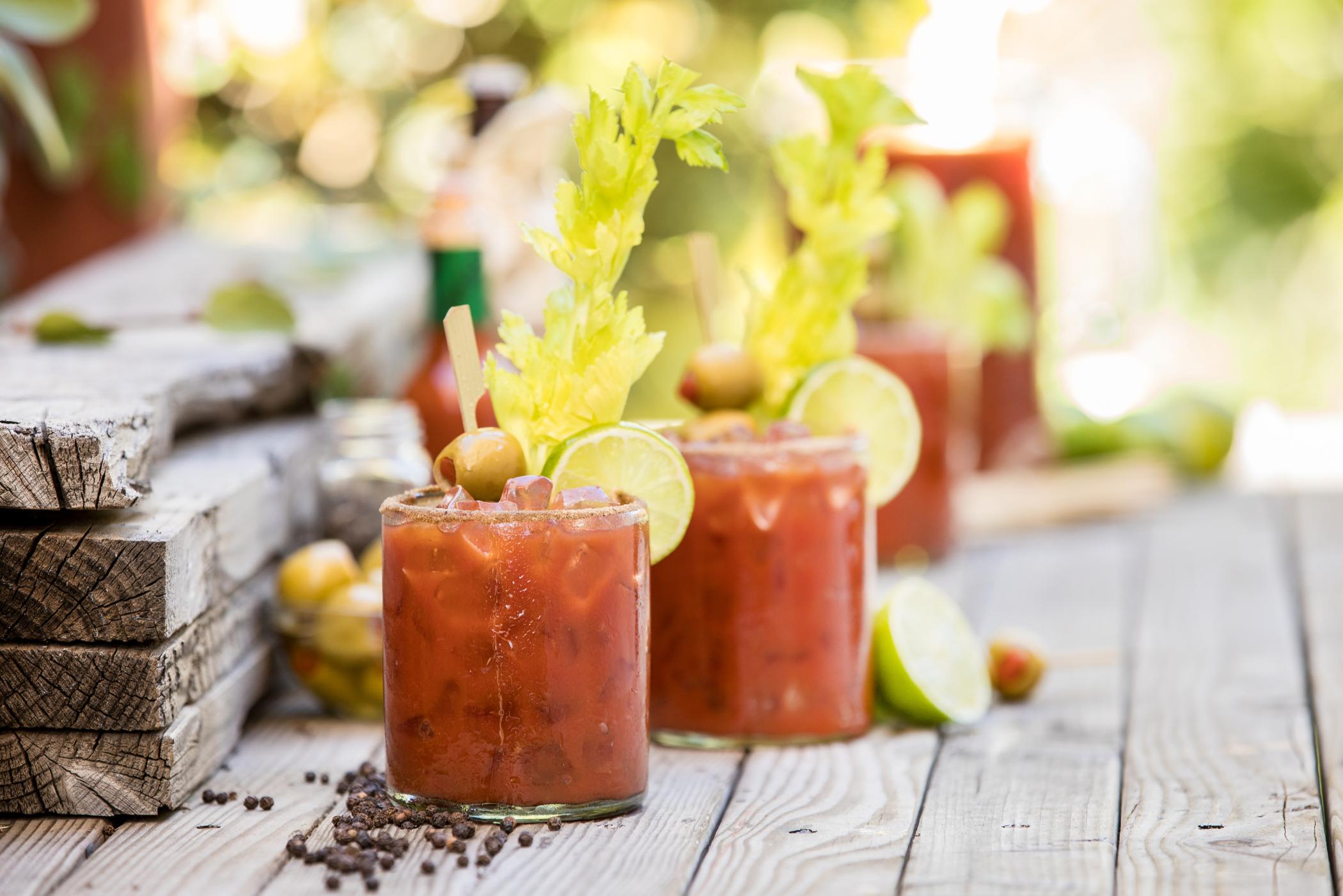 15. A Fully Loaded Collection of 10 Ready to Pour Cocktails
Drnxmyth is revolutionizing the way we drink bottled cocktails. Every cocktail is made with fresh pressed juice so you can be rest assured that even though these are bottled cocktails – they'll taste fresh and delicious. Drnxmyth has a special "twist-to-mix" tech to ensure this freshness so your drinks taste like they were just made by an expert bartender (instead of filled with artificial flavoring and colors). Try this freshly squeezed cocktail box today.
WHAT'S INCLUDED: 10 drinks, 20 servings: Bourbon Sour, Eastside, Cucumber Margarita, Pineapple Jalapeno Margarita, Apricot Rye Smash, Strawberry Margarita, Rum Punch, Ginger Drop, Smoked Watermelon, Classic Margarita.
COST: $122
16. Shaker & Spoon
Shaker & Spoon delivers freshly made drink concepts to your door so you don't have to be creative when drinking from home. Every month you'll get a new creative drink and a box with the accessories to make it come to reality. Try Shaker & Spoon today!
From the site:
We'll teach you to mix up bar-quality cocktails from recipes designed by award-winning mixologists, all while exposing you to new flavors & combinations and demonstrating a range of what each spirit can do.
WHAT'S INCLUDED: Each month you'll get 3 recipes and everything you need to make 12 drinks (4 from each recipe) besides the alcohol
COST: $50-59 a month
17. Haus: Low ABV Spritz Kit
Haus aperitifs are a great option when you don't want to get tooooo boozy. And it seems a lot of other people want the same thing. Low ABV drinks are coming on the market and are flying off the shelves! Check on this new trend with their aperitifs made from Sonoma grapes and locally sourced botanicals and spices. Try their kit of different aperitifs today.
WHAT'S INCLUDED: 4 signature Haus aperitifs; each bottle contains enough for 2-3 drinks
COST: $50
Virtual happy hour cocktail kits make having a good time super easy and there's one for every kind of drinker, with delivery include. Plan your next virtual happy hour with one of these great kits!
Not Sure Which Happy Hour Kit is Right For You?