9 Coolest Restaurants with Private Rooms in Los Angeles
April 26, 2023
Updated November 28, 2023
Welcome to the land of glitz and glamour, where the palm trees sway and the sun always shines. That's right, we're talking about the city of angels, the one and only Los Angeles! LA is home to thousands of incredible restaurants, many with private dining options. But how can you differentiate the good from the bad? That's where we come in. We've rounded up the nine coolest restaurants with private rooms, Los Angeles! Perfect for team building, a private birthday party, or a fancy night out to treat clients. So put on your fancy pants, and let's dive into the magical world of LA's private dining scene!
What Are Restaurants with Private Rooms Los Angeles?
In the bustling food scene of Los Angeles, the search for an intimate and exclusive dining experience often leads to the discovery of restaurants with private rooms. Los Angeles is renowned for its diverse culinary landscape, and many establishments offer the allure of secluded dining spaces to elevate your meal. Whether you're celebrating a special occasion or hosting a team building event in LA, these best private dining rooms in Los Angeles provide the perfect backdrop for memorable moments. From hidden gems in the heart of the city to oceanfront venues with breathtaking views, Los Angeles private dining options cater to a wide range of tastes and preferences, ensuring an unforgettable dining experience in the City of Angels.
1. Transcend to Italy at LAVO Ristorante
LAVO Ristorante is an exquisite coastal Italian eatery that prides itself on delivering a top-notch alfresco dining experience all year round. With a seating capacity of 45 for the private dining room or 250 for the whole place, the restaurant offers a seamless indoor and outdoor experience. Its dining room is bathed in warm natural light, complete with a retractable roof, and adorned with plush Italian furnishings that are a sight to behold. LAVO featured a curated menu that expertly blends the flavors of coastal southern Italy with the fresh and vibrant produce of Southern California.
2. Relax at Enjoy at Moonlark Dinette
Moonlark Dinette serves unfussy, classic diner fare in their nostalgic restaurant space in the Hoxton in DTLA. From elevated diner sandwiches to locally source seafood and refreshing cocktail, Moonlark is a place you won't want to leave. There are a wide range of event spaces accommodating 24-100 guests, and suitable for any occasion, from team happy hours to elegant birthday parties.
Moonlark is an Avital Interactive Meal Partner.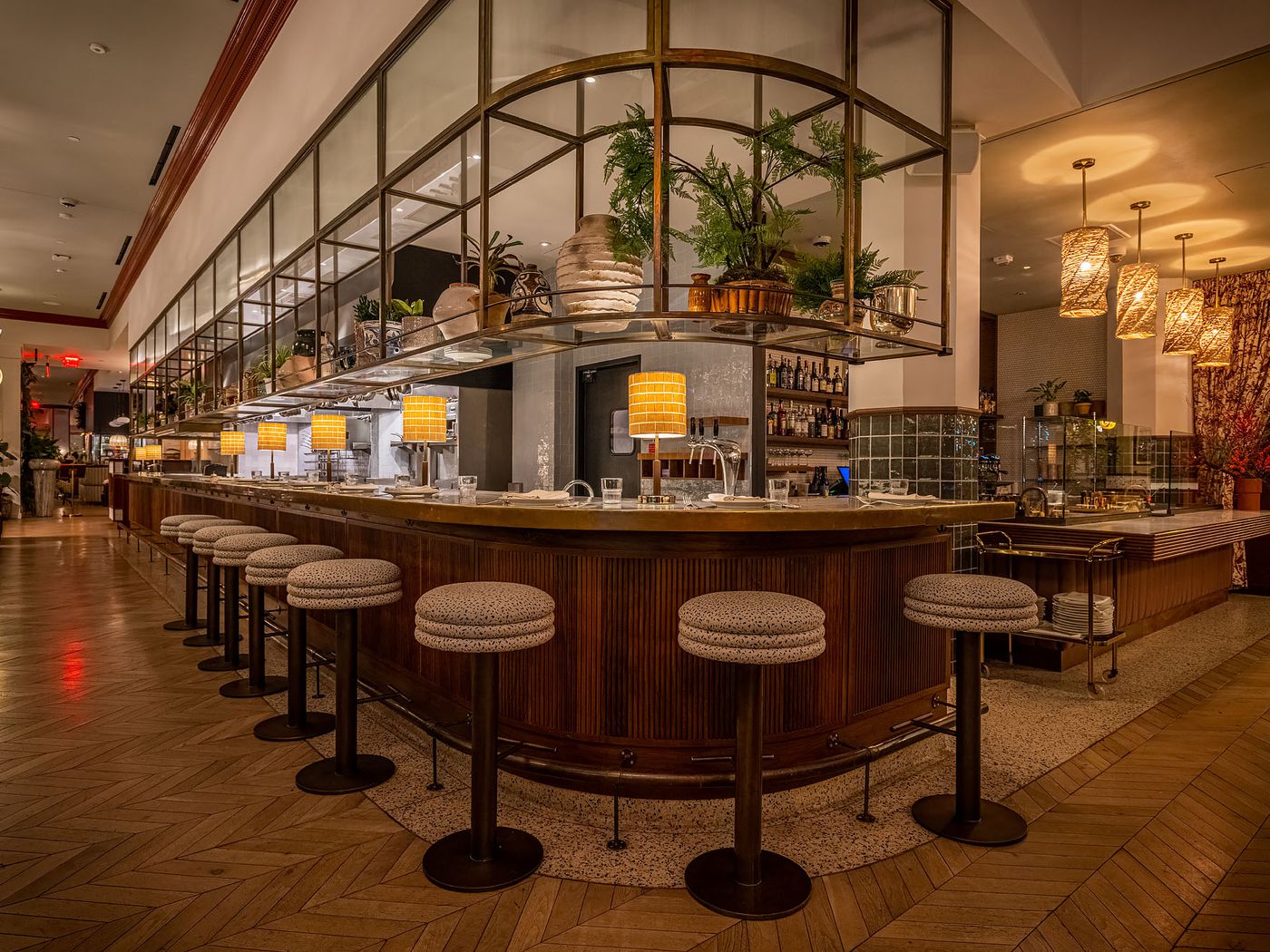 3. Embrace the Historic Roots of Republique
In the heart of Miracle Mile lies République, housed in a historic building that dates back to 1929, once owned by the legendary Charlie Chaplin. The restaurant exudes an air of elegance and sophistication, steeped in a rich history that is palpable as soon as you step in. There are six dining areas to choose from, the busting Kitchen Tables area in the center of the room seating 35 guests to the intimate Alcove seating up to 8 guests. Groups can also rent the entire restaurant for large events up to 300 guests. At République, every detail is thoughtfully executed to create an unforgettable gastronomic experience.
4. Enjoy The Bright, Friendly Atmosphere at Saffy's
Step into Saffy's and be instantly transported to a different time and place, while still feeling right at home. This Middle Eastern restaurant offers a unique blend of traditional flavors infused with modern techniques that will leave your taste buds craving for more. The cozy and intimate space is filled with warm and enthusiastic hospitality that will make you feel like a treasured guest. With 2 unique event spaces to choose from, the space is flexible for small to large groups.
5. Take In The Incredible Views at 71Above
Nestled in the pulsating heart of downtown Los Angeles, at nearly 1,000 feet above the ground, 71Above is a breathtaking dining destination and the highest restaurant west of the Mississippi. The restaurant serves up elevated modern American cuisine that is seasonal, fresh, and oh-so-delectable. The star of the show, however, is the stunning 360º panoramic views of Dodger Stadium and surrounding mountain ranges, making it a sight to behold. With three event spaces, accommodating 34 guests seated or 75 guests standing, it's the perfect location for corporate meetings, birthday parties, and more.
6. Explore The Unique Flavors of Majordomo
David Chang's foray into the West Coast food scene has been a game-changer, and his Momofuku restaurant in LA is no exception. A celebration of culinary diversity, the restaurant blends the vibrant flavors of Korea and Italy to create a true melting pot experience that is nothing short of extraordinary. The restaurant's sleek and convivial atmosphere is perfect for a memorable dining experience, and the sun-drenched terrace only adds to the ambiance. There are different private dining spaces to accommodate 24 to 300 guests, each beautifully designed, with unparalleled fusion cuisine and impeccable service.
7. Elevate Your Dining at Manzke
This Michelin-starred restaurant draws inspiration from the diverse cultural intersections that make Los Angeles such a special place. The menu celebrates the unique flavors and ingredients found locally and around the globe, including influences from Latin America, Asia, and Europe. There are unique private dining spaces including its mezzanine level, providing a bird's-eye view of the kitchen and your fellow diners below. There's also a more private dining room that can accommodate up to 10 guests.
8. Experience The Art at Kodō
Kodō is a contemporary Japanese American restaurant that takes inspiration from the bistro-style dining experience. The menu features a rotating selection of dishes cooked over binchotan charcoal, plus a sushi counter featuring fresh fish caught locally and sourced from markets in Japan. The private dining room blurs the line btween art and dining. A greenhouse-inspired space featuring a stunning custom-built 16′ live-edge pine table with six benches, comfortably seating up to 20 guests. The flexible space serves as a dynamic platform for celebration, collaboration, and curation.
9. Get Hands-On with Avital Experience
Avital's Interactive Meal takes place at different restaurant partners around the city. It's a private dining experience with a layer of interaction curated by the team at Avital. This unique culinary adventure begins as guests mix and mingle while enjoying a delicious drink and snacks. Then an expert mixologist guides guests through crafting their own cocktail while indulging in appetizers. Afterwards, guests are seated together to savor the seasonal entrée paired with another delightful beverage before teaming up for food and drink trivia with prizes. Finally, the experience concludes with a special, perspective-shifting flavor finale and time for authentic engagement. With the flexible venue model, Avital can accommodate groups of all sizes, from 8 to 800!
Los Angeles is home to a diverse and vibrant culinary scene that offers something for everyone. Whether you're looking to host an intimate gathering or an extravagant celebration, these LA restaurants with private rooms have got you covered. From breathtaking views to exquisite menus and unique atmospheres, they offer a range of options that are sure to impress. So why not take your LA dining experience to the next level and book a private room at one of these amazing restaurants for your next special occasion?