12 Unique Corporate Holiday Parties NYC for 2023
September 16, 2022
As the holidays draws near, the buzz around New York City's bustling corporate landscape intensifies, and what better way to celebrate the holiday season than by organizing a unique and unforgettable corporate holiday party? New York City's reputation for creativity, diversity, and innovation extends seamlessly to its corporate holiday gatherings. In this blog, we explore unique Corporate Holiday Parties NYC for this year, each promising a distinct experience that goes beyond the ordinary.
Whether you're planning a large-scale extravaganza or an intimate gathering, the city that never sleeps has you covered with a range of captivating and trend-setting options. Join us as we embark on a journey through the ultimate destinations for memorable Corporate Holiday Parties NYC, setting the tone for a festive season to remember.
What are Unique Corporate Holiday Parties NYC?
Before we get into our list, let's define what we're talking about to be sure you're in the right place. Corporate holiday parties NYC are for colleagues that work together that live or work in the New York City area. While it will coincide with the holiday season, it is not required to make it holiday themed. Rather than being about a specific holiday, we like to think it's more about having a reason to celebrate one another and send each other off before heading to your own personal holiday activities, trips, and events. New York City is the Big Apple, baby! That means big opportunities to wow your team – whether you don't want to break the bank, or have a big budget to spoil everyone! We think you'll like what you find.
1. Hands-On, Interactive Meal with Avital Experiences
Avital's NYC Interactive Meal is a fun and interactive dining experience that's both your meal AND your activity, all-in-one. A multi-course prix fixe meal is the foundation, with engaging activities interspersed throughout, for a perfect balance of structured activity and open time to relax and enjoy. Better than simply "booking a restaurant" for the holidays, your dedicated Host invites guest to "Play With Your Food" in our classy-and-quirky Avital style. From making and shaking your own festive cocktail, to holiday food trivia with prizes, to our signature Flavor Finale tasting experience, your guests will be surprised and delighted with a unique and memorable holiday dining experience that's anything but boring!
Why we love it: It combines a delicious meal with interactive activities for a unique, all-inclusive, easy-to-book holiday experience.
2. Festive Food Tour in Flatiron or East Village with Avital Experiences
Discover the East Village or Flatiron like never before with a festive food tour. Your team will be immersed into the neighborhood's history, culture, and the best part, it's food. In three hours, your expert Avital guide will take you to three incredible restaurants for a multi-course meal and beverage pairings for a unique corporate holiday experience. You'll discover amazing history of the neighborhood (even for SF locals!) with colorful commentary from your Avital Guide, plus a sprinkling of delightful holiday treats, games, and stories.
Why we love it: Break from the typical holiday party mold and get your team an experience where they'll learn about New York City, its history, and most importantly, its food.
3. Build Your Own Charcuterie Chalets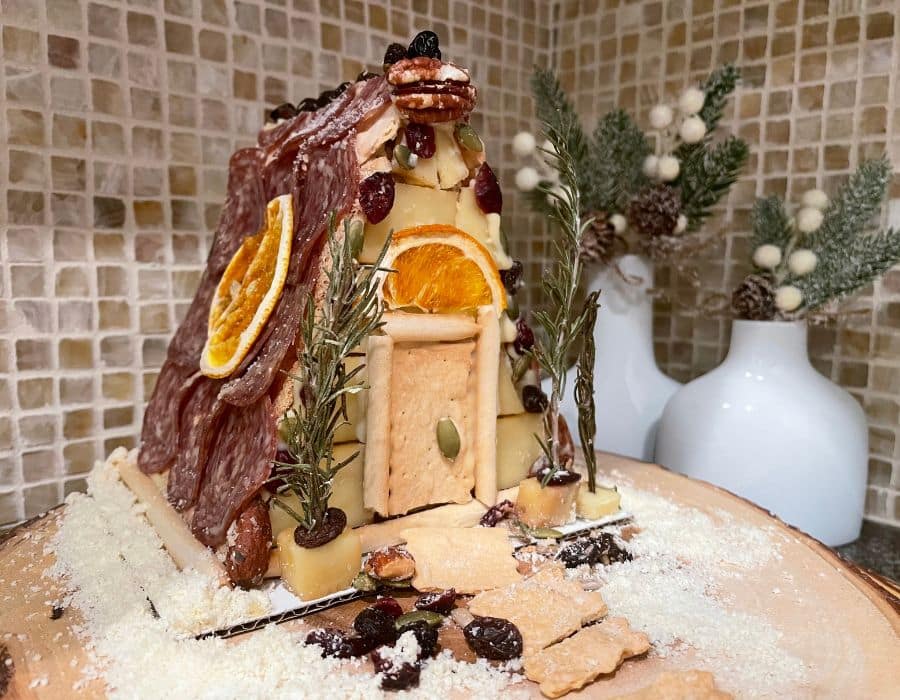 We're sure you've heard of gingerbread houses, but what about a charcuterie chalet or a veggie villa? This edible architecture package lets your team create savory holiday houses anywhere you choose – so this is great for teams that are in office, at a separate event space, or celebrating remotely. Create cute little cottages made from crackers, cheeses, dried fruits, and more. There are a few different ways you can enjoy this experience:
Book a Hosted Virtual Edible Architecture Experience: Perfect for remote or hybrid teams, an Avital Host will lead guests through the experience with Charcuterie Chalet Kits delivered.
Send the Kits as Gifts or Host Your Own Experience: If you'd like to host your own holiday party or send the kits as corporate holiday gifts. This option provides lots of flexibility to make your holiday party uniquely yours.
Book a Charcuterie Chalet Showdown: Having your holiday party in the office? We come to you for this head-to-head Charcuterie Chalet showdown!
Why we love it: At the office, at an event space, or virtually at home, this is a flexible option with fun (and tasty) take home creations!
4. White Elephant Gift Game
Have you never heard of the White Elephant Game?! Let us tell you – it is incredibly fun and engaging. With the White Elephant Game everyone brings a gift to the party. You can choose a limit on price to make things easy for everyone. This is particularly fun if there are some "great" gifts and some "bad" gifts. One at a time, people will open a gift. As you go along, each subsequent person can choose to open an unopened gift, or steal a gift that has already been opened. Fun rivalries, bargaining, and excitement will ensue.

Why we love it: This is a great way to create an intimate, yet fun, game that allows your team to really connect.
5. Mini Olympics and Cocktail Party
Change it up from the normal holiday glitz and glamour to a mini Olympics game for your team at Chelsea Pier. There are plenty of activities and sports for you to choose from. They have facilities for indoor rock climbing, tourney style dodgeball, corn hole, volleyball, and more. Challenge your colleagues to see what they got! After your Olympic games, relax and shmooze with a cocktail party and snacks in a private event space. The Chelsea Pier has a lot to offer for corporate holiday parties in NYC. If you aren't game for the Olympics you can always rent out one of their many venues for a classic holiday party.
Why we love it: Take your team on a different path and get physical for the holidays!
6. Bowling Party
Who doesn't love a bowling party? Bring out your team's inner child with a day or evening at the lanes. Add drinks and food, and they'll be hanging for a while! With Bowlero Lane's multiple locations you'll be able to find a perfect place for your team to hit the lanes! And, they have party planners to help you plan your event to make it as easy as possible for you.
Why we love it: With party planners and multiple locations this event is flexible and easy for you to plan.
7. Holiday Movie and Trivia Night
This is a great option for a remote or in person event – or a mix depending on your team and their needs! Pick a classic holiday movie and hold a screening – you can use different online services online to create a virtual screening if you're in need of that. Before or after the movie, hold a trivia contest about classic holiday films. You can give out tiered prizes for first, second, and third place winners. And, we think it's fun and conducive to team building if you split everyone up into teams instead of having them do the trivia game alone. Every man for himself does not foster the holiday spirit!
Why we love it: This DIY option is great to create a nostalgic event that let's people cozy up, sit back, and relax.
8. Experience a Holiday Classic: The Nutcracker
Who wouldn't love to sit down in a festive theater and see one of the most iconic ballets of all time? Treat your inner child, and your team, to an exceptional treat and get them all tickets to see the Nutcracker performed by the New York City Ballet. This ballet is such a classic it is nearly ubiquitously performed every year at the holiday season by ballet companies.
Why we love it: A more refined edge without the need for constant socializing – perfect for art lovers and introverts!
9. Volunteer at the Food Bank
This holiday season, have your team give back to those that need it most. The Food Bank for New York City is an amazing organization whose mission is to end hunger in New York. Visit their site to see their options for corporate volunteering events. You can coordinate with them to create the most helpful experience for you and your colleagues. Your customized project will incur a sponsorship fee.
Why we love it: Giving back to the community is what the holidays are all about – this is a great way to team build while helping your neighbors.
10. Virtual Mixologist with Seasonal Flavors
If your team is remote, we have the perfect virtual holiday party for you. Avital hosts an amazing virtual happy hour event featuring your own personal merry mixologist! Picture this, your team will be welcome to the video call with cheery holiday music. You'll take out your pre delivered holiday cocktail kits (including alcohol). Get led through how to make your special holiday beverage, and learn a bit about mixology in general while you play some fun holiday themed games. After your mixologist takes their leave, you can all stay on your video call to chat with your new beverages. Bing bang boom, no one is going to have a bad time with this one!
Why we love it: This is a fantastic option for remote teams and lasts about one hour so their engagement will not wane!
11. Glam it up with a Private Yacht
Imagine a gorgeous holiday party taking place on a yacht that sails you and your colleagues along the NYC skyline as your backdrop. This is one of our more luxe feeling corporate holiday parties for NYC. Take advantage of this great idea and organize a yacht tour with Sail NYC. They even have specific holiday party packages from October to January for the festive season. In the winter their boat, the Manhattan, is heated for your comfort and fully decked out in merry decorations.
Why we love it: With great sights along the water, this will be an event no one will forget!
12. Ice Skating at Rockefeller Center
What screams the holidays more than an outdoor ice skating rink? To answer this rhetorical question is – nothing! New York City's iconic Rockefeller Center hosts an ice skating rink every holiday season. And, amazingly, they're available to rent out for private events. Lace up your skates, put on your scarf, and get on that ice and organize a holiday party your team will never forget. Learn more about having a corporate holiday party at Rockefeller Center's ice skating rink.
Why we love it: An iconic NYC landmark with amazing photo ops!
In the city that never sleeps, corporate holiday parties take on a life of their own, bringing a unique blend of sophistication, creativity, and excitement. As we wrap up our exploration of the Unique Corporate Holiday Parties NYC, it's evident that the options are as diverse as the city itself. From high-rise rooftop soirees to enchanting, historic venues, NYC's corporate holiday party scene has something for everyone. These celebrations are not just about marking the end of another successful year; they're a testament to the spirit of togetherness and the importance of acknowledging the hard work and dedication of your team. So, why settle for the ordinary when you can embrace the extraordinary? As you plan your corporate holiday party in the coming year, remember that in the heart of New York City, the possibilities for unforgettable celebrations are endless. Make 2023 a year to remember with Corporate Holiday Parties NYC that reflect your team's unique style and personality, forging bonds and creating memories that will last a lifetime.