7 Best Corporate Holiday Party Venues NYC in 2023
September 26, 2021
Your corporate holiday party is right around the corner (how exciting!). But where, oh where, will you be hosting this grand shindig? For your corporate holiday event, you want something unique, fun, and beautiful where your team can really relax and enjoy the celebration. Lucky for you, I came up with a list of the best corporate holiday party venues NYC has to offer. You'll find that this is the short list of venues as NYC has a plethora of spaces that will help you celebrate your event in style. So, I wanted to create a list that included spaces for every size of team, whether there's 30 or 300 of you!
I present to you: the 7 best corporate holiday party venues NYC has to offer.
Cecconi's DUMBO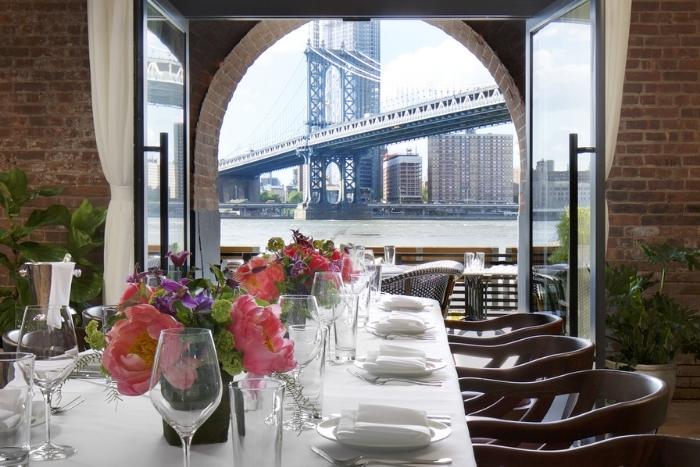 For a more intimate setting, or if you have a smaller team, take a look at Cecconi's DUMBO. This stunning venue can seat up to 36 guests indoors in their private dining area. Trust me when I tell you that you and your team will be absolutely mesmerized by the stunning view of the Manhattan skyline and the Brooklyn Bridge. The bonus is the delicious menu you'll get to choose from: grilled octopus (a personal favorite), cacio e pepe or eggplant parmigiana, to name a few. Get your appetite (and your phone) ready for this incredible experience.
Brooklyn Academy of Music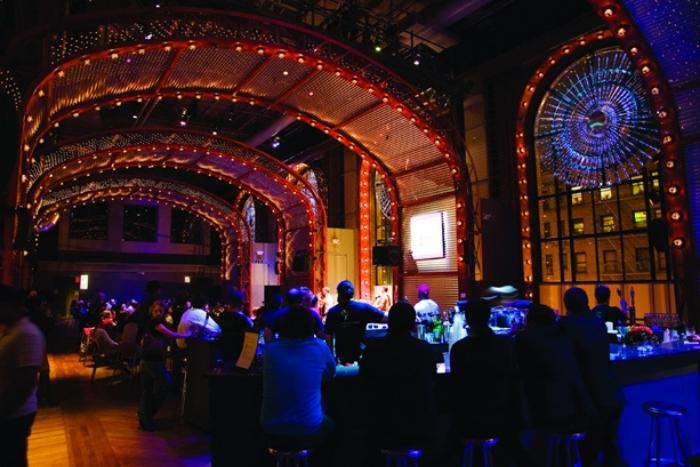 Make sure your corporate holiday party is a ball! The Lepercq Space at The Brooklyn Academy of Music was originally designed as a ballroom, and later remodeled as a theater. The sky-high ceilings and vaulted red arches provide a grand and luxurious space to host your festive event. This spacious venue can hold between 150-325 people so you can ensure that everyone on the team makes the list. Get ready to boogie the night away!
NYC FOOD TOUR
Maybe you're in the market for a more non-traditional approach to your corporate venue, like perhaps, multiple venues. In that case, our private food tours are perfect for your corporate holiday party. Treat your group to a culinary experience this holiday season! Choose from our exciting neighborhoods with festive holiday add-ons to create the perfect holiday party for your group. Go behind-the-scenes to hear the stories of restaurant owners, bar managers, and industry experts all while eating and drinking your way through the neighborhood restaurant gems. Let's eat, drink, and be merry!
Mable's Smokehouse and Banquet Hall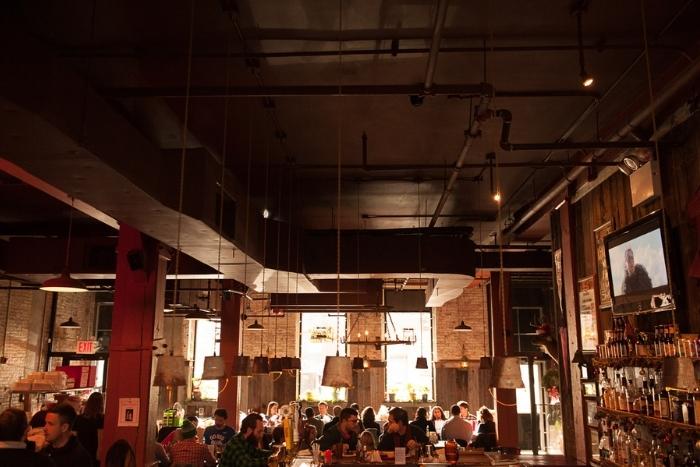 For your next corporate party, have a delicious Southern Feast at Mable's Smokehouse and Banquet Hall. This Williamsburg BBQ joint is unique spot for a casual corporate holiday event. The rustic, warm interior and red picnic tablecloths is a fun backdrop to have beers with your pals to celebrate the end of another successful year!
620 Loft & Garden
St. Patrick's Cathedral is one of my favorite buildings in New York City, so it's only right to add 620 Loft & Garden to our list of the best corporate holiday party venues in NYC. This stunning 143-year-old church is your main view at this rooftop venue in Midtown. With an interior capacity of up to 125 people and a delicious menu, hosting your corporate event here is sure to impress your team!
Harold Pratt House & Peterson Hall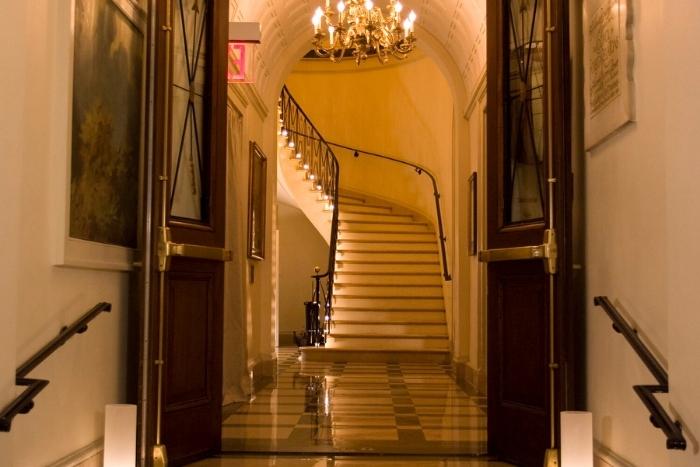 Why host your event in one big room when you can host it in six uniquely designed rooms? The Harold Pratt House was constructed in 1919 as one of New York's grand Park Avenue mansions. All six rooms, which in total seat over 200 people, feature stunning chandeliers, fireplaces, and have views of Park Avenue. They are all connected by a magnificent marble staircase that takes you into a beautiful Library, Drawing Room, Seating Room, and Ballroom. Celebrate the end of the year with a luxurious, classic mansion on the Upper East Side.
New York Public Library
The New York Public Library is one of the most iconic spots in NYC. Located in the famous Bryant Park, the Stephen A. Schwarzman Building has been the set of many movies and tv shows. So now I'm telling you (and your team) to take your moment in the spotlight by hosting your holiday party there! In fact, by hosting your party there you'll be helping the library preserve itself. All event fees support the Library's indispensable collections, services and programs.
Wherever you celebrate, however you celebrate, you and your team deserve a night of fun and excitement to end off a successful year!