14 Incredible Virtual Cooking Class Kits (Ingredients Delivered)
September 6, 2021
You're looking to jazz up your nightly dinner routine. So you think to yourself, why not get the team involved in the fun? Since you can't all fly to Spain to learn how to make the perfect Paella (I mean, I guess you could?), you can bring Spain to your team! In comes, a virtual cooking class. It's a great way to bond with your team and learn a new recipe in the process. But we wouldn't leave you with just a virtual cooking class, we've rounded up the 7 most incredible virtual cooking class kits that will deliver the ingredients right to your door!
1. LEARN TO MAKE A BOWL OF RAMEN FOR THOSE COZY NIGHTS
Get ready for a full dining experience with The Story of Ramen. You'll learn how to beautifully put together a bowl of ramen, while sampling four curated sakes all ranging from sweet to dry and inexpensive to expensive. This full culinary experience is one you will want to share with friends, family, and coworkers alike!
WHAT'S INCLUDED: Ingredients to assemble bowl of ramen and four curated sakes.
COST: $48 per person
2. COOK WITH THE FLAVORS OF SPAIN WITH BOQUERIA
If you've ever been to Spain, you know you need to try Paella! This family-style dish was originally farmers' and farm labourers' food, cooked over a wood fire for lunch. With a base of rice, you can customize it any way you like. Fan of seafood? Go ahead and add it. Prefer beef? No problem! For this recipe, Boqueria is going to show you how to make a flavorful and tasty Paella de Chorizo at home. All you need to do is bring your enthusiasm, excitement, and one lemon (yes, just one); all the rest is delivered to you!
WHAT'S INCLUDED: Each meal kit delivery includes: 32cm paella pan, Nomen Bomba Rice, Aneto Valencia Paella Stock, Old Fashion Salsa Verde, Matiz Sofrito, Pina Saffron, Palacios Mild Chorizo, Casa de Hualdo Arbequina Olive Oil, and Pons Piquillo Peppers.
*Ingredients will make paella for two, twice.
COST: $100 for the cooking kit + class
3. IT'S NOT DELIVERY…IT'S HOMEMADE PIZZA!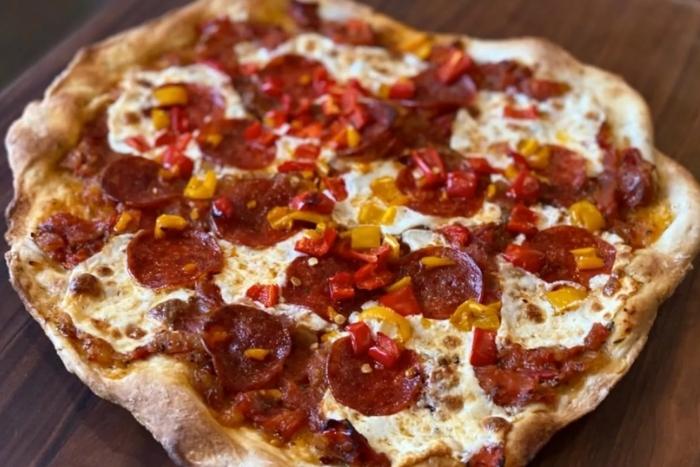 No pizza oven necessary! Learn to make a pizza from scratch with fresh ingredients; all you need to bring with you is cheese, olive oil, and kosher salt. With options available for vegetarians and vegans, everyone on the team can participate in this pizza-making party. We all know the worst part about cooking is the waiting, but Life At The Table makes the waiting time fun with a little pizza trivia contest. The winner gets gloating privileges and the satisfaction of their homemade cooking.
WHAT'S INCLUDED: The handmade pizza ingredient kit includes: pepperoni, and the following fresh vegetables and fruits: Roma tomatoes, bell peppers, onion, fresh garlic, Italian seasoning, red pepper flakes, red wine vinegar, and flour.
COST: Available upon inquiry.
4. TAKE A TRIP AROUND THE WORLD WITH THE TABLE LESS TRAVELED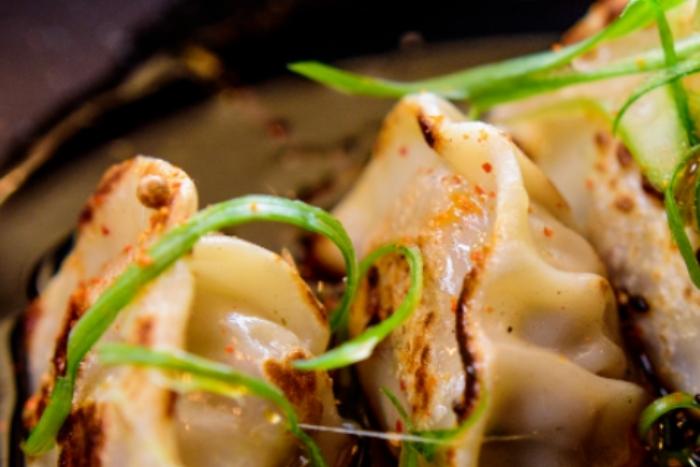 Take your team on an adventure around the world with The Table Less Traveled. This virtual cooking class is an interactive and live class with a chef from around the world. You'll get a glimpse into their kitchen while they share their original – and often personal family – recipes. It's the perfect way to bring together culture and food, all while bonding with your team.
WHAT'S INCLUDED: Signature Package: 60-90 minute class for up to 20 screens, recipe selection, date & time preference, Host & Moderator, and digital recipe access.
COST: $790 + $115 per kit + shipping and taxes
5. COOK WITH AWARD-WINNING CHEFS WITH AVITAL TOURS
Our live, interactive virtual cooking class experiences feature award-winning chefs as they lead guests through their special recipe. Get an exclusive peek inside chefs' home kitchens as you cook along in real-time. You can also upgrade to ingredient delivery or add drinks to dinner for a luxury experience. Get ready for the full experience!
WHAT'S INCLUDED: Each box includes premium ingredients for 1 hearty, delicious meal to serve 4: all recipe ingredients, like fresh vegetables, whole grains, and premium spices (excluding pantry staples, like salt & oil), flavor balance reference guide, bonus flavor tripping experience kit, and Avital branded box with branded welcome insert.
COST: $65+
6. MAKE CLASSIC HANDMADE GNOCCHI WITH LITTLE FOX KITCHEN
Get to know your team around the world with Little Fox Kitchen. Ingredient delivery is available across the US and Europe so every member of your team, even international, is sure to be included! In addition to their cooking classes, they have a variety of baking classes. For instance, after you make those handmade gnocchi, maybe you can start working on blueberry cheesecake bars!
WHAT'S INCLUDED: Each kit includes pre-portioned, non-perishable ingredients. The Handmade Gnocchi kits may also include a gnocchi board.
COST: Available upon inquiry.
7. LEARN TO JAZZ UP YOUR BREAKFAST WITH FRESH BAGELS
Your breakfast game could use a little work! It's time to trade that morning smoothie for a fresh bagel with compound butter. At Tastebuds Kitchen, you pick the bagel flavor. Next, you'll add a delicious, smooth butter that they teach you to turn into compound herb butter. After this class, you'll be excited to wake up every morning for the most important meal of the day!
WHAT'S INCLUDED: 90 minute live virtual cooking class, Chef host & instructor, menu of your choice, emailed recipes, shopping & equipment list, ingredient.
COST: $800+ per event + $39+ ingredient kit + shipping
8. IMPRESS WITH THAI PINEAPPLE FRIED RICE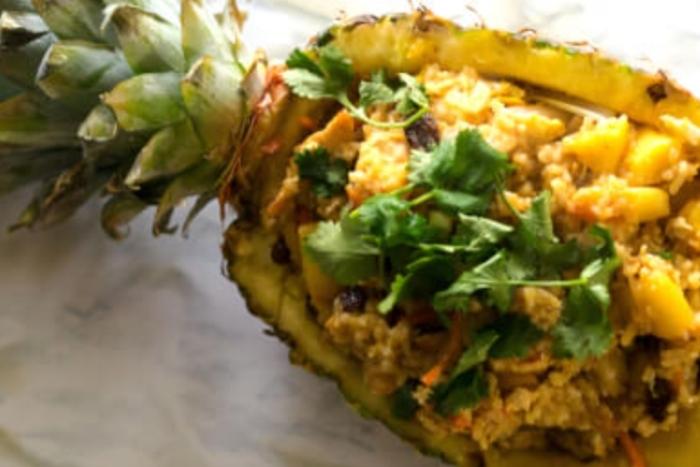 Thai food might be one of my favorite cuisines so I knew I had to add a Thai cooking class to the list. During this one-hour True Taste of Thai workshop, you'll make a delicious Thai Pineapple Fried Rice where your guide will share all of her techniques to make the perfect sweet and savory dish! Though you are able to have a kit delivered, there are a few ingredients you'll need to grab: vegetable, canola, sunflower, or peanut oil, butter, your choice of meat (1 chicken breast, 8 oz shrimp, or 8 oz firm tofu), onion, shredded carrots, eggs, green onions and a large non-stick skillet.\
WHAT'S INCLUDED: Garlic, pineapple, raisins, uncooked long-grain rice, seasoning sauce (light soy sauce, oyster sauce, seasoning soy sauce, and sugar) and curry powder.
COST: $45 – $129 ($45 for Class only, no box, $129 for Class and box)
9. TRAVEL TO NEW ORLEANS WITH SOME CAJUN GUMBO
You're getting dinner and dessert with Cuiline's Cajun Gumbo & Bananas Foster Pots de Creme. Over the course of 90-minutes, Chef Karen will teach you how to make your own incredibly yummy pot of Cajun Gumbo, specifically teaching you about the Holy Trinity of Cajun/Creole cooking: onion, celery, and green pepper. Once you're satisfied with your new creation, don't forget to leave room for dessert, a French-inspired pots de creme with a banana foster flambe.
WHAT'S INCLUDED: 90-minute workshop, Ingredients: Chicken thighs, andouille sausage, okra, butter, whipping cream, green onions, yellow onion, celery, green bell pepper, garlic, ripe bananas, chicken stock, rice, flour, vegetable oil, rum extract, brown sugar, vanilla extract, sugar, aluminum ramekins, spices and seasoning.
COST: $55 per Zoom connection/household + $175 per kit (serves 2)
10. LEARN TO CHOP AND JULIENNE FOR FRESH ROLLS
Fresh rolls are one of the most delicious and healthy snacks – but you need to have quite the technique to make sure they don't fall apart. Try out the Spring Rolls Class with the All-Out Kits, you'll learn amazing knife skills needed to chop and julienne, then the main attraction – the tuck and roll. If this sounds super fancy to you and your team, don't worry about that. This class is perfect for all levels!
WHAT'S INCLUDED: Class Instruction and All-Out Kit (2 large servings or four small servings – about 8 rolls).
COST: Available upon inquiry.
11. TRY THE TASTE OF INDIA
Get ready for the delicious flavors of India to take over your kitchen with the Taste of India cooking class. Over the course of one hour, you and your team will be led by a professional chef to bring these flavors to life. You'll toss together the spices of Indian Tikka Misala with rice and top the meal off with homemade warm and garlicky naan bread. Chicken will not be included in the kit as it would be difficult to ship so be sure to add that bit to your grocery list!
WHAT'S INCLUDED: Kit with Shelf-Stable Ingredients & Virtual Event (Chicken not included).
COST: Available upon inquiry.
12. HAVE YOURSELF A TACO PARTY!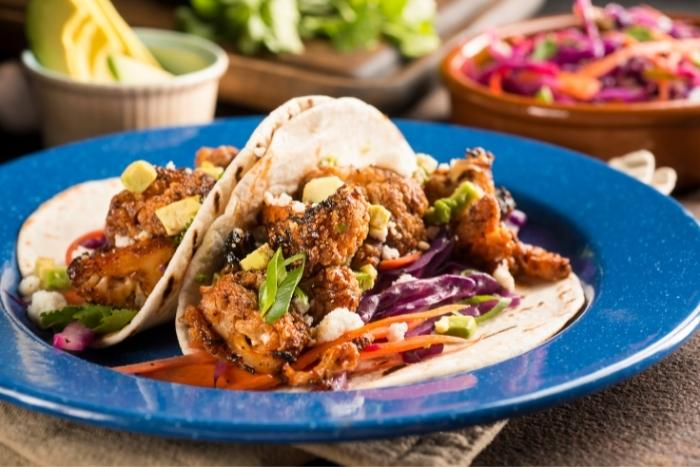 Everyone loves tacos…yes, I mean everyone! Indulge in a taco night with your team and make soft-shell tacos with smoky black bean and sweet potato filling! During the 90-minute workshop, your chef will have two cameras with one facing them and the other on their cutting board and stovetop. You'll be able to see exactly what your chef is doing to create the perfect taco!
WHAT'S INCLUDED: Masa harina (for making tortillas), Black beans, sweet potatoes, red onion + garlic + lime, and smoked paprika + cumin.
COST: $650+ + $75/kit delivery
13. ENJOY DINNER AND A SHOW
Now this is a different type of virtual cooking class! I know I've already included a paella in this list but this one is a little different. In this two-hour event, aptly named A Taste of Spain, you will learn to make a paella (in a traditional paella pan) and enjoy a LIVE flamenco guitar performance straight from Madrid. It's a perfect way to enjoy your dinner and dance to beautiful music in the process. Truly an event you will never forget!
WHAT'S INCLUDED: Authentic Spanish products and traditional paella pan and live flamenco guitar performance.
COST: Available upon inquiry.
14. Spanakopita and Baklava – the perfect pair
A little salty, a little sweet, nothing gets better than this Spanakopita and Baklva making class! Over the course of 90 minutes, Chef Vasia – who grew up in the heart of Athens – will guide you through the steps of making a perfectly flakey Spanakopita then you'll move onto the sweet taste of a honey-flavored Baklava. After this class, you might be adding phyllo pastry and feta cheese to your weekly grocery shop!
WHAT'S INCLUDED: 90-minute workshop and ingredients: spinach, feta cheese, butter, salted butter, phyllo pastry dough, lemon, fresh mint, fresh dill, fresh parsley, fresh spinach, green onion, olive oil, sesame seed, chopped walnut, breadcrumb, powdered sugar, granulated sugar, ground cinnamon, cinnamon stick, ground clove, whole clove, honey
COST: $55 per Zoom connection/household + $175 per kit (serves 2)
Food is always a great way to bring people together: to bond, to share stories, and to get to know one another. By cooking your own meal, alongside your team, you'll be learning something new together and will forever have that shared experience to bring you closer!