16 Festive San Francisco Corporate Holiday Party Ideas
September 16, 2022
Planning a holiday party for your company can be a drag and a bit intimidating if you want to leave a good impression on your coworkers. Don't fret – we've got you covered baby! And San Francisco is an amazing city with so much to offer. Look below to see some of our favorite San Francisco corporate holiday party ideas. We have just enough that we know you'll find one that's perfect for your team.
What is a San Francisco Corporate Holiday Party?
Before we get into our list let's define what we're talking about to make sure you're in the right place. A San Francisco corporate holiday party is a holiday party for colleagues that work together in San Francisco. We like to think a holiday party doesn't necessarily have to be holiday themed, but coincides with the holiday season. It's a great way to celebrate your peers and provide a fun send off before heading off to personal holiday gatherings and events. San Francisco and the surrounding Bay Area has so much to offer you and your team. And, we tried our best to find activities that span the breadth of common budgets – you can go all out or reign in the spending! We don't think you'll be disappointed.
1. Hands-On, Interactive Meal with Avital Experiences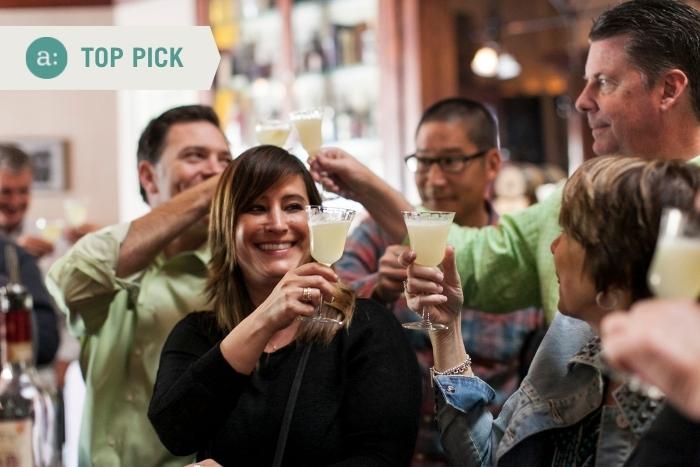 Avital's Interactive Meal is a fun and interactive dining experience that's both your meal AND your activity, all-in-one. A multi-course prix fixe meal is the foundation, with engaging activities interspersed throughout, for a perfect balance of structured activity and open time to relax and enjoy. Better than simply "booking a restaurant" for the holidays, your dedicated Host invites guest to "Play With Your Food" in our classy-and-quirky Avital style. From making and shaking your own festive cocktail, to holiday food trivia with prizes, to our signature Flavor Finale tasting experience, your guests will be surprised and delighted with a unique and memorable holiday dining experience that's anything but boring!
Why we love it: It combines a delicious meal with interactive activities for a unique, all-inclusive, easy-to-book holiday experience.
2. Festive Food Tour in North Beach or Mission District with Avital Experiences
Discover North Beach or the Mission District like never before with a festive food tour. Your team will be immersed into the neighborhood's history, culture, and the best part, it's food. In three hours, your expert Avital guide will take you to three incredible restaurants for a multi-course meal and beverage pairings for a unique corporate holiday experience. You'll discover amazing history of the neighborhood (even for SF locals!) with colorful commentary from your Avital Guide, plus a sprinkling of delightful holiday treats, games, and stories.
Why we love it: Break from the typical holiday party mold and get your team an experience where they'll learn about San Francisco, its history, and most importantly, its food.
3. Edible Architecture Party
We're sure you've heard of gingerbread houses, but what about a charcuterie chalet or a veggie villa? This edible architecture package lets your team create savory holiday houses anywhere you choose – so this is great for teams that are in office, at a separate event space, or celebrating remotely. Create cute little cottages made from crackers, cheeses, dried fruits, and more. There are a few different ways you can enjoy this experience:
Book a Hosted Virtual Edible Architecture Experience: Perfect for remote or hybrid teams, an Avital Host will lead guests through the experience with Charcuterie Chalet Kits delivered.
Send the Kits as Gifts or Host Your Own Experience: If you'd like to host your own holiday party or send the kits as corporate holiday gifts. This option provides lots of flexibility to make your holiday party uniquely yours.
Book a Charcuterie Chalet Showdown: Having your holiday party in the office? We come to you for this head-to-head Charcuterie Chalet showdown!
Why we love it: At the office, at an event space, or virtually at home, this is a flexible option with fun (and tasty) take home creations!
4. Holiday Yacht Tour Around the Bay
Imagine a gorgeous holiday party taking place on a yacht that sails you and your colleagues around the bay. What a great idea for a holiday party! Take advantage of this great idea and organize a yacht tour with Empress Events in San Francisco. Your team will be whisked off on a beautiful boat ride with epic views of one of the most beautiful places in the world. Plus, Empress Events not only provides the yacht tour, but helps you with your event planning, food, service, cocktail and bar service, and more.
Why we love it: Empress Events makes this planning virtually hands off for you as they provide an all inclusive yacht and party experience.
5. Self Guided Holiday Lights Tour
Do you remember driving in your car as a kid and lighting up at the sight of house after house of lighted houses for the holidays? If you want a more low key holiday party for your team you can choose to walk around an iconic neighborhood in San Francisco known for having beautiful holiday lights. Map out a route and print it out for everyone to make it more of a polished experience. Join together at a local watering hole or restaurant afterwards for snacks and drinks to finish off the evening. Bonus points if you all wear ugly holiday sweaters to really show the festive spirit!
Why we love it: This is one of our most low maintenance San Francisco corporate holiday party ideas and includes wondrous sights.
6. A Holiday Party at Union Square's Ice Skating Rink
What screams the holidays more than an outdoor ice skating rink? To answer this rhetorical question is – nothing! San Francisco's Union Square hosts an ice skating rink every holiday season. And, amazingly, they're available to rent out for private events. Lace up your skates, put on your scarf, get on that ice, and organize a holiday party your team will never forget. Host your San Francisco corporate holiday party at SF's Union Square's ice skating rink for an unforgettable (and slippery!) experience!
Why we love it: This is a quintessential holiday excursion that you can share with your team with great photo ops.
7. Festive Film Screening at a Unique Theater
The Cowell Theater is located at the end of the iconic Fort Mason right on the water adjacent to the San Francisco Art Institute. Trust us, the views are amazing. You can rent out their event space and screen a festive film of your choosing. Some of our favorites are Home Alone, Nightmare Before Christmas, Gremlins, and Elf – we think these screenings are best suited to festive comedies to keep it fun. They allow up to 437 seats and are wheelchair accessible so this is great for a larger company.
Why we love it: Who doesn't love the experience of going to the cinema? Bring it to your team and let them sit back, relax, and immerse themselves in the film of your choosing.
8. Volunteer at the Food Bank
This holiday season, have your team give back to those that need it most. Before the pandemic, one in five residents were at risk for hunger, and now the need is even greater. The SF Marin Food Bank is an amazing organization whose mission is to end hunger in San Francisco and Marin. From their site, "If you're scheduling for a team of 25 or more, please make an online reservation then contact us so we can confirm your reservation and discuss your project."
Why we love it: Giving back to the community is what the holidays are all about – this is a great way to team build while helping your neighbors.
9. Wine Tasting in Napa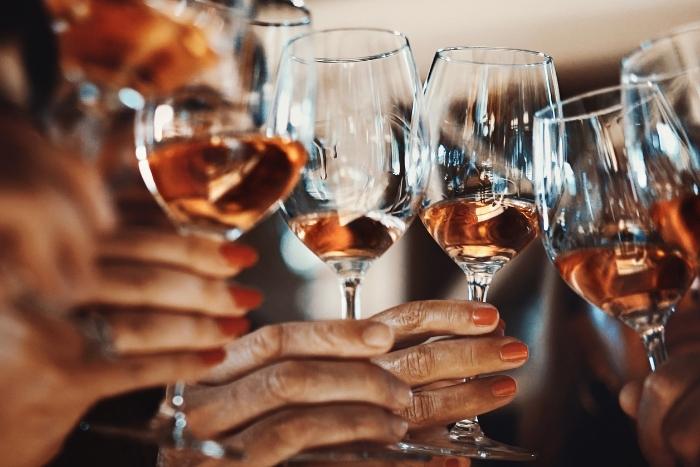 We are in wine country, folks. Let's not turn away from our wineries up north of the city and take our team there to let them unwind and enjoy the crisp Napa air. There are so many different wineries to choose from that have a wide array of options for team events and parties. And, if you're sure to pick a beautiful venue that include hearty snacks or a meal, this is still a beautiful option for teams with non-drinkers.
Why we love it: Take advantage of a world famous wine region to treat your team to a sophisticated holiday party.
10. Murder Mystery Dinner and Party
While it may sound counterintuitive… a festive murder mystery? But really, this is an amazingly engaging option for a holiday party for your team. They'll be involved in the mischief for hours; people really get into it. We suggest you encourage your group to dress up according to the theme you choose. The actors and event hosts will be dressed to the nines and will be in character the entire time to really immerse everyone attending the party. Best part? They come to any venue of your choosing.
Why we love it: Break out of the mold and get your team engaged in a fun game that will have them entertained for hours.
11. Crabbing for … Crabs!
The Art of Crabbing offers an all-inclusive experience for groups that can be hosted on a variety of piers in San Francisco. The crabbing expert, Alex, is a knowledgeable host that provides unique experiences with the utmost care. Hosted on land, there are no worries for those that get sea sick! This is the crabbiest of our San Francisco corporate holiday party ideas so choose this for a team that don't have any shell fish allergies.
Why we love it: We love taking advantage of what San Francisco specifically has to offer – this gets your team into the great outdoors and they'll likely learn something new! Plus, who doesn't love crab?!
12. Experience a Classic and See the Nutcracker Ballet
Who wouldn't love to sit down in a dark theater and see one of the most iconic ballets of all time? Treat your team to an exceptional treat and get them all tickets to see the Nutcracker performed by the San Francisco Ballet. We think it's the classiest of our San Francisco corporate holiday party ideas because it immerses your team in the height of culture at one of the most iconic of San Franciscan institutions. This ballet is such a classic it is nearly ubiquitously performed every year at the holiday season by ballet companies.
Why we love it: A more refined edge without the need for constant socializing – perfect for art lovers and introverts!
13. White Elephant Gift Game
The White Elephant Game is a long storied tradition that has been passed around for over a hundred years now. Something that's lasted so long HAS to be a hit! For this game everyone brings a gift to the party (or you can provide them if you wish). This is particularly fun if there are some "great" gifts and some "bad" gifts. One at a time, people will open a gift. As you go along, each subsequent person can choose to open an unopened gift, or steal a gift that has already been opened. We don't know your team but we know this game – a load of bargaining, light hearted enemies, and fun will follow.
Why we love it: This fun and sometimes raucous game will bring your team closer together without the need to go off site.
14. A Holiday Lights Tour on a Fire Engine Extravaganza!
San Francisco Fire Engine Tours offers year round tours on their vintage fire engines with singing tour guides and loads of educational information. However, in December, they provide a special tour that focuses on the holiday lights in San Francisco. Let your team sit back and relax as they're guided around the city in an open air fire engine to let them take in all the sights and lights. We can see them shimmering and shining from here!
Why we love it: Celebrate the season taking in the lights while you sing carols and learn fun facts – how jolly!
15. Onsite and Virtual Hybrid Holiday Movie Screening and Trivia Night
This is a totally cozy DIY movie screening that won't break the bank. First, pick a classic festive movie that everyone will enjoy. We suggest you set up a poll and give a couple options and see which movie wins! This is a great option for a remote or in person event – or a mix depending on your team and their needs! You can use an online service to set up a watch party so that people watching from home can join in live. Then, you can set up a screening party at the office for those that want to join in person. Provide snacks and drinks or even do a potluck if you think the crew would be into it! Finally, round it all off with a holiday movie trivia game – we suggest making an intermission in the middle of the movie to create some social time.
Why we love it: This is a super flexible event that can accommodate teammates that want to join in person as well as those that are remote!
16. Hire a Magician to Blow Your Minds
Brad Barton is a Bay Area magician that is "insanely delightful" and a hit at corporate holiday parties and events. His magic is mind blowing and to top it off he's a hilarious guy. Not only does he perform live, private, in person events, he'll also do private virtual events if that's more up your team's alley. Don't miss the chance to book him – he gets pretty busy around the holiday times just for this reason!
Why we love it: Watch the impossible made possible with this out of the box holiday party idea.
Final Thoughts on San Francisco Corporate Holiday Party Ideas
In conclusion, the Bay Area offers a wealth of vibrant and innovative options for planning a memorable San Francisco corporate holiday party. From the enchanting holiday lights at Pier 39 to the charming wineries in Napa Valley, there's something for every taste and style. Whether you prefer a traditional winter wonderland theme or a more contemporary and eco-friendly celebration, the City by the Bay has you covered.
These festive ideas showcase the diversity and creativity of San Francisco's corporate holiday party scene, ensuring that your event will be a resounding success, creating lasting memories, and fostering a sense of camaraderie among your team. So, this holiday season, why not treat your colleagues to a celebration they'll never forget in this captivating and dynamic city? Now get out there and get your ugly sweater on! It's time to party.