8 Amazingly Easy Last Minute Holiday Party Ideas for Work
November 29, 2021
Updated November 29, 2023
The holidays are around the corner, and you haven't planned a single thing! Don't worry–deep breath–help is on the way. Whether you're hosting a your party virtually or in the office, we have the some amazingly easy last minute holiday party ideas for work!
1. Make a Holiday Cocktail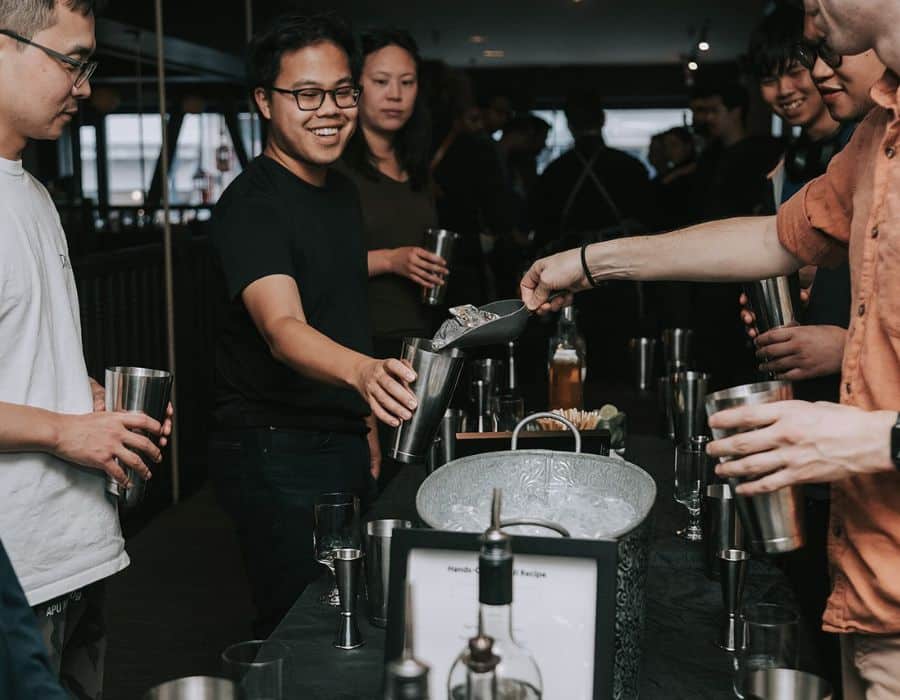 Elevate your work holiday party with a mixology session. If you're organizing in-person, you can decide on a festive cocktail recipe then use a grocery delivery service and have all the ingredients sent to your office. Transform your conference room into a fun bar with simple decor and music.
Have a virtual or hybrid team? Consider Avital's virtual happy hour experience, led by an award-winning bartender and Avital host. You can choose from five seasonal cocktails and the kits will be delivered to each guest! If the word 'delivery' has you thinking you don't have enough time, you do. With rush shipping, you can book two weeks prior to the event. If you still feel that you don't have enough time, you can still book a hosted experience with BYO ingredients. This will not only save you time, but money too.
2. Host a Potluck or Recipe Swap
Encourage a sense of unity by organizing a in-person potluck where colleagues can share their favorite holiday recipes. Alternatively, host a virtual recipe swap where each participant provides a recipe for a dish they love, creating a diverse collection of culinary delights to try during the festivities. Recipes are a unique way to learn about another person on your team. You can learn about their upbringing, their traditions, as well as get insight on a culture you may know nothing about.
3. Make Ceramic Ornaments or Tags
Tap into your team's creative side with a holiday crafting activity. Host it in-person by bringing your team into the ceramic studio or bringing the studio to your office. For virtual teams, book a virtual ceramic workshop, Making ceramic ornaments or gift tags provides a personal touch to the holiday season. Colleagues can showcase their artistic flair, and these handcrafted items make for unique keepsakes.
4. Solve a Holiday Mystery
Now you may be thinking "a murder mystery as a holiday party?" And to that, I would say absolutely, yes! With the Not Your Average Holiday Office Party, you'll be solving the mystery of what went wrong after the Office Holiday Party for a Toy Company ends in disaster! Sounds fun so far, right? You'll be split into smaller teams of 8-10, where you'll interrogate the possible culprits in real time. A team of actors will be taking over the roles of the potential suspects, while you cross-examine them and their alibis over 3 rounds. At the end, each team offers their best guess for the culprit.
Hosting in-person? Customize your own holiday murder mystery game!
5. Host a Gift Exchange
Organize a Secret Santa or White Elephant gift exchange, either virtually or in-person, to spread holiday cheer. Participants draw names and exchange gifts, adding an element of surprise and camaraderie. Set a budget of $5-10 to keep it inclusive and focus on thoughtful, personalized, or just plain funny gifts to make the occasion special.
6. Holiday Karaoke Party
Bring out the inner rockstars in your team with a holiday karaoke party. Whether done virtually or in person, singing festive tunes adds a lighthearted and entertaining element to the celebration. Encourage participation by creating themed playlists and celebrating the joy of music together. Having a karaoke party is super easy – and requires almost no planning. You can find just about any karaoke track online nowadays. If you don't even want to think about that, try hiring a karaoke MC to take over all the planning with Virtual Karaoke Club. 
7. Charcuterie Chalet Showdown
Put a savory spin on the classic gingerbread house tradition by hosting a charcuterie chalet showdown. Challenge teams to create edible masterpieces using an assortment of meats, cheeses, and other delectable treats. It's a deliciously fun way to blend creativity and culinary skills. Send charcuterie chalet kits to every team member then come together for a virtual experience. Or send the kits directly to your office and your team can create together.
8. Party in January!
Extend the holiday spirit by hosting a post-holiday celebration in January. This approach allows for a more relaxed atmosphere, as the hectic holiday season winds down. It provides an opportunity for everyone to share their favorite holiday stories and resolutions for the upcoming year in a laid-back setting.