A Fun (and Filling) Team Building Activity for Coworkers
June 15, 2018
Try something unique when it comes to planning your next team building event. Food tours are a fun (and filling) team building activity for coworkers. Book one and explore one of three neighborhoods: the East Village, Williamsburg, or Flatiron. Here's what you need to know:
What's A Food Tour?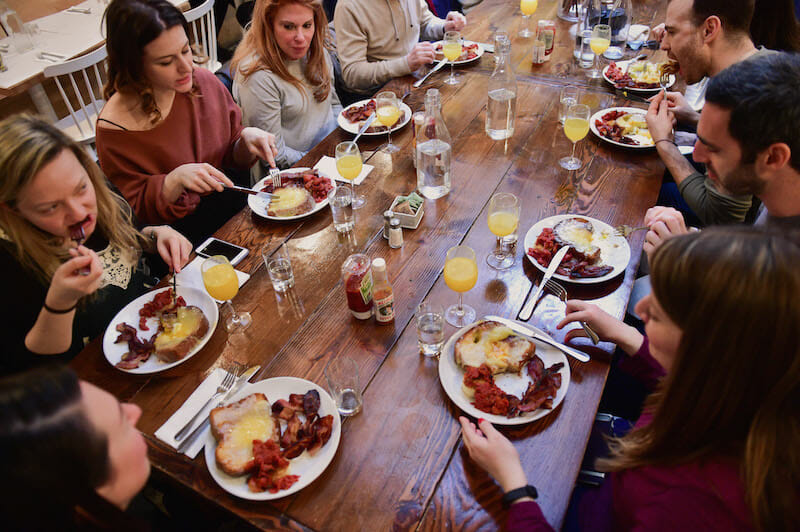 Our food tours are a culinary experience that take guests on an eating adventure around a New York City neighborhood. Traditionally tours are three hours and include four restaurants. Each four-course progressive meal starts with appetizers, then an entree and finally dessert with each course served at a different restaurant. However, we customize tours for private groups all of the time. Want to do a cocktail tour? Great! Interested in a dessert crawl? We can do that. Want a Cinco de Mayo taco tour? We've created that, too.
No matter which tour you choose, you'll be led by an expert local guide. The guide will share the story of the neighborhood through its people and great food (and drink, if you like!). Your team will get to meet the chefs and restaurateurs of some of the best spots in NYC. If you're working on team building, we can facilitate some bonding activities. We'll help your team share food stories and learn more about each other.
Where Are Our Tours?
We have tours in Los Angeles, San Francisco, and of course, New York City. In NYC, our existing tours include the East Village, Williamsburg, and Flatiron. Each tour has a different flavor. The Flatiron Tour focuses on the trendy NYC restaurant scene and the neighborhood that boasts some of the top restaurants in New York City and many Michelin-starred restaurants. The Williamsburg Tour explores one of Brooklyn's trendiest neighborhoods. Our East Village experience brings guests to one of New York City's hottest restaurant and craft cocktail scenes – known for its role as the birthplace of punk and artist hangouts.
Have a different neighborhood in mind? Want a longer or shorter experience? We can customize a tour for you and your team.
Why Is A Food Tour A Fun (and Filling) Team Building Activity for Coworkers?
We don't know another team building experience that combines exploring a neighborhood, food, and team building. In our team building experience your team is able to bond over not one, but four dinner (or lunch) tables. We believe in the power of sharing a meal together and bonding at the dinner table, not just the boardroom table. Plus, trying new foods in a new neighborhood is a lot of fun. As for filling, we provide a whole meal over four courses, with the option to add on premium portions of food or drinks. Your team will also be filled with knowledge from the chefs and restaurateurs they'll meet on their tour. We can't wait to see you!
Want to book a fun (and filling) team building activity for coworkers? We specialize in creating fun and hands-on corporate team building food tours in NYC. Whether your group size is as small as 8 people or as large as 350 people, we have a culinary experience for you! Please send us an email to [email protected].