Discover Traditional and Innovative Spins on Korean Cuisine
Our Koreatown Food Tour visits the most densely populated and ethnically diverse neighborhood in all of Los Angeles which in the past few year has seen an explosion of innovative and trendy restaurants. Stroll through the historic Korean neighborhood learning while hearing the stories of chefs, restaurant owners and industry experts who have made Ktown their home including the influence of Roy Choi's innovative Korean-American cuisine. Our progressive meal in Los Angeles' Koreatown concludes with mouthwatering desserts. This is not a typical Koreatown Food Tour – its a culinary experience!
20 – 100+ Guests
From $115 Per Person
3 Hours
3 Restaurants
4 Courses & 3 Beverage Pairings (Optional)
Private Experience Only
How it Works
Example Dishes & Drinks
Our Koreatown Food Tour includes 4-courses – two appetizers, one entree, and one dessert – with a sprinkling of culinary history and stories in between. We focus on quality over quantity, but we promise you won't leave hungry! Here are some possible tastings to satiate your curiosity!
Savor Korean Fried Chicken at popular historic mad-men-esque era restaurant decked with red leather couches and ornate decor
Sample a true representation of the Hispanic meets Korean neighborhood with a kimchi and chorizo fried rice at a Colombian-Korean fusion restaurant and art gallery for local K-Town artists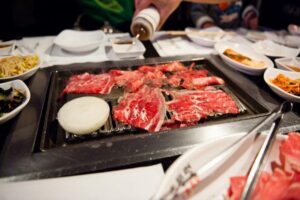 Sample smoky, sweet bulgogi (marinated beef) Korean BBQ with traditional "banchan" or "side dishes"
Bite into an adorable and instagram-worthy macaron ice cream sandwich – choose your own filling and almond cookies!
Example Restaurants
We'll visit 3-4 of the best restaurants in Los Angeles' Koreatown, featuring hot spots (Avital guests skip the line and go straight to reserved seats) and hidden gems. All of our restaurants not only serve outstanding food and drinks, but they also have a rich story to discover.
The Prince
Historical Restaurant known for delicious Korean Fried Chicken Wings (and TV show venue for Mad Men)
Escala
Colombian-Korean fusion restaurant and art gallery for local K-Town artists
"What an amazing time!!! If you are looking for the best food tour in L.A., then look no further! You MUST check out KoreaTown with Avital Food Tours! Penny and Sarah were our guides and provided so much information on the local culture and food. They had so much energy and passion for their tours that you can't help but have an amazing time! 5 stars, A++, #pennyisawesome, #sarahisawesome. And we had an amazing group of people. Did we mention the food? Delicious! We'd do it all over again! Thanks so much for a great day, lots of laughs, and amazing food!"
Sandy M, Yelp
Box Elder, San Diego
What's Included
3-Hour Walking Tour (approximately 1 mile)
Expertly Trained Avital Guide
4-Course Meal with Appetizers, Entree, and Dessert
3 Alcoholic Beverage Pairings (optional upgrade)
Delightful Sprinkling of Culinary Stories and History
Where is it?
Wilshire / Western Station, South Western Avenue, Los Angeles, CA, USA
Our start location varies but is always within a few block walk from the Wilshire/Western Station. You'll receive your exact meeting location after booking. 
Run of Show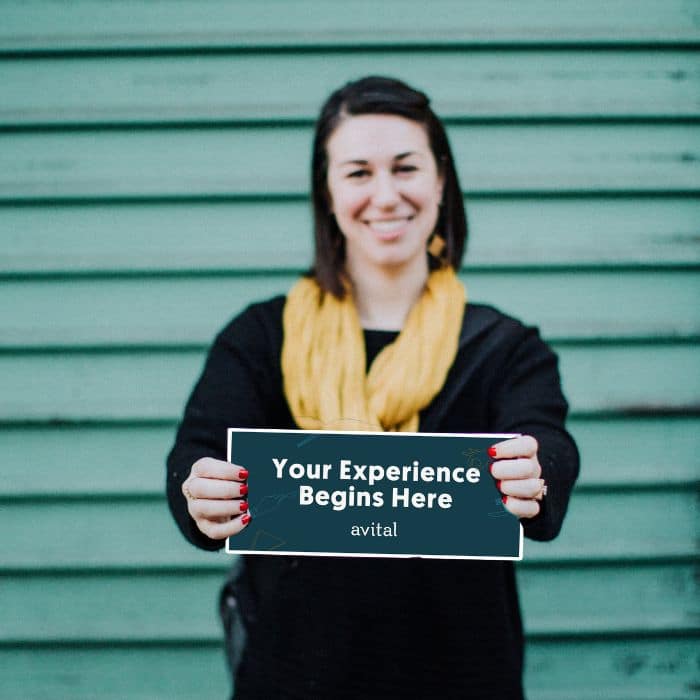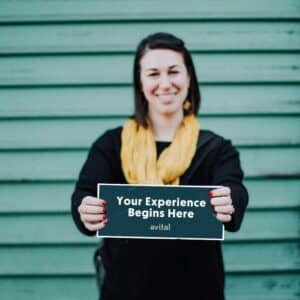 1:
Meet Expert Avital Guide & Introduction
Guests meet Avital Guide at pre-determined location. Kick off the tour with fun introductions!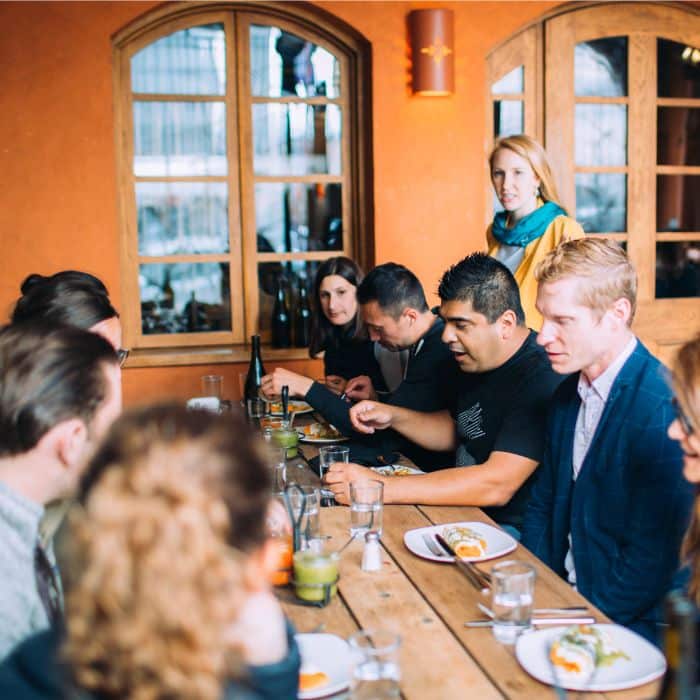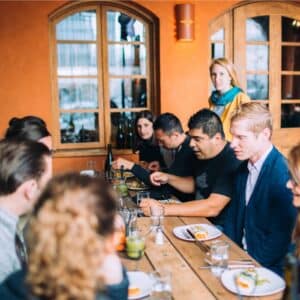 2:
1st Restaurant for Appetizer & Optional Beverage Pairing
Arrive at the first neighborhood restaurant and sink your teeth into a delicious appetizer with a carefully curated alcoholic (or non-alcoholic if you prefer) beverage pairing.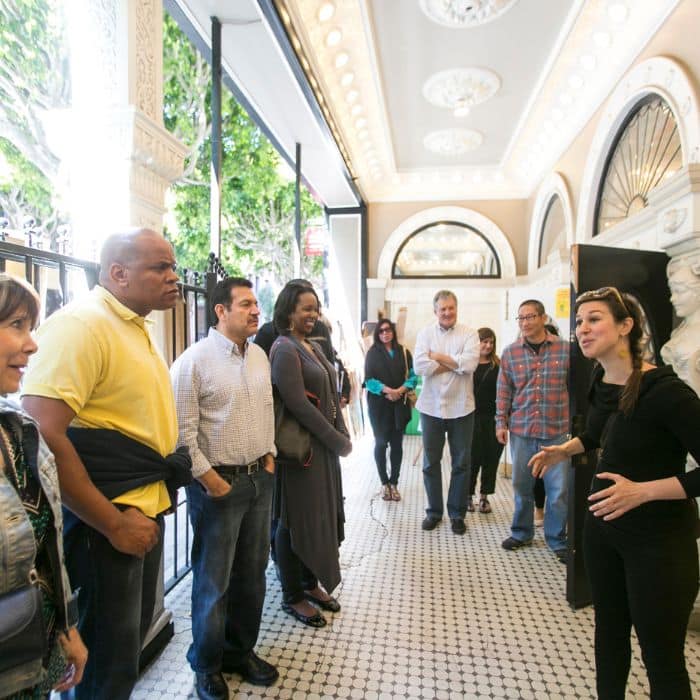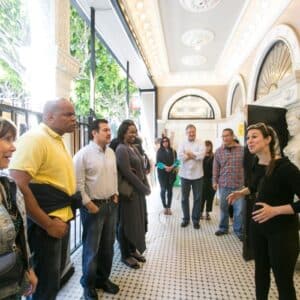 3:
Visit

Iconic Landmark
Head towards your next restaurant destination, but on the way discover unique murals, historic statues, or hidden curiosities with rich commentary from your Avital Guide.
4:
2nd Restaurant for Appetizer & Optional Beverage Pairing
Enjoy your second small plate appetizer with another delicious beverage pairing as you hear stories about the restaurant, culinary scene, and the people who make it all possible.
5:
Discover Neighborhood Story
As you walk to your 3rd restaurant destination you'll continue your journey through the neighborhood with more awesome storytelling and fun facts.
6:
3rd Restaurant for Entree, Dessert & Optional Beverage Pairing
Indulge in your main entree course with another incredible beverage pairing as you chat, enjoy, and connect with your fellow diners.
Then enjoy a scrumptious sweet treat for your final tasting. Your Avital Guide will wrap up the tour, answer any final questions, and can recommend other awesome places to visit next time!
The Essentials
Availability
Private tours are available any day of the week, at any time!
Distance
The Koretown Food Tour is a flat route, approximately 1 1/2 miles.
Group Size
Private tours don't have a minimum or maximum number of people, but we do have a $3,500 minimum.
Alcohol
Guests over 21 years can add the alcohol pairing upgrade which includes 3 carefully curated drinks.
Gratuity
For private events, gratuity is included in your package price!
Lead Time
For private tours, we also require a 2 week lead time. Private bookings made with less than two weeks notice will come with a nominal rush charge of $150.
Private Food Tour
You can experience the Koreatown Food Tour via a private experience just for your group.
Private Tour
A private experience, just for your group. Great for team building, client entertainment, birthday parties, and large groups.
Request Your Preferred Day & Time
Any Group Size
Private Avital Guide For Your Group
Customize Your Package
"In Korea Town I loved the different venues our guide showed us (from a 1920's vampy restaurant that has been used on the set of Madmen to a street art covered fusion restaurant). In K town, our guide Penny was really great, she added humor and so much personality to our tour. This is a tour for local foodies looking to explore new neighborhoods…. not a generic food tour! Very well done!"
Andy W. via Google
Koreatown Food Tour
Upgrades & Add-ons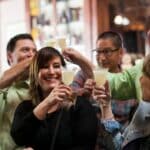 Add 3 Alcoholic Beverages
$35 Per Person
Curated cocktails, beer, or wine pairings to enhance your dining experience.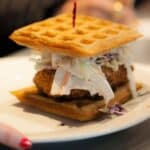 Add More Food
$30 Per Person
Perfect for dinner-time tours. Available on private tours only.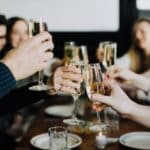 Add Bubbly Toast
$25 Per Person
Perfect for celebratory occasions. Available on private tours only.
Dietary Restrictions
You will be asked for your dietary restrictions during your booking process. If you are unsure if we can accommodate your restriction, please email us at [email protected]. Please note that this tour may include nuts, dairy, seafood, spicy food, and pork. For private tours, we can accommodate all dietary restrictions with advance notice.
Why Choose Avital for Your Koreatown Food Tour?
Expertly Guided
Our Koreatown Food Tour is led by a trained, expert Avital Guide. You can sit back and enjoy as your host takes care of all the logistics with rich storytelling and group engagement along the way.
VIP Experience
No waiting in lines and each course is served seated at a reserved table. Tours can be an intimate, small-group experience yet still have that same VIP feeling for large groups.
Experienced Team
A full support team to ensure a turnkey booking and seamless experience from start to finish.
Dietary Restriction Friendly
We understand dietary restrictions and want everyone to leave feeling cared for and full! We'll ask for your restrictions after booking.
Taste The Best
Instead of visiting a whole bunch of average places with tiny toothpick bites, we visit 3-4 incredible restaurants that not only serve steller food and drinks, but are passionate about storytelling and the guest experience.
FAQs
All tickets are nonrefundable. Consider it like buying a concert ticket – that seat is reserved for you and we will be unable to resell it. As a small business with only 12 tickets per tour, it's important that you purchase tickets when you're sure you can go. If you can't make it to the tour you purchased, the tickets are transferable.
Gratuity is not included. 15%-20% is customary in the tourism industry. That's about $20 per person.
Yes! Our Progressive Meal is a full meal! The base package features appetizers, entree, and dessert (~3-5 dishes) and is great for lunch or dinner. For private tours, you can also choose the "add more food" upgrade for an even more luxurious and robust menu (~5-7 dishes) great for a heavy lunch or solid dinner.
Our pricing already includes applicable taxes! For private events, there is a standard $25 per person private event service charge noted. This helps ensure we can tip your guide and restaurant servers for larger/private groups. No surprise "booking fees" or hidden extras.
It's okay! We can accommodate dietary restrictions and requests for non-alcoholic substitute beverages. We'll ask for your requests and restrictions during booking.
We strongly discourage it. Everything in your pre-booked tour is ordered and prepared in advance to be ready on arrival at each restaurant. Orders placed after arrival take much longer, and come out with little time to spare before we head off to the next course. Guests end up disappointed, leaving cocktails behind or feeling pressure to drink up. Not a good experience.
Yes and no. Our experience takes the best elements of seated dining, prix-fixe chef's tasting menus, blended with the best elements of a classic food tour, to create an entirely unique dining experience: the Avital Progressive Meal.
That's okay! You can still book to reserve your date/time with an estimate and adjust later. We accommodate changes of +/- 20% from your original number. Ask your curator if you need special arrangements for larger changes.
That's our job! We've spent years testing out all of the city's awesome restaurants, finding those quirky characters, and building a culinary experience with story and purpose (that's also delicious!) Trust us, that's why you came here.
We'll send your confirmed meeting address prior to your tour date. The menu itself, and featured restaurants, follow a prix fixe tasting menu style and are revealed as part of the experience itself as it unfolds. You can explore our example featured dishes to understand the caliber and style of dishes and cocktails we highlight.
Our Koreatown Food Tour is a flat route with about 1 ½  miles of walking.
Our public tours sell out fast so we recommend purchasing your tickets at least 2 weeks in advance. For private tours, we also require a 2 week lead time. Private bookings made with less than two weeks notice will come with a nominal rush charge of $150, and deadlines for dietary restrictions info and final guest count are extended to 3 days prior to the event date. Inquiries less than 3 days in advance require all guest info upon booking.