10 Things Everyone Should Do In Los Angeles Before They Die
November 15, 2017
Whether you're an LA native or just visiting, here are 10 things everyone should do in LA before they die. How many have you checked off?
1. Go on a San Gabriel Valley dumpling crawl
If you're going to go all the way east for the best Chinese food in LA, you better make an event of it. There are plenty of lists of the best dumpling places and even already curated dumpling crawls, so bring a group of friends and make a day out of it. Pro tip: bring cash. Many restaurants in SGV don't accept credit cards and you don't want anything to hinder your eating adventure.
2. Go aboard the Queen Mary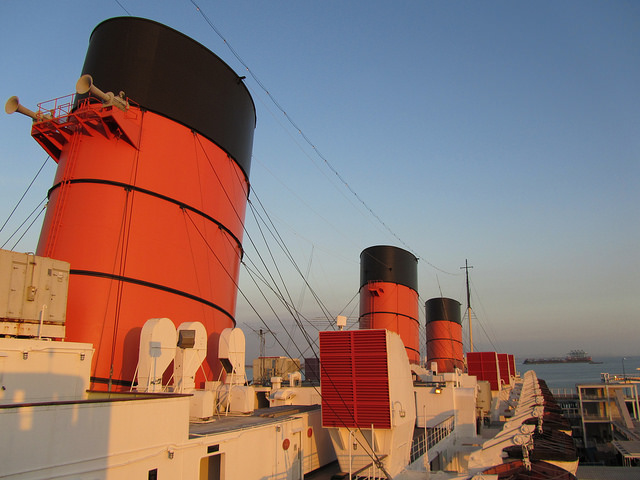 Visiting the Queen Mary is the closest we'll ever get to experience setting sail on the Titanic. The boat was the grandest ocean liner in the world in the 1930's and is now docked in Long Beach. Go on a guided tour to get the full history of the ship. And if the haunted stories don't scare you, you can even stay overnight in the ship's hotel.
1126 Queens Hwy, Long Beach, CA 90802
3. Visit Catalina Island
It's free on your birthday to take the ferry to and from Catalina Island, but it's worth the trip 365 days a year. Stroll around Avalon, go hiking, camp, go sailing, and explore many of Catalina's private coves. Expect to see lots of fish, especially if you SCUBA or snorkel. And you might even run into a bison.
4. Stroll the Venice Canals
There are not many places in Venice that look like Abbot Kinney's original vision for Venice. The Venice Canals are some of the remaining dreams of "Venice of America". Stroll around and look at beautiful homes or boat or paddleboard around and see the sights from the water. While you're in the neighborhood head to nearby Abbot Kinney Blvd. and taste some of our favorite local eats.
www.alltrails.com/trail/us/california/venice-canals-trail
Venice, CA 90292
5. Go on a cheesy Star Tour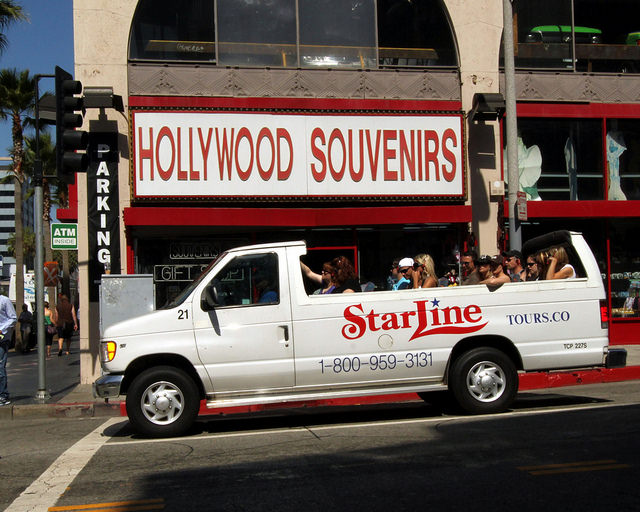 Is it tacky? Definitely. Is it a tourist trap? For sure. But even locals should do all of the ridiculous Hollywood stuff once. After all, if you live in city of movie making, you should at least see all of those locations and star's (alleged) homes in a silly three-hour-long bus ride.
6. Hike up to Griffith Observatory and go to the planetarium
If La La Land didn't convince you to get up to the Girrifth Observatory planetarium, let us help. The hike up to the observatory is beautiful on its own, and then the views make the hike even more worth it. But while you're up there, you really should see a star show. The 290-seat planetarium has live shows eight to ten times a day for just a few bucks. It's a great date, a fun family activity, and definitely one of 10 things everyone should do in LA before they die.
griffithobservatory.org/programs/soplanetarium.html
2800 E Observatory Rd, Los Angeles, CA 90027
7. Be on a TV show or in a movie
Even if you didn't come to LA to "make it" you can still get in front of the camera as an extra. The work is usually paid a daily rate and you might see yourself on the big screen. Or, if you just want to attend a television show and make a cameo in the audience, there's an opportunity for that, too. From Ellen to Jeopardy to the Voice, there are always free tickets to attend tapings. After all, LA is the entertainment capital of the world and you should see something or be seen in something before you die.
8. Visit the Getty Museum AND Villa
The Getty Villa and Museum at the Getty Center aren't in the same place, but you should put both of them on your bucket list. The museum in west LA has paintings, sculptures, drawings, photography, and more art from Europe. The villa in Pacific Palisades houses arts and Greek and Roman antiques. Both offer beautiful views of LA and the Malibu villa is near the ocean. The Getty Center is free to visit, so there's really no excuse not to put this on your list of 10 things everyone should do In LA before they die.
Museum: 1200 Getty Center Dr, Los Angeles, CA 90049
9. Have a drink at the Beverly Hills Hilton
A lot of Hollywood history has taken place in the Beverly Hills Hilton since its 1955 opening. You could stay there, or you can still get a feel for the ambiance and sneak a peek at who is coming and going by having a drink by the pool. You can also rent a chair at the pool for the day and pretend you're on a staycation.
10. See a hockey or basketball game at the Staples Center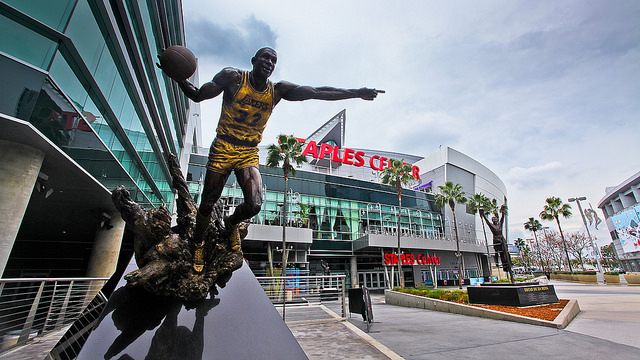 Go cheer on the Lakers or the Kings at Downtown LA's Staples Center. Lakers games are always star-studded and you'll never leave a Kings' game without seeing a proper hockey fight. The stadium is easy to get to on the train so you drink as many overpriced beers as you can handle, or go to dinner Downtown before or after the game.
Are 10 things everyone should do in LA before they die not enough? Let us show you around and give you more ideas. Join us on a food tour in Downtown LA, Koreatown, Hollywood, or Venice to learn more about the culinary history of the neighborhood. We'll help you knock some great restaurants off your bucket list.