Best Cheap Eats in Downtown Los Angeles
April 2, 2017
Sometimes you want to treat yourself to a fancy meal, but other times call for cheap eats. Luckily, Los Angeles is filled with lots of trucks, stands, and restaurants that don't break the bank. Whether you're looking for a quick bite (tacos, anyone?), or to sit down and enjoy something new, these are the best cheap eats in downtown.
Guisados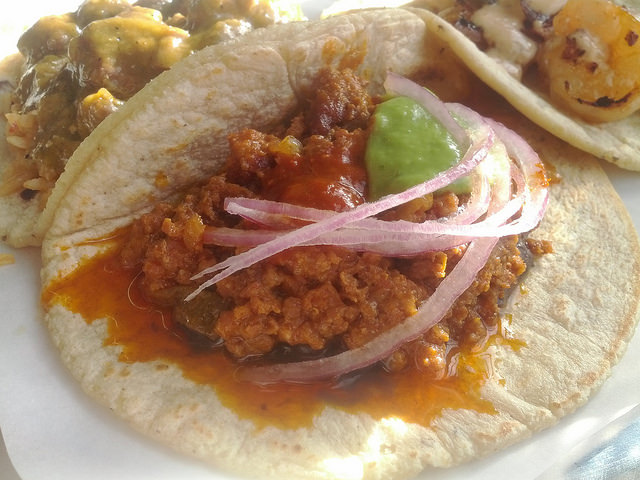 Mexican food is a classic when it comes to inexpensive eating. Grabbing a taco or burrito off of a food truck is a basic part of living in Los Angeles. Lots of the best cheap eats in downtown are tacos, but an LA favorite is Guisados. The meat here is all braised or stewed, which makes Guisados tacos different than most in the city. The masa is handmade daily next to their Boyle Heights location, so your tortillas will always be fresh. Best of all? All tacos are $2.75, except for seafood tacos which top out at $3.00. Try our favorites-the Mole Poblano and Bistek en Salsa Roja. And for $2.75 each, you can probably get through most of the menu without emptying your wallet.
541 S. Spring St. # 101, Los Angeles CA, 90013
Wurstkuche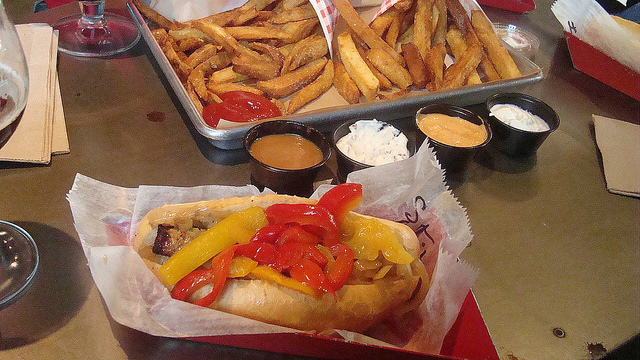 If you're in the Arts District, Wurstkuche is a must for sausages. Don't be fooled by the small front, there's lots more seating in the back of the restaurant. Classics such as Bratwurst and Hot Italian are some of the most popular, and even vegetarians will find something they can eat, like the Vegetarian Smoked Apple Sage or the Vegetarian Mexican Chipotle. Wurstkuche also has gourmet sausages like Mango Jalapeño and Filipino Maharlika pork sausage. The "exotic" menu includes meat from animals such as buffalo, duck, rabbit, and pheasant. Best of all, all the sausages are filling and they're all less than $9.00.
800 E. 3rd St., Los Angeles, CA 90013
Rice Bar
If you can find a seat at this tiny DTLA counter, you're in for a treat. Ricebar serves Filipino rice bowls made with heirloom rice from the Philippines and topped with local ingredients. All the rice bowls are filling. We love the Bisteg Tagalong, the Pork Longganisa, and the Mushroom Tamale steamed in a lotus leaf. The most expensive item on the menu is $11.00, and most are around $8.00 or $9.00, so you'll have some extra cash leftover for a coconut ice pop or homemade rice crispies. But the dishes are filling, so you might not have the room.
419 W. 7th St. Los Angeles, CA 90014
Bar Ama
Opened by downtown Los Angeles restaurant "mayor" Chef Joseph Centeno, Bar Ama is a Tex-Mex homage to the women that raised him. The best and cheapest time to visit is during "Super Nacho Hour" when the special menu is all $10.00 and under, including drinks. Frito Pie, Chalupa, Taquitos, and are served at the bar. The specials can be found Monday-Friday 5:30-7 pm, Monday-Saturday 10 pm-close, and weekends from 3-5:30 pm.
18 W. 4th St., Los Angeles, CA 90013
Grand Central Market
It's impossible to pick just one favorite at Grand Central Market, but it's definitely possible to find a plethora of cheap eats. From Eggslut's breakfast sandwiches to bagels at Wexler's Deli to soup at Ramen Hood, it's almost impossible to leave here unsatisfied. We like to start our mornings here at G&B Coffee and stock up on something of substance before having a McConnell's Ice Cream. Take some snacks to go, like an array of cheeses from DTLA Cheese or load up on carbs for the road at Clark Street Bread.
http://www.grandcentralmarket.com/
317 S. Broadway, Los Angeles CA, 90013
Pirozhki
If you grew up in a Russian or Eastern European family, then these pirozhki will taste like grandma used to make. And if you didn't, you'll get to try something new and delicious. Served from an air stream trailer. These Russian hand pies are filled with meat or vegetables. At Pirozhki the fillings are beef, chicken, cheese, spinach, or potato. For just $5.00 a piece you can try a few and split them with friends in the seating area behind the trailer.
Location changes, check website
Let us show you our favorite eats in LA and we'll take you to the best cheap eats in Downtown Los Angeles. Take a tour of Downtown with us.