You Can Do Better Than Dinner and A Movie! Here are 4 Unique Date Ideas NYC
February 22, 2020
In a city that has it all, it's still easy to feel like you've done it all. Impressing a date in NYC takes a little creativity, especially when you've exhausted all the typical options. Whether you've been together for five months or five years, coming up with unique date ideas in NYC isn't a challenge that you have to take on alone. Read on to find out our favorite unique date ideas in NYC that are perfect for any couple.
Date Night Painting Class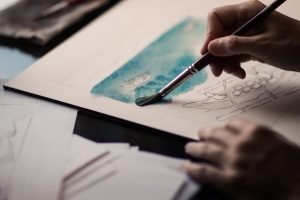 Painting doesn't have to be a solitary activity. At The Art Studio NY, couples can book a Date Night Painting Class, and receive guidance as they paint a canvas together in a low-lit, intimate setting. This isn't a "paint-by-numbers" experience either — your instructor will teach you different painting techniques like brushwork, color mixing, and subject matter. The environment is meant to be fun and engaging, and at the end, you get to go home with a special souvenir: your canvas. Sip some wine, flex your creative muscles, and enjoy this unique date idea in NYC.

Check Out Brooklyn's Food Scene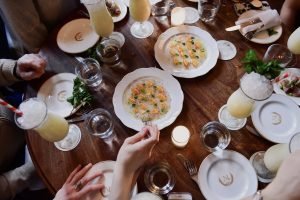 Brooklyn is home to comforting Italian food, classic delis, delicious Jamaican cuisine, and so much more. And yes — we realize how big Brooklyn is, but that's why this unique NYC date idea is really multiple dates. Go on a foodie adventure with your sweetie and take them on a journey to try a pizza place that's been open since 1965, head to Brighton Beach for authentic Russian dishes, or be transported to an Ottoman Palace at Turk's Inn and let the opulence whisk you both far away. And if you and your partner want to learn more about how Williamsburg's residents shaped the food of this trendy neighborhood, book a food tour. Start in a cozy restaurant straight out of New Orleans' French Quarter, eat your way through the neighborhood, and end with the creamiest ice cream you've ever tasted. Forget your regular date night Seamless order.
Boogie The Night Away At The Roller Disco
You and your sweetheart have done the bowling thing, now try roller disco. Dreamland Roller Rink on Coney Island truly brings out all the razzle dazzle to make this experience one you'll both never forget. Dress up in your best glamorous, funky attire, and skate to music from the 70s, 80s, and 90s, or join on a theme night like "Rihanna vs. Britney." Every night is a spectacle, with live performers, an MC who narrates as the night goes on, a skate dance competition, a red carpet where you can have your photos taken, and more. Plus, put on your best costumes and see if one of you can manage to win the costume competition. It's a magical evening, and with events happening every month, it's sure to be a special repeat date idea. Unique date ideas in NYC don't get more unique than Beyonce Sing-Along on skates.
Take A Yoga Class Together
Flex (sorry, had to) your yoga skills and book a class with your partner. One of our favorite choices are the AcroYoga classes at OmFactory, a studio near Union Square. AcroYoga combines yoga, acrobatics, and Thai massage into a practice that's designed to deepen the connection you have with your partner. Start with AcroYoga 101 to learn the basics, or if you feel comfortable enough, try a "solar" class to advance your training. If you and your partner enjoy exercising together, meditation, or simply love a good stretch, AcroYoga is a good way to combine all of those interests.
Take the stress out of finding unique date ideas in NYC and book a food tour! Check out our public or private culinary experiences in Williamsburg, the East Village, or Flatiron for delicious dining and tasty tidbits while touring the neighborhood of your choice.