Top Warm and Cozy Restaurants to Cuddle Up In This Winter in NYC
December 17, 2019
The winters in New York City may be cold, but that doesn't mean your dinner plans have to be. Fight the winter blues in some of the city's coziest restaurants, and have a comforting, stick-to-your-ribs meal while you're at it. Here are our top warm and cozy restaurants to cuddle up in this winter.
Maison Premiere
Maison Premiere is all about ambiance. As soon as you step inside the small restaurant, you're immediately transported to the French Quarter in New Orleans or a cozy bar in Paris. From the antique liquor bottles behind the bar, marble countertops, and flickering candles on tiny tables, you'll soon find yourself warmed up with an absinthe cocktail in your hands. Presentation is key at Maison Premiere, and whether you're enjoying oysters from the raw bar or a bowl of seafood gumbo, you'll feel far away from the cold, if only for a little while.
The NoMad Restaurant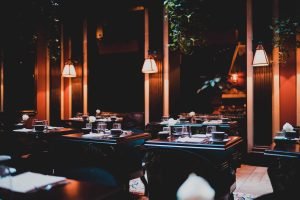 If you're looking for warm and cozy restaurants in NYC this winter, then you'll want to consider a spot that has a designated fireplace room. Look no further than the infamous NoMad Restaurant, where you can dine on foie-gras stuffed chicken, fireside. Dining at The NoMad is a chic affair no matter the temperatures, so put on your best evening attire for a special night out. The NoMad Bar is also the perfect spot for a nightcap—a final warmer to make your walk home a bit toastier.
Paulie Gee's
A pizza joint might not be what comes to mind when you think of warm and cozy restaurants, but at Paulie Gee's the wooden tables and close quarters will have you thinking otherwise. If you've been seeing someone new, Paulie Gee's is the right combination of casual and romantic, but has the perfect atmosphere for a group of friends as well. Plus, pizza made in a wood-fired oven has an undeniable warming effect.
Ruffian
Ruffian uncorks some of the best bottles of wine and serves up small plates with loads of flavor. This wine bar is practically the definition of cozy, with a 19-seat bar and an open kitchen. Prepare to sit in close quarters to your fellow wine lovers, and also be ready to try wines from Northern France, Austria, and the Republic of Georgia. A glass or two will help you brave the walk to the subway, or at least keep you warm while you wait for your Uber.
Il Buco
In an ideal world, you'd find yourself in Northern Italy on a chilly winter evening with a bowl of luscious handmade pasta in front of you, rolling hills or snow-capped mountains in the background. Alas, that's an adventure for another time. But the good news is that there are plenty of warm and cozy Italian restaurants in NYC, and one of our personal favorites is Il Buco. This Soho mainstay started as an antique shop and eventually turned into one of the best places to enjoy a comforting bowl of zuppa, perfect ribbons of housemade tagliatelle, and delicious, creamy risotto. Everything about Il Buco will make you happy you went out for dinner and didn't decide to stay in your apartment all winter.
Tiny's & The Bar Upstairs
When the Abramcyk siblings decided to open up Tiny's & The Bar Upstairs, they wanted to create a neighborhood spot that evoked charm, warmth, and made anyone feel at home. They absolutely succeeded—the pink townhouse in Tribeca that's home to this warm and cozy restaurant is a New York City landmark. The rustic setting in this historical 1810 building gets an orange glow from the fireplace, keeping you snug and relaxed all night long.
SUPPER
This cozy spot, located on East 2nd Street, is a must-try for Northern Italian cuisine. Try their handmade kale gnocchi, head in on a Wednesday night for lasagna night, or order the risotto of the day. Whatever you decide, I promise you won't be disappointed! But don't let the name fool you, you can have brunch at Supper too. This isn't your ordinary brunch spot though. Spice up your regular brunch routine with a zucchini tagliatelle or grilled polenta and poached eggs. Now that's amoré, my friends!
EAST VILLAGE FOOD TOUR
Can't decide where to get all warm and cozy? Well, let us show you! Join us on our NYC East Village Food Tour as we explore one of New York City's hottest restaurant and craft cocktail scenes – known for its role as the birthplace of punk and artist hangouts. Hear the stories of restaurant owners and chefs as you enjoy our 4-course progressive meal. Taste a bite of Little Ukraine, and other ethnic cuisines from immigrants who have made the East Village one of the most diverse eating grounds in NYC. Let's eat and drink through this cultural neighborhood!
PAPILLES
Transport yourself to France at Papilles. This elegant French restaurant is led by classically trained in France and formerly of multiple Michelin-starred restaurants, Chef Andrea Calstier. His wife, Elena Oliver, designed the interior with a nod to their French-Mediterranean roots while still incorporating the feeling of their neighborhood. The third piece of the Papilles puzzle is mixologist, Nicholas Thoni, who grew up in Lyon – the food capital of France. If you're looking to treat yourself to a full dining experience and up the romance, their tasting menu will take you on a culinary journey you won't forget!
THURSDAY KITCHEN
Start your weekend early at Thursday Kitchen. In fact, it's how their name came to be. When Thursday night plans are uncertain, they want to turn that uncertainty into a definite feeling of excitement that you'll get when you know that's where you're headed! Serving international tapas, with French techniques and Spanish and Asian ingredients, you're in for an explosion of flavors! This place is so cozy, you may actually miss the entrance. It's tucked away down a set of stairs, which will take you into this dimly lit, warm environment. Get ready to cuddle up!
PYLOS
Get [yourself] to the Greek! Well, to Pylos at least. I had to add it to the list because Greek food is one of my favourite cuisines and this snug little spot be sure to thrill you. The octopus, the moussaka, the stuffed grape leaves, you can't choose just one dish – so I encourage you to share a few plates! While you're there, be sure to take in the décor on the ceiling. Pylos [pronounced Pee-'los) is the root word that includes things of clay. The restauranteurs have incorporated this into their interior using clay pots as their ceiling design. It's been said that clay pots, found among the ruins of ancient Greece held clues to daily Hellenic life.
LITTLE OWL
Calling all Friends fans! This corner spot has been used as the exterior to the iconic Friends apartment building, but it is so much more than that. Nestled in the middle of a beautiful neighborhood, this Greenwich Village staple has been around for 15 years – and that's an accomplishment for any restaurant in NYC. Serving modern Mediterranean dishes, head to Little Owl to people watch on their outdoor covered patio or even just to cozy up solo at the bar with a glass of wine. Before you go, make sure they're open as they tend to close up shop between their lunch and dinner seatings!
One of the best ways to see some of NYC's warm and cozy restaurants is by booking a food tour! Check out our tours in the East Village, Williamsburg, or Flatiron as a way to stay warm this winter.