Our Favorite New York City Ice Cream Shops
July 1, 2018
Summer in NYC can be brutal. If you can't get out of the city for a beach break, an ice cream break is the next best thing. Our favorite New York City ice cream shops are the perfect places to cool off.
Big Gay Ice Cream
Big Gay Ice Cream has one of the most memorable names of any ice cream shop in New York City or otherwise. Luckily their ice cream is just as memorable. Expect names like "Salty Pimp" (salty dark chocolate chunks and salty swirls of dulce de leche in vanilla ice cream) and Birfdae Cëk (chocolate frosting and crunchy colored sprinkles in yellow cake batter ice cream). You can also expect great ice cream at each of their three locations (and one more in Philly).
Momofuku Milk Bar
We head to Milk Bar when we want a sugar rush. The bakery is filled with cookies, cakes, truffles, and ice cream. The famous Cereal Milk™ Soft Serve is made with cornflakes so it tastes like the milk at the bottom of a cereal bowl, and it's topped with the crunchy cereal, too. Other flavors sometimes change but you expect to find Chocolate Covered Pretzel Soft Serve right now.
Van Leeuwen Artisan Ice Cream

We love walking down the street and finding the yellow Van Leeuwen Artisan Ice Cream truck. Of course, you can visit one of their shops, too, but there's something about ordering from a truck that's nostalgic. This is better than the stuff your ice cream man delivered. The all natural classic and rotating flavors are so good, and they even have treats for vegans. Early Grey and Peanut Butter Marshmallow Crunch are fail-safes.
The Original Chinatown Ice Cream Factory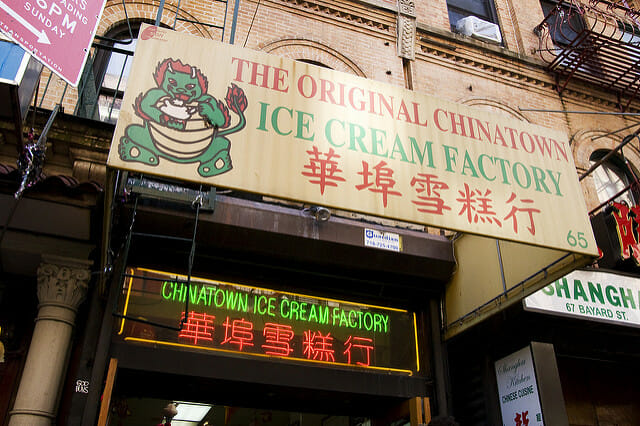 While Chinatown isn't necessarily the first place you would think of when looking for ice cream, Chinatown Ice Cream Factory is worth a visit…or five. With flavors like Black Sesame, Pandan, and Taro, this is the perfect place to find a unique scoop. Feeling brave? Try the Durian.
Want to learn more about New York City ice cream shops? Book a public or private culinary experience and have a local guide show you around Williamsburg, Flatiron, or the East Village.