18 Foodie-Approved NYC Food Tours for 2023
November 8, 2021
Attention! Calling all foodies, far and wide. You're visiting New York City – for the first time or the fifth – how fun! You're excited to get your grub on and eat some truly delightful food but you're tired of going to the same spots. You don't know where to even look for other options That's where NYC food tours come in. Food tours in NYC are the perfect way to take a stroll, see the city and try out new restaurants and foods.
We thought we'd help you out on your search with this list of 18 food-approved NYC food tours for your next trip in 2023.
What are NYC Food Tours?
NYC Food Tours are tours that you can sign up for where you will be lead through a variety of culinary experiences in and around New York City. You will typically be guided through a particular New York neighborhood or have a particular focus for your tour, whether it's the type of cuisine, or how old the establishment is! No matter what, with an NYC food tour, you will learn something new and eat something tasty!
1. Explore Ethnic Cuisine with an East Village Tour
Known as the birthplace of punk and artist hangouts, the East Village is home to NYC's hottest restaurant and craft cocktail scenes. On the NYC East Village Tour, you'll hear the stories of restaurant owners and chefs as you enjoy our 4-course progressive meal. Taste a bite of Little Ukraine, and other ethnic cuisines from immigrants who have made the East Village one of the most diverse eating grounds in NYC. Let's eat and drink through this cultural neighborhood!
Cost: Starting at $99 per person (Get 15% OFF with Promo Code: WUFG7WI8)
Availability: Saturdays at 11am or 3pm
What's Included: 4 course progressive meal (drink upgrades optional)
2. Have The Best of Both World with a Chinatown and Little Italy Food Fest
Every foodie loves food that is bursting with flavor so the Chinatown and Little Italy Food Fest is a must on the list of NYC food tours. Over the three-hour tour, you'll try a classic Chinese pastry, an authentic Chinese dumpling, and others while visiting family-owned establishments that have been around for over 100 years. You'll also be entertained with stories about the history of the neighborhood while munching on fresh homemade mozzarella paired with prosciutto.
Cost: $105 per person
Availability: Thursdays through Mondays; 10:30 am and 11:30am on weekends as well
What's Included: 8 tastings in 3 hours
3. A Full Day Experience with The United Kitchens
As a fellow foodie, I know sometimes I can't figure out what type of food I want to eat – i.e., I want a bit of everything. If you're anything like me (which, if you're reading this article, you are), The United Kitchens tour is for you. It's a full-day, five-to-six-hour tour where you satisfy all your cravings. You'll be tasting everything from Mexican food to a Colombian "fast food" joint and even a Tibetan hole-in-the-wall (this is how you know it's a good spot). Get your walking shoes – and stretchy pants – ready!
Cost: $15o per person
Availability: 10:30am everyday
What's Included: Tour guide and all food consumed on walk (around a dozen spots!)
4. Create Your Own Food Crawl Rather Than Pay For NYC Food Tours
Do you want to explore New York and try some of its famous food without the hassle of finding and scheduling an experience? Try a more low maintenance approach where you don't need to set a certain time or place to meet a group. Do typically like to go it alone and find your own treasures when you're traveling? You can easily set up your own planned restaurant crawl where you go to a series of food spots with a particular theme or focus. Use Google Maps to create your own path with stops along the way. If you're the type that likes to go your own way and find your own hidden treasures while traveling we heartily suggest trying out your own route. Learn more about using GoogleMap's route feature here.
Cost: Free except for what you choose to eat and drink!
Availability: The beauty of this option – you can do this on your own schedule
What's Included: Again, you choose your own adventure
5. Eat What NYC is Famous For with NYC Pizza Bus
Okay you cannot go to New York City and not try a slice of pizza. I mean, eating delicious pizza is a rite of passage in New York City. What better way to figure out what spots to check out than a full-on bus pizza tour? Over the course of 4.5 hours, you'll be visiting four pizzerias across, at least, two of NYC's five boroughs with the NYC Pizza Bus Tour. Although stops do change weekly, you are guaranteed to be full of mouth-watering pizza at the end of the day. You can look at their website to see some of their favorite spots to visit! Don't forget – bring a refillable water bottle to rehydrate in between all that cheesy goodness.
Cost: $79 adults; $69 children
Availability: Sundays at 11:30 am
What's Included: 4 pizzerias in at least 2 burrows with transport included
6. Discover More Than Just Food with the Chelsea Market, High Line, and Hudson Yards Food & History Tour
That was a mouthful! In this public tour check out these multiple neighborhoods including the famous meat packing district. Learn about the history of these old old parts of the city as well as the newer Highline and everything in between. Just like New York's landscape there is a rich, deep, history, as well as an expression of modern times and tastes. Learn all of this first hand, or should we say first taste, with more than a handful of different stops showcasing the different cuisines of this part of the beloved Big Apple.
Cost: $68 per person
Availability: (rain, snow, or shine!)
What's Included: 6 snacks from 6 different establishments (drink upgrades optional)
7. New York City Donut Tour For Sweet Lovers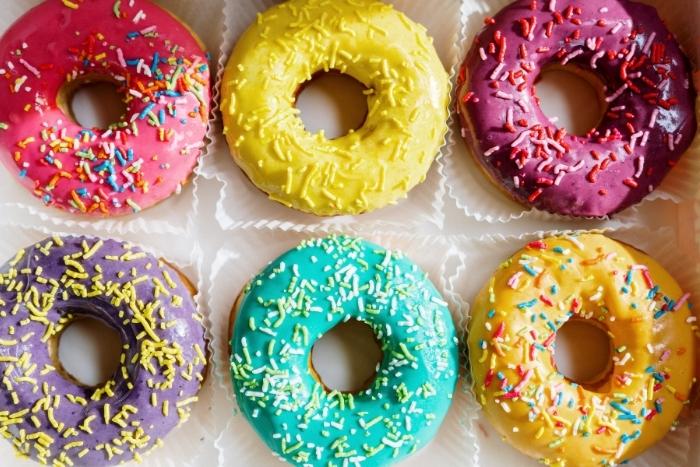 Yes, of course, New York is known for its food scene. But dessert is food, so we had to add it to the list. I present to you, the New York City Donut Tour. With specialty donut shops popping up all over, it's hard to know where to start. You'll be guided on a tour starting off in Chelsea at one of the original artisanal donut shops and go on to experience some of the best donuts the concrete jungle has to offer. While biting into tasty fluffiness and sipping on your coffee, you'll learn about New York history and architecture. End your NYC food tours on a sweet note!
Cost: $50 for adults; $30 for children
Availability: Wednesdays through Sundays at 9am or 12pm
What's Included: Donuts, the history of each donut shop, a lively tour guide and an educational walk through New York
8. Eat Your Way Through the 5 Boroughs with Famous Fat Dave NYC Food Tours
Why choose just one borough to eat through when you can eat through all five? That's exactly what you get on Famous Fat Dave's 5 Borough Eating Tour on the Wheels of Steel. You have three options depending on what you're looking for and how long you have. Fat Dave's tours last anywhere from 2 hours to 6+, from 5 tastes to 20 tastes. Between the pizza, the Chinese food, the sandwiches, the dessert, you'll have all your New York City cravings satisfied.
Cost: $300 for one guest for 2 hours; $125 for each additional guest and hour
Availability: Email Dave for inquiries
What's Included: The Chunky but Funky Monkey tour, The Junk in the Trunk Package, or the Fat Elvis Package
9. Teat Yourself to a Luxury Michelin Food Tour
Have you ever wanted to try a selection of top tier restaurants all in one meal? Tour through three curated restaurants including Michelin-Starred establishments in this Michelin Progressive Meal. You'll be treated to three dishes by some of New York City's premier chefs in three locations with walking and unique surprises in between. You'll get the opportunity to try some of NYC's top Michelin restaurants such as Tuome, Junoon, Casa Mono, ZZ's Clam Bar, Le Coucou, NoMad, Atomix and many more. Choose to have a beverage pairing to elevate your experience. You even can have a luxury car to pick you up and escort you – with a gift waiting for you inside – talk about first class!
Cost: $500
Availability: Semi Private Progressive Meals are Thursdays, Fridays, and Saturdays (click here for Private Inquiries)
What's Included: Appetizer and pre-dinner aperitif at Restaurant 1. Entree and drink pairings at Restaurant 2. Dessert with a post-dinner digestif night-cap at Restaurant 3. Optional luxury car pick up and transport to the culinary adventure.
10. Heat Up with Hell's Kitchen Walking Food Tour
Have you ever wondered how Hell's Kitchen got its name? Well, I have. The whole time I lived in New York, not one person ever told me. And now, what was once an area filled with crime and gang violence, Hell's Kitchen has been gentrified to include a number of delicious restaurants of all different types of cuisines. You want Greek? No problem. Ethiopian food more your thing? You got it! Head out on this two-hour Hell's Kitchen Walking Food Tour and fill your heart and bellies with lots of culture.
Cost: $99 per person
Availability: Wednesdays through Sundays at 12:30pm
What's Included: Tour guide and 5 different food tastings
11. Explore This Trendy Neighborhood with a Brooklyn Food & Culture Tour
Brooklyn is a must-see on your visit to NYC! There's so much culture, food, and historical sites that you do not want to miss. So, if you're unsure where to start, start with this Half-Day Brooklyn Food Tour. You'll enjoy authentic Neapolitan pizza, freshly prepared cannoli, kielbasa sausages to die for and so much more! You'll also drive through very interesting, historical areas that will make you leave the tour with a newfound appreciation for Brooklyn.
Cost: $139 per person
Availability: Thursday, Friday, Saturday, Sunday at 11am
What's Included: native New Yorker tour guide and food tastings
12. Get Instagrammable Shots with a Dumbo Tour
Let's say you don't have time to spend half a day touring Brooklyn. No problem – here's you're new solution. So you know that gorgeous bridge that everyone takes a picture of? With the cobblestone streets and beautiful brick buildings in the background? Well, that's in DUMBO, a hip neighborhood in Brooklyn where artists and innovators thrive. On this 3 hour tour, you'll learn all about the history of this stunning waterfront location, along with trying some yummy local foods. Make sure those phones are charged!
Cost: Free
Availability: 7 days a week at 9:30am
What's Included: 3 hour tour, food not included
13. Self-Guided Sex and the City Food Tour for Super Fans
Identifying with a fictional group of women never tasted so good. Go on an iconic Sex and The City Self Guided Tour by following this dining guide created by Rachel Oaks. Follow iconic locales from the TV show from the Cafeteria to 21 Club. Are you a Carrie? Then maybe the classy Cipriani on West Broadway. More of a Samantha? Then the stop at the buzzy Bubby's High Line will definitely be your fave! Top it all off with fun games and trivia questions about our favorite show to really show the rest of the group how big of a fan you are! This writer even created a Google Map you can use to draw out your route.
Cost: Just the food/drinks you choose to purchase to eat and drink!
Availability: Self scheduled
What's Included: Over 20 dining establishments for you to choose from and a map with them all laid out
14. Experience Quintessential NYC with a Greenwich Village Tour
The Greenwich Village Tour is going to give you a glimpse into quintessential New York City. You'll walk through the majestic arches of Washington Square Park to one of the most serene neighborhoods in all of NYC – seriously, it's my dream neighborhood – the West Village. Along the way, you'll try all sorts of pizza, cupcakes, bagels, and more. P.S. for all you Friends fans, you'll get to see the building that was used as the exterior in all apartment shots.
Cost: $75 per person
Availability: Wednesday, Thursday, Friday, or Saturday
What's Included: Minimum of 7 food stops with up to 12 people per tour
15. Feel Fancy While You Feast with a Flatiron Food Tour
The Flatiron District is one of New York City's more visited neighborhoods with destinations such as the Flatiron building and Madison Square Park. No wonder yummy restaurants have started popping up all over the place, especially along 5th avenue with culinary institutions such as Eataly in the mix. Get your walking shoes ready to explore with our Flatiron Walking Food Tour. You'll get an exclusive peek at this historic neighborhood: originally the neighborhood of the New York social elite and debaucherous types, today NoMad and Flatiron boast some of the top restaurants in New York City and many Michelin-starred restaurants. Let's eat and drink through this cultural neighborhood!
Cost: Starting at $129 per person
Availability: Private tours available any day or time. Submit inquiry for more information!
What's Included: Two appetizers, and entree, and dessert at four different locations with optional drink pairings
16. See The Quirky Side of the City with The Flavors of Williamsburg Tour
This tour of Brooklyn's trendiest neighborhoods takes you not only to iconic eateries, but also includes local faves you might not have discovered on your own. Typically this tour will take you to Northside Bakery (Polish bakery), Mables Smokehouse & Banquet Hall (Oklahoma style BBQ with veg options available), Tacoma (former auto body shop serving corn esquires and sandia, a watermelon aqua fresca), and Best Pizza (award-winning, local favorite pizza joint). Learn more about the Flavors of Williamsburg Tour. And, a plus, this tour does include vegetarian options for those with dietary restrictions!
Cost: starting at $68 per person
Availability: Thursdays through Sundays
What's Included: Local and professional guide, all tastings (enough food for lunch) and water at each stop
17. Take a Private Tour with Secret NYC Pizza Tours
When you're looking for NYC food tours you HAVE to think of pizza right? There's a reason why we put two pizza tours on this list, pizza is GOD in New York City! Well, it's time to pray and this tour will be perfect for your pilgrimage. This tour will take you to less obvious pizza spots in the big apple. This is private tours only so keep that in mind before you look into this particular one. But, if you're in a larger group and want to commit to a private tour (and everyone loves pizza… but who doesn't right?), this might be the one for you! This tour focuses on the East Village section of Manhattan and takes you to multiple pizza purveyors including places that sell fusion pizza (like Lebanese pizza, Beijing pizza, and more!).
Cost: Contact company for pricing
Availability: Click here to find out!
What's Included: Native New Yorker guide, multiple pizza tastings, dessert
18. Sip and Enjoy with The New York Beer and Brewery Tour
Why not wash down all of that delicious food with a tasty brew or two! The New York Beer and Brewery Tour is a small, family-owned business. They're native New Yorkers dedicated to sharing their incredible city and the amazing craft beer scene. Guests can choose from a variety of tours, like their Signature Tour where you'll visit 4 different breweries along with delicious snacks along the way. At each stop guests will receive at least 12 ounces of beer making it well worth the price.
Cost: $59-125 Per Person
Availability: Saturdays, starting at 11am
What's Included: Inclusions depend on tour selection, but tend to include 3-4.5 hour tour, 3-4 beer tastings, delicious snacks, and chauffeured transportation.
There's no better way to experience NYC then through food and drinks. Book these NYC food tours for an unforgettable trip to the Big Apple.
Get 15% OFF East Village Food Tour with Promo Code: WUFG7WI8!