12 Organizer-Approved NYC Team Building Activities For 2023
February 13, 2023
Planning a team building event is easy, they said. Just choose something fun, they said. But as an organizer, you've likely dealt with loads of planning and coordination, confusing payments, and unresponsive sales people, all for an event your team doesn't even really enjoy. Let's change that, shall we? Of course it's important for your team to enjoy the experience. It is called "team" building after all. But we also think the experience should be easy, convenient, and dare we say, fun, for you, the organizer! So here are our favorite NYC team building activities that are easy for the organizer and crazy fun for the team.
What are NYC Team Building Activities?
NYC team building activities and events aim to enhance teamwork, collaboration, and communication among professionals in New York City. These engaging exercises, such as escape rooms, scavenger hunts, outdoor adventures, cooking classes, and workshops, encourage participants to work together, think creatively, and overcome challenges. By building stronger bonds, understanding each other's strengths and weaknesses, and developing essential skills, these activities promote a cohesive work environment, increased productivity, and improved efficiency. NYC team building activities combine fun and learning, providing valuable opportunities for growth and collaboration in the workplace.
1. Get Hands-On During This Delicious Dining and Cocktail Experience with Avital
We're starting the list strong with our very own experience, the Hands-On Meal. Think of it as the light and easy alternative to a cooking class. Guests are first welcomed to the restaurant by their Avital: Host with a tasty drink and snacks. Then you'll break into smaller, intimate groups for the interactive activities, like crafting cocktails with an expert mixologist at the bar, flavor tripping, culinary madlibs, or a menu building game, with awesome snacks along the way. Then you'll be seated together for the seasonal entree, another beverage pairing, and delightful dessert. Booking is easy as you'll work with a dedicated culinary curator who will handle all the details. Plus all food and beverages are included in the experience for seamless paying and planning.
What Organizers Are Saying: Avital made me look like a rockstar in front of the team. We had a wonderful time, and it was the perfect end to our time together in NYC. I can't thank them enough. Derek H. via Avital Experiences
2. Experience Art Like Never Before with Unarthodox NYC
Unarthodox uses art to connect groups in cool, immersive ways. Choose from 7 of their experiences, like "Sculpture Without Sight" or a collaborative mural painting. Each experience is designed to be interactive and approachable for all guests, whether you have a team of introverts, extroverts, VIPs, interns, and everything in between. All supplies and staff are included, plus a full photo and video package for groups of 12+. If you'd like to add on food or drinks, there are several packages to choose from.
What Organizers Are Saying: We hired Unartodox for a corporate event that went perfectly. Unartodox came to our location and ensured us that it would not only be a fun experience but also not messy. We did the 'A Night with Picasso' class which was a great fit as everyone had the opportunity to make their work their own based on how they interpreted the instructions. Overall we are very happy and cannot wait to host another event with the team! From Caroline K. via Yelp
3. Have An Epic Pizza Party at Pizza School NYC
Hosting a pizza party to treat your hardworking team might fall a bit short. But this isn't just any pizza party. This is "the ultimate team building event cleverly disguised as a pizza party." A fully immersive, hands-on experience from mixing up the perfect dough to a huge buffet of top-shelf toppings. After a fun welcome of fresh pizzas to try, your team will get hands-on to create their own signature pies. If you've got a team full of pizza-loving people, this is the perfect experience for you.
What Organizers Are Saying: My team had a team building event at the Pizza School NYC. It was an amazing experience. Delicious pizza before the actual pizza making event and the hosts were amazing. I have been to a lot of team building events (some at fancy and expensive locations) but I'd rank this as one of my favs. It's been a month since and our team is still raving about our experience. Our quandary now is how to find something to top this in our next team building event 🙁 Thank you!! From Sub B. via Yelp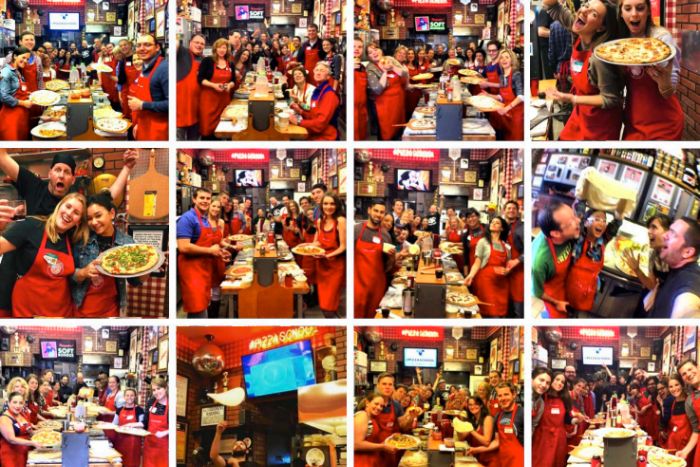 4. Test Your Skills with Bury The Hatchet Axe Throwing
Throwing a hatchet can be a great team building activity! They're high energy, fun, and actually quite safe! Bury the Hatchet gets your team up and moving in a cool setting out of the office and out of everyone's comfort zone. Your instructor will stay with your group to oversee the action and answer any questions. Plus you can bring your own food and drinks for maximum flexibility.
What Organizers Are Saying: Went to Bury the Hatchet Brooklyn for an after work team building event. It was a great time, excellent choice for a friendly skilled competition. Axe Master Danny did a great job showing us a variety of throwing techniques and organizing and scoring the games. Definitely will be coming back! Michael M. via Google
5. Go on An Incredible Adventure with The Great Gotham Challenge
If your team loves a good adventure, give the Great Gotham Challenge a try. Your team will uncover "anything-but-obvious" clues throughout the city, like hidden messages and treasures hidden behind a 10-story-tall billboard. Teams are split into smaller groups to find and decode a series of interactive clues that encourage out-of-the-box thinking and reveal hidden talents. Are you ready for this epic adventure?
What Organizers Are Saying: The Great Gotham Challenge is nothing short of the best team-building activity and immersive puzzle I've experienced in NYC, let alone anywhere. This game is action packed, mega challenging, and so much fun- would highly recommend! Seraphina via Google
6. Create Your Own Candles as Your Rewax and Unwine with Your Team
Award-winning fragrances and eco-friendly wax come together with trivia, upbeat music, and beverages, resulting in a unique and interactive team building experience. Your team will create amazing candles in a fun, funky setting with loads of interesting add-ons, like chair massages or a live violinist! An event sure to light up your life.
What Organizers Are Saying: Such a fun experience! Went here for a team bonding event and would absolutely do it again. The staff was so helpful in picking from the multitude of scents. It was great creating something of my own while talking to my coworkers about non-work things! And wine. Wine is always a great addition. Katherine S. via Google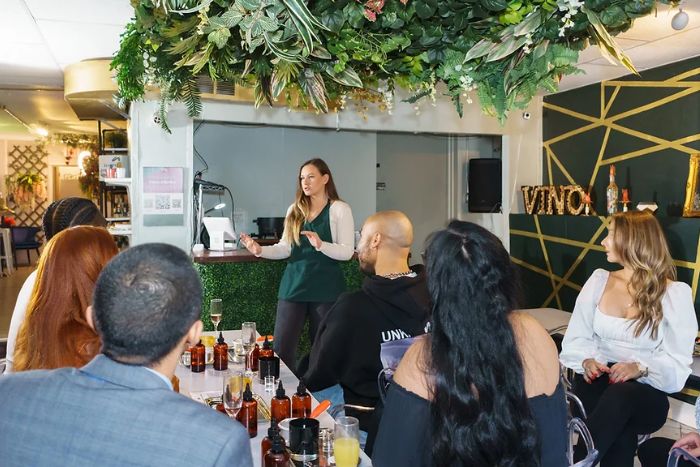 7. Discover Delicious NYC Like Never Before With an Avital Food Tour
Go behind-the-scenes to hear the stories of restaurant owners, bar managers, and industry experts all while eating and drinking your way through NYC gems. This multi-course progressive meal visits multiple restaurants with each course served at a different restaurant. Enjoy an off menu house-made basque chorizo hot dog at trendy basque restaurant, savor sweet potato and goat cheese pierogi at a historic Ukrainian restaurant, dive into a bowl of handmade spaghetti and a well-loved Italian joint, and indulge in NYC's best cheesecake, all in one afternoon or evening. Plus incredible alcohol beverage pairings throughout. Let us host you and your team for an incredible outing of eating, drinking, and connecting. No forced fun, promise!
What Organizers Are Saying: It was more than I every anticipated and the feedback from the group has been nothing short of AMAZING! I've single handedly organized 5 other offsite events for our org and spoken with countless companies and this by far has been the best experience from beginning to end. Your approach to the food tour was not only inviting but innovative compared to any other activities I've explored by far. This is the first time that every single person enjoyed themselves and there wasn't one even slightly negative comment about absolutely anything we did or how we did it. Kesho via Avital Experiences
8. Build Relationships with Wood with a Woodworking Experience
Taking a woodworking class with your NYC teams offers a unique and hands-on experience for professionals looking to enhance collaboration and teamwork. In these classes, participants learn the art of woodworking, utilizing various tools and techniques to create their own wooden projects. Classes can be customized to match your group personality or goals, like custom engraving, choice of wood and finish, and additional decorative elements. Make a shelf, serving tray, and more during this shared learning experience to not only foster camaraderie but also encourages creativity and innovation within the team.
What Organizers Are Saying: Came here with my co-workers and we made serving trays! The tutorial was spot on, and there was so much freedom to go at your own pace. You really create something spectacular from one single slab of wood. You can listen to music and bring your own snacks and drinks into the venue too. It was a unique and memorable experience. I would do it again for sure. Nicole Q via Google
9. Step Into a Real Life Video Game with Your Team
Beat the Bomb brings video games into the real world with their 1-hour missions, where you and your team will suit up in hazmat gear and crack codes to "Beat The Bomb," a huge cannon shooting out paint for colorful foam. After the mission your team can kick back the arcade lounge for drinks and snacks. An exciting experience that combines structured problem solving with unstructured time to chat, laugh, and connect.
What Organizers Are Saying: We hosted our corporate Q2 event here and everyone had a blast! Leading up to the event, staff was very responsive through email and answered all of my questions promptly. Upon arriving to the event, we were brought to our private room almost immediately and started gearing up the teams to enter each room. Avery and Jagger were so attentive and nice. We had a great time joking around with them and taking photos. They were just so nice and pleasant to be around. They let us be goofy and loud and truly enjoy ourselves 🙂 A great experience and highly recommend!!! Amelia via Google
10. Relax as Your Craft a Beautiful Bouquet
Fleur Elise's Floral Design offers low-stress workshops that allow teams to work together and learn a new skill while creating something beautiful. By focusing on design principles, your team will be guided through this floral experience while unleashing their creativity. At the end of the experience, teams are encouraged to bring their arrangements back to their work space, resulting in a more pleasant working environment and a nice reminder of the memories made with your team.
What Organizers Are Saying: I highly recommend a flower arranging class with Elise. We had her come with tons of different flowers to our office for a team building activity and everyone had an amazing time! Greg S via Fleur Elise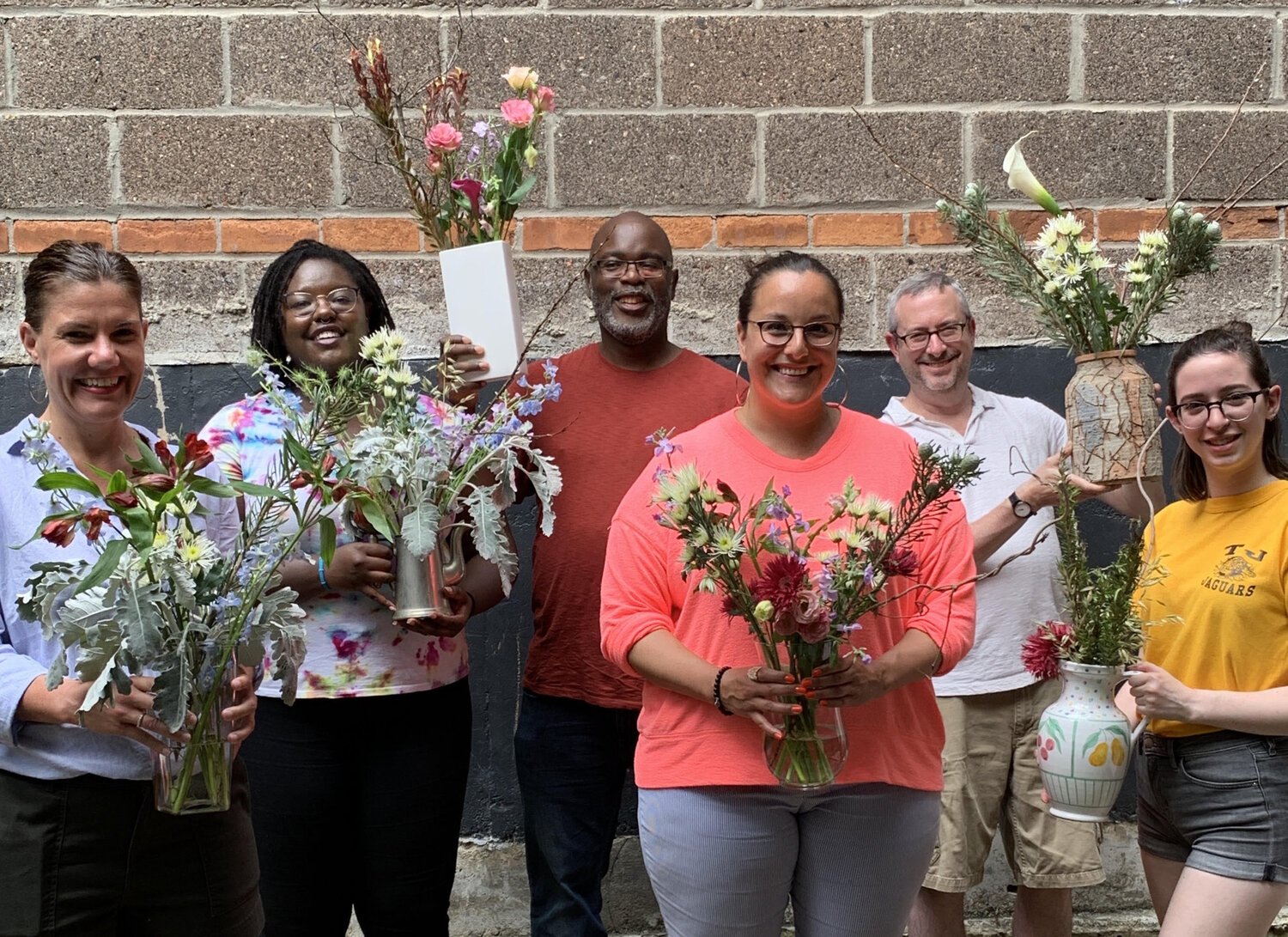 11. Get Your Hands Muddy with a Pottery Workshop
With a three-hour corporate event tailored for 5 to 30 guests, this creative workshop from Pottery Studio 1 promises a memorable experience where participants can unleash their creativity, bond as a team, and leave with newfound skills and beautiful clay masterpieces. Each participant will have the opportunity to unleash their creativity and bring their own designs to life. Whether it's crafting a cup, bowl, candlestick, vase, or planter, the possibilities are endless. With the guidance of the instructor, your employees will mold the clay, shape their creations, and add personal touches through painting and glazing. This hands-on process empowers individuals to express their unique perspectives and encourages them to think outside the box.
What Organizers Are Saying: We went to Pottery Studio 1 for a team pottery offsite, and really enjoyed our time there. Helen, Georgia, and Alexandra were quite amazing, and made our time there a lot of fun! I highly recommend you to check out their studio. Pradyumn via Google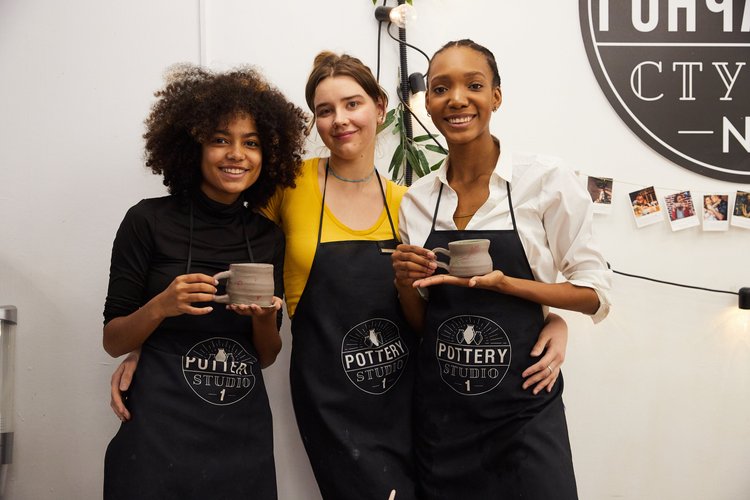 12. Have a Luxury Picnic in the Park
When it comes to creating unforgettable team building experiences in NYC, look no further than PopUpPicnic Group, the premier full-service pop-up picnic company. They provide everything, from scouting the perfect location, to set up, and cleanup, with the optional add-on of catering. From start to finish, their dedicated team ensures that every detail is taken care of, so you can focus on building stronger connections within your team.
What Organizers Are Saying: Used Pop Up Picnic NYC for a work event. They did a fantastic job & made our picnic so special! Stephanie was professional & easy to work with. Loved everything about this company! Brittany W. via Google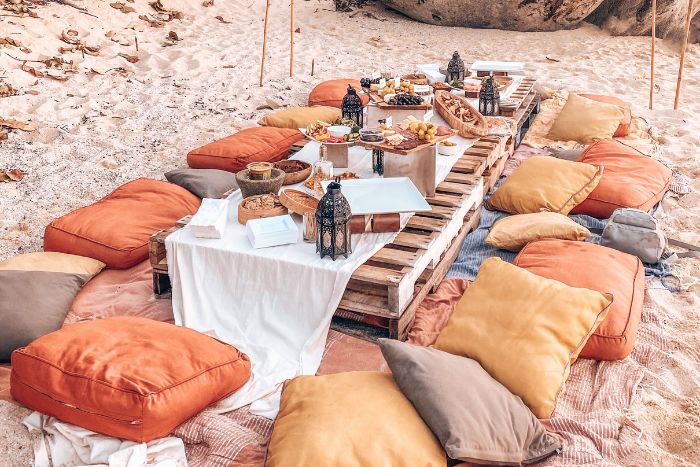 There are so many team building events and activities in NYC to choose from. But they're not all created equal and they're not all designed with the organizer in mind. We believe team building should be just as fun and easy for the organizer as it is for the guests. Schedule your call with Corinne to see how easy it is to book with Avital! We can't wait to host you.