Best Vegetarian Restaurants in NYC for Special Occasions
January 24, 2020
While growing public interest in wellness, environment, and animal rights has helped to build New York City's vegetarian food scene, it is the food itself that has made NYC one of the world's top vegetarian destinations. As varied as it is vibrant, New York's plethora of vegetarian and veg-friendly restaurants deliciously reflects the diversity, and creativity of the city that never sleeps. So whether you're celebrating a birthday or an anniversary, or whether you're vegetarian, flexitarian, vegan, vege-curious, or tired of labels and just want to eat some mind-bogglingly good food, here are four of the best vegetarian restaurants in NYC.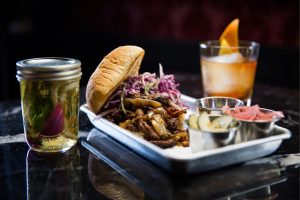 Honeybee's proves that upscale, vegan barbecue is not a contradiction, but a revelation. This elegant East Village saloon is the perfect place to celebrate a birthday, bachelor/ette party, or any occasion that calls for the classiest kind of tipsiness. Sother Teague, mastermind behind the renowned bitters bar Amor Y Amargo, curates a rye and bourbon-focused cocktail menu. It pairs perfectly with smoky, plant-based barbecue. You can email or fill out a form on their website to book reservations or plan events for groups of 6 or more.
Those who look at Hangawi from the outside may think they're looking at a room in K-Town. But all who step inside understand that the restaurant lives in a time and place far away from the city hustle. Gentle string music greets visitors at the doorstep, who are invited to remove their shoes before sitting upon silken pillows. This plant-based Korean restaurant coaxes complexity and nuance out of the seemingly simplest ingredients: a two-ingredient soup of purple yams and homemade soymilk is layers of sweet, creamy, nutty, and savory all at once. The sophisticated simplicity is what makes Hangawi one of the best vegetarian restaurants in NYC.
Modern Love Omaha introduced Isa Chandra's vegan comfort food to the national stage in 2014. The award-winning chef and author opened its younger Brooklyn sister two years later. It continues to draw nightly crowds for a plant-based menu that is as elegant as it is unpretentious. Tuck into a generous bowl of the city's best vegan mac and cheese while you sip on a seasonal, artisanal cocktail. You can make reservations of 9 or more at [email protected].
You'll need a reservation for this whimsical Lower East Side hotspot. Chef Amanda Cohen experiments with texture, flavor, and color to create dishes of oh-so-edible art. Everything is vegetarian and can be made vegan, from the portobello mousse to the popcorn pudding. The molecular gastronomy and plated pointillism make for a one-of-a-kind, celebratory gastronomic experience that is more playful than pretentious. Be sure to pick up a copy of Cohen's hilariously comic-book style cookbook on your way out.
Want to explore more of the best vegetarian restaurants in NYC for special occasions? Book a food tour in Williamsburg, East Village, or Flatiron for a culinary experience you and your party are sure to remember. Private and public tours available.