Ultimate Guide to Best NYC Food Tours, Seriously
November 6, 2021
Ah, New York City, the city that never sleeps! It's also the city that can have a Michelin star restaurant on the same block as a craft cocktail bar and a food truck. Everyone that moves to or visits New York always wants to know the best place to eat. And trust me, I get it. It can be overwhelming. Which is exactly why NYC food tours have gained in popularity.
In this ultimate guide to the best NYC food tours, we break the tours down by neighborhood. Each neighborhood in New York City has its own vibe and flair, so food tours are a unique way to see the city and eat some delicious food in the process.
Choose your neighborhood destination to get started:
Best NYC Food Tours in Williamsburg & Brooklyn
This self-guided tour begins by delving into the neighborhood's rich history at Northside Bakery, renowned for its delectable Polish pierogies and desserts. Next, savor a slice of heaven at the local "Best Pizza" establishment before taking a break at Tacombi for a satisfying food and beverage interlude. Conclude this tour with a sweet indulgence at a fully operational chocolate factory. A short, but sweet (and free) tour for those that prefer a DIY experience.
Price: Free
Duration: 2 Hours
Whether you've been to Dumbo or not, you've definitely seen a picture of Brooklyn's most Instagrammable spot. The one on the cobblestone street with the Manhattan Bridge in the background? Yes, that one! However, there is more to this neighborhood than a single Instagram picture. Dumbo is the neighborhood where artists and innovators thrive. On this urban adventure, you'll see this Brooklyn neighborhood through the eyes of a local. You'll learn about the history of Brooklyn's waterfront and try some the delectable foods of local food creators. And don't worry, you'll get your beautiful shot of the Manhattan skyline.
Price: $89 Per Person
Duration: 3 Hours
During this tour from Foods of NY Tours, you'll explore NYC's rich tapestry on a half-day food and cultural journey through four vibrant Brooklyn neighborhoods. You'll traverse iconic bridges, uncover the history of immigrant communities, and taste diverse flavors, from Polish kielbasa to classic New York pizza. This tour features a bus ride and is 4.5 hours.
Price: $149 Per Person
Duration: 4.5 Hours

Best NYC Food Tours in Chinatown & Little Italy
Dare I say but this might be one of the most flavorful tours you'll go on. Though I may be biased since these two cuisines are my favorite, but the Chinatown and Little Italy of New York are bursting with some of the tastiest restaurants in the city. Over the three-hour tour, you'll try a classic Chinese pastry, an authentic Chinese dumpling, and others while visiting family-owned establishments that have been around for over 100 years. You'll also be entertained with stories about the history of the neighborhood while munching on fresh homemade mozzarella paired with prosciutto.
Price: $105 Per Person
Duration: 3 Hours
Best NYC Food Tours in Chelsea & Meatpacking District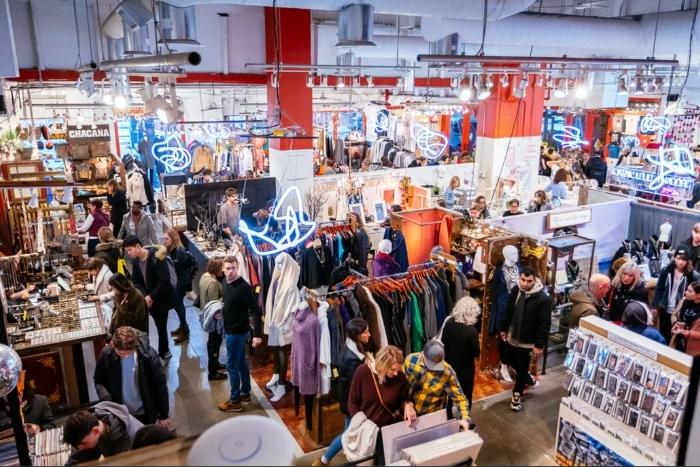 If you've been to New York, you've probably been to the Chelsea Market and High Line at least once. If you haven't, you must! The Chelsea Market is filled with live music, shops, and tons of restaurants. From takeout to dine-in, eating your way through the Chelsea Market will take you quite a while. Save yourself the headache and take this Chelsea Market + High Line + Hudson Yards Food Tour. The vendors at the Chelsea Market may change so the vendors included on the tour might too, but I can guarantee that you'll eat amazing food. Bonus, you'll get to visit one of my favorite flea markets, Artists & Fleas (pictured).
Price: $78 Per Person
Duration: 3 Hours
Best NYC Food Tours in Greenwich Village
New York City has been seen in many famous films and tv shows, like I Am Legend or Friends. So, if you're a film or tv buff, this tour might be for you! The Greenwich Village Tour will take you through the famous Washington Square Park to the West Village, which most say is the most serene neighborhood in NYC. You'll go on a three-hour tour eating true New York style pizza, cupcakes, bagels, and other iconic New York City eats. Make sure your phone battery is fully charged, you're going to want to take pictures!
Price: $89 Per Person
Duration: 3 Hours
Best NYC Food Tours in East Village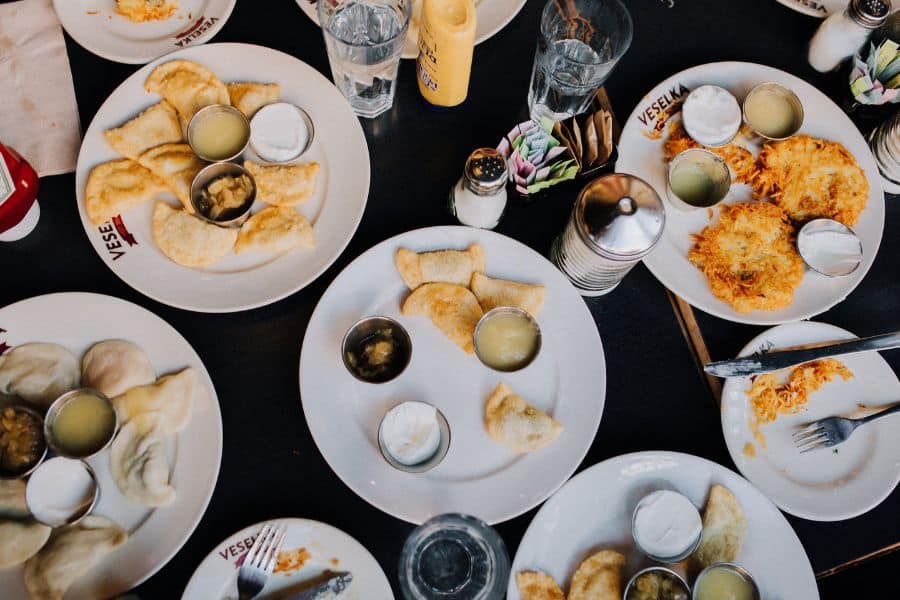 Join us on our NYC East Village Food Tour as we explore one of New York City's hottest restaurant and craft cocktail scenes – known for its role as the birthplace of punk and artist hangouts. Hear the stories of restaurant owners and chefs as you enjoy our 4-course progressive meal. Taste a bite of Little Ukraine, and other ethnic cuisines from immigrants who have made the East Village one of the most diverse eating grounds in NYC. Let's eat and drink through this cultural neighborhood!
Price: $115 Per Person
Duration: 3 Hours
Best NYC Food Tours in Queens
Before you say, is Queens even in New York? I say, yes, yes, it is! Queens, the largest of NYC's five boroughs, is filled with authentic restaurants of any cuisine you're looking for. I should warn you though, The United Kitchens tour is a full-day, five-to-six-hour tour. You won't be trying your classic cannoli and pizza; you'll be tasting everything from Mexican food to a Colombian "fast food" joint and even a Tibetan hole-in-the-wall (this is how you know it's a good spot). Get your walking shoes – and stretchy pants – ready!
Price: $150 Per Person
Duration: 5-6 Hours
Best NYC Food Tours in Dumbo
Best NYC Food Tours in Hell's Kitchen
Hell's Kitchen is full of heavenly kitchens making delicious food…see what I did there? In fact, on the Hell's Kitchen Food Tour you'll go by the famous Restaurant Row, where you'll find every type of cuisine you could ever want. Over the course of 2 hours, you'll learn how this little pocket of NYC became an epicenter for ethnic cuisine. I can personally say, I've tried some Greek food in the area…and my gosh, it was delicious, so get those bellies ready!
Best NYC Food Tours in Harlem
Explore the upper area of Manhattan by going on a four-hour tour of Harlem. On the Uptown and Harlem Food Tour, you'll be taken to all the local hot spots. It's time to get your taste buds ready as you try samples of authentic African American food and learn about the history of Harlem. Harlem is known for its cool jazz clubs, delicious eateries, and The Apollo Theater so you'll be seeing some pretty iconic landmarks in the process!
Best NYC Food Tours in Upper East Side
See the Upper East Side through the eyes of a local. On this three-hour tour, UES local and certified tour guide, Alex Aguirre, will take you on a tour of the best eateries he grew up. You'll try everything from an 80-year-old German establishment to some of the best bagels in the city. And I must say, an NYC bagel is an absolute must! Alex has also studied Japanese for about 15 years, in case that's your preference.
Best NYC Food Tours in Flatiron
Join us on our NYC Flatiron Food Tour as we explore the trendy NYC restaurant scene – known for its Flatiron Building. Originally the neighborhood of the New York social elite and debaucherous types, today NoMad and Flatiron boast some of the top restaurants in New York City and many Michelin-starred restaurants. Let's indulge together by eating and drinking our way through this classy neighborhood!
Best NYC Food Tours Featuring Statue of Liberty & Ellis Island
I'm sure Ellis Island would not have originally been on your list of NYC food tours but hear me out on this one! If you've seen the movie Hitch, you'll know Ellis Island is kind of a big deal! It's where millions of immigrants came to the United States, signed their names, and started their new lives. It is rich with history and you'll have the chance to learn all about it on the Freedom and Food Tour with Statue of Liberty and Ellis Island. Over the course of six hours, you'll take 3 ferry rides to and from Battery Park, Ellis Island, and the Statue of Liberty. After your in-depth history lesson, you'll discover the yummy eats of the Financial District – trust me, they're there!
Food tours are one of the best ways you can experience a new city or neighborhood. They're great for tourists, but also great for locals, whether you're celebrating a birthday, looking for a unique date night, or wanting to impress out-of-town clients. We hope this Ultimate Guide to the Best NYC Food Tours got your wheels turning and your mouths salivating.