7 Best NYC Walking Food Tours in 2023
October 11, 2022
They say New York is the city that never sleeps. They also call it the Big Apple. We like to think it's the "big apple that never sleeps!" That has a ring to it doesn't it? Seriously though, one of the things New York is most well known for is their food scene. From high end Michelin starred restaurants to divey hole in the wall pizza slice joints – New York has something to offer everybody when it comes to food. We've curated this list of best NYC walking food tours to showcase what this city, and its restaurants, have to offer. 
What is an NYC Walking Food Tour?
First things first, what is a NYC walking food tour? An NYC walking food tour, clearly, takes place within New York City. A walking food tour is a tour that uses walking as the form of transport (you see a city the best this way!). And, you guessed it, the tour centers around the food in the particular location you are walking in. This can include going to restaurants, bakeries, bars, kitchens, food trucks, and more. The tour guide or company you sign up with will determine the food, the setting, and the vibe.
Check out our hand selected list of NYC walking food tours below – we're pretty sure you're going to find something you're excited about.
1. Experience Punk and Multicultural Roots in this East Village Food Tour
The East Village neighborhood in Manhattan is known as being one of the centers of the American punk scene and a neighborhood that has supported artists for over half a century. This walking tour combines amazing food with engaging storytelling. You'll be taken to four different restaurants to enjoy two appetizers, a main, and a dessert. In between each restaurant you'll walk around the neighborhood and learn some amazing history and stories of the neighborhood from your experienced tour guide. Don't forget to upgrade to enjoy an alcohol pairing with each stop!
Cost: Starting at $99 per person
Where to sign up: Book this East Village Food Tour with Avital Experiences
2. Walk the Chelsea Market, High Line, & Hudson Yards on this Food & History Tour
That was a mouthful! This walking tour takes about 3 hours and tours you through a particular part of Manhattan that includes the High Line, Hudson Yards, and the iconic Chelsea Market. You'll sample savory and sweet treats from at least 5 different establishments.
Cost: $68 per adult, $58 per child, children under 3 are free
Where to sign up: Book this Chelsea Market Food Tour with Like a Local Tours
3. Eat Around the World in One Neighborhood: Hell's Kitchen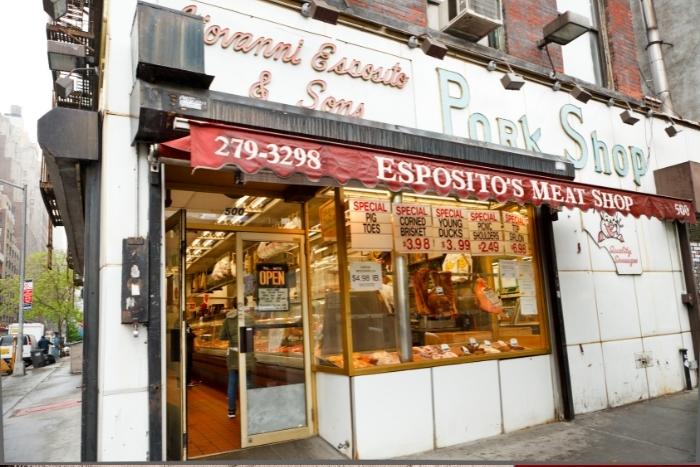 This tour focuses on the Hell's Kitchen neighborhood in Manhattan. Hell's Kitchen has changed a lot over the years. The neighborhood is known for its gritty past (showcased in the musical West Side Story), but as it became a more affluent district, a hip and modern restaurant scene was born. On this tour you'll walk around this iconic neighborhood while stopping at some delicious, institutional and new eateries. Your guide will educate you on the area's immigrant history, how Hell's Kitchen got its name, and more as you taste foods from restaurants offering Caribbean, Chinese, French, German, Ethiopian, Mexican, Turkish, and Indian foods. Taste a trip around the world in one neighborhood!
Cost: $99 per person
Where to sign up: Book this Hell's Kitchen tour with GetYourGuide
4. Receive VIP Treatment with a Michelin Progressive Meal
This walking food tour takes you to some of New York's hottest restaurants, including Michelin-starred establishments. You'll be taken to three different restaurants for an appetizer, entree, and dessert while you are led by an experienced tour guide. And what's an NYC walking food tour without walking? In between each dining location you'll walk around with your guide as they tell you stories about the history and characters of the city. This company works very closely with their restaurants so you'll have the chance to talk to chefs and sommeliers from the establishments to learn more about the craft of cuisine.
Cost: Starting at $500 per person
Where to sign up: Book your NYC Michelin Tour with Avital Experiences
5. Create Your Own NYC Walking Food Tour
Maybe in your world, the best NYC walking food tours are a bit more DIY? There's no reason why you can't create your own! With just a little research you can set up your own route and hit the ground running. This is a great option if you have a tight schedule, enjoy taking your time, or simply like going it alone. Plus, you can choose exactly what food you'll be eating and where – a bespoke journey that indulges everything you enjoy specifically! You can even use the route feature on Google Maps to create your own route that you can share with your friends and follow along with on your phone. Learn more about using GoogleMap's route feature.
Cost: Free other than the food you eat!
Where to sign up: No sign up necessary!
6. Tour and Eat in NYC's Most Picturesque Neighborhood: Greenwich Village
This iconic neighborhood, known for the center of the counterculture movement in New York in the 1960s, is one of the most expensive neighborhoods to live in today. This neighborhood has lived many lives and has been the keeper of many stories. It also holds some of the best restaurants in the city. This NYC food walking tour will focus on classic New York dishes like the quintessential bagel with shmear, the perfect slice of New York pizza, and among other things, the tour always surprises you with a secret dish. How tantalizing – we love a surprise!
Cost: $75 per adult, $65 per teen, $60 per child
Where to sign up: Book your Greenwich Village Food Tour with Secret Food Tours
7. Where Two Neighborhoods Meet: The Chinatown and Little Italy Food Fest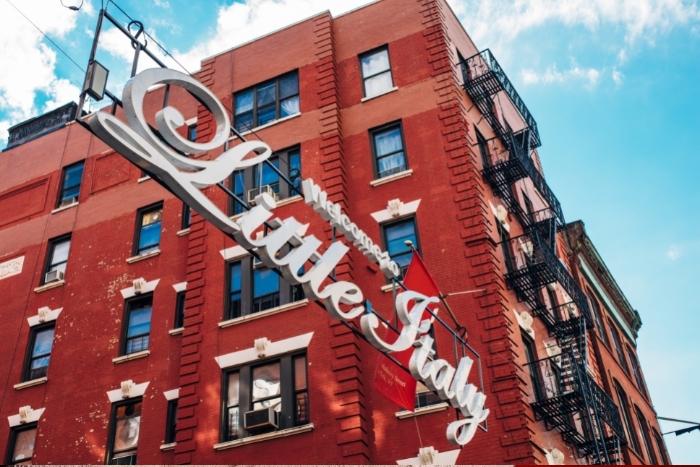 Every foodie loves food that is bursting with flavor so the Chinatown and Little Italy Food Fest is a must on the list of NYC walking food tours. Over the three-hour tour, you'll try a classic Chinese pastry, an authentic Chinese dumpling, and others while visiting family-owned establishments that have been around for over 100 years. You'll also be entertained with stories about the history of the neighborhood while munching on fresh homemade mozzarella paired with prosciutto. This is a great option for a very touristy area where you can fall into tourist traps!
Cost: $125 per person
Where to sign up: Book this Chinatown and Little Italy Food Tour with Viator
How to Book the Best NYC Walking Food Tours
There are so many options when it come to booking the best NYC walking food tours! With so many cuisines, neighborhoods, and price points, it can feel overwhelming to just pick one. Our walking food tours at Avital focus on quality over quantity. We don't serve toothpick bites on the sidewalk. Instead, we visit one neighborhood and visit some of the best restaurants for a seated, multi-course meal, with each course served at a different restaurants. I this sounds like the curated, high-quality experience that interests you, explore our NYC food walking tours. We hope you find one that gets you excited and ready to go walk – and eat – the city!