13 Best Team Building Activities For St. Patrick's Day (Updated 2023)
February 8, 2021
St. Paddy's Day is just around the corner — we can almost taste the green beer! To celebrate with your team this year, we've rounded up 13 of our favorite virtual activities, including our very own Virtual Mixologist: St Patrick's Day Edition. We've included a broad range of virtual team building activities below to be sure there's something for everyone. Sláinte!
1. Have a pint with Virtual Beer Tasting!
Would it be St. Paddy's Day without a pint? And we're not talking about a plastic cup of green beer, but instead a curated selection of tasty craft brews. Try this virtual beer tasting with the professional brewers of Common Space Brewery to learn about all the nuances of craft beer. Beers delivered!

2. Get into mischief during a Virtual Escape Room
Harness your inner leprechaun as you enjoy an afternoon of mischief. An escape room, like this one from The Escape Game, is one of the most fun virtual team building activities that will not only bring your team together, but challenge them in a different way.
3. Paint Your Own Lucky Rainbow
This creative team building activity is perfect for artistic and unartistic groups alike. The folks at Canva n Cup will lead guests through the painting, from start to finish. Pair it with a cocktail or beer experience for a full afternoon of St. Paddy fun.
4. Brush up on your St. Paddy's Day Trivia
Test your knowledge of this infamous holiday as you go head-to-head for a pub classic! Hire a company, like Triva Hub Live, to run the trivia for you or do it DIY (this fun article is a great starting place.) Raise the stakes with prizes for the winner and/or fun punishments for the non-winners.
5. Craft A Festive Cocktail Alongside an Award-Winning Mixologist
An elevated virtual happy hour experience with special, seasonal cocktail announced soon! Led by an Award-Winning Mixologist and Avital: Emcee Host, this is the perfect way to bring your team together to celebrate. Ingredients delivered to guest doors! No need to go searching for gold at the end of the rainbow this year, it'll be in your hand and you'll be able to mix up some amazing cocktails worthy of the best pubs in Galway and across Ireland.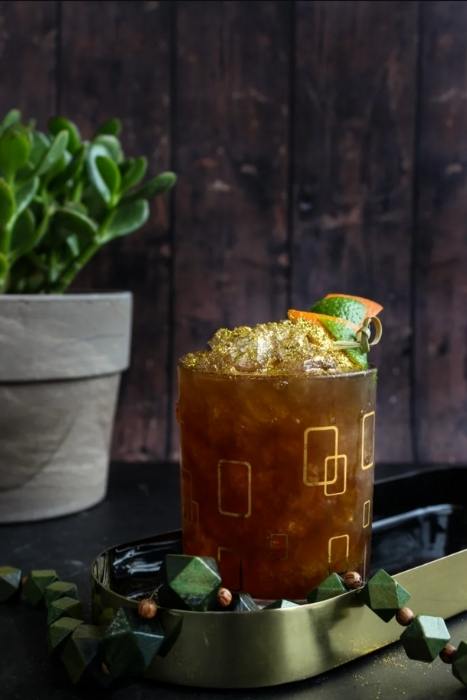 6. Give back with a virtual Charity Drive
If you're looking for ways to give back to the community while bringing your team together, consider hosting a virtual charity event. Turn your party into a charitable event by encouraging your team to raise money for a cause, and celebrate the fundraiser together. One of the best virtual team building activities for groups looking to make a difference.
7. Get Creative With A Costume Contest
Put on the most green for a leprechaun look, deck yourself out in gold jewelry, or even dress like a rainbow. See who has the most St. Paddy's spirit this year. Another great virtual team building activity to pair with a food, beverage, or trivia event for a fun, totally themed celebration.
8. Keep it Classic with A Game Night
Charades, Among Us, Pictionary, you name it. There are plenty of options for a fun virtual game night. Make it St. Paddy's day themed with Irish music, shamrock virtual backgrounds, costumes, and, of course, a few pint of Guinness.
9. Trick Your Tastebuds With Virtual Flavor Tripping
Take your taste buds on a wild journey with Avital: Virtual Flavor Tripping! Experience this unbelievable sensation of turning anything sour into something deliciously sweet using the magic of miracle berries. A mind-bending, totally perspective-shifting experience. Great for all ages! And flavor kits are delivered directly to guests.
10. Stream St. Patrick's Day celebrations together
If you want to keep it mellow, stream some St. Patrick's Day celebrations for an easy way to participate in the festivities with minimal effort. One of our favorites is Ireland's St. Patrick's Day Parade! Whether it's previous celebrations or new for 2021, the best part is that you don't have to drive home afterward and you still get to bond with your team.
11. Bake Some Sweet Shamrock Cookies
Or any baked good, really! This list is a good starting place for yummy Irish baking inspiration. Bake along with your team or send everyone the same recipe and team members can bake on their own and everyone can come together at the end to celebrate. A classic, cozy, kid-friendly virtual team building activity.
12. Sample fine whiskies from a master distiller
It wouldn't be St. Paddy's Day without a little whiskey. The folks at Ranger Creek Distilling are offering two virtual whisky tasting packages, including whiskies shipped to your door. Learn the nuances of fine whiskey from a master distiller to really celebrate in style.
13. Listen to some Irish folk music
The spirit of Ireland comes through with lively Irish Folk Music. Stream it together, or take it a step further and hire an Irish band for a virtual performance! Pair a music performance with beer, cocktail, or whiskey tasting for a complete celebration fit for a king.
Most St. Paddy celebrations will be virtual this year, but that won't stop us from partying and have a great ol' time! If you have other fun virtual team activities you'd like to see on this list, let us know!