Andytown Coffee Roasters Review
July 30, 2014
Andytown Coffee Roasters review written by Culinary Guide Leila Amara
Amidst the fog and sand dunes of the Outer Sunset you will find Andytown Coffee Roasters tucked away at the unassuming corner of Lawton & 43rd Ave.

The Place: Local residents Lauren Crabbe and Michael McCrory had been dedicated to the idea of roasting coffee long before they were married. And after a successful Kickstater campaign and yearlong building process Andytown has been roasting in-house, L43 (named after the intersections where it resides), their own special coffee blend since opening four months ago. Cobbe believes, "What's different about us is that we're serving this part of the city that has, essentially, been over looked by underserved by the specialty coffee community." Not only are Cobbe & McCrory serving up quality caffeine, they're doing so in a wonderfully inviting and minimalist space with plenty of natural light.
Little Known Facts: McCrory's Irish soda bread recipe was passed down to him from his Grandmother in Andersontown, Ireland (affectionately known as Andytown). Nothing tastes better than a secret family recipe! All of their baked goods are made in-house and will blow your taste buds away. Their Cherry Chocolate Scone was fluffy, sweet & savory—one of the best scones I've had in the city.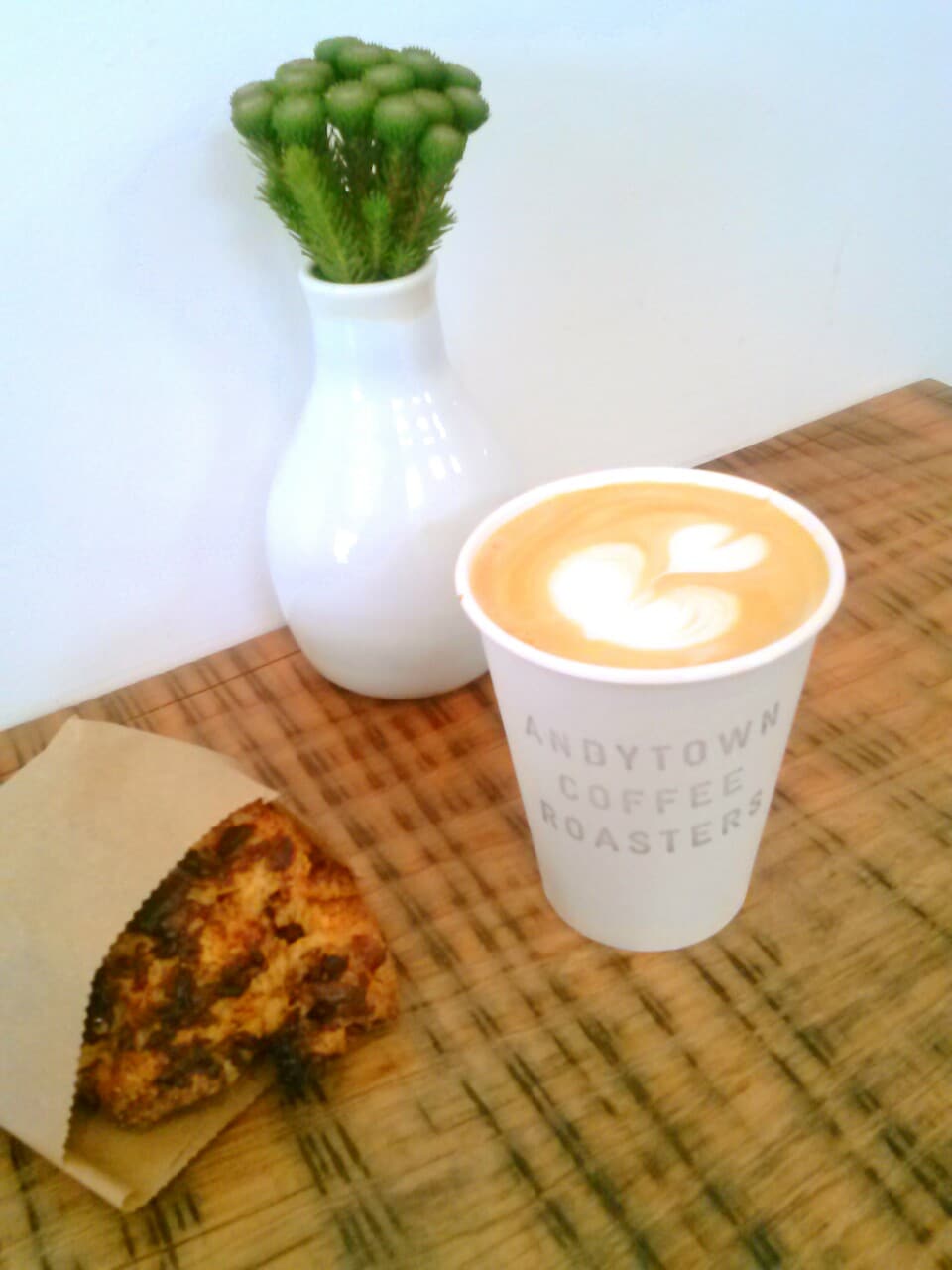 Other Menu Musts: The Snowy Plover is a shot of espresso poured over brown sugar syrup in iced sparkling water and topped with a dollop of whip cream. This is a fantastic alternative to an iced latte on the rare occasion when the sun actually shines in the Sunset.
The ceramic mugs featured from local artists Douglas Dowers are worth exploring. They're not edible, but they're incredible pieces of art and function.
The Details: Cappuccino $3.25, Cherry Chocolate Scone $3.25
To learn more about Andytown Coffee Roasters watch their video here.
Andytown Coffee Roasters
3655 Lawton St (at 43rd Ave)
415-752-977
Tues– Friday: 7AM – 3PM
Sat & Sun: 8AM – 3pm
Closed Mondays