7 Luxury Birthday Delivery Ideas for 2022
December 26, 2021
Happy birthday to you, happy birthday to you, happy birthday dear…well, you get the rest! Another year older, another year wiser, let the gifts start rolling in, am I right? In these times when you can't get to your loved one on their birthday, sending them a nice birthday delivery is exactly the way to go. And if you're wracking your brain for birthday delivery ideas, we've gathered a list so you can wow that special someone in your life with a bit of luxury.
Luxury does not have to mean expensive. Luxury can simply mean giving the gift of making someone feel opulent and magnificent. So, here is our list of 7 luxury birthday delivery ideas for all those celebrations in 2022.
Celebrate with Brunch
Is breakfast really the most important meal of the day or is it brunch? I'm going to say brunch because it makes it more acceptable for me to have a Bloody Mary. Give the gift of brunch with this Brunch Gift Basket. It comes with everything you need to have a luxurious start to your day! It's filled with Mimosa Jam, Raspberry Peach Champagne Jam, Bellini Jam, Raspberry Syrup, Peppadew Sriracha Bloody Mary Mixer, Bloody Mary Mixer, Blueberry Scone Mix, Farmhouse Pancake & Waffle Mix. Now that's a brunch spread – can I come?
Celebrate with a Cocktail
Every birthday needs a celebratory drink to bring in the new age! Give the gift of our virtual happy hour. Each experience focuses on flavor balance and mixology skills, led by an award-winning bartender and culinary host. Craft your own cocktails with instructions, tips, and stories along the way. You can even upgrade to ingredient delivery for an all-inclusive experience. Get ready to improve your bartending skills, this one is going to loads of fun! Cheers to you!
Celebrate with a Face Mask
As we age, we may need to pamper our skin a little more. There's no need to be ashamed, aging itself is a luxury. Gift the gift of glowing skin with the Glossier Mask Duo. This smashing duo comes with a detoxifying face mask and a soothing face treatment. So, as your loved are having their glass of Malbec with their bar of dark chocolate, their skin can be getting a bit of extra love.
Celebrate with Elevated Coffee
We all know how much life coffee gives us. Sometimes it's truly the highlight of our mornings so this year give the gift of a much needed coffee break. With this coffee subscription, the birthday person will get a 6-bag subscription of coffee's from the nation's top roasters chosen just for them, at the frequency of their choosing. They'll take a quiz to determine how they take their coffee and Trade will curate the experience for them.
Celebrate with a Tasting Experience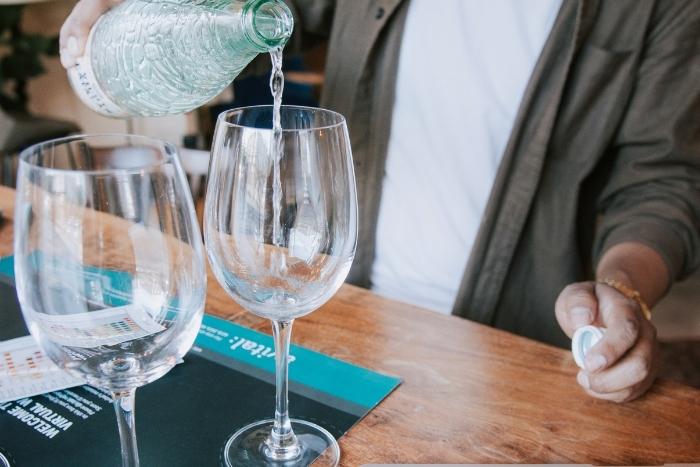 Did you know waters around the world taste different? Now you do. Give the gift of a unique experience and join a Certified Water Sommelier and an Avital Emcee Host for a guided water tasting. Waters are delivered to guests' doors in premium glass bottles from around the world. Discover how different water can taste by sampling the world's most premium H2Os. Food pairings included, plus guests can compare their tap water to these natural spring waters for a fun experiment. I can almost guarantee that your person is not getting enough water in their day-to-day to this special delivery will be great for their health!
Celebrate with Iconic Sweets
Magnolia Bakery is one of the most iconic bakeries in all of the U.S. so gift the gift of a box of sweets. It doesn't matter if your person is a Carrie, Samantha, Miranda or Charlotte (please tell me you've seen the scenes in front of this West Village staple), your special person will absolutely love getting the best Magnolia Bakery has to offer. Don't forget to throw in a classic Banana Pudding – trust me on this one!
Celebrate with a good night's sleep
Getting a good night's sleep is a huge luxury these days. With everything going on in the world, sometimes it's hard to settle our minds and get a nice deep sleep. Well, this year help your loved out by giving the gift of sleep. This Blissy Dream Set comes with one silk pillowcase – swoon – one sleep mask, one scrunchie and one skinny scrunchie. Even if your person doesn't wear scrunchies, that pillowcase and sleep mask will be a huge game changer in how they get their zzz's at night.
People love getting any sort of delivery – but they especially love it on their birthday. Let your loved ones know you're thinking of them with any one of these birthday delivery ideas. I can guarantee, it'll make their day – maybe even their year!