7 Best Team Building Activities for Globally Distributed Teams
August 8, 2021
Globally distributed teams are slowly becoming the way of the workforce. Gone are the days that your whole team would gather around the water cooler and discuss the happenings of the weekend (did you even used to do that? I feel like the movies make it seem much more common). Now, one team member may be in Germany while you're over in New York, both working on the same project.
Dare I say the term "work from home" has even taken on a whole new meaning over the last year. Home can be anywhere. You may want to work from France for a month and enjoy a nice latté before signing on for the workday (I highly support this, by the way).
As cool as it all sounds, being part of globally distributed teams presents its own challenges. It can be difficult to build relationships and trust with members of your team. You may feel disconnected and lonely working separately – and not to mention in different time zones.
All this to say that team building is more important now than ever before to connect us and bring us together in an environment that is otherwise keeping us apart (*tear).
So, what should you look for in a team building activity? Well, I'm glad you asked. First, you want an activity that facilitates conversation and makes people feel comfortable. Think about recreating that water cooler vibe. Second, you need a visual aspect. You need to be able to see people and talk to them, without typing back and forth.
As usual, we are here to help you! Check out our list of the 7 best team building activities for globally distributed teams.

1. GO ON A SCAVENGER HUNT
This is a goodie! When you have team members all over the world, there can be a ton of cultural differences in the home. For example, a bidet. In Italy, most households have one compared to here, where it is much rarer. However, there are still many common items that we all use in our household. Organize a scavenger hunt where everyone must collect all the items on a list you've created. The first one to make it back to the webcam wins.
No Special Equipment Needed

2. WHO'S OFFICE IS IT ANYWAY?
Staying on the same wavelength as the scavenger hunt, take a look into each other's homes with Who's Office Is It Anyway? This will be a great way to get insight into the way your team likes to work – and it's an amazing conversation piece. Does someone have a super messy desk? Is another person more of a minimalist? Get to know your team members! Their workspaces will say a lot about them.
No Special Equipment Needed

3. WORK ON YOUR BARTENDING SKILLS
Time to step up those bartending skills and have a couple of drinks with your coworkers! Our Virtual Mixology Experience focuses on flavor balance and mixology skills, led by an Award-Winning Mixologist and Avital Emcee host. Craft your own cocktails with instructions, tips, and stories along the way. Upgrade to ingredient delivery for an all-inclusive experience.

4. TAKE OR TEACH A LANGUAGE
Have you ever wanted to learn a different language? Or at least get past the baseline "Où est la toilette?" (French translation: Where is the bathroom?). Well, now's your chance! It's the perfect activity for your globally distributed teams – learn something new and embrace your team members' cultures in the process. Here's how it works: one team member will write a word or phrase in their mother tongue on a whiteboard and the rest of the team will have 3 guesses to figure out what it means. Whoever guesses first, wins! Bonus: make it a weekly occurrence and you'll be speaking a new language in no time.
No Special Equipment Needed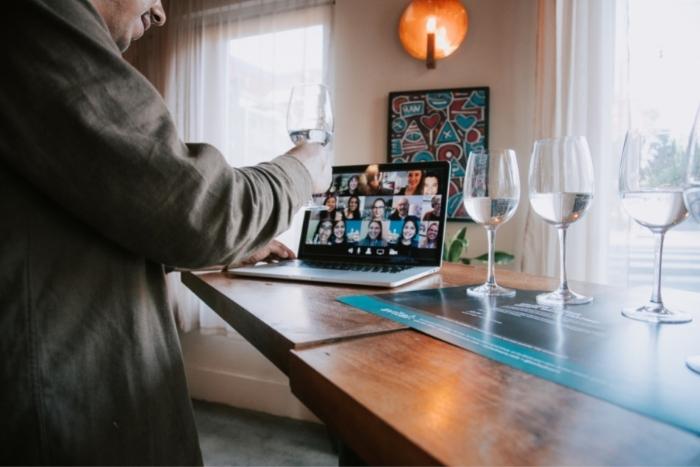 5. TASTE UNIQUE WATERS FROM ALL OVER THE WORLD
You may be thinking, pardon me? Water? Unique? But it's true! The taste of water can actually taste different all over the world. With our Virtual Water Tasting, you and your team can sample the world's premium H2Os and see for yourself how dissimilar water can taste. Join a Certified Water Sommelier and an Avital Emcee Host for a guided water tour. Waters are delivered to guests' doors in premium glass bottles from around the world. Food pairings are also included – plus guests can compare their tap water to these natural spring waters for a fun experiment!

6. HONE YOUR CREATIVE ART SKILLS
Take a crash course on the art of graffiti with this Virtual Graffiti Workshop. Over the course of 75 minutes, a renowned street artist will tell you about the history of graffiti, take you on a virtual street art tour, and educate you with a hands-on graffiti lesson. You'll get a chance to develop your own style and learn about others'. Bonus: you'll have a new pièce de resistance for your home office.
marker & paper Needed
7. COMPETE IN THE OLYMPICS
It's the feud – Family Feud that is! Encourage a little friendly competition with Online Office Olympics. This 90-minute event with take you through a series of fun games and contests, including a word association game and a virtual version of Family Feud. It's a great way to build camaraderie and trust among your team members all over the world. Not to mention, the ever-desirable office bragging rights!
No Special Equipment Needed
Team building for globally distributed teams is all about connection, communication, and embracing each other's cultures. With these activities, you'll learn more about your team and maybe, more about yourself!