7 Best Hybrid Team Building Activities
August 17, 2021
As the world slowly opens up, I'm going to hit you with a big silver lining: you get to see your favorite co-worker again – in person! There has been a major shift into a hybrid workplace, which in turn brings around the need for hybrid team building.
If you're unfamiliar with the hybrid workplace idea, allow me to explain it to you and why it may be the way your office will operate from now on.
What is the Hybrid Workplace?
The hybrid workplace is a flexible workplace model that allows employees to work remotely, in office, or a mix of both. Some team members can choose to work remotely indefinitely (that's me, I'm that team member). Others will go back to the office every day. Or you can work remotely 2-3 days a week, while going into the office the rest of the time.
There are so many different models of the hybrid workplace and each has lots of benefits. For one, contrary to what you might think, productivity actually increases with this model. The commute is gone and you're better able to focus on the tasks at hand. Employees are also happier overall. They found they had more time to cook and be with their dogs – who else got a pandemic puppy?
There's always the other side of the coin though, that is, there are disadvantages too. A major one being burnout. Remote workers often work longer hours and take shorter breaks because they don't want others to think they're slacking off. As a remote worker, you may also feel disconnected from your team members.
Yes, yes, I know what you're thinking. Technology! It connects us all the time! This is a different kind of connection. You need to build trust and community with your team which is why hybrid team building activities are so important!
We've put together a list, for you, of the 7 best hybrid team building activities for your next work event!

1. Lift everyone's spirit with Spirit Days
Spirit days are a great way to see everyone's individual personality. You pick a theme, and everyone shows up that day with costumes or props and stories to tell. It can be one day, it can be once a week or even a month, it doesn't matter. Let me give you an example, a theme could be Books. You could show up as Jay Gatsby or come prepared with your mini library of your latest reads. Fun tip: Have a story to share around the theme. Maybe your favourite book? What got you into reading in the first place? These stories will help you connect! Check this blog if you need some ideas.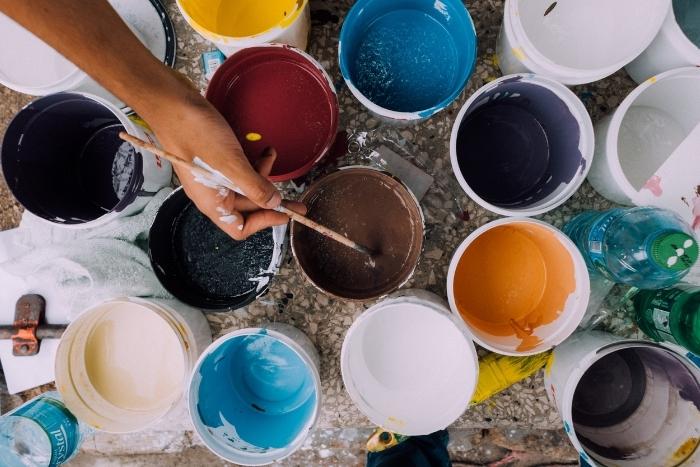 2. Turn into Picasso with Hybrid Team Painting
Have you ever wanted to paint like Bob Ross but you don't want to go it alone? In comes Hybrid Team Painting. Each person receives a box with everything you need inside. A facilitator will guide you through the painting and at the end, 12 mini canvases will create one 9" x 9" piece. You can take that masterpiece and hang it up in the office as a showcase of everyone working together to create beautiful work. How philosophical!
3. B-I-N-G-O
You know your eyes lit up when you saw BINGO as a hybrid team building activity – everyone loves BINGO! Battle Bingo Online is an online game show where you win prizes by solving visual puzzles. Each time you get a puzzle right, one of the symbols on the game card gets marked. And you know the rest. You want to collect a row, diagonal, or a full card. And make sure to shout BINGO as loud as possible!
4. Taste unique waters from all over the world
Bet you didn't know that water can taste different around the world. That's exactly what you'll learn with our Virtual Water Tasting experience. A Certified Water Sommelier and Avital Emcee Host will take you through a guided water tasting. Waters are delivered to your door in premium glass bottles from around the world. You'll be sampling some of the world's most premium H2Os. Food pairings are included, plus you'll get a chance to compare your tap water to these natural spring waters. How exciting!
5. Take a trip…to flavortown
Okay, maybe that was the best joke but it makes sense! With our Virtual Flavor Tripping experience, you will be taking your tastebuds on a journey. Each ingredient box that is delivered to your door will come with miracle berries that will push flavor boundaries like never before, all led by an Avital flavor expert. Best part? Our flavor trips are specially-designed for highly-interactive team building and social networking events. You won't believe your…tongue!
6. Work on your mixology skills
If your virtual happy hours consist of just grabbing a beer or a glass of wine, we're here to tell you that you can up your game. With our Virtual Happy Hour experience, you and your team will learn how to build and balance a delicious cocktail. Led by an award-winning bartender and Avital Emcee Host, you'll get instructions, tips, and stories along the way. You can also upgrade to ingredient delivery for an all-inclusive experience.

7. Learn to make decisions together
You definitely used to play this game as a kid so why not bring it back as an adult…with a twist. Each team is given two choices, for example, pancakes or waffles, and they must decide which one the world should keep if they could only keep one. Now the key to this game is convincing others of your choice. So you'll need to discuss what your argument is and how to best deliver it to the group.
The key to hybrid team building activities is to ensure everyone feels included, heard, and seen. Whether joining from in office or the comfort of home, help your team come together with any of these fun activities!