5 Truly Unique Team Building Activities in Los Angeles | Organizer-Approved
March 6, 2023
Looking for some truly unique team building activities in Los Angeles? Look no further! You won't find boring cooking classes or undesirable obstacles courses in this list. But instead unique experiences designed to deepen connection. From exploring your creative side to giving back to the community, there's something for everyone. Whether you're looking to strengthen your team's bond or just have some fun, this list of activities is sure to provide an unforgettable experience. Read on to discover some of the best, most unique team building activities in Los Angeles.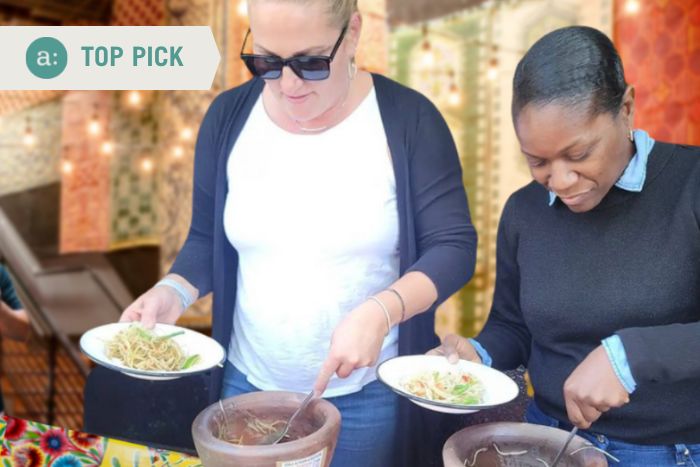 Top Pick: Get Hands-On During an Interactive Meal with Cocktails, Foodie Activities, and Multiple Courses
If a high-end private dining room and a cooking class had a baby, you'd get the Hands-On Meal. Your team will engage with unique activities like cocktail crafting with an expert bartender, but without all of the work and waiting around of a traditional cooking class. In addition to the interactive activities led by a dedicated host, your team will sit in a reserved space to enjoy a multi-course meal with beverage pairings. The perfect balance of organized team building activities paired perfectly with a fun, casual setting that allows your team to connect naturally.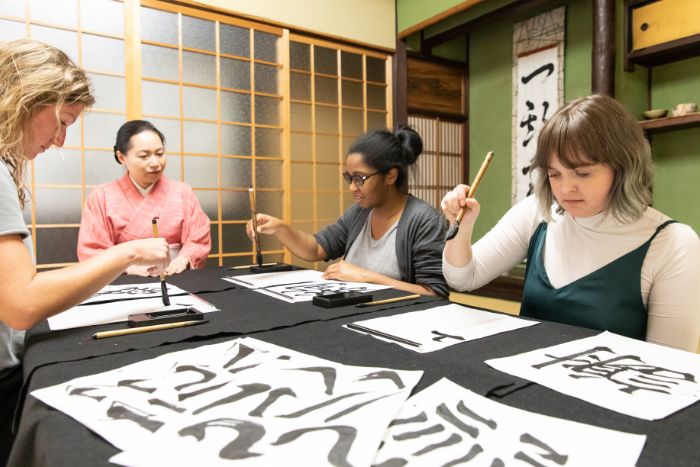 Learn the Ancient Tradition of Japanese Calligraphy with Your Team
Japanese calligraphy is an ancient art form that can be a great team building activity in Los Angeles. It can help to foster collaboration and creativity as each participant creates their own unique art piece. With some guidance and instruction, team members can use brush and ink to create their own one-of-a-kind pieces of art. Not only does it help to strengthen team spirit, it also teaches participants about the traditional Japanese art of calligraphy. It's a great way to learn about a different culture and to have some fun with friends and colleagues.
Get Down and Dirty with a Sand Castle Sculpting Competition
Building sand castles is a great way to bring people together in a fun and creative way. Team building activities like this are especially beneficial in Los Angeles, a city full of diverse individuals and cultures. Working together to build a sand castle allows team members to develop communication and collaboration skills as they work together to create something unique. As each person contributes their own ideas and skills, the final product is a reflection of the collective effort that went into its construction. The sense of pride and accomplishment that comes from creating something together is an invaluable experience that can strengthen team dynamics and further develop relationships between team members.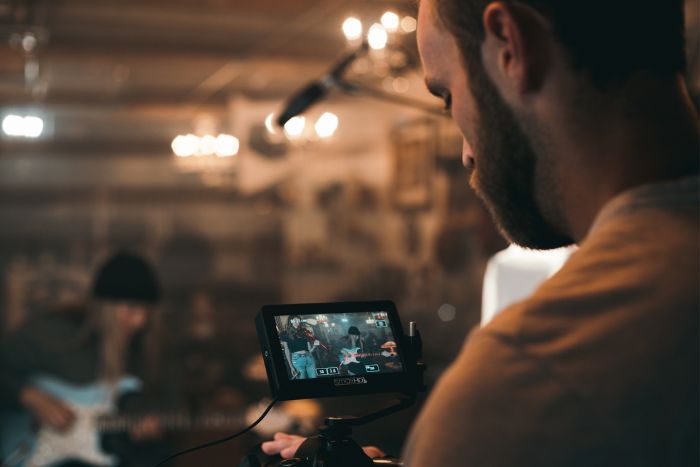 Collaborate to Make Your Own High-Quality Company Music Video
Get your team to produce a music video with the help of a professional videographer. Your team will have to work together to come up with creative ideas and use their talents to make the video. Making your own music video for team building in Los Angeles can be a great way to bring your team together and have some fun! You can work with a professional video production company to create a concept, write a script, and bring it to life with a camera and crew. You can also find a great location in the city and practice choreography to get everyone in the right groove. With a little creativity, you can make a unique and memorable music video that will help your team bond and learn more about each other. It's a great way to take a break from the usual team activities and create something special that everyone will remember!
Hop On The Good Bus For A Surprise Way To Give Back to Your Community
Volunteering in Los Angeles for team building is an excellent way to bring your team together, create a strong bond, and help the local community. There are many organizations that offer a wide variety of volunteer opportunities such as helping at a homeless shelter, cleaning up a local park, or helping out at a community center. But one of our favorites is the Do Good Bus. The actual volunteer work you'll be doing is a surprise which adds to the excitement. Transportation, lunch, photos, and a dedicated host are included. These activities can give your team an opportunity to work together, learn from each other, and develop a sense of camaraderie. Additionally, your team will be able to give back to the community and make a difference in the lives of those in need.
Unique team building activities in Los Angeles can help foster collaboration, promote creativity, and boost morale in the workplace. From virtual reality experiences to interactive escape rooms and outdoor adventures, there is something for everyone. If you didn't find what you were looking for here, check out this list of even more team building activities in Los Angeles. With the right activities, you can create a fun and memorable experience for your team that will last for years to come. Investing in team building activities is an investment in the future of your business.