Ultimate Guide to Hybrid Events in NYC
July 26, 2021
Whether you're planning a conference or a team building event, you want to find the right balance of making connections in person and virtually, as well as making sure your event runs smoothly. If some of your guests are still working remotely while some are going into the office, that doesn't mean you have to choose between fully virtual or in person.
Enter the hybrid event. It's the perfect mix of making sure every guest has a good time at their comfort level, no one gets left out, and you put on a successful event. Hybrid events in NYC are becoming the new norm, so read on to learn more about them and some of our favorites.

What Is A Hybrid Event?
If this is your first time learning about a hybrid event, you're not alone. While they have been around since the rise of the digital age, hybrid events have been popping up more and more due to COVID-19 shifting the way we work. A hybrid event combines live and virtual events together— this simply means that your live event has a virtual element to it.
This can happen in a few ways:
A live event that requires guests to participate on their phone
Some guests joining virtually while some of them meet in person
Or an event host joins virtually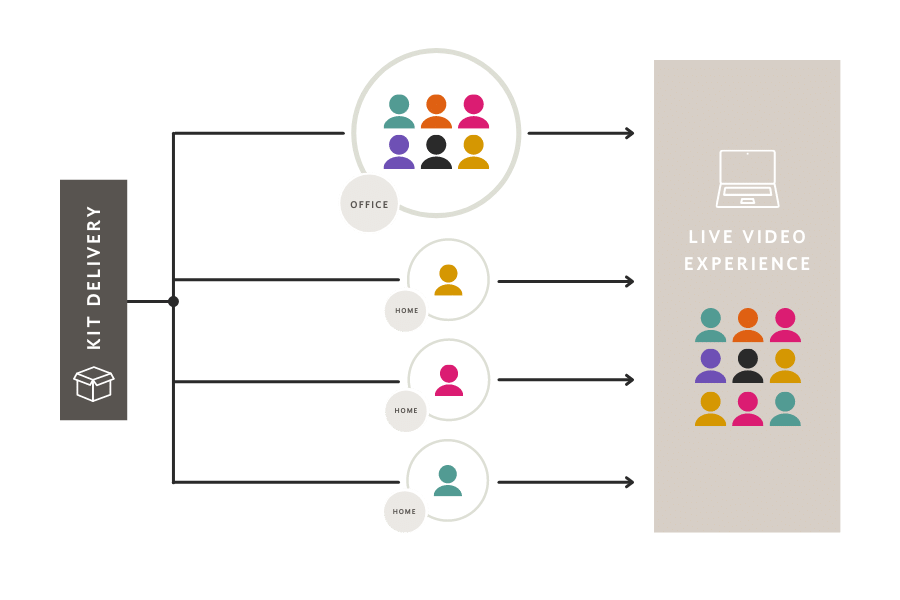 Why You Should Care About Hybrid Events
Need a cost-effective way to do some team building? Looking to connect and engage with new clients around the country, or even the world? Find your solution with a hybrid event. Hybrids aren't a fad, and hybrid events in NYC are going to keep happening. So instead of losing conference guests or participation from your team because you've decided to go fully in person, expand your reach with both live and virtual components.
Clients and employees alike are going to look for events that suit their needs, especially as travel restrictions are still in place and some might not feel comfortable returning to large group events. And in addition to making your guests feel comfortable, your hybrid event will feel modern, an easy way to impress higher-ups and appeal to the new working style.

Hybrid Events in NYC We Love
And with that, we've got a list of hybrid events we think you ought to check out. We're big fans of bringing people together whether that's in person, virtually, or a mix. Here are some of our favorite hybrid events in NYC that anyone can join:
Hybrid Run Group
If you're looking for a charity option or simply want to keep connecting with your audience through exercise, try a hybrid run group. There are plenty of hybrid events in NYC the revolve around races, making it possible for small groups to run together and for others to join the race digitally. They can record their times according to the guidelines and keep it safe— all while running a 5k, 10k, or even a full marathon! This website has a solid list of hybrid run events in NYC that you can add to your roster of events. You can also take inspiration from this set up and
Hybrid Happy Hour
Virtual happy hours definitely saw a big increase in 2020, and for good reason— happy hour didn't have to stop just because we were at home! While it became a great way to team build and deepen connections, adding a hybrid element to your happy hour or other team building event is perfect to make it feel fresh. Our hybrid happy hour and other hybrid experiences make sure that your guests enjoy the best parts of a live experience with an award-winning professional, kits delivered straight to their door, as well as engagement in person and virtually.
Not Your Average Game Show
Take your game show and turn it into something new! Playing game show classics can now be your next hybrid event, with games categories like The Prize Is Right, Survey Says, and What's That Tune to entertain your audience. The format is well-suited for attendees in person and virtually, so you don't have to worry about the competition feeling uneven. Just ensure everyone can participate on a mobile device and you're set up for a fun hybrid event.
Hybrid Conferences
Many hybrid events in NYC are taken the form of conferences. Last year we saw many conferences go virtual, and now we're seeing them go hybrid. With NYC being the hub of finance, fashion, and more, you'll find no shortage of conferences with hybrid options. For example, Advertising Week will offer both live and virtual events, as will the Fast Company Innovation Festival. Keep an eye out for hybrid conferences in NYC as you'll surely find something interesting to attend.
Drunk Yoga
While being actually intoxicated is totally optional, Drunk Yoga does promise to intoxicate you with fun. The beginner-friendly yoga practice incorporates team building elements like ice breakers, games, and the chance to have a beverage in hand. You can easily turn this into a hybrid event with guests joining from home or in the office. And if they are joining from home, there's no excuses if they "forget" their yoga clothes!
Hybrid Stand Up Comedy Workshop
Stand up comedy can seem daunting, but it's actually a unique way to learn storytelling, thinking on your feet, and public speaking skills. In fact, comedy workshops are a popular team building event. Although this post is all about hybrid events in NYC, this one does happen in Jersey City, so not too far away. You can join in person or virtually to learn how to bring the laughs. There's also a graduation show.
We won't deny that planning the perfect hybrid event needs a careful, thoughtful approach. You want to make sure your guests are engaged and the goals of your event are accomplished. But with some guidance and help from some experts, you can connect anyone in person and virtually.