The Top 10 Things to Do in San Francisco
October 13, 2017
The year is quickly coming to an end. And with the holiday season about to kick off, things are going to be getting even busier. Remember to make time for adventures and good eating during the rest of 2017. Not sure what you need to squeeze in? Here is our list of the top 10 things to do in San Francisco 2017.
1. Tell a Story at The Moth
We're big believers in the power of storytelling. The Moth is coming to San Francisco for their story slam for four dates throughout the rest of the year at The Castro Theatre and Public Works. Each story slam has a different theme which is released beforehand so you can prep your story. Of course, you can go and just watch, but we encourage you to try your hand at storytelling yourself!
Various locations
2. Play at Color Factory
Need a play break? Then visit this building in Union Square which has been transformed into a temporary Color Factory. Each room celebrates different colors and experiences to go along with them. Swim around in the yellow ball pit, run around in a sea of rainbow ribbons, color a wall with giant green markers, and toss around rainbow confetti. Kids and grown-ups around SF have been snagging tickets so fast it's been sold out, but more tickets may be released during the limited run.
575 Sutter Street, San Francisco, CA 94102
3. Go on a Cocktail Tour
Cocktail trends are always changing, so learn about what's hot in 2017 as well as classic cocktails on a cocktail tour. Extend "happy hour" to happy hours and meet bar owners, bartenders, and industry experts at three Union Square cocktail havens. You'll learn the origins and back-stories of the spirits in the cocktails and you'll get some San Francisco-specific trivia, too.
Union Square, San Francisco
www.avitaltours.com/san-francisco/tour/union-square-cocktail-tour
4. Visit the "Soundtracks" Exhibit in SF MOMA
Soundtracks ends on January 1, 2018, so you better visit 2017. The exhibit focuses on "the role of sound in contemporary art". Expect pieces such as film scores and visualizations of sound and spatial relationships throughout the museum. Of course, while you're visiting visit the MOMA's other world-class offerings.
151 Third Street, San Francisco, CA 94103
www.sfmoma.org/exhibition/soundtracks/
5. See Flying Dinosaurs at California Academy of Sciences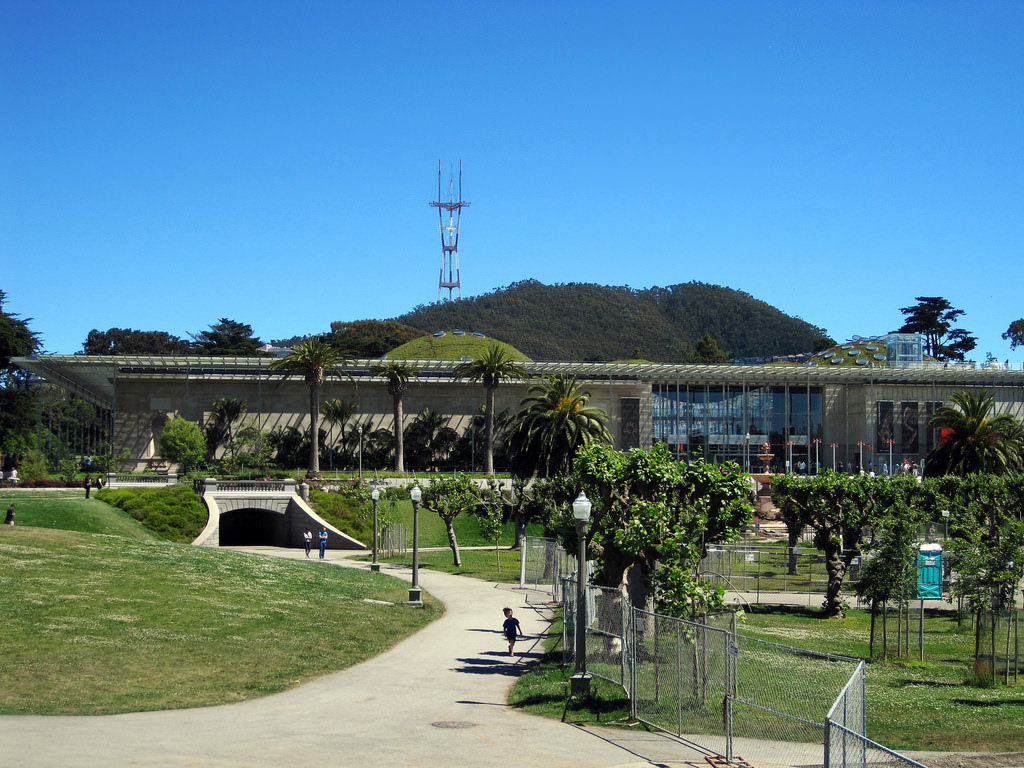 If you or someone in your life loves dinosaurs, head to the Cal Academy of Sciences to see Pterosaurs: Flight in the Age of Dinosaurs. The exhibit showcases flying reptiles called pterosaurs. Pterosaurs had wingspans up to 33 feet so expect big creatures, but only for a little longer. The exhibit is only on display through early January
55 Music Concourse Drive, San Francisco, CA

94118
6. Go to the Theatre
Sure, Hamilton wa the biggest play to visit SF this year, but there is lots more theatre to see before the new year. The Orpheum theatre is hosting The Waitress, An Evening with David Sedaris, and Aladdin during the rest of the year. The SF Opera has multiple productions happening throughout 2017. And theatres around San Francisco will be showing everything from 42nd Street to a Christmas Story to Steve Martin's Bright Star
Multiple locations
www.san-francisco-theater.com/
7. Watch the Warriors
You technically have to cross the bridge to Oakland (at least until the new stadium is built) but the games are worth it. The Warriors have kept a strong winning streak the past few seasons and Steph Curry doesn't look like he's going anywhere soon. So snag tickets to a game and see the Bay Area team score in person, even if it's in nosebleed seats.
7000 Coliseum Way, Oakland, CA 94621
www.nba.com/warriors/schedule/
8. Visit the Museum of Ice Cream
If you've always dreamed of jumping into a pool of sprinkles of being surrounded by life-size ice pops, dream no more. The Museum of Ice Cream, which is in San Francisco for a limited run, is less of a museum of more of a fun house. You'll get to taste different SF ice creams and see ice cream inspired art in a walk-through experience. Don't forget your camera and a sweet tooth.
1 Grant Ave, San Francisco, CA 94108
www.museumoficecream.com/san-francisco
9. Watch Movies in Wine Country

Head north to Napa to for the annual Napa Valley Film Festival. The festival lasts from November 8-12 for five days of films, food, and wine. Even if you're not into the flicks, more than 50 chefs and restaurants will be represented at the festival, so you can focus on meals instead of movies.
10. Alameda Point Antiques Faire
Whether you're shopping for gifts or just for yourself, there are lots of treasures to be found at the Alameda Antique Faire. The monthly event takes place on the first Sunday of the month. There's also a separate, but equally well stocked, Fashion Faire. While you're in Alameda explore the very cute downtown area.
Main Street, Alameda, CA 94501
www.alamedapointantiquesfaire.com/
Are the top 10 things to do in San Francisco 2017 not enough? Let us show you around and give you more ideas. Join us on a food tour in the Mission or North Beach to learn more about the culinary history of the neighborhood.