Top 10 Restaurants Near LAX
March 7, 2017
Airport food is rarely impressive, so it's important to know where to grab a meal before or after a flight. Our top 10 restaurants near LAX are places we love to sit down for a meal or get some takeout food to bring on board with us. It's good to have a knowledge of close restaurants to wait out Los Angeles airport traffic. Or use this list to bring guests who have just landed and are hungry without a long drive. You'll be a hero.
1. ASAP Phorage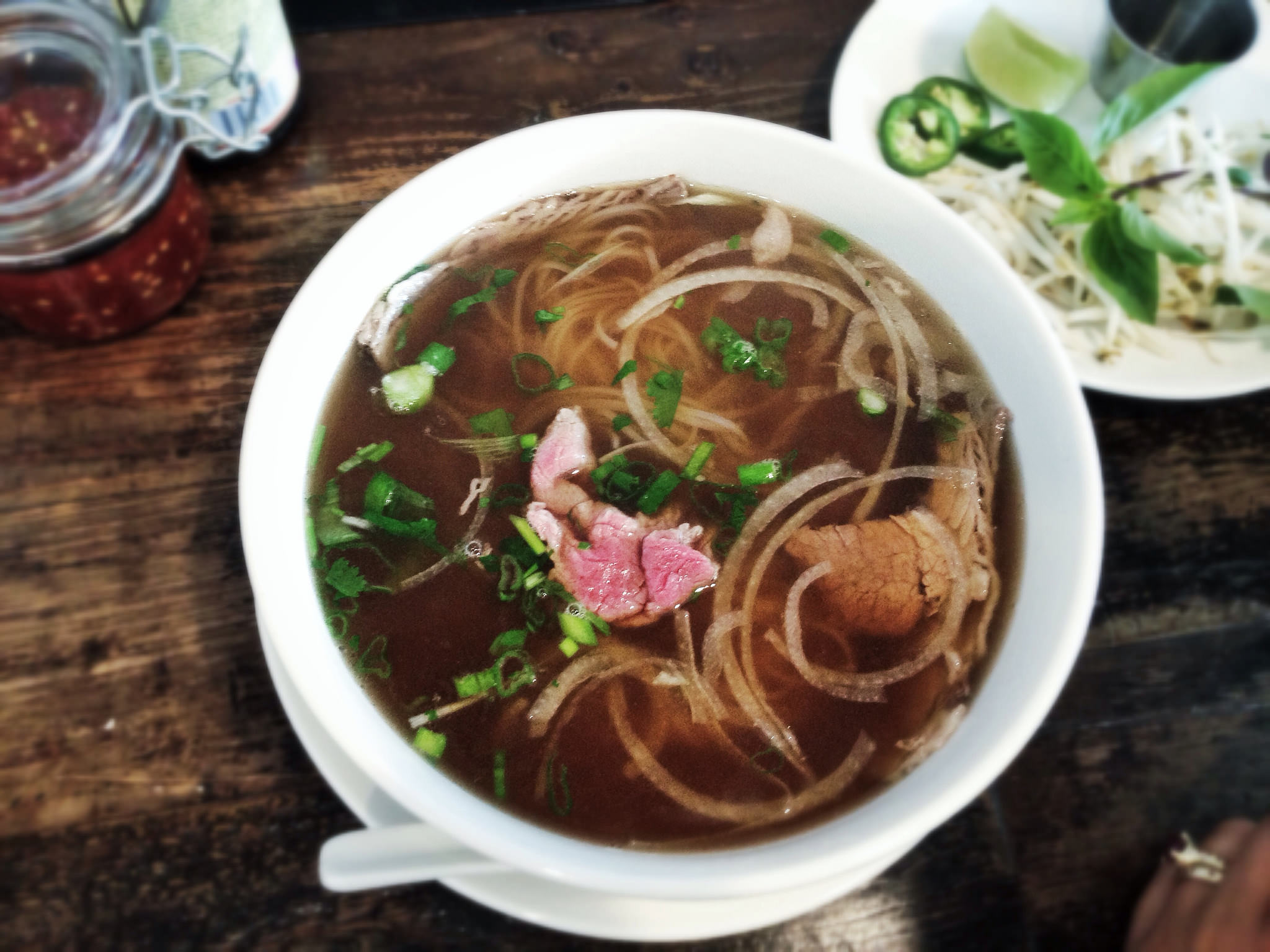 This convenience store and pho counter in Playa Del Ray is just five miles from the airport. The Washugyu beef pho probably won't travel well through security, but it's a great comfort food before takeoff or after landing. Or bring one of the nine varieties of banh mi on board that will put any airport sandwich to shame. Show up early for breakfast between 7:30 and 9:30 am for the banh mi burrito, dutch pancakes, or beef hash. ASAP stands for "Asian Sandwiches And Pho" but it also describes the amount of time until you'll want to return for your next bowl of soup. This isn't just one of the top 10 restaurants near LAX, it's one of the best bowls of pho in the city.
http://www.asap.phoragela.com/
303 Culver Blvd, Playa Del Rey, CA 90293
2. Dinah's Fried Chicken
For a pre-flight breakfast, it's hard to beat chicken and waffles from nearby Dinah's. Or have late-night fried chicken with mac and cheese as your first meal back on the ground. Of course, you could get something else from their giant menu, but the chicken has been famous since 1959, so we recommend having at least one piece. (Or if you really want to make friends with your neighbors on the flight, bring along a bucket.) Dinah's is located just three and a half miles from the airport, so it's less than a 15 minutes drive.
http://www.dinahsrestaurant.com/
6521 S Sepulveda Blvd, Los Angeles, CA 90045
3. Sugarfish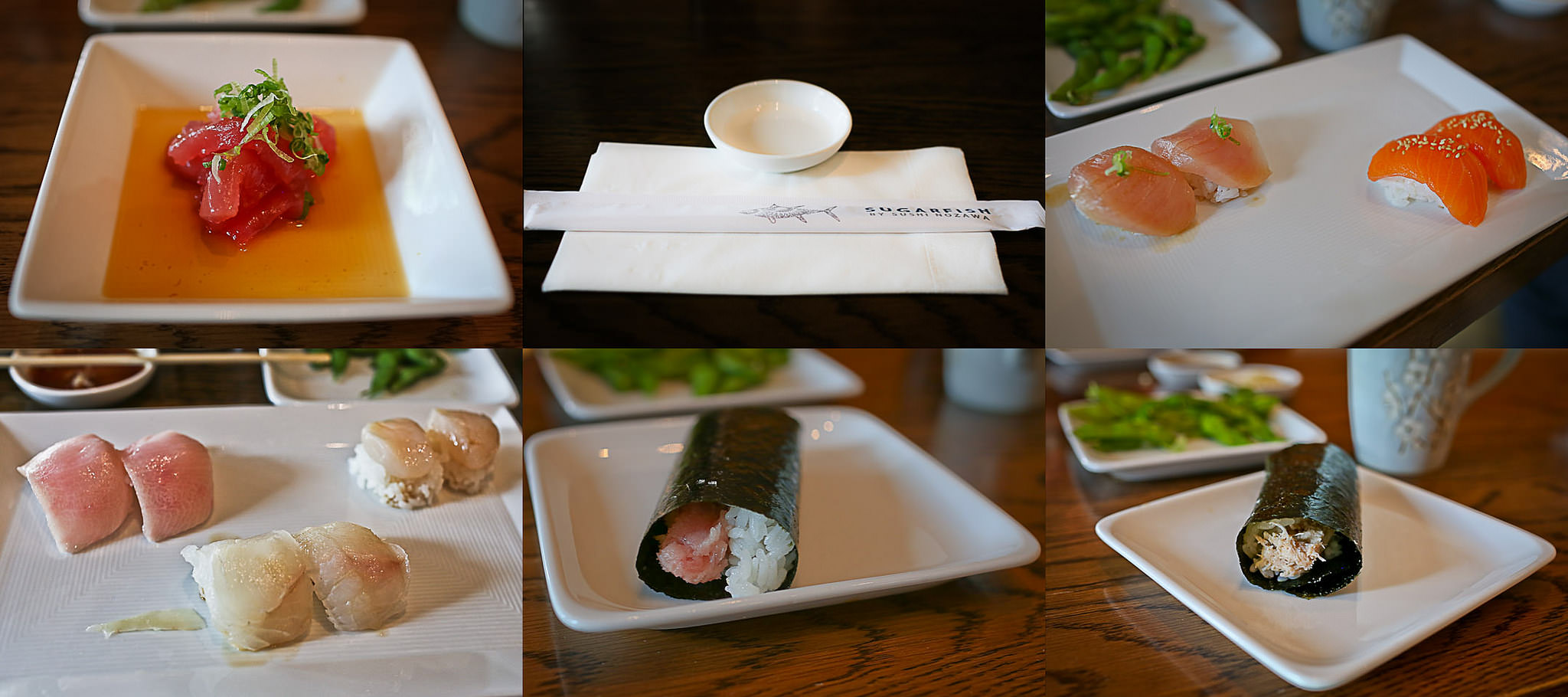 If you're homesick for some of Los Angeles's best sushi, Sugarfish in Marina Del Ray should be your first stop after picking up your luggage. You can be eating from Sugarfish's famous "Trust Me" menu after a short five-mile drive from the airport. Sure, airport sushi is available in most terminals, but Kazunori Nozawa is known across the country for a reason, so we'd wait the extra 15 minutes.
http://sugarfishsushi.com/
4722 Admiralty Way, Marina Del Rey, CA 90292
4. Al-Noor
We featured Al-Noor on our list of The Best Indian Food in Los Angeles. Luckily for travelers, it's close to the airport in Lawndale. Al-Noor is a favorite of LA Times food critic Jonathan Gold. Stop by for garlic naan, which was featured by Eric Greenspan on a garlic-themed episode of "The Best Thing I Ever Ate".
http://www.alnoor-restaurant.net/
15112 Inglewood Ave, Lawndale, CA 90260
5. Coni'Seafood
Get your fix of Mexican seafood in Inglewood. Coni'Seafood is known for their many varieties of shrimp, marlin tacos, and their ceviche. The best-known at Coni is the pescado zarandeado (grilled snook). It has fans throughout the city who trek all the way to the airport area for the dish. Angelenos doing the dreaded drive toward LAX without a flight reservation? It must be good.
No website
3544 W Imperial Hwy, Inglewood, CA 90303
6. Manhattan Beach Post
Less than five miles from the airport is Manhattan Beach-a much calmer vibe with much better food. Manhattan Beach Post is a 1960's post-office-turned-restaurant that still has some mailroom decor. An order of bacon cheddar buttermilk biscuits, a charcuterie plate, grilled octopus, and some handcrafted cocktails are enough to recover after even the most stressful flights.
http://eatmbpost.com/
1142 Manhattan Ave, Manhattan Beach, CA 90266
7. Little Sister
We love the downtown location of Little Sister, and this Manhattan Beach location is close enough to the airport to justify a trip before or after dropping off visitors. The Vietnamese menu is much more extensive and upscale than your neighborhood pho spot. Try to get there for "Spice Hour" (happy hour) for small bites between 4:30 and 6:30…also an excellent time to hide from traffic on the 405.
http://littlesistermb.com/
1131 Manhattan Ave, Manhattan Beach, CA 90266
8. Superba Food and Bread
We frequently visit Superba's Venice Beach location and the El Segundo location is even more convenient to the airport. Hip brunch items like avocado toast and chia seed pudding dominate the morning menus. Later in the day, you'll find lamb ribs, rotisserie chicken, salmon, and other staples. (Of course, don't forget the namesake bread.)
http://www.superbafoodandbread.com
830 S Sepulveda Suite 100, El Segundo, CA 90245
9. Fishing With Dynamite
As a small seafood restaurant with just 35 seats, Fishing with Dynamite usually has a wait. But if you're in the area, make the few mile trek from the airport and slide up to the raw bar for some shrimp, scallops, mussels, clams, and lobster. Or drip into a bowl of clam chowder, a plate of octopus, or Cape Cod squash rolls. It's hard to make a bad choice here, especially if you end dinner with the Key lime pie.
http://www.eatfwd.com/
1148 Manhattan Ave, Manhattan Beach, CA 90266
10. The Tripel
After braving airport traffic, you deserve a drink. Luckily The Tripel in Playa del Ray is close enough that it's an easy drive, even with traffic. The Tripel has an extensive beer list, but even larger is their food menu. This is the kind of place you can have an Oreo ice cream cake paired with a rib-eye pretzel burger. Or crispy pig ear salad, sweet potato tots, and cookies and bourbon milk. You've got lots of options, and they're all delicious.
http://www.thetripel.com/
333 Culver Blvd, Playa del Rey, CA 90293
Enjoy our top 10 Restaurants near LAX? Come explore Los Angeles and Join us for a culinary experience in Venice or Downtown Los Angeles.