The Top 5 Cool Places to Eat in LA
June 19, 2017
Los Angeles has a strong culinary scene and the hot new restaurant changes constantly. It can be hard to keep up with the newest trend and score a reservation. These top 5 cool places to eat in LA are interesting, delicious and fun. We promise any potential waits are worth it. (Though if you want to eat at some other great spots and skip the line, you can always join us on a culinary experience.)
1. Clifton's Cafeteria
A cafeteria might not be a place that you think of as "cool", but we promise you've never seen a cafeteria like this. On the bottom floor, pick up a tray and pile it high with meatloaf, pot pie, jello molds, and other Americana favorite. Once you pay for your food, you'll notice the decor that makes Clifton's special. A giant tree goes up the middle of the building five stories. There are taxidermied animals, tree seats, and even a meteorite on display. It's like a natural history museum. Look around for a bit and then bring your food upstairs and visit the Monarch Bar or the Gothic Bar for cocktails and at happy hour it's buy-one-get-one for 35 cents. (Yes, cents.) Way up top is Clifton's tiki bar. Visit on the weekends for free swing dancing and Sunday jazz brunch, which helps keep it on our list of top 5 cool places to eat in LA. We promise you won't be bored here.
648 S Broadway, Los Angeles, CA 90014
cliftonsla.com
2. Bestia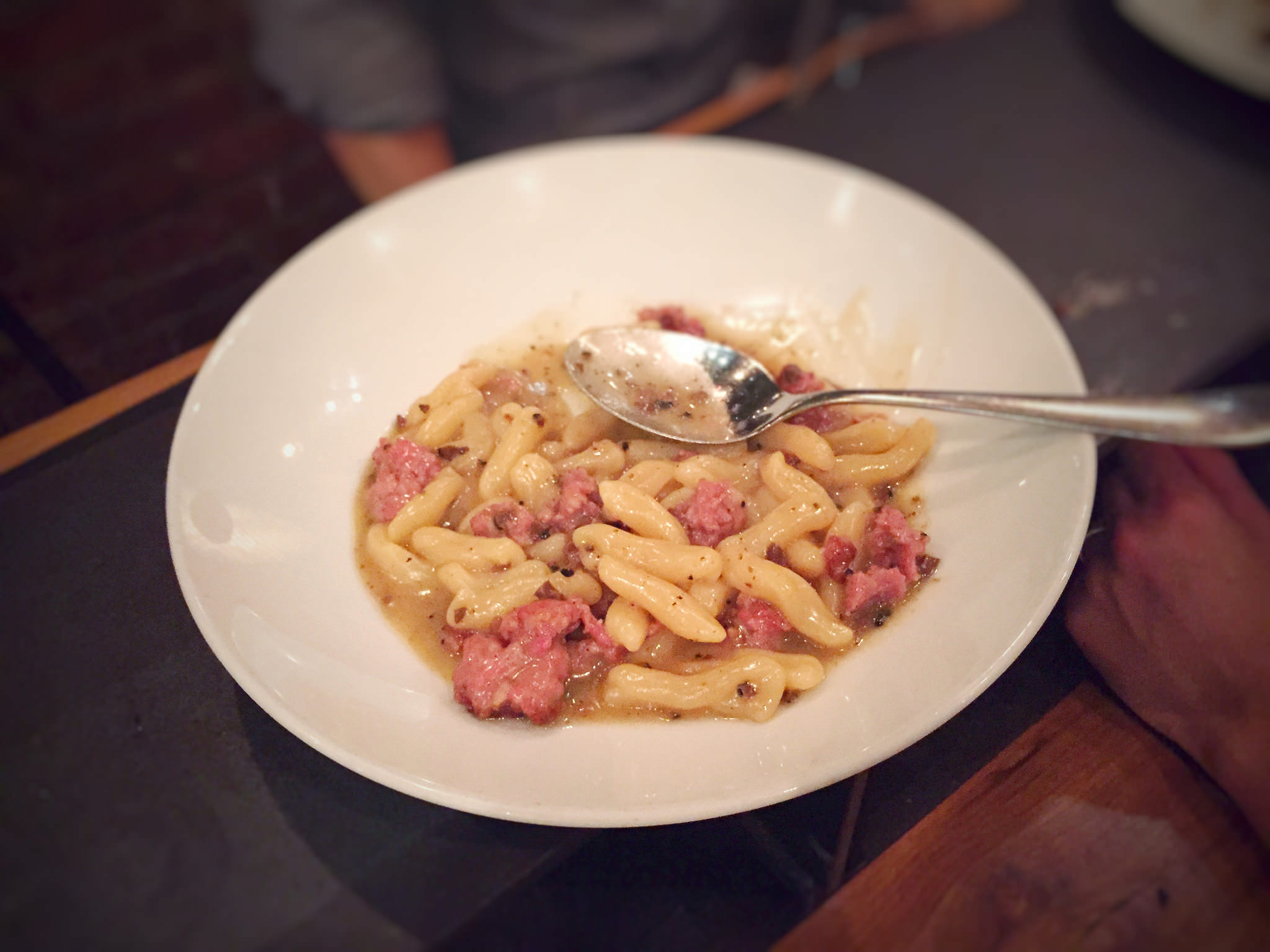 In the up and coming Arts District squeezed between warehouses is Bestia. It means "beast" in Italian and that's what these chefs are when it comes to Italian cooking. Expect reservations that are hard to get and 45 minute minimum wait times for walk-ins. Despite being "out there" this restaurant is definitely "in". It's loud, crowded, and hip. And it's delicious. It's hard to make a wrong choice on Bestia's menu, but if you want to make the best choices order the roasted bone marrow, the cavatelli alla norcina (ricotta dumplings, housemade pork sausage, black truffles), lamb ragu with saffron, and the chocolate budino tart.
2121 E. 7th Pl. Los Angeles, CA 90021
http://bestiala.com/
3. Night + Market Song
This is one of two Night + Market locations, the other is in West Hollywood. The Night + Market Song location is a bit more raucous than other Thai restaurants in the city, though it's missing the beer towers of the WeHo location. Owner and chef Kris Yenbamroong wants the vibe to be fun. He says their mission statement (if they had one) would be, "We aim to make the most delicious and authentic Thai food to facilitate drinking and fun-having amongst friends." The food is on point and it's in the Silver Lake neighborhood, so the crowd is full of fun-having hipsters eating underneath the Cindy Crawford poster. Order the larb (spicy minced meat salad) so you can buy and wear the "Larb King" hat with confidence.
3322 W Sunset Blvd, Los Angeles, CA 90026
http://www.nightmarketsong.com/nm-song
4. Sqirl
We've said before that Squirl is the kind of place locals wait in line for, and then wait a little longer to Instagram their beautiful meal before eating.Started by Jessica Koslow, Sqirl might be best known for their jams sold around LA that are made from local fruit. They're also known for their breakfast and lunches served out of a tiny 800-square-foot space. Try the Sorrel Pesto Rice Kokuho bowl, savory porridges, Savory Sweet Green Eggs and Jam, and the rotating daily jams. Don't forget to take a picture so everyone knows you actually waited in the line to eat.
720 N Virgil Ave #4, Los Angeles, CA 90029
sqirlla.com
5.
King's Burgers And Got Sushi
Yes, this restaurant is a little bit outside the city, but it's worth the drive and we still consider it one of the top 5 cool places to eat in LA. Many first time diners think they're in the wrong place when they arrive at King's Burgers and Got Sushi. The aesthetic is a mediocrely renovated fast food restaurant. But what makes this spot cool is that despite the fact that it's primarily a burger joint that also strangely has a lot of breakfast options, the sushi is incredible. And it's not expensive. The staff will tell you that some people are afraid to eat sushi out of the same kitchen that serves burgers, but ignore all that is rational and dive into the offerings that range from three piece uni samplers, truffle-topped yellowtail, and albacore belly handrolls. And if you were wondering, yes, the burgers are great, too.
9345 Reseda Blvd, Northridge, CA 91324
https://www.yelp.com/biz/got-sushi-and-kings-burgers-northridge
Looking to explore more than just the top 5 cool places to eat in LA? Join us on a Venice Beach Food Tour or a Downtown LA Food Tour with an expert guide to learn more about the culinary history of the neighborhood.