'Tis The Season To Show Your Support For Bars & Restaurants
December 18, 2020
Bars and restaurants are beautiful, culinary retreats to relax and find joy. They're gathering places for friends, celebration spots for families, and social hubs for solo travelers. They provide not only sustenance, but comfort, happiness, and pleasure. We can't imagine a world without them.
This holiday season, consider a gift that helps support bars, restaurants, and the people that make them possible. We've rounded up some fun ways to support bars and restaurants, featuring some of the exciting projects from our chef and bartender partners.
Whether it's ordering takeout, buying a cookbook, or making a donation, there are so many great (and tasty!) ways to show your support.
ORDER TAKEOUT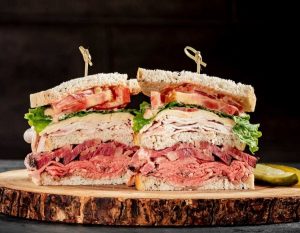 San Francisco: Mark 'n Mike's NY Style Deli
San Francisco's One Market Restaurant has launched a classic New York-style delicatessen brought to you by Michael Dellar and Mark Dommen. Serving meaty sandwiches, matzoh ball soup, and Boichik bagels for takeout and delivery.
New York: Popina Wine + Provisions
This cozy Italian restaurant has pivoted to luxury grocery and gift store, offering bottled cocktails, fresh pastas and sauces, beautiful wines, and more.
BUY A COOKBOOK
Drinking the Devil's Acre by Duggan McDonnell
"An Amazon Best Book of the Month, Drinking the Devil's Acre: A Love Letter From San Francisco & Her Cocktails is a smart, delightful mix of barman's memoir and literary journalism, with layers of spirited history and liquid wisdom. A tender tale of love for delicious drink, and for one's city, a book for anyone with a passion for history, cocktails, San Francisco, and the wanderlust of travel."
Prohibition Bakery by Brooke Siem
"These 50 cupcakes have a kick! The product of Prohibition Bakery, a downtown hole in the wall, they're simply the best, the booziest treats in Manhattan. Each diminutive cake is a perfect, delicious balance of texture, flavor, and fragrance. That's why an astonishing variety of fans, from Food & Wine to Playboy, Newsweek, and Thrillist.com, have come together to heap praise upon bakers Leslie Feinberg and Brooke Siem for their creations. Make a "Dark & Stormy" (Gosling Rum, ginger beer, and lime), an "Old Fashioned" (whiskey, bitters, orange, and a whiskey-soaked cherry), or other cupcake and you'll become a convert from the very first bite."
The Magic of Tinned Fish by Chris McDade
"Tinned fish is one of the world's great ingredients: brilliantly versatile, harvested and preserved at the peak of its quality and flavor, more economical than fresh seafood will ever be, as healthy and nutrient-packed as food gets. Focusing on sustainable and easy-to-find anchovies, sardines, mackerel, shellfish, and more, here are 75 recipes that will change the way we think about and cook with tinned fish. Whether it's creating an addictively delicious Spaghetti con le Sarde, transforming a pork roast with a mackerel-based "tonnato" sauce, elevating mac and cheese with crab, or digging into the simplest and best snack ever—anchovies, bread, and butter—cooking with tinned fish is pure magic."
The Craft Cocktail Party by Julie Reiner
A Craft Cocktail book for the rest of us by the top female mixologist in the country. Julie Reiner, the co-owner of The Clover Club in Brooklyn and The Flatiron Lounge in Manhattan, has written a book that provides inspiration for the rest of us, not only the cocktail geeks. She wants to balance the needs of the everyday drinker with those of the passionate mixologist. Julie also sells a brand new line of canned cocktails!
The New Spanish: Bites, Feasts, and Drinks by Jonah Miller
"The New Spanish takes a playful approach to the cuisine of Spain. The authors know the traditions but are mixing up the rules. Don't look for the same-old tapas and sangria here. Instead you'll find croquettes made from chickpea flour, a tortilla that swaps butternut squash for the potatoes, asparagus with Marcona almonds, saffron fried rice with bacon and shrimp, and even a blueprint for making your own vermouth from scratch. Normally heavy, stewed meat dishes like duck with sherry and olive sauce get a makeover to be fresher and more intensely flavorful as a result. Seasonal produce shines through."
JOIN A CLUB
Huertas' Monthly Membership Clubs
When you subscribe to Huertas, you'll unlock the magical world of Spain with unique Iberian wines, cheeses, and seafood conservas. Beyond these satisfying treats, you'll receive a monthly email highlighting one of Chef Jonah Miller's favorite recipes.
MAKE A DONATION
Providing vital support to local San Francisco restaurants in the form of grants given over the winter months (January through March is the goal but exact timing will depend on the availability of funds), when the impact of cold weather and pandemic regulations may significantly restrict business. Grant funds may be used to cover essential operating expenses such as maintaining critical staff and payroll, weather-proofing and/or expanding outdoor dining setups (where relevant), supplying local farms, ranchers, and purveyors with regular orders, paying rent and utilities, covering PPE supplies, and meeting various unanticipated costs.
No Us Without You is a 501c3 Non-Profit Public Charity providing food security for undocumented Back Of House Staff and their families. Undocumented hospitality workers are the backbone of the hospitality industry. They are unemployed due to the COVID-19 pandemic and are not eligible for unemployment benefits even though they're taxed every paycheck. $33 Feeds a Family of 4 for 1 week.
BUY GIFT CERTIFICATES
Lastly, one of the easiest ways to show your support for your favorite restaurants is to buy a gift certificate. Gift certificates can be great stocking stuffers for friends and family. Or buy one for yourself and look forward to a night out!
According to New York Magazine, "only 1 in 5 restaurant owners say they feel confident they can keep their businesses open."
Let's show our support this season so we can continue to drink and dine in our favorite places in 2021.