10 Things Everyone Should Do In SF Before They Die
October 25, 2017
Whether you're a San Francisco native or just visiting, here are 10 things everyone should do in SF before they die. How many have you checked off?
1. Eat at Swan Oyster Depot
There's a reason Anthony Bourdain raves about Swan Oyster Depot and that there's a line even on Tuesday mornings. Swan Oyster Depot has some of the freshest fish and most personable service in the city, which is probably why the line takes so long. Call in sick and go on a weekday morning for opening, when the line is a little bit shorter than usual. Go alone if you want to score a faster seat (there are just a handful at the counter) or go with a friend if you want to order all the all-stars like the combination seafood salad, the half-cracked crab, scallop sashimi, smoked salmon, oysters, and a couple of Anchor Steam beers. The Sicilian sashimi isn't on the menu but you should still order it. Trust us: you don't want to die without trying it.
1517 Polk St San Francisco, CA 94109
2. Watch the Hunky Jesus contest
Skip the Easter egg hunt and head to the Hunky Jesus contest hosted by the Sisters of Perpetual Indulgence. The event crowns one SF local as Hunky Jesus and another as Foxy Mary. The audience sits in Golden Gate Park and enjoys their Easter picnic brunch with a bit of debauchery, hooting, and hollering. It's weird, it's wild, and it's oh so San Francisco.
3. Drink at the Tonga Room
We've written about the Tonga Room before. We think it's one of the best places to have a birthday party, it has a rocking happy hour, and even has a buffet. The point is: go here. It's one of San Francisco's quirkiest spots and the only place in the city with scheduled thunderstorms on top of a cover band. The drinks are fun and fruity, the music is great, and it's worth the walk uphill. Don't leave SF without a pina colada and some wild Tonga Room stories.
950 Mason St, San Francisco, CA 94108
4. Participate in Bay to Breakers
Bay to Breakers is one of the wackiest of the 10 things everyone should do in SF before they die. No, you don't have to run this annual footrace, but you do have to don your wackiest costume if you want to fit in. The race has been yelled since 1912. Runners start earlier and efficiently make their way across the city, while the rest of the crowd trails behind and parties all day long. (With many breaks for snacks, drinks, and resting in parks.) You can try to make it all the way to the Pacific Ocean, but what really matters is celebrating this annual can't-miss SF tradition.
5. Go to the top of Mount Tam
For one of the best views of the Bay, head north to Mount Tamalpais (Mount Tam for short). You can spend a day (or days) exploring the redwoods forests, hiking trails, biking areas, and sneaking peeks of animals. Make a stay-cation of it and spend the night of one of many campsites or lodges. The West Point Inn has rooms in its main inn, but the better views come with the cabins, some of which have outdoor showers with a view. They also host pancake breakfasts that hikers and guests are welcome to join. If you're feeling ambitious, hike to Stinson Beach for a swim and an ice cream. You can even paraglide down the mountain or see a theatrical performance up top.
6. Take part in the Big Wheel Race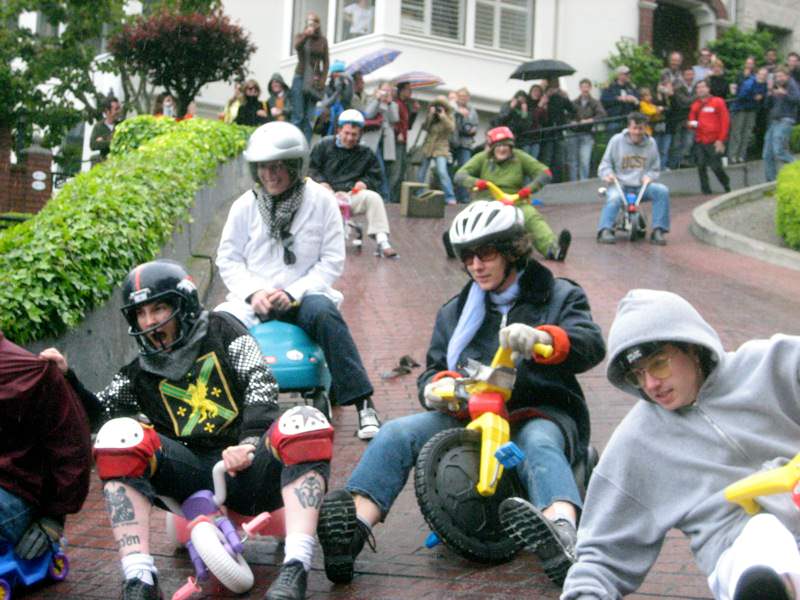 One of SF's most popular (and quirky) traditions is the Bring Your Own Big Wheel Race. It only happens once a year on Easter Sunday, so make sure you're around to knock it off your bucket list. A few weeks before the event, scour thrift stores and the Internet for a kid's sized big wheel bike so you can spend a few hours racing down Potrero Hill's winding Vermont Street. The street is closed off to traffic and lined with hay bales just on this day, so make sure you're there.
7. Have tea at the Palace Hotel
Live your best and most posh life while partaking in one of SF's best traditions-tea at the Palace Hotel. The Garden Court is a stunning place to spend the afternoon eating tiny sandwiches and scones, as locals have been doing since the early 1900's. Forgo your regular brunch spot to cross this one of the list. Just remember to make a reservation and wear your most elegant attire.
www.sfpalace.com/signature-tea-san-francisco/
2 New Montgomery St, San Francisco, CA 94105
8. Eat at one of San Francisco's best restaurants.
There are lots of lists that list SF's best eats, from 7×7 to Eater's Essentials. The SF Chronicle also publishes a yearly "best of" list. While the amount of great food can be overwhelming, there's a lot of overlap and repeats. A lot of SF's classics like Zuni Cafe and Tartine Bakery are recurring members on this list. Treat yourself and choose at least one great restaurant to indulge. Or, make a day of it and hit up a few of the city's most celebrated eats on our culinary experience.
9. Watch the sunset in The Sunset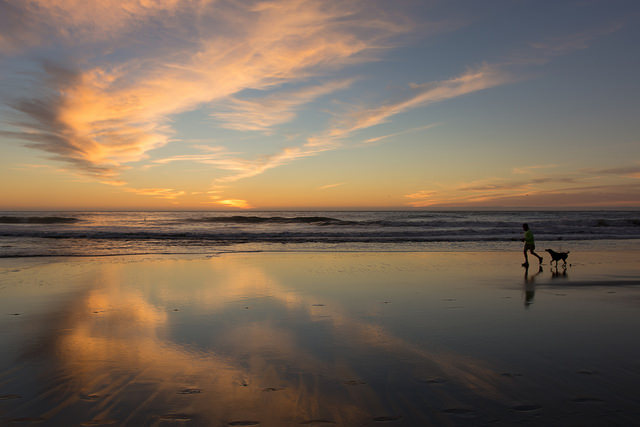 Go explore one of the most underrated neighborhoods in San Francisco, where on a clear day, the sunset is spectacular. The beach is dog-friendly, so bring your pup for a run on the beach. Then, watch some surfers sneak in their last waves, have a bonfire at Ocean Beach, get a snack at Java Beach Cafe, or go for late night dumplings at Kingdom of Dumpling.
Ocean Beach, San Francisco
10. Drive down Lombard Street
Is it touristy? Definitely. Is it worth waiting in the line of cars? Maybe. But if you haven't done it, have you really ever been to San Francisco? Just drive down SF's most crooked street to say you have…plus, it's pretty fun.
Lombard Street, San Francisco
Are 10 things everyone should do in SF before they die not enough? Let us show you around and give you more ideas. Join us on a food tour in the Mission or North Beach to learn more about the culinary history of the neighborhood. We'll help you knock some great restaurants off your bucket list.