The Ultimate (Experience) Gift Guide: Fun Experience Gifts for Everyone in Your Life
July 18, 2022
The gift giving season can be absolutely overwhelming. Especially if you want to put thought into the gifts you're giving. Especially especially if you've given gifts to the receiver before. There are only so many ties you can buy dad every year! And only so many bouquets of flowers and chocolate you can buy your romantic partner. If you need help thinking outside of the box, go down the route of finding fun experience gifts for your special someone or someones!

What Are Fun Experience Gifts?
Experience gift giving is the opposite of material gift giving. What does that mean? It means that what you are giving to someone else is a pass, reservation, or gift certificate to exchange for a particular activity. This activity can be as passive as a massage or progressive meal tour, and as active as a class or even something like skydiving!
Experience gift giving is an amazing choice if you are giving to the person that "has everything". But what's more, fun experience gifts are great for anyone. You just have to find the right experience for your gift recipient.
In the following sections we'll give you a rundown of some of our favorite and fun experience gifts depending on who you are gifting to. You'll find great experience gifts for:
Couples
Women
Men
Kids
Groups
Just remember, think of something your receiver either loves or has never had the chance to do! Experience gifts are for learning, seeing, tasting, or touching something new and, of course, the adventure!
And, the great thing about these experience gifts in this guide? You can easily find businesses that provide experiences like this all over! Use this list as inspiration or use one of these options directly – you won't regret it.
Top Fun Experience Gifts for Couples
Are you looking for fun experience gifts for your special someone or someones? We think the best gifts for couples incorporate a little romance or alone time into the gift. Read below for perfect options for your favorite couple or for you and your special someone.

Michelin Starred Restaurant Tasting in NYC
If you're in New York or able to go to New York – you have to check out this amazing prgoressive meal and tour focusing on Michelin starred restaurants in the heart of New York City. You'll receive VIP treatment as you are led through a curated menu by some of the country's top chefs. Each stop on your elegant adventure will consist of a course. So, appetizer, then entree, then finish off with dessert. In between each course you'll learn about the New York restaurant scene as well as get a few surprises! Upgrade to a five star experience and get picked up for your tour in a luxury car with gifts waiting for you inside.
Why We Love It: If you're choosing this to surprise your romantic partner you will WIN with this choice. Not only is the food delectable, you'll get major points for finding something swanky and organized. So much better than a reservation at just one restaurant! Click here to learn more about and book your Michelin Starred Progressive Meal tour!

Hot Air Balloon Ride in Chicago
Imagine holding onto your sweetie tight as you float above the far away world below. Ummm at sunset or sunrise? Stop. That sounds like something out of a frickin' movie! Well, you're in great luck because MidWest Balooning Adventures has you covered. And, if you aren't in the Chicago area it's super easy to find similar experiences anywhere by searching for "hot air balloon rides near me".
Why We Love It: Soaring over the clouds with your beloved as you stare into each other's eyes? No – why would we love this one for couples?! Just kidding – it's obvious as heck. Click here to learn about how you and your special someone can soar over the skies for a fun experience gift fit for a dream.

State Park Pass
A State Park Pass is a great experience gift for the couple in your life that love to be in the great outdoors. Here, we have a California State Parks Pass, but you should be able to find something similar no matter what state you are in.
Why We Love It: This is perfect for the couple that are always hiking and enjoying nature in their spare time.

Sunset Horseback Riding on the Beach
Outside of Tampa, Florida on the Gulf Coast is a lovely place called Saint Petersburg Beach. There, you can sign up with a company called C Ponies to have you and your partner, or the couple you want to treat, horseback ride on the beach at sunset. Talk about a movie romance moment! You even get to ride the horses as they swim through the warm waters. Bonus? All of the horses are rescues so you're helping them all get a second chance at life!
Why We Love It: This is a moment they'll never forget! And the pictures will be out of this world amazing. Click here to learn more about how you and your sweetie can ride into the sunset at St. Pete Beach.

Convertible Tour of Los Angeles
Los Angeles is a city of cities! Where many cities blend into one larger metropolis. Touring on foot is impossible unless you want to stick to just one neighborhood. With this experience gift, you and your companion will be taken on a journey through some of the most beautiful and interesting neighborhoods in Los Angeles – all being chauffeured in a classic 1970's convertible car (they often do these tours in vintage Cadillacs!). Let this retro glamour fantasy take you away as you glide down sun dappled streets in style.
Why We Love It: This is our groovy take on the romantic buggy ride. Cozy up with your sweetie in the back as your valet takes you on an elegant tour of the star filled city. Click here to reserve your romantic convertible tour of Los Angeles.

Universal Yum
Do you know a couple that loves travel, culture, and (most importantly) food? Then this is the perfect couple experience gift for you. Universal Yum is a subscription service that shares snacks and foods from around the world with you. Every month they choose a different part of the world and showcase yummy bites from that region. Try tasty treats like Italian Bruschetta Bites and Spanish Pineapple Gummies!
Why We Love It: This is one of those fun experience gifts that takes no time on part of the lovely couple you are gifting to. They have an amazing experience once a month with no transportation or scheduling required. Click here to learn more about the Universal Yums subscription.
Top Fun Experience Gifts for Women
The most typical gifts for women – flowers, chocolates, and jewelry – are tired and let's be real – picking jewelry for another person is near impossible if not sweat inducing! Look below and get inspired as to what experience gifts will work for the important woman in your life.

Brunch Crawl in the East Village
Ok, we know brunch for the ladies sound a bit obvious, but this progressive meal and tour will wow your gal, we promise! Avital Tours provides a comprehensive meal at four different iconic East Village eateries. Each stop is a different dish – you'll get two appetizers, and entree, and a dessert at four different restaurants. In between each stop your veteran guide will tell you the history and stories of the neighborhood. Be sure to upgrade to include an alcohol pairing to make your brunch a little boozy for your special gal!
Why We Love It: A comprehensive brunch crawl is more than we could ask for – filled pierogies with sweet and savory options, truffle cashew cream pizza, and more will be dishes that are too tasty to forget. Click here to book your East Village Brunch tour!

Ritz Carlton Spa Day
Give the lovely lady in your life a relaxing day away at the spa at the Ritz! Sure, a gift card to a department store or a new fancy robe might be a great idea. However, we think it definitely wouldn't hurt to kick it up a notch. Treat the woman in your life to an all inclusive, relaxing, and luxurious experience at one of the fanciest hotels in the world! Each Ritz Carlton hotel has an array of spa services you can choose between. From smaller massage sessions to multi-course treatments that will leave her in the Ritz oasis all day – you'll find something that works with your budget and her schedule.
Why We Love It: The Ritz has over 111 locations all over the world – if you live near a major city you should be able to find one that will take care of you. Click here to see their location map and take it from there.

Cheese Making Kit
Allow the woman in your life to unlock the secrets to cheese making in this DIY cheese making kit. In this kit you get the Intro book: Camembert/Brie and Blue Cheese Making by Steve Shapson, a variety of cultures to create different cheeses, the ingredients that are a bit harder to find like rennet and lipase powder, and cheese making supplies like cheese cloth and molds. For an extra fee, you can purchase a cheese press so your gift can make hard cheeses as well!
Why We Love It: Let the food and/or science nerd in your life uncover the wonder of cheese making with this kit that has everything you need.

Virtual Yoga and Pilates Membership
Glo is a daily online meditation, yoga, pilates, and fitness app that supports you as you form a better relationship with your body and mind. From 90+ programs, a multitude of styles, curated playlists, and 24/7 online support – this is basically a self-serve/, always open yoga studio with perks. If your giftee is more spiritually focused they can find classes that cater to those needs. The same if she's more focused on the physical and health aspect of these practices. In any case she'll be thanking you for giving her the gift she would never get for herself!
Why We Love It: Whether your giftee is already an avid yogi or a total beginner, the benefits of a membership like this contribute to a person's overall health and wellness. Click here to learn more about signing up for Glo for the gal in your life.

Mission District Food Tour
San Francisco's Mission District is a melting pot of cultures – from home town immigrant foods to high end, trendy restaurants – the Mission District has it all! Treat the woman in your life to a progressive meal tour in the heart of one of the best food neighborhoods in the country. In between each of the four restaurants she'll visit, she'll learn about the history of the neighborhood and hear stories about the chefs and restaurateurs that made this neighborhood deliciously famous.
Why We Love It: The Mission District is a vibrant and colorful neighborhood with amazing foods to try. She won't want to miss this! Plus, there's great shopping in the area if she feels like walking around after feasting! Click here to find out more about this Mission District progressive meal and tour in San Francisco!

Winc Wine Subscription
Does the woman in your life enjoy exploring and tasting different wines? Then a gift card to Winc wine subscription might be a great option for you. With the gift card, you purchase one, two, or three months of a wine subscription from Winc.com. This way, your gift recipient can add their own flavor profile to their account so they get wines that are specific to their tastes. No guesswork folks!
Why We Love It: Buying a gift card allows your giftee to choose their own preferences for their subscription. And, if they enjoy it, they can continue the subscription on their own! Click here to buy a gift card for a subscription for Winc Wine.
Top Fun Experience Gifts for Men
What do you get for the man that has everything? An experience gift of course! Drift away from the dull array of wallets, ties, and bbq gear and get the exceptional man in your life one of these fun experience gifts that suits his interests and tastes.

East Village Food Tour
The East Village is known as the birthplace of punk in the United States and despite its location in Manhattan, still has a grungy, artistic edge. This food tour takes him on a four stop progressive meal with history and stories about the area in between. New York is an absolute melting pot of culture and food. From learning about and eating diverse ethnic cuisines like a Sichuan style dry pot with konjac noodles to classic Big Apple American dishes like New York Cheesecake, this food tour won't be a disappointment.
Why We Love It: Let your man take a peek into the rough and tumble history of the East Village while eating delectable dishes on this progressive tour. What more could he want?! Click here to book your East Village progressive meal and tour!

Bay Area Axe Throwing Party
Okay this might be a little on the nose – but why not treat your man to an axe throwing party that comes to him? Whether it's him and his buddies or you invite the family along – this experience gift will leave him with a cathartic experience where he can get out some energy and feeling! The best part? They can come to you! Wherever you're throwing your event, as long as there's a safe amount of room, they can set up your axe throwing tournament.
Why We Love It: We love that this service actually comes to you. No need to pick up and schlep to another location! This is especially great for bachelor parties. Click here to see if this axe throwing party can come to you!

North Beach Food Tour
San Francisco's North Beach neighborhood holds the history of the wild wild west via the California Gold Rush, and one of the most iconic Little Italy's in America. Settle into the scene as you hear Italian accented waiters and learn about the raucous history of the Barbary Coast. From sampling cocktails from the prohibition era to eating pizza from the oldest pizza oven on the west coast – your guy will soak up the history and flavors of this famous neighborhood by the bay.
Why We Love It: The combination of the rough and tumble history of the Gold Rush with the Italian greats that made the neighborhood what it is today – your guy won't be able to get enough! Click here to sign up for your progressive meal in San Francisco's Little Italy – North Beach!

Indoor Skydiving
The company, iFlyWorld, has locations for indoor skydiving throughout the country and it's super easy to buy a gift card with them. If you can't find a location near you, a simple online search should help you find a spot close to you.
From iFly's site:
"There's no other feeling in the world quite like indoor skydiving. iFLY's state-of-the-art wind tunnels are designed to provide a safe flight experience, memories that will last a lifetime, and a unique story to tell!"
Why We Love It: This is a unique indoor experience that most people don't think to buy on their own – and that's where the best gift giving comes into play.

Chicago Prohibition Tour
Hidden in Plain Sight is the tour for those that want to learn the down and dirty history of the Chicago prohibition era. From the lowest gangsters to the highest class socialites – almost everyone in Chicago wanted to get their hands on some booz during the alcohol prohibition of the 1920's. Let your tour guide take you on a dark journey of the underbelly of old Chicago with three iconic locations included on the tour. Drinks are not included but you're more than welcome to order at your own discretion at each location!
Why We Love It: Take a step (and a sip!) into the iconic Chicago prohibition era on this historic tour. Click here to learn more about how you can get a prohibition tour for your group!

One Size Fits All Fitness Pass
Give the gift of mean gains with a Class Pass Gift Card. For the guy that already has Class Pass or the dude that's never tried it, this is a great gift to get someone moving. He'll have access to boutique fitness studios, one million workout classes, and a customized fitness routine to fit his schedule and skill level.
Why We Love It: If you know you want to give the gift of fitness, but aren't sure what your giftee might like, this is a fantastic option to let them decide with your help.
Top Fun Experience Gifts for Kids
Are you and your kids tired of going to or hosting the same bowling alley party over and over again? Do you not want to have to buy ANOTHER toy for a child that you know already has too many? Do not fret! We have you covered.

Charcuterie Chalet Kit
A charcuterie chalet is a savory gingerbread house made of charcuterie fixings like crackers, cheese, meats, and dried fruits and nuts. We have the perfect all inclusive charcuterie chalet kit for you to buy the kid (or kid inside) in your life. With each kit you get blueprints to guide the way and enough supplies to make two houses or one larger chalet with extras for snacking!
Why We Love It: Let your kid get creative with the edible architecture craze without getting a sweet tooth!

Coding and Science Kit Subscription
If you are gifting to a young one that is interested in science (or disinterested and you'd like to get them interested), a MEL science subscription could be a great option for you. From coding to STEM to chemistry to physics, MEL has you covered. They also cater to all age groups (4-16+) in these kits so you don't have to worry about how advanced the work will be. Once you sign up a science kit will be delivered every month including virtual reality lessons, DIY experiments, and science related news.
Why We Love It: Developing STEM skills at a young age is paramount for a child's academic development – and these kits make them fun and engaging so it isn't a chore! Click here to find the right MEL science kit for the kid in your life.

Music Lessons
Try inspiring the kid in your life to learn how to make and read music. Take Lessons is a great service that provides lessons of all sorts, but has a robust music program. Choose to give them the gift of singing with no equipment required. Or make it a full on with an instrument and a gift card for lessons. Take Lessons provides one on one classes, group lessons, videos, and articles for your giftee to use as a resource.
Why We Love It: The gift of music is a fantastic one that will live on in a person forever.

Atlanta Train Tour
Do you have a kid that's obsessed with cars, trains, planes, and other automobiles? Make their dreams come true and take them to the SouthEastern Railroad Museum. For the optimal experience we suggest signing up for a group tour where you're led through the museum by a veteran guide. You also get to go on a train ride. All aboard!
Why We Love It: This is perfect for kids that have been entranced by cars and trucks on the road since they were babies (if you know you know) and any kid interested in history. Click here to see how to sign up for a group tour at the SouthEastern Railroad Museum.

U-Pick Farm Day
Imagine your little one covered in berry juice on their hands, face… everywhere! Go to a U-Pick farm on Sauvie Island outside of Portland, Oregon to let your tykes soak up the sun and nature. Education bonus points: they'll learn and see how the food they eat is grown! Walk around, pick and try different fruits – this one is super low maintenance organization wise for parents! Show up, pick, pay for your fruit, and leave. And, if you don't live in the Portland, Oregon area, you can easily find similar experiences wherever there's farmland.
Why We Love It: This is a great experience for younger tots that don't need the same level of engagement as older kids. Click here to learn more about U-Picking on Sauvie Island.

Spray Harbor and Chessie's Big Backyard
If you're in the Washington D.C. area this is going to be a boon for you and your kids. We love water park experience gifts – and we think kids agree! The Lee District Family Recreation Area has everything you need for a summer funday with the little ones! Firstly, they have an amazing spray harbor water park and Chessie's trail. Chessie's trail is a kid oriented nature trail for kids of any abilities and encourages them to use all of their senses as they take their nature walk. This rec area also has a treehouse, playground, and a carousel. You could easily spend all day here!
Why We Love It: This is one of our favorites because it is FREE for you and your kids to enjoy. This might be perfect for a birthday party if you're trying to save on the bucks! Click here to learn more about everything the Lee District Family Rec has to offer.

Color Me Mine Pottery Painting
Do you know a child that has a knack for artistic creativity? Color Me Mine is the perfect place to get your experience gift for them! Each participant is included in every step of the pottery process. First, they pick what piece they want to paint. Then, they paint it. Afterwards, a Color Me Mine staff member will fire the piece in the kiln. Your piece will be ready to take home that day! They even have a kids camp if you'd prefer that option rather than a single day experience.
Why We Love It: Let your child's creativity shine through when they come to Color Me Mine. From the item they choose to paint to the way they paint it – they have full control! Click here to see if Color Me Mine has a location near you.
Top Fun Experience Gifts for Groups
Are you setting up a gift for a group of people? That can be difficult depending on how eclectic this group is! For work groups, family groups, or even friend groups – figuring out an experience gift can be a bit tricky. Look below at our group friendly experience gifts to show your band of buddies you care!

Virtual Water Tasting
Treat your group to join a Certified Water Sommelier and an Avital: Emcee Host for a guided water tasting (think wine tasting but without the wine!) Waters Tasting Kits are delivered in 5 premium glass bottles from around the world with food pairings included. Discover how different water can taste by sampling the world's most premium H2Os.
Why We Love It: This activity is great for the connoisseurs in your life that are interested in learning more about their palette and the way we taste.

Paint N Sip
You've probably heard of it, but have you ever considered signing up for a painting class where you and your group gather together to paint a painting and sip on some wine in the process? This activity is great to loosen up your group and give them an activity as they spend time together. The best bonus? Everyone gets to take their unique piece of art they created home with them to remember the occasion.
Why We Love It: Even if you don't drink alcohol you can have a great time painting with your group. This is great for everyone! Click here to learn more about how you can sign your group up for a private paint 'n' sip event.

Alcatraz and San Francisco Bay Boat Tour
We absolutely love this experience gift. Feel the salt air whip your face as you learn about escape attempts from one of the most notorious prisons in the world. Balance that out with epic views of the iconic Golden Gate Bridge Angel Island state park. This activity will definitely beat out your typical pizza party as a show of your appreciation. The Blue & Gold Fleet that provide this tour also provide audio with a multitude of languages to cater to everyone's needs. If you're in the bay area this experience gift is one to beat!
Why We Love It: Let's be real, being on a boat on beautiful waters alone is a luxe and exciting time. Adding cruising under the Golden Gate Bridge and learning the history of Alcatraz as you tour around it? C'mon, we don't have to explain why this is awesome do we? Click here to sign up your group for the amazing tour around Alcatraz and the San Francisco Bay.
Hands-on Happy Hour in NYC
Sign up for this private group hands on happy hour if you live near New York City! Everyone will create two cocktails (or mocktails for those that don't drink alcohol!), one shaken, and one stirred. An expert mixologist will lead the way and teach you about bar basics as you get those drinks flowing. And, you'll have an Avital host keeping the event going with trivia games, cocktail history, team building games, and more!
Why We Love It: Not only do you get to make two cocktails or mocktails, you enjoy robust bar snacks as you create and sip! Click here to learn more about getting a hands on happy hour in New York on your gift list!

Seattle Underground
If you're in the Seattle area and have a group of people that are either interested in history, ghost stories, or architecture, we have the perfect fun experience gift that will make everyone happy! The iconic Seattle Underground tour literally takes you underneath the city of Seattle to learn about its interconnecting tunnel systems that have been underneath the city's streets since the mid 19th century. As the website says, "​​The 75-minute guided walking tour begins beneath Doc Maynard's Public House, then spills into historic Pioneer Square, Seattle's birthplace, before plunging underground for an exclusive, time-capsule view of the buried city!"
Why We Love It: Give your group the unique experience of seeing the underbelly of Seattle that they would never see without this tour. Click here to learn more about the Seattle Underground tour.

Hands-on Happy Hour in San Francisco
If you liked the idea of the hands on happy hour but you live in the Bay Area, we have you covered! Avital tours also hosts hands on happy hours in the San Francisco area as well. Two cocktails or mocktails plus robust bar snacks will fill up your belly as your experienced mixologist and quirky Avital host leads the way and keeps the group entertained. They can either go on site to wherever you'd like to have the experience, and they also work with local restaurants and bars if you don't want to provide the location.
Why We Love It: This activity is super flexible whether you want to go to a beautiful restaurant in San Francisco or have the experience come to you. Click here to inquire about your family or group's hands on happy hour.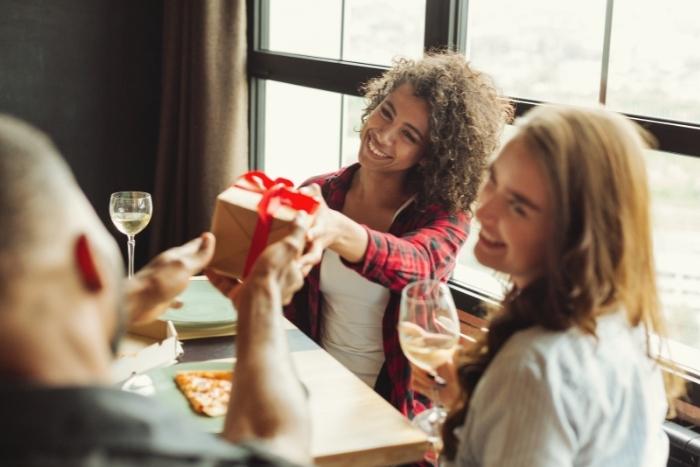 There you have it! That was our comprehensive guide and some of our favorite picks for fun experience gifts for the gift giving season – or whenever you need it. And, remember, most of the location specific options have similar experiences all over if you search for them!
And, if you want your gift to be more free range, we have food tour gift certificates for San Francisco and New York from Avital Tours. With these certificates, your giftee can choose their own adventure! Avital Tours offers a wide variety of fun food related experiences for your special someone to choose from. We even provide delicious and educational virtual events if you don't reside in one of our live locations!