The Best Date Nights in Calabasas For Foodies
July 15, 2019
Calabasas is a neighborhood in Los Angeles whose name has gotten around quickly, thanks to the Kardashian residents. Kim Kardashian and her infamous husband, Kanye West, live here with their family, and we must say, they have great taste in neighborhoods. Calabasas is the complete opposite of the glitz and glam we see on TV. It's a quiet neighborhood, on the border of the Santa Monica mountains with a majestic natural beauty due to the tall mountain range and beach only a short drive away. It's become a haven for Hollywood's elite who need a break from the limelight, but just because it's a chill, residential neighborhood, does not mean they are shy of fabulous dining options. A neighborhood where the biggest celebrities in the world live is not going to undercut your dining experience. Foodies wanting a fabulous night out on the town with your significant other, come out here and enjoy one of the best date nights in Calabasas.
Sagebrush Cantina
The Sagebrush Cantina radiates the word fun. It's the date night spot for two extroverts. If you and your date love interacting with fellow dinners, enjoy live music, and live for all things entertainment, come here. Every Thursday night they have karaoke with a live band and on the weekends they have a DJ. If you're more of a brunch person, their Sunday brunch includes unlimited mimosas with a mariachi band to accompany your boozy brunch feast. Sagebrush Cantina has a great outdoor patio and a huge open space for dancing. So when you're ready to move your hips and groove, grab your date and come to Sagebrush Cantina in Calabasas.
Pedalers Fork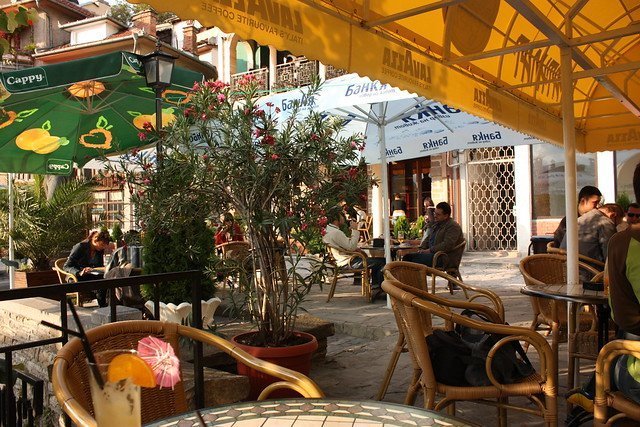 There is nothing like a date at Pedalers Fork. It's a farm- to- table restaurant with delicious homegrown food served in a boutique bike shop. Pedalers Fork is the perfect spot for the active couple or nature lover. Get up early and take a morning hike down the street on the Calabasas Peak Trail. Then swing by here for an out of this world breakfast in its cozy, rustic setting surrounded by luscious green plants and bright sunshine. If you're a coffee snob, Pedalers Fork, is definitely calling your name. They specialize in third wave coffee and have a house brew you won't forget. This is a perfect day date spot; how many times can you say you've had a date in a bike shop?
King's Fish House

The King's Fish House is a must go to when you live in California. Their restaurant was built on a dream to provide the ultimate seafood experience. Start off with oysters from their raw oyster bar and a crisp glass of pinot grigio to go with it. When it comes to dinner, you can't go wrong with any of their fish entrees. From snow crab to swordfish, they have every fish you could imagine. Bonus: The Kings' Fish is located in The Commons, a posh outdoor shopping mall with a slew of fabulous boutique stores and the Edwards Grand Cinema. After your seafood experience, walk next door and cozy up with your date to end the evening with a movie screening.
Tosconava

We couldn't tell you about the best date spots in Calabasas without mentioning Toscanova. This classy, upscale Italian spot is the place to go when you really want to impress your date. Make a reservation for a spot on their outdoor patio while soft jazz music accompanies your romantic, candle lit dinner. The wine list isn't cheap, but you can't get the full experience of their homemade gnocchi (those are potato dumplings for the new foodie) and the ravioli di spinaci drizzled with a sage sauce without a rich cabernet paired with it. We know the bill is going to sting, but your date is never going to forget a night at Toscanova.
Saddle Peak Lodge
Oh, how we love Saddle Peak Lodge. Nestled in the hills, this romantic lodge has everything you need for an unforgettable date night. With only the mountain range around you, diners make the trek out here for a night of engaging conversations and lifelong memories. There is something magical about a restaurant that's managed to survive 100 years in the middle of the woods. The food is phenomenal with a focus on clean meats and hearty side dishes, but The Double Barrel Room is the golden ticket to the ultimate date spot. It's a whiskey room located on the side of the restaurant where a knowledgeable host guides you through a hand-picked selection of whiskey tastings. Book a tasting here, and you're pretty much guaranteed a second date.
After you experience one of the best date nights in Calabasas, continue your foodie adventure, and join us for a walking tour of Downtown Los Angeles or another neighborhood. We'll talk you on a food tour in Koreatown, Downtown, or Venice.
by Sarah Murphee