The Best 50th Birthday Party Ideas to Celebrate Virtually
May 14, 2020
By now you've likely adjusted to the new normal. Limited contact, face masks, zoom-ified everything! Everyone is getting creative to keep positive minds and lifted spirits. If you're celebrating your birthday during quarantine, there are still many ways for you and your friends and family to be "together" and make it a day to remember. Here are our best 50th birthday party ideas quarantine-edition.

Drive By Party Parade
You've likely seen these party parades shared on Facebook or local news coverage. They're heartwarming, creative, and have become the new normal. But it seems they're typically celebrated for children. Flip the script and ring in your 50th birthday with a drive by parade of your very own! Make it unique to you by including a theme, perhaps your favorite era. For the 70s, crank The Beatles and Bowie from your yard, bring out the bellbottoms, and invite your friends to do the same. You can even include parting gifts for guests to pick up at the mailbox.

DIY Date Night at Home
You and your partner are probably missing those special nights out together. Grabbing a drink at your local hangout before heading to a new restaurant that everyone has been raving about! And then on to a show or some live music. We're nostalgic just thinking about it! Bring that experience to you with a DIY date night at home. Order takeout at one of your favorite places and eat it somewhere different, like on a blanket in your backyard or the rooftop terrace. Don't forget a cocktail or a nice bottle of wine. And end the night with a live streaming concert or theater performance. One of the best 50th birthday party ideas quarantine-edition to make things feel a bit more normal.

Virtual Cooking or Mixology Class
If you're looking for a pampered, yet interactive experience, consider a virtual cooking or mixology class. These virtual experiences by Avital Tours feature an expert chef or mixologist as they walk guests through a recipe, with stories and tips along the way. Craft a fruity, citrusy Blackberry Bramble or learn the perfect paella technique. Each experience has a dedicated host that facilitates the experience and helps to build community. Join a public experience and meet others from around the world. Or book a private experience for just you and your guests. You can even have the ingredients delivered right to your door for a truly celebratory experience.

Take A Road Trip
Not an option for everyone, but if your laws allow you to get out of town for the day, it can be a great way to spend your special day. Just remember to be prepared and pack everything you may need for the day, including food and water. It's also important to remember that many public bathrooms are closed so have a plan for that. Not the most luxurious solution, but there are some great products on the market that may be worth investing in right now!

Have a Craft Extravaganza
If you're the crafty type (or even if you're not!) a craft party can be a great way to connect and celebrate a special occasion. It also allows you and your guests to focus on the craft, giving your brain a break from the constant coronavirus news. To host the party, come up with a craft you find interesting. Maybe a piece of DIY artwork, stamped clay bowls, or even something as easy as painting rocks. Ask guests to prepare the supplies a few days beforehand or if you'd like you can deliver the supplies to each guest's house. On the day of the party, invite everyone to join the same video call, give a little introduction to the craft, and get to work! Each person can go at their own pace, with stories and laughs along the way. At the end you can each share your creation.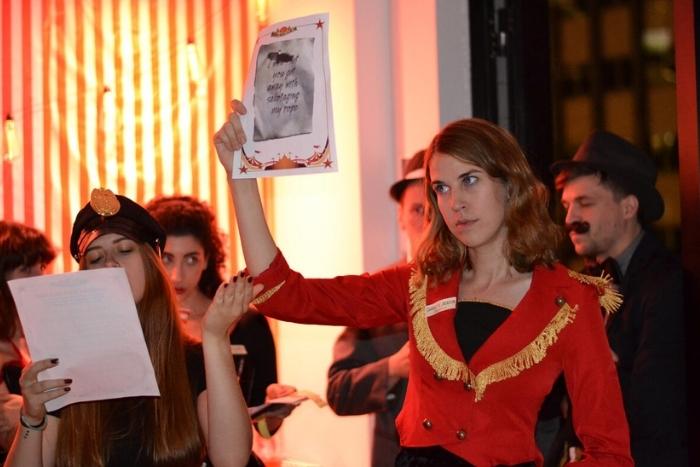 Try An Exciting New Class
Perhaps crafting isn't your thing, but you'd still like to learn or try something new. Taking a virtual class is a fun way to try out a new hobby and bring your friends together. From learning how to make perfect sushi rolls to how to write your own murder mystery, you're sure to find a crowd-pleasing class and a good 50th birthday party idea. Ensure everyone has what they need before the class, tell them to grab a drink, and you've got yourself an easy day of activities. If you like the class, you can keep taking more!

Make Your Own Mimosa Bar
Who doesn't love a good mimosa bar? It's super easy to set up and when the mimosa bar is in your own home, well…there's no limitations if you know what we mean. If you're hosting a small gathering indoors or outdoors, all you need are a few different juices like the classic orange, grapefruit, and maybe even peach. And to vary it up, grab your standard bottle of prosecco, but feel free to include other bottles of bubbly like cava or brut. A mimosa bar is a great accompaniment to brunch party, but can also work for an outdoor picnic. Make sure to have lots of glasses!

Spend The Weekend Away On A Relaxing Retreat
If what you really need is time to relax and get away from it all, head out for a retreat. Rejuvenating spa days, meditation, yoga— all of these activities can help you feel renewed as you head into your 50th year. Some are offered right in the heart of great nature, so hiking and spending time outdoors is a must. While many ensure taking precautions, here's a great guide on what's changed about yoga retreats and how to keep them safe.

Have A Game Night
For a 50th birthday idea quarantine-edition that doesn't take you outdoors, try a game night! It's a classic and very easy to set up virtually. And for any gamblers out there, it's also easy to recreate a casino at home, just to add a little more glamour. The best part about having a virtual game night is that if you're losing, you can suddenly have "internet problems."

Take To The Skies
In a hot air balloon! This is a great 50th birthday party idea that doesn't involve any crowds, but brings lots of excitement. Grab a loved one for this special ride, and toast to another decade. Hot air balloons will give you a view you've never seen before and give you memories to last a lifetime!

Enjoy A Prix Fixe Party
If you'd like to have a party but don't want to do any of the planning, then a prix fixe virtual party is for you. It's the full experience, and all you need is a kit delivered directly to your door and a laptop. You'll make a delicious cocktail with a mixologist to kick it off (don't forget the toast!), cook up a tasty appetizer, and go Flavor Tripping, a mind-bending flavor experience. Sit back and enjoy being the celebrated guest because all you have to do is show up and have a good time!

Go On A Bike Tour
Biking is a great way to get out and enjoy a day in your town. You can book a bike tour with a professional or chart your own path. Maybe you bike to that ice cream shop you've had your eye on, or to a special lookout point. It can end with a picnic with friends, or you can simply grab takeout on the way back home. It's your day, you get to choose!

Celebrate On The Beach
If you're lucky enough to live close to a beach, then you already know it's the perfect party venue. The reason we love the beach as part of our 50th birthday party ideas is because there's likely plenty of room to spread out and social distance. If you're worried about crowds, go a little earlier or head to a more secluded part of the beach. Everyone can bring their own blanket and spread out safely. When sundown comes and the beach allows it, start a bonfire!

Book A Rooftop With A View
To really mark the occasion for your 50th birthday, book a rooftop. A whole rooftop for your party means that the party will stay private, and there will be enough space to stay socially distanced. You can book a rooftop at a hotel or any restaurant/bar that has that kind of space. Some even have luxurious pools to lounge by and swim in! While we're still keeping celebrations small, a great location can really make all the difference to make your party feel special. What's better than a rooftop, a drink, and your closest friends? Not much.

Learn How To Make French Pastries
It's not hard to argue that the French really know what they are doing when it comes to pastries. For a more hands-on 50th birthday party idea, a pastry-making class is just for you. La Cuisine Paris will teach you all about French tarts, chocolate, macarons, and more. Imagine biting into a flaky pastry that you made yourself— yum!

Go on an intimate food tour with friends and family
Another great option for your 50th? A food tour! We're pleased to announce that our in-person culinary experiences are back in San Francisco. Taste your way through the Mission District or North Beach, while hearing stories and history about the neighborhood. We're committed to bringing you a safe, sanitary experience.
It's not easy celebrating during a global pandemic. But with a little technology, creativity, and these 50th birthday party ideas quarantine-edition, you can ring in your special day with smiles, laughs, and hope.