The Best 30th Birthday Party Ideas to Celebrate Virtually
March 23, 2020
Just because you're practicing social distancing (as you should!) doesn't mean you need to put your 30th birthday party plans on hold. If your 30th birthday is around the corner and you're rethinking plans due to COVID-19 but don't know what to do, we've got you covered. First and foremost, we want to encourage everyone to stay indoors and follow CDC guidelines. But that doesn't mean your 30th can't be fun! Here are the best 30th birthday party ideas during coronavirus social distancing that will still help you celebrate the big 3-0.
Schedule A Movie Night
Stock up on snacks, order takeout, or pick-up from your favorite neighborhood restaurant (and grab the beverages of your choice, of course). Start out by chatting with your friends via apps like Google Hangouts or Zoom, make sure to sing happy birthday, cheers with your friends, and then start a movie. Chrome has an extension called "Netflix Party" that allows you and your loved ones to start a movie at the same time, and chat while it's playing. Birthday person gets to choose the movie, of course!
Support Local Restaurants With a Chefinar
Think of it as a dinner party gone digital. With a Virtual Chefinar, you're delivered a box of fresh ingredients and the chef guides you and your party guests through a recipe, taking you from start to a beautifully finished dish. If you don't want to cook along, that's totally cool too. Be in the moment and get one-on-one training from a trained chef. It's a unique 30th birthday party idea during times like these, and perfect for foodies!
Have a Virtual Cocktail Hour with Kits Delivered
Just because you can't be with your friends doesn't mean you can't enjoy a happy hour with them. The Virtual Mixologist connects you and your group with an expert bartender via video chat. During the experience you'll walk through how to balance cocktails and learn new mixology skills and techniques. All while sipping on your expertly made beverage. There's even the option to add on an ingredient box so everything you need arrives at your door before the event. Cheers to that!
Join the Public Virtual Mixologist experience to connect with others while your craft amazing cocktails. EVERY THURSDAY FROM 6-7 PM ET / 3-4 PM PT.
Host A Game Night
There are plenty of virtual game nights, many that started even before the coronavirus outbreak, so take a note from these seasoned gamers. Play games like Dungeons and Dragons, download the online apps like Evil Apples vs. Humanity or Psych!, or stream games like Quiplash. The best part about this 30th birthday party idea during coronavirus social distancing is that you can make this a weekly occurrence–something to look forward to each week!
Try Out A New Fun Exercise Routine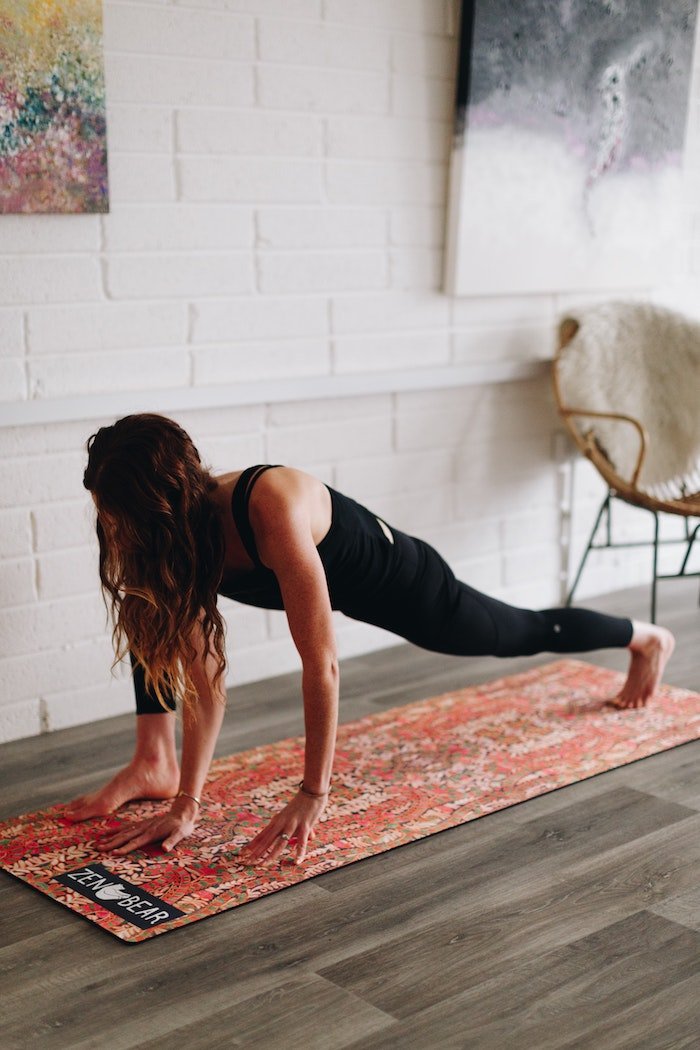 Alright, so maybe working out on your birthday isn't what you had in mind, but many yoga studios are live streaming classes right now, meaning that studio you've been wanting to try but didn't feel like schlepping to is accessible right in your living room. And there's other instructors and studios also offering classes, so browse the internet, pick the class of your choice, and get fit with your friends. It's important to make sure you're still moving and being active, and yes, virtual dance parties count. If you choose to live stream a class, donations are highly encouraged!
Bake The Same Cake Recipe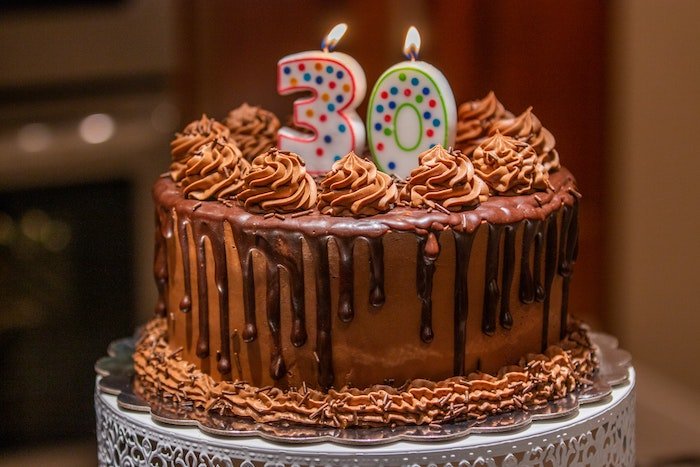 Or whatever dessert makes your heart sing. Cooking the same dessert on your birthday with your loved ones means still sharing the experience of eating a sweet treat, but without sharing the actual dessert. It's a win-win! Everyone basically gets a whole dessert for themselves, and you get to dive right into it with your fork. No plates necessary. Don't forget the candles! And if you need inspiration, many bakeries and restaurants are offering special delivery kits so you can recreate your favorite treats at home.
Catch A Shut In & Sing
Lots of music artists right now are going live and sharing their songwriting process or performing concerts at home (thanks, John Legend!). Since you can't go out and see a concert in-person, we recommend catching a Shut In & Sing. It's a special concert series with the intention of bringing people together and sharing good music. You still need to grab a ticket for it, so make sure you and your party guests get tickets in time for the show. And keep a lookout for other artists you admire hosting similar events.
Watch Theater
The show must go on! Even in times of COVID-19. Many theater productions are streaming live, from small, local theater to grand performances like the Metropolitan Opera. Get dressed to the nines and host a viewing party via webcam, complete with champagne and caviar. A lavished night in is a luxury way to ring in your 30th birthday during coronavirus social distancing.
Treat yourself to some shopping at home and abroad

Amazon Experiences is offering virtual tours of local businesses around the world, and you can truly find a unique birthday gift for yourself without leaving your home. You can shop an artisan market in Argentina, look for handmade leather goods in Seattle, or get a box of curated Japanese gifts sent straight to your home as you tour Tokyo. You don't have to go far to get yourself something special for your 30th birthday!
Catch a live show at the park with friends

Shows and performances have made the move outdoors making this one of the easier 30th birthday party ideas during Coronavirus. All you have to do is tell your friends to bring their own blankets (and booze), pick a performance date, and that's it! You can plan to go to a bar with outdoor seating afterwards or continue to hang out in the park with a picnic.
Make your own vermouth and sip wines!

Wine, friends, and your laptop is all you need for a great birthday party. While setting up your own virtual wine tasting party is simple enough, you can opt to treat yourself to a virtual apertif hour with an expert. A kit is sent to your door for the fortified wine tasting, and then you get to craft your own custom birthday vermouth. Your birthday blend! It's a tasty celebration and reminder of your most recent trip around the sun. And your loved ones can easily join in from wherever they are.
Go mini golfing

Another great outdoor 30th birthday party idea during coronavirus is mini golfing. Remember the days of mini golf birthday parties as a kid? We say bring them back! It's a nostalgic option and it's outdoors, so you can generally stay safer and social distanced. It'll be a hole-in-one 30th birthday.
Have an epic dance party with a DJ

Show off your dance moves, let off some steam, or simply vibe with a DJ for hire on your birthday. Plenty of DJs are available for virtual concerts, or you can even see if one of your faves is performing to share the concert experience with people from around the world. Another cool party idea is a DJ Battle— this company puts two DJs head to head, and you and your friends get to see who the winner will be. It'll be no less than epic.
Party with some plants

Party'n with Plants is a small business out of Ohio that turned virtual in the pandemic, bringing the best of terrarium building right to your home. Your kit comes with the succulents, a glass bowl, and decorations. You can choose from different themes to create a seaside-inspired terrarium, add a little color with a rainbow theme, or create a fairy garden. Plus, you'll get all the plant tips you need to keep your new buddies alive!
Throw a puppy party

Yup, a puppy party is definitely a thing you can do for your birthday, and there's no shame in it. In fact, many farms, zoos, and aquariums around the world (yes, the world) have created virtual experiences to show off the cute, cuddly creatures residing on them. Whether you're partying with puppies or learning about sheep on a farm in New Zealand, we recommend this as one of our 30th birthday party ideas during coronavirus because…how could you not have a good time with cute animals?!
Wander around a small town

A day trip is really great for a change of pace, and especially nice to explore for your birthday. Check out the local shops, stop for every dessert you see, and make a reservation at a nice restaurant. The number one rule on your birthday is that there is no rules, so do whatever you want! It might be the closest you get to an actual vacation for a while, and wandering the streets of a small town and eating homemade ice cream isn't a bad way to celebrate.
We know it's tough right now, but it's more important than ever to #BuildCommunity. We hope these 30th Birthday Party Ideas During Coronavirus will help and you can go on to have a very special day. Make it happen!