6 Super Fun Things To Do And See In San Francisco
December 20, 2019
When visiting a new city it can be fun to explore under-the-radar activities that only locals typically experience. But sometimes you just want to embrace your inner tourist and check off all the city's must-see attractions. This desire becomes especially apparent in San Francisco, a city with the second-highest population density in the county and so much diversity. In San Francisco, there's no shortage of adventurous things to do, see, and, of course, eat. And with so many options, it can be tricky to navigate and get the best bang for your buck. Don't fret. We've navigated the city for you and compiled the most rewarding things to do and see in San Francisco!
Have Tea At The Oldest Japanese Tea Garden
The San Francisco's Japanese Tea Garden is a relaxing oasis in the city. This meditative garden is the oldest public Japanese garden in the country. Purchase a warm cup of hot tea and a sweet treat at the Japanese Tea House while you roam the captivating grounds. Don't forget to stop by the Zen garden where you can watch a pool of koi fish swimming around.
Visit Mickey Mouse At The Walt Disney Family Museum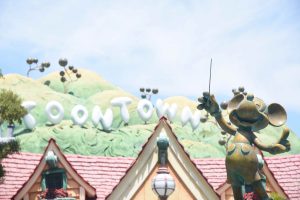 The Walt Disney Family Museum is a must-see for every Disney movie lover. This historic museum showcases the inspirational figures and ideas that brought Walt Disney's imagination to life. Don't leave without a walk through the "Mickey Mouse: From Walt to the World" exhibit. It chronicles Mickey's impact and influence on art and entertainment over the past nine decades. Come learn the story and origin of the mouse that transformed animation forever.
Swim In Sprinkles At The Museum Of Ice Cream
The Museum Of Ice Cream is a globally-acclaimed experience that has sold out across locations nationwide. It now has a permanent home in San Francisco where you are invited to enter a realm where anything is possible. Hop on a cookie carousel, take a picture with a unicorn, and indulge in ice cream at their retro diner. This bright, tasty museum is perfect for families or a day date. Just make sure you don't leave without a slide into their famous Sprinkle Pool, which holds over 100 million custom-designed sprinkles!
Grab Some Samples At The Ferry Building
Located at the center of the city's financial, banking, and transportation district, The Ferry Building is San Francisco's most famous landmark. Its dramatic clock tower has been the icon of the San Francisco waterfront for more than a 100 years. These days, it's also a world-class public food market. Stop by the Farmers Market and indulge in free samples. They have everything from freshly caught fish to artisan cheeses, and organic produce. It's one of the most diverse farmers markets in the country! We guarantee you won't leave hungry.
Get A New Perspective Of San Francisco At The Hamon
The Golden Gate Bridge is the most desired photo spot in San Francisco, but why not branch out and get a different view of the city? Like a 360 degree panoramic view! For no cost at all, you can go up to The Hamon Observation Tower. Enjoy a panoramic view of downtown San Francisco, Golden Gate Park, the Bay, and the Marin headlands. The tower is on the top floor of the De Young Museum. When you're done enjoying the view, go and explore the paintings of the De Young Museum, just a floor below.
Explore A Neighborhood Through Food
Food tours are great. But have you ever been on a culinary experience? Avital Tours takes the typical food tour to the next level. Their Tendernob Food Tour explores San Francisco's newest and hottest food scene through a 4-course, progressive meal experience. During the experience, you'll enjoy two appetizers, one entree, and one dessert, each at a different restaurant, with a sprinkling of culinary history and stories in between. The perfect way to explore a new city.
On the hunt for more things to do and see in San Francisco? Let us guide you on a culinary experience in North Beach, Mission District, or Tendernob today!