Top 5 San Francisco Restaurants for a Business Dinner
April 25, 2016
San Francisco is a town of movers and shakers—albeit a somewhat relaxed and informal one—who take their food seriously. While the CEO of a tech company may wear a hoodie to work, he's definitely dining at the city's top eateries, especially when the meal happens to involve business. Whether it's a merger, acquisition, sale, or celebratory meal involving a long-awaited IPO, the ideal restaurant for a business dinner has impeccable service and sensational food. Wondering where to plan your next team meeting? Here's our favorite San Francisco restaurants for a business dinner perfect for that important company negotiation or client meeting.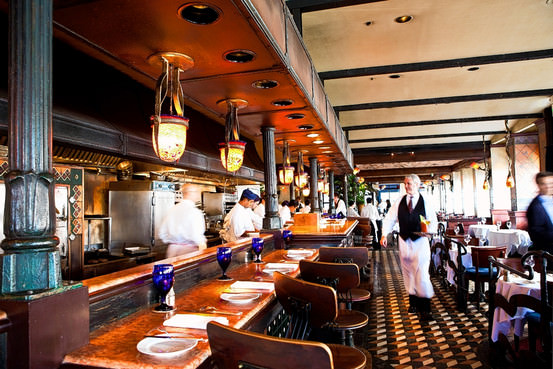 Iconic, landmark, and institution are just a few of the words that can be used to describe the 2012 James Beard Award Winner for Outstanding Restaurant, Boulevard. Chef-partner Nancy Oakes and partner Pat Kuleto opened the eatery in 1993 and at the time, the market-driven high-end American cuisine was revolutionary. Today, Boulevard is a quality old guard restaurant that serves up delicious and reliable classics in an unpretentious, but refined setting. The large restaurant, which is located on the Embarcadero and has gorgeous views of the Bay, seats 150, plus 26 at the bar. It also has extensive private dining options, with room for up to 64 people, so if you're planning a banquet of some sorts, you should definitely consider Boulevard. Specialties include the ahi tuna tarter with seven spice powder and nori crisp; Dungeness crab and endive salad with ruby grapefruit, avocado, and green goddess dressing, and the roast lamb T-bone with morels stuffed with St. Andreas cheese, nettle, and parsley potatoes.
Kokkari is similar to Boulevard in that it's been serving San Francisco's community of businessmen and women on the corner of Jackson and Front streets for many years. It's also a massive restaurant with 185 seats, several dining rooms, and various types of seating that can accommodate an intimate group of four and a rowdy crowd of 20. Kokkari is one of those warm, welcoming, bustling restaurants where regulars encourage newcomers to try the traditional whole grilled fish with lemon, waiters pour heavy glasses of Assyrtiko, a minerally white Greek wine varietal, and everyone—from the staff to the diners have a grand old time. Unlike some newer restaurants that have a highly edited menu, Kokkari's offerings are extensive and mouthwatering. Some personal favorites include the gigante baked beans with tomato sauce, olive oil, and feta; the grilled calamari stuffed with feta, fennel, orange, and black olives, and the authentic moussaka, a traditional Greek casserole with spiced lamb, eggplant, potato, and yogurt béchamel.
If you're a lover of Italian food and want your successful transaction with a side of housemade tagliatelle and five-hour pork sugo, you can't beat Perbacco. The bi-level restaurant is in the heart of the financial district along the cable car route that runs up and down California Street. Everything about Perbacco is precise, curated, and detail-oriented, from the chive garnish placed just-so on the broccoli puree to the comprehensive wine list dotted with exceptional French, American, and Italian bottles. There is an excellent charcuterie program with a selection of house cured salumi, all of the pastas are handmade in house, and the dessert options are plentiful, in both sweet and savory preparations.
Need to impress a young tech dynamo? Book a table at A.Q. This SOMA restaurant on Mission Street is elegant, but sparse—there's no stuffy white tablecloths here. Instead wood tables are topped with seasonal decor. In fact, everything about A.Q. is a celebration of the current season: the decor, the cocktails, the food, and even the website are inspired by spring, summer, autumn, or winter. It makes A.Q. a fun restaurant to visit throughout the year, as each time you go, the menu, look, and feel is completely different. There are two options to enjoying the upscale California cuisine: a four-course prix fixe menu or a chef's tasting menu. Either are scrumptious choices and do splurge on the innovative beverage pairing—it's definitely worth it!
No list of San Francisco business dinner restaurants would be complete without a high-end sushi eatery. When you're looking for the freshest seafood and the most interesting bottles of Japanese whisky, there's only one place to find it, Pabu. Michael Mina and chef Ken Tominaga's buzzy, sleek, and happening restaurant is a stunning modern izakaya on California Street near the cable car turnaround. There are several private rooms and booths, as well as a chef's counter where diners can watch the sushi chefs filet fresh toro and season it every so slightly with smoke or salt to make the most delectable bites of sashimi around. There is also finger-licking good robata skewers of chicken tail or pork belly, soothing miso soup with silken tofu, and American wagyu beef shabu shabu. On weekend nights the crowds can be a little loud, so if you're hosting an event on the company dime on Friday or Saturday, it might be worth booking a private room.
If you enjoyed reading about our favorite San Francisco restaurants for a business dinner, be sure to learn more about hosting an Avital private dining experience for your team building or business dinner.