San Francisco Fried Chicken Company Restaurant Review
July 14, 2014
San Francisco Fried Chicken Company Restaurant Review written by Culinary Guide Leila N'Amara
It's not uncommon for new restaurants to pop-up in North Beach. However, fried chicken was the last thing anyone was expecting.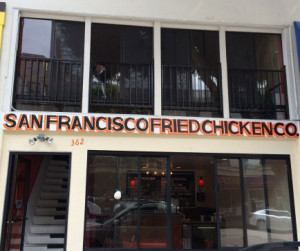 The Place: Just four months ago the San Francisco Fried Chicken Company opened its doors on Columbus in North Beach in the former Steps of Rome Trattoria location. SF Fried Chicken Co. has largely been welcomed by neighborhood locals who appreciate culinary variety being added to the district that's dominated by Italian restaurants. The floor-to-ceiling windows create an inviting atmosphere flooded with bright sunshine and the second level has tons of seating—some of which overlook the street (makes for great people watching). Did I mention free wifi?
The Dishes San Francisco Fried Chicken Company brines their chicken for ten hours in a mix of Italian herbs, so the flavors are evenly saturated in every bite of chicken—yum! It's no secret that SF is largely lacking in the BBQ department, but we can now successfully say we've got a handle on the fried chicken situation. SF Fried Chicken Co. has got a menu that's straight to the point—wings, thigh, breast, drumstick or a quarter leg. Even their options for side dishes stick to the simple classics; cole slaw, green beans, mashed potatoes and corn on the cob.
Insider Secret: Planning a beach day in Washington Square Park? Ditch the fruit salad and get your picnic essentials from SF FriedChicken Co. instead and don't forget to grab some craft brews from Rogue Ales & Public House to complete your North Beach picnic!
The Details: San Francisco Fried Chicken Company offers their chicken by the piece ranging from $2-$6 and side dishes from $2-$6.
SF Fried Chicken Co in North Beach
362 Columbus Ave (between Vallejo St and Grant St)
415-989-5443
Monday – Thursday & Sunday from 11am to Midnight
Friday & Saturday from 11am to 2am