Self Guided San Francisco Coffee Tour
January 20, 2015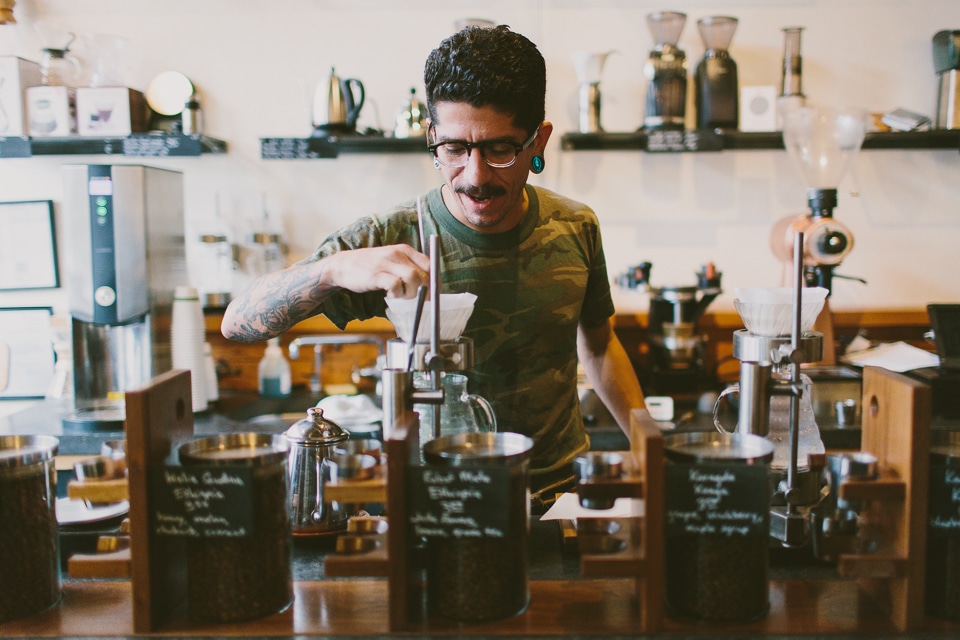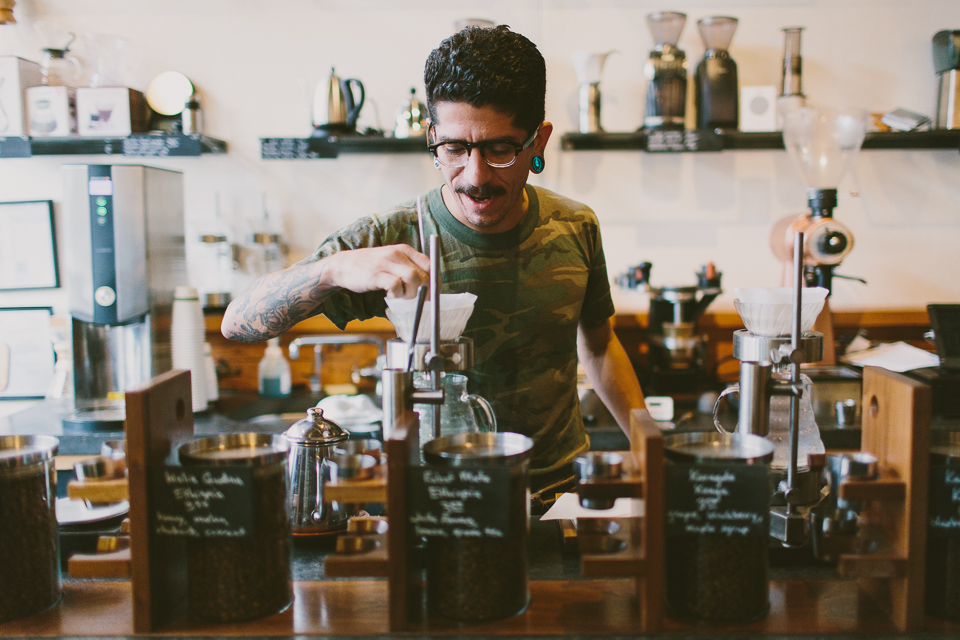 If you're a coffee snob and you're coming to San Francisco, I highly recommend you hit up some of our favorite small batch artisan coffee roasters and coffee shops. And if you don't have much time, you're in luck since its possible to get a sampling of San Francisco's best coffee all in one neighborhood and within walking distance in the Mission District.
Our Self Guided San Francisco Coffee Tour will take about an hour to an hour and a half. It will visit 5 notable San Francisco artisan coffee roasters and if you're still craving more caffeine, there's even more coffee shops to explore in the neighborhood. (Please see map below)
1) Four Barrel Coffee
2) Linea Caffe
3) Ritual Coffee Roasters
4) Sightglass Coffee
5) Blue Bottle Coffee
Four Barrel Coffee
Start at Four Barrel Coffee located at 375 Valencia Street between 15th Street and 14th Street. A beautiful wrought iron parklet also functioning as bike parking stands in front, so you know when you've arrived. I highly recommend standing at their brew bar near the entrance and getting a slow drip single origin brew – a great way to taste their light roasts and truly taste the flavor profile of their coffee. Before leaving, make sure to check out their roaster in the back of the cafe. They source their beans from farms where they may invest a few years earlier in helping the farmers grow the best beans and pick their coffee at the exact perfect time. http://fourbarrelcoffee.com/
Linea Caffe
Then head to Linea Caffe at 3417 18th Street between Valencia and Mission Streets where Andrew Barnett is micro-batch roasting coffee from Brazil, Ethiopia, Guatemala and El Salvador. Feeling a bit hungry? Try one of Anthony Myint's Waffles. He's the man behind Mission Chinese Food and Commonwealth, launching the Mission Street Food Movement and raising money for the San Francisco Food Bank. www.lineacaffe.com
Ritual Coffee Roasters
Continue down Valencia Street to Ritual Coffee Roasters at 1026 Valencia Street between 21st and 22nd Streets. Boasting a new re-model of their interior, Ritual is an artisan roaster that pays extremely close attention to their sourcing and coffee roasting. http://www.ritualroasters.com/
Sightglass Coffee
From Ritual, head east on 21st street to Alabama Street. Turn left on Alabama and walk one block north to 20th Street to Sightglass Coffee at 3014 20th Street. This is not Sightglass' main roasting facility (that's in SOMA on 7th Street) but this location will definitely give you a nice sense of their delicious coffee. https://www.sightglasscoffee.com/
Blue Bottle Coffee
Next up on your San Francisco Coffee Tour is Blue Bottle Coffee located inside of Heath Ceramics at 2900 18th Street. Blue Bottle is one of the original coffee roasters that kicked off the artisan movement, and their Ethiopia Sidama Homacho Waeno coffee just won the 2015 Good Food Awards. They are probably the largest of the small batch roasters, and now even have their own "coffee" table book (pun intended), The Blue Bottle Craft of Coffee, which provides details about the craft coffee world- everything from sourcing coffee to roasting coffee and drinking coffee – from Blue Bottle founder, James Freeman. https://bluebottlecoffee.com/
Note: Tartine's new bakery will be open shortly in the Heath Ceramics building, so definitely make sure to grab one of their morning buns or pastries to soak up all of the caffeine in your stomach.
Additional Coffee Shops to Visit in the Mission District
If you're still going strong, espresso-style, after 5 cups of coffee and want more, here are a few other notable coffee shops in the neighborhood to check out:
Philz. A popular cult coffee in San Francisco, this original location has a laid back cozy feel and even boasts Turkish Coffee. 3101 24th Street at Folsom. http://www.philzcoffee.com/
Coffee Bar. A modern coffee shop where lots of people in the tech scene like to work for the day. 1890 Bryant Street but its on the backside at 18th Street and Florida. http://www.coffeebarsf.com/
Stanza Coffee. An intimate cafe that hosts a rotating selection of small roasters from around the country. 3126 16th Street. https://www.facebook.com/stanzasf
Have any questions? Feel free to send us an email at [email protected].