5 Places We Love For San Francisco Seafood
April 2, 2018
San Francisco is surrounded by water, so San Francisco seafood is notoriously good. There's a lot of fish and shellfish in this city, so we're helping you navigate where to spend your (sand) dollars. Here are five places we love for San Francisco seafood.
Bar Crudo
Happy Hour at Bar Crudo is one of the best seafood secrets in the city. Between 5 and 6:30 pm selected oysters and herb and jalapeno marinated mussels are $1.50, and Manila clams, seafood chowder, and rock cod tacos also have happy hour pricing. Of course, all of Bar Crudo's seafood dishes taste just as good when it's not happy hour. The seafood chowder is packed with fish, mussels, squid, shrimp, potatoes, bacon and cream and its perfect for cold, foggy days. For something lighter get the four-piece crudo sampler with a choice of Arctic Char with horseradish crème fresh and wasabi tobiko, Scallop with pickled corn and chili, Tombo Tuna with citrus, chili, fennel, and black tobiko, and Butterfish with grapefruit and pink pepper.
655 Divisadero St, San Francisco, CA 94117
www.barcrudo.com
Swan Oyster Depot
There's a reason Anthony Bourdain raves about Swan Oyster Depot and that there's a line even on Tuesday mornings. Swan Oyster Depot has some of the freshest fish and most personable service in the city, which is probably why the line takes so long. Line up early on a weekday morning for opening, when the line is a little bit shorter than usual. Go alone if you want to score a faster seat (there are just a handful at the counter) or go with a friend if you want to order all the all-stars like the combination seafood salad, the half-cracked crab, scallop sashimi, smoked salmon, oysters, and a couple of Anchor Steam beers. The Sicilian sashimi isn't on the menu but you should still order it. (Pro tip: bring cash; Swan Oyster Depot doesn't accept cards.)
www.swanoysterdepot.us/
1517 Polk St San Francisco, CA 94109
Sotto Mare
Cioppino fans will find a lot to love at Sotto Mare. The North Beach restaurant claims to have "The best damn crab cioppino in San Francisco" and we agree. The tomato-based seafood broth comes in a giant bowl and is filled with crab, calamari, mussels, shrimp, fish, and pasta. Cioppino was invented in San Francisco so it makes sense that this North Beach establishment, with a local fishing history, is doing it right. They're also preparing other great seafood, like linguine and clams, oysters, grilled fish, and sea scallops. Pop in and say hi to the owners Rich and Laura, some of our favorite locals.
Leo's Oyster Bar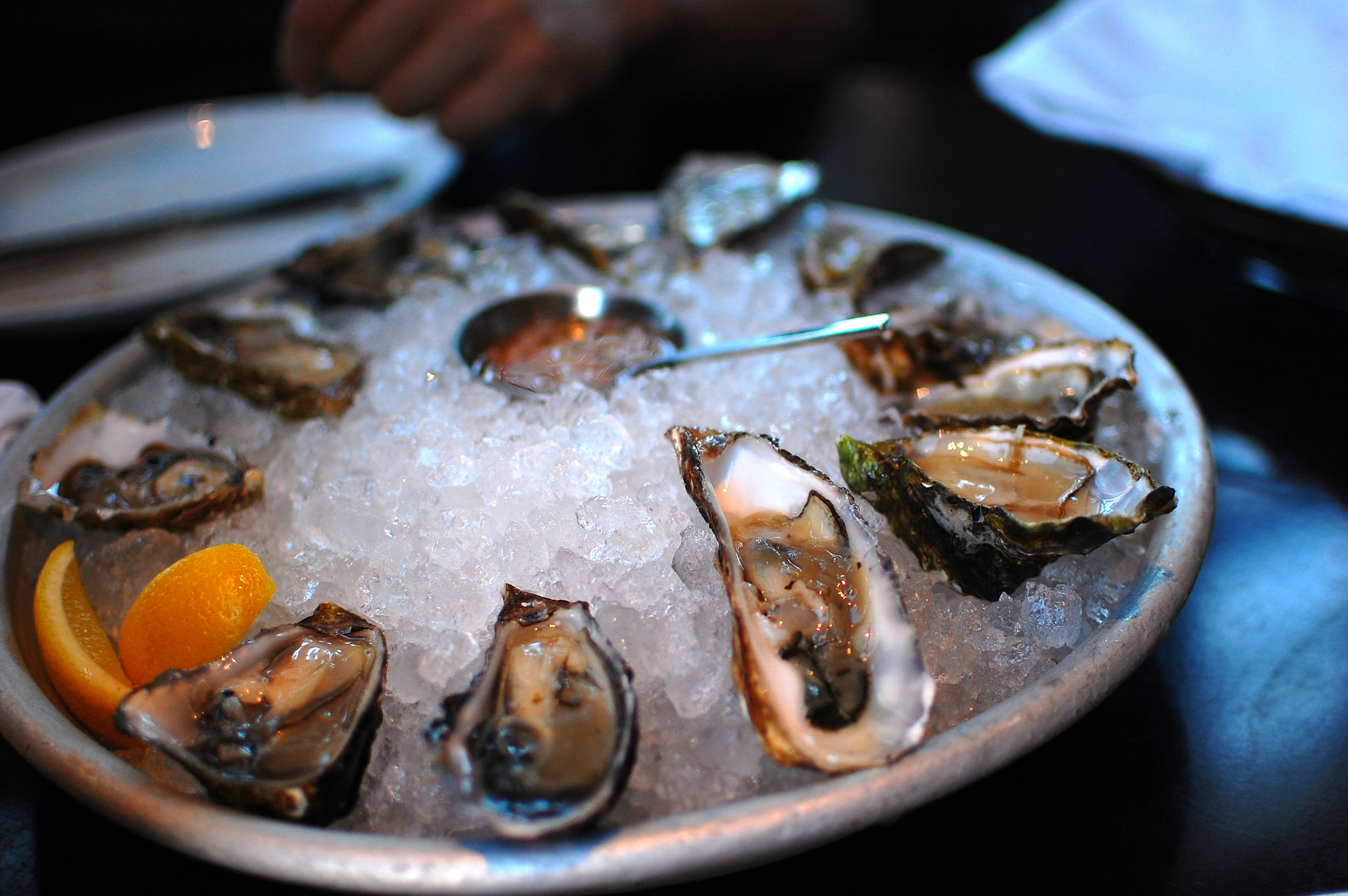 It's hard not to be happy when you walk into Leo's Oyster Bar and see the palm tree wallpaper. It's even easier to have a good time once you have a tropical cocktail and a tray of oysters in hand. Order some raw oysters and then order some hot ones like the deviled egg with fried oysters on top, seaweed and white miso butter baked oysters, or the baked oyster carbonara. The menu is almost exclusively seafood from a lobster roll to seafood bisque to caviar bites. Sit at the counter and watch both the booze bar and the raw bar work their magic at the same time.
568 Sacramento St, San Francisco, CA 94111
www.leossf.com
Hog Island Oyster Company
For San Francisco seafood with a view, head to the Embarcadeo for a meal at Hog Island Oyster Company. As the name suggests, there's a daily rotating selection of oysters, both raw and grilled. There's also crab, scallops, different kinds of crudo, an as assortment of grilled fish, clams, and mussels. A lot of these oysters are local coming from nearby Tomales Bay or Humboldt Bay so you can enjoy local oysters with a view of the Bay Bridge and Golden Gate Bridge.
Looking for more San Francisco seafood recommendations? Join us for a food tour in the Mission or taste Sotto Mare's Cioppino on our North Beach food tour and our guides will fill you in on their favorites.