5 Places to Get Caffeine Before Your DTLA Food Tour
January 25, 2018
We promise our tours will keep you awake, but you still might need a coffee fix before spending three hours eating and drinking your way around the neighborhood. Here are 5 places to get caffeine before your DTLA food tour. Downtown LA is a bustling neighborhood filled with independent coffee and tea shops for locals to get caffeinated before work.
G&B Coffee
In the center of all the action of Grand Central Market is G&B Coffee. With awards that include "Best New Coffeebar", "Coffeebar of the Year", "World's Five Best Coffeebars", "Best Coffeeshop in California" and "United States Barista Champion" you'd be hard-pressed to find a more celebrated coffee shop in Downtown. Get a classic coffee or try the more unusual Almond Macadamia Cappuccino. Not a coffee drinker? Housemade Chai and a variety of Chinese teas are also available. You can sit at the bar and enjoy your beverage, but there's so much to see in Grand Central Market that we recommend taking your drink to go and checking out dozens of vendors.
gandb.coffee/
Grand Central Market: 317 S Broadway #6, Los Angeles, CA 90013
Chado Tearoom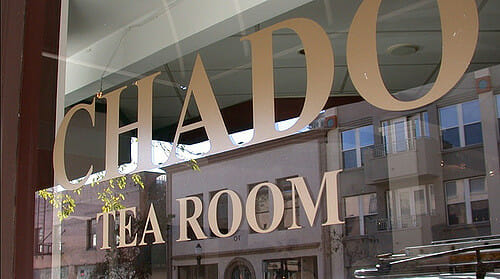 Chado has more than 300 different tea selections to choose from, so the menu looks like a novel. The first Chado location opened in 1990, but when Reena Shah and her husband, Devan took over in 1993, they were dedicated to "revolutionizing how people in greater Los Angeles think of tea". The menu includes descriptions and how-to's for each kind of tea, so if you're curious about any aspect of tea, head on in. The Downtown location is inside the Japanese American National Museum which is another great stop in LA.
chadotearoom.com/tearoom-locations/chado-downtown/
369 E. 1st Street Los Angeles, CA 90012
Verve
Verve has three Los Angeles locations, but our favorite is the centrally located Spring Street spot. Their menu is to the point: coffees, teas, and kombucha without a lot of fluff. But simple is great when quality is so good. Verve coffee is roasted up north in Santa Cruz and the company has great relationships with farmers. They "believe the coffee experience is our responsibility from seed to cup" and you'll be able to taste their passion in action.
vervecoffee.com/pages/los-angeles
833 S. Spring Street, Los Angeles, CA 90014
Tea Master
Tea Master is located in Little Tokyo, a neighborhood of Downtown LA. The location makes sense since the shop's owner, Daigoro San, is from Tokyo and a student of the Japanese tea ceremony's Edosenke school. Tea Master's Matcha Green Tea and Matcha Lattes (hot or cold) are well known in LA. Or, go simple with Green Tea. Is it a hot LA day? Try the Matcha Smoothie or Matcha Soft Serve.
teamaster.la/
450 E 2nd St, Los Angeles, CA 90012
Lazy Brewing Company
Start your lazy day at Downtown's Lazy Brewing Company. Coffee classics like Pour Over, Espressos, Americano, Latte, and Macchiato are on the small menu. You might also find specials features like an Iced Mocha & Vanilla Iced Cream with Sea Salt or the Black Salt Caramel Affogato. The airy, urban vibe has a local feel, and so does the coffee. Their coffee from Take Flight Coffee is roasted right in DTLA.
www.lazybrewingdtla.com/
116 E 5th St Los Angeles 9001
Looking for more places to get caffeine before your Downtown Los Angeles food tour? Let us show you around and give you more ideas. Join us on a food tour in Downtown LA, Koreatown, Hollywood, or Venice to learn more about the culinary history of the neighborhood.