Peddler's Creamery Los Angeles One Day Itinerary
April 19, 2016
Peddler's Creamery is an innovative ice cream scoop shop in Downtown LA where all the ice is churned in house by bicycle. Combining owner Edward Belden's love of cycling and ice cream, he enjoys the outdoors and shares his environmentally friendly Los Angeles One Day Itinerary with you.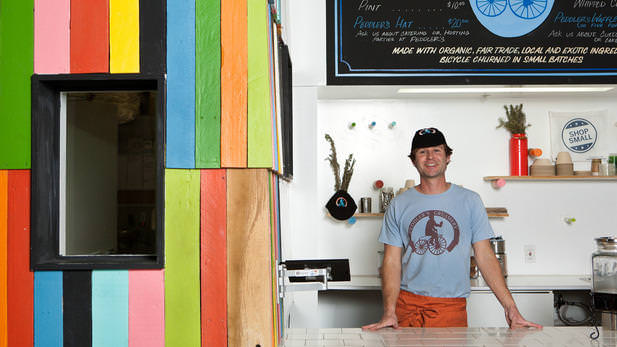 Edward's Los Angeles One Day Itinerary
Edward starts out is ideal Los Angeles day with morning breakfast at Natural Selection in Arcadia located at 305 N Santa Anita Ave. It is a great stop for a healthy organic scramble and juice, a great way to start the day to get energy for the day's physical activities.
After morning breakfast head for a morning hike to Sturtevant Falls from the chantry flats trailhead. Its a great hike next to a year round stream and you'll be well rewarded with a beautiful waterfall at the end. It's a little less than 4 miles round trip, but the last 1/4 mile back up is steep, so be prepared and bring water.
Now that you've worked up an appetite, head for lunch at La Caravana in Pasadena at 1306 N. Lake Avenue. They have amazing El Salvadorean food. Edward highly recommends ordering the typical plate to sample all of the delicious offerings.
After lunch, head to the Huntington Library and Botanical Gardens for an afternoon of relaxation and exploration. Enjoy amazing landscapes interwoven with incredible art and architecture.
Then its dinnertime and Edward recommends eating dinner at Badmaash in Downtown Los Angeles for some great Indian cuisine with a few fun modern twists. An innovative and fun restaurant. (And you can walk a few blocks to Peddler's Creamery for dessert, if you are so inclined.)
And after dinner, end your evening with a nightcap at the Los Angeles Independent Theatre. Catch a show from an independent producer or hear a comedian!
To learn more about Peddler's Creamery and hear Edward's story, join us on a Downtown Los Angeles 4-course progressive dining experience and go behind-the-scenes to see how his ice cream is made.