7 San Francisco Office Team Building Activities That Won't Put Your Team to Sleep
May 13, 2022
You're sitting at your desk tasked with finding an interactive office team building activity for your organization. Where do you start? Let us help! Today we'll serve you up some creative San Francisco office team building activities to help bring your team together – and have some fun too!
What Are San Francisco Office Team Building Activities?
Finding team building activities at work can be difficult now that everyone is coming back into the office. You could have an activity host come into your office space to share an experience with your organization. However, it might make people feel safer and more comfortable if an activity host joins virtually.
This allows you to gather your team together in person and schedule a topic expert or event organizer to join you via video. They can share the experience over video with you while you and your team practice it live in person. A logistical benefit of this? If anyone is still working from home they still have the option to join. No one is left out!
Why is Office Team Building Important?
More importantly, choosing the right type of San Francisco office team building activity to get your team excited and engaged is of the utmost importance. Your organization will not see the benefits of team building activities if people are not immersed and interested in the activity with which they are provided.
A bored employee equals an unengaged one! That is not what we want. So, no matter what, you want to invite curiosity and engagement during this session. Check out our selections below to see some exciting and impressive activities to set up for your team.

1. Discover how water is so much more than H20 with a Luxury Water Tasting
Explore how different waters can taste with a certified water sommelier. The sommelier will walk you and your team through a selection of waters from around the world along with carefully chosen food pairings. All supplies are provided to you – you just show up, taste, think, and have fun! This is a great option if you want to skip the alcohol but want to have a fascinating experience similar to a wine tasting. No assumptions on anyone's lifestyles or tastes – we all drink water! This is definitely off the beaten path compared to more typical San Francisco office team building activities. We bet you won't have an employee that's tried this before. Learn more about Water Tasting >>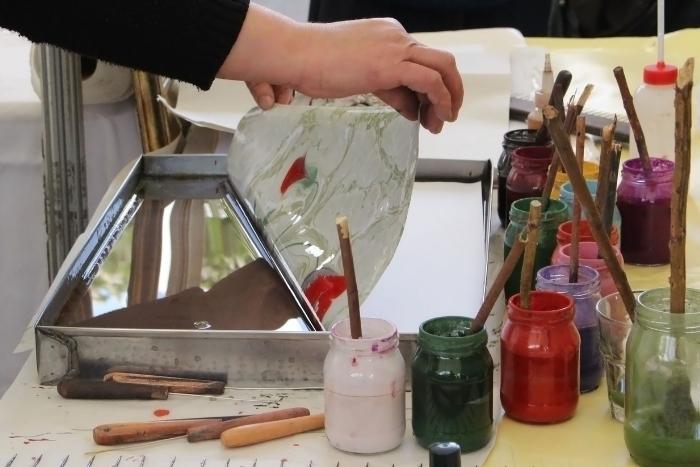 2. Use your hands and artistic senses with a Japanese Marbling Art Class
This virtual experience provides all materials and ships internationally. A virtual instructor guides you through the process of creating beautiful Japanese sumingashi inspired paint marbling on rice paper. Everyone gets to take their freshly created art home with them – who doesn't like a party favor? You will also learn about Japanese culture and history during this class to round out the experience. Follow your guide step by step and see what beautiful art you all can create! Learn more about Japanese Marbling Class >>
3. A Virtual Trivia Comedy event will bring laughs and head stumpers alike
Trivia games can feel stale and unexciting if the host and topics are bland. So, bringing in a comedic element can be a real boon to get your team excited. First, you'll start with group ice breakers to loosen up the team and get them comfortable. Then, you'll seamlessly continue on to the trivia portion of the session where humorous and educational questions are asked to multiple teams. You can even have a fun prize given out to the team that wins – Starbucks gift cards anyone?! Learn more about Virtual Trivia Comedy >>
4. Try a mind bending Tongue Twister Tasting to tickle the senses
The magic of miracle berries will blow you and your team's minds as you sample different foods before and after having your tongue twisted by this taste changing fruit. This miracle berry temporarily alters your taste buds that leads you to experience flavor in a completely different way. A flavor expert will guide you through a variety of activities and experiments as you try this trippy treat out! All tasting kits and supplies are provided, which makes planning this activity even easier. Learn more about Tongue Twister Tasting >>
5. Create a "People Bingo" game to learn about the people you work with
Another DIY option for your San Francisco office team building activity is to create a people bingo game. As a team, collaborate and make a big bingo card with different quirky experiences and hand out the boards to the group. To play the game people will go up to each other and ask if the other has partaken in any of the quirky activities listed on the card. If someone has, they mark that square off. And, just like in regular bingo, if a person gets a row completed, they yell "BINGO!" and win that round. This is an inexpensive way to get your colleagues to get to know each other and form connections.
6. Virtually Travel to Italy to learn about its cultural treasures
Join a virtual online experience in Florence, Italy! Choose from a variety of unique experiences where you and your team can learn more about the rich culinary history and traditions of Italy. Do a live activity of pasta making, or take a history lesson about a day in the life in medieval Florence. Whether you're completely immersed in a hands-on experience or just sitting back and enjoying the story, taking your team on an international trip wouldn't be possible without virtual experiences just like this. Learn more about Online Food Tours >>
7. Foster fun and team work with a Scavenger Hunt
Skip signing up with a host company and create your own scavenger hunt at your office and even the area surrounding it. Scavenger hunts aren't just for kids! Break your team out into groups and give them their assignments. In this hunt you can have people complete a series of challenges. Use a time restriction to get them scrambling! You can either have them provide photo evidence of all challenges, or have them present their findings and creations at the end of the activity with the rest of your team watching. Scavenger hunts foster problem solving skills, team work, and most importantly, laughter. You can even create clues that lead to social interaction with others – let's get that personal engagement up! Learn more about scavenger hunts >>
Conclusion
Team building activities help people at your office remember that their work is about the whole of the team – not just the individual. Interacting with colleagues in person can also be difficult without our social muscles being in better shape nowadays!
San Francisco office team building activities will foster camaraderie and connection without making it feel too forced. We want people to enjoy working together and knowing each other better makes that so much easier. The closer your team feels, the more likely they will feel motivated to help each other and their common goals.