NYC Restaurants that are Perfect for a Breakfast Meeting
May 30, 2019
When clients are in town, it means nice dinners, fancy cocktail hours, and maybe even an event or two. They don't call it wine and dining for nothing, after all. But if you've got a short window of time, an early arriving client, or just want to try something different, a breakfast meeting should be added to the agenda. Whether you're entertaining clients, planning a team bonding activity, or trying to do some networking that fits in everyone's schedule, a breakfast meeting gets the day started off on the right foot. Here are four NYC restaurants that are perfect for a breakfast meeting.
Clinton Street Baking Company
Known for their pancakes, Clinton Street Baking Company is a kind of the perfect cross between a restaurant, diner, and bakery. The bright, homey interior is reminiscent of your kitchen on a school morning, complete with plates of bacon and eggs. Clinton Street Baking Company's friendly environment and comforting dishes will most certainly be a good start to any breakfast meeting. You might even forget that you're in NYC for a minute, the hustle of the Lower East Side disappearing as you bite into some pancakes, take another sip of coffee, only reminded of where you are when the topic of budgets comes back up. Make sure to get their early, and remember to bring cash. Visit the restaurant in February and you'll be there for Pancake Month- there's a different flavor every day. And if you're not a huge pancake person, there's only one rule we have: Pancakes For The Table. Share them like a dessert, side of fries, whatever. Trust us, they're worth it.
Egg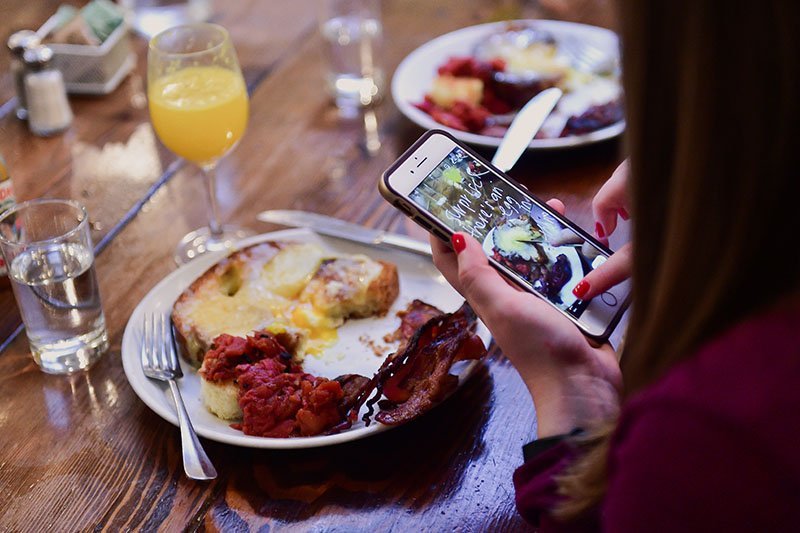 If you're based in Brooklyn or need a nice restaurant that's open earlier than 8am, Egg is a great choice. The Williamsburg classic opened up in 2005 and was doing farm-to-table before farm-to-table was cool. The brunch spot pays homage to big Southern breakfasts while using fresh ingredients from their farm in the Catskills. For a breakfast meeting in NYC, this trip to the South delivers. Depending on who you ask, however, traveling to Brooklyn is enough of a trip. Regardless, grits, biscuits and gravy, and homemade granola will please many palettes. There's also a big family table in the back that's a great option for team bonding. Just schedule any other important meetings earlier in the day- the afternoon slump is a real thing. But at least you'll be dreaming of breakfast.
Spanish Diner
Spanish Diner is a little more modern, a little trendier than the other restaurants on this list, located in Hudson Yards. Chef Jose Andres Little Spain has a market, restaurant, and a "diner", rather, an Iberian take on the classic American diner. Sure, you've had eggs for breakfast, but have you ever had tortilla española for breakfast? There are plenty of egg options on the menu, but there are also other Spanish dishes like croquetas, patatas bravas, and bocadillos. Plus, Hudson Yards is home to some prime shopping as well, so you can go for a post-breakfast walk before heading back into the office. For a trendy NYC breakfast meeting in an up-and-coming area, Spanish Diner won't disappoint.
Pondicheri
As soon as you walk into Pondicheri, you're greeted by the smell of rich spices, freshly baked pastries, and of course, a friendly smile from one of the staff. This restaurant prides itself on Indian food and flavors that are not just authentic, but creative also. Naan is stuffed with apricot and pistachio, dal is topped with crispy brussels sprouts, and there's even a turmeric Moscow mule on the menu. Pondicheri is another spot that's great for big groups and for a diverse breakfast menu. Dishes like masala eggs and jaggery coconut pancakes put a spin on classics for the perfect wake up call. You can sit in the front near the cafe side of the restaurant, or sit in the back for more privacy. A morning meeting with chai lattes could never go bad, right? Right.
Need more than the perfect NYC restaurant for a breakfast meeting? Try taking your clients on a food tour! Book a food tour in Williamsburg, East Village, or Flatiron for a dining experience that you're sure to remember. Visit our website to book a public or private culinary experience.